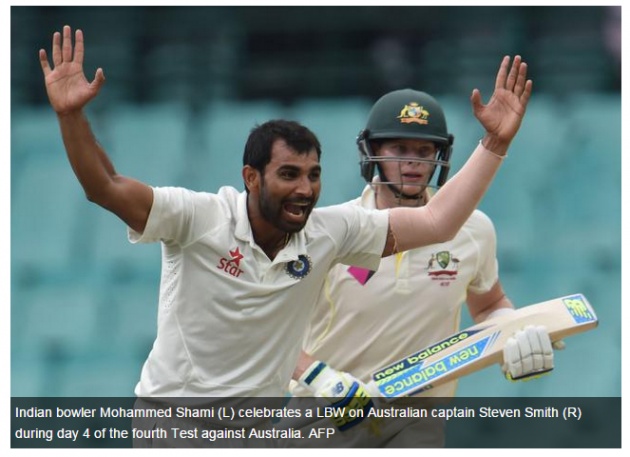 Steve Smith eclipsed a Don Bradman record by powering a furious Australian run chase to set a massive target for India in the final Sydney Test on Friday.
The Australian skipper with the Midas touch went helter-skelter after the runs in a bid for a declaration to pursue the home side's third victory in the four-match series on Saturday's final day.
Smith, backed by four centuries, passed Bradman's 1947/48 record of 715 for most Australian runs in a series against India with a frenetic 71 off 70 balls.
The skipper, who was given out leg before wicket to Mohammed Shami, finished the series with 769 runs at an average of 128.16.
Some late fireworks from Joe Burns with 66 off 39 balls with six fours and two sixes propelled Australia to 251 for six off 40 overs and a lead of 348 with Brad Haddin not out for 31. A declaration was likely overnight.
The highest successful run-chase record in the fourth innings of a Sydney Test is currently Australia's 288 for two against South Africa nine years ago.
"To lead from the front the way he does and also to do it in all sorts of situations, it's great to watch," Burns said of his skipper.
"There aren't too many batters in the world better at the moment, so it's just great to watch."
Burns said Australia was in a strong position to go on and win the Test.
"The wicket spun and I think it will only get harder to bat on as the game goes on," he said.
"We'll come out tomorrow and I'm sure we're going to create 10 opportunities. It's just a case of taking all 10."
Chris Rogers raised his sixth straight 50 of the series with a glorious cover drive for four but he was out shortly after, hitting straight to Suresh Raina for 56 off 77 balls.
The Australians finally dislodged India for 475 after 162 overs to lead by 97 runs on the first innings shortly before tea.
Warner out for four
Virat Kohli was rewarded for some bold captaincy by getting first innings centurion David Warner for just four in the second over of the innings bowled by spinner Ravichandran Ashwin.
Ashwin got an edge off Warner to Murali Vijay, the sixth time the spinner has claimed Warner's wicket in Tests.
"We definitely leaked a lot more runs than we would like to have, they played a few good shots," Ashwin said.
"It's still pretty decently poised, although they definitely have an ace up, we'll have to see how it goes."
Shane Watson, who narrowly avoided being run out shortly before tea in a mix-up, was bowled by Ashwin for 16 to complete an underwhelming series of just 238 runs at an average of 29.75, while Shaun Marsh lasted four balls for one.
Yet another dropped catch stalled Australia's efforts to mop up the Indian first innings when Burns made a hash of a chance off Bhuvneshwar Kumar on nought.
His blooper was the 16th missed opportunity, which has cost the Australians 657 runs in the series.
Kumar was eventually given out by umpire's referral caught at slip by Watson off Nathan Lyon for 30 after putting on 65 with Ashwin.
Paceman Mitchell Starc was rewarded for a terrific over when he coaxed an edge off Ashwin, who was on 50, to Haddin for his third wicket of the innings.
Haddin took his fourth catch and last of the innings to dismiss Umesh Yadav for four to end the Indian resistance nearing tea.
The tourists lost the wickets of Kohli and Saha in the morning session.
Kohli's hopes of building an even bigger innings evaporated in the fifth over of the day when he fell to Ryan Harris.
He clipped low to Rogers at mid-wicket and threw back his head in anguish before slowly departing with 147 off 230 balls including 20 fours.
It was the new India skipper's fourth century of the series, equalling Australian counterpart Smith's achievement.
It also took Kohli's series aggregate to a record 646 at an average of 92.28, eclipsing Rahul Dravid's 619 for India against Australia in 2003/04.