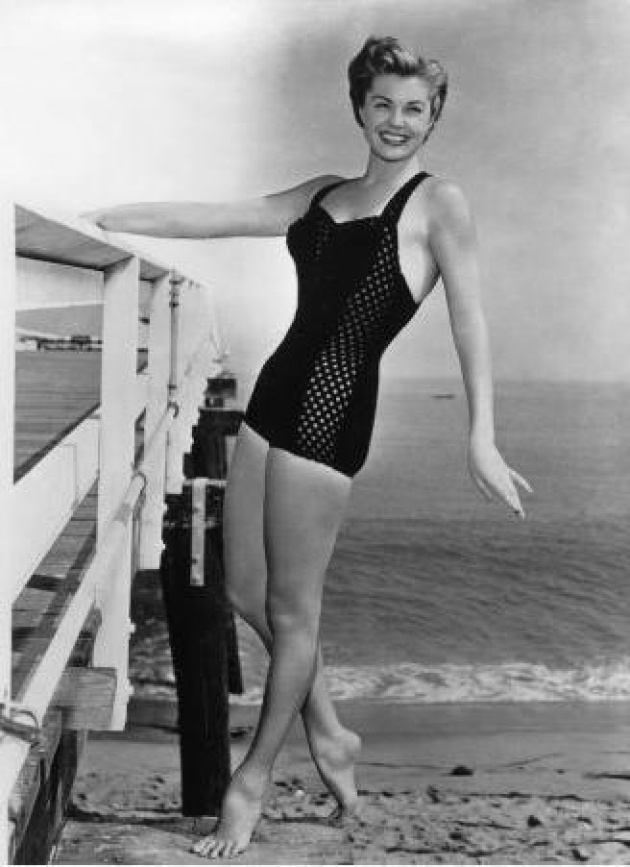 Esther Williams, the bathing beauty who tantalized Hollywood in the aquatic Technicolor musicals of the 19402 and 19502 has died. She was 91. According to her longtime publicist, Harlan Boll, the swimming champion turned actress known as the Million Dollar Mermaid died early Thursday in her sleep. Awww.

So long Ms. Williams and thanks for the Technicolor dreams!

Here's more info on Williams' life from Wiki:


Esther Jane Williams (August 8, 1921 – June 6, 2013)[1][2] was an American competitive swimmer and MGM movie actress.
Williams set multiple national and regional swimming records in her late teens as part of the Los Angeles Athletic Club swim team. Unable to compete in the 1940 Summer Olympics because of the outbreak of World War II, she joined Billy Rose's Aquacade, where she took on the role vacated by Eleanor Holm after the show's move from New York City to San Francisco.


While in the city, she spent five months swimming alongside Olympic gold medal winner and Tarzan star, Johnny Weissmuller.[3] It was at the Aquacade that Williams caught the attention of MGM scouts. After appearing in several small roles, alongside Mickey Rooney in an Andy Hardy film, and future five time co-star Van Johnson in A Guy Named Joe, Williams made a series of films in the 1940s and early 1950s known as "aquamusicals", which featured elaborate performances with synchronized swimming and diving.
From 1945 to 1949, Williams had at least one film listed among the 20 highest grossing films of the year.[4][5][6][7][8] In 1952, Williams appeared in her only biographical role, as Australian swimming star Annette Kellerman in Million Dollar Mermaid, which would go on to become her nickname while at MGM.[9] Williams left MGM in 1956 and appeared in a handful of unsuccessful feature films, followed by several extremely popular water-themed television specials, including one from Cypress Gardens, Florida.
Following her retirement from film in the 1960s, Williams became a businesswoman, and lent her name to a line of swimming pools and retro swimwear, instructional swimming videos for children, and serving as a commentator for synchronized swimming at the 1984 Summer Olympics in Los Angeles.