This week, we met with John Penotti and Mike Hogan of GreeneStreet Films, an independent film production company with a great reputation and energy for future projects. GreeneStreet Films' latest production is Movie 43, today ranked on IMDB's Top 500, with a high score of #38 at the time when the trailer was presented to the public. Movie 43's cast is incredible with names like Hugh Jackman, Kate Winslet, Naomi Watts, Richard Gere, Halle Berry and many more stars.
With John and Mike, we spoke about my personal experience with film star John Malkovich and my transition from fashion to online film distribution. Film Annex's target is the independent filmmakers who are not part of the studio system but have professional content with much better quality than the YouTube/Vimeo-type user videos. Film Annex's platform today has 300,000 registered users, 40,000 professional filmmakers, 4,000 writers and over 40 million monthly viewers.
GreeneStreet Films has quality content and big names. Film Annex has traffic and 33 Ad-Networks with an online business of 17 billion dollars growing exponentially year after year. The total global advertising industry is worth 700 billions, so the growth potential is incredible. Here is an outlook on the industry by Sean Behr of ADAPT.TV and Michael Sweeney of Target Marketing Annex: "Internet Advertising Revenues reaches 17 Billion."
I see three factors that matter:
Professional content, not user generated

Technology = ad-server, player, hosting

Social media = buzz score
In today's film industry, the currency is not just the ticket sales. Social media and the buzz score generated by a film production, a script, actors and filmmakers are also very important. IMDB measures the film and actors' rankings with the Star Meter, a simple but effective measuring tool for each page of its site. This tool is accessible to IMDB Pro users only. Here is the chart of Movie 43: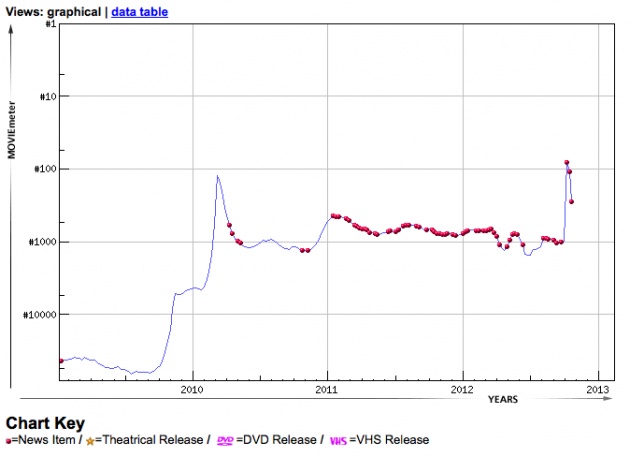 Film Annex introduced the Buzz Score with the intention to measure a further level of social media interaction beyond the Film Annex domain name and see the levels of interaction, sharing and influence that each user has on his/her "social media population". The Buzz Score's explanation on Film Annex describes its simple principles and its complex technology.
Thanks to the Buzz Score, we can give more time to filmmakers on the main page of Film Annex and reward them financially in proportion with the quality of their production and their social media Buzz. The same Buzz score allows us to reward writers but also students in developing countries like Afghanistan. In essence, the Buzz sore is a new type of currency that allows independent film production companies, screenwriters, filmmakers, actors, students, journalists and film fans to measure and monetize their efforts online with content that is deemed "professional".
Film Annex's effort to share revenues with its content providers is innovative and goes along with our concept of measuring demographics and statistics for each user's effort. They can understand who their audience is, where they are located and why they appreciate their work. This is a fundamental tool for success even beyond the revenues generated on that same day.
My suggestions to filmmakers and writers is to create profiles on all social media platforms like Film Annex, Facebook, YouTube, Twitter, Google+, Tumblr and LinkedIn, measure their Buzz and see where the best revenues come from. COMPARE CHECKS! Doing so, they can increase their content on the platform that pays the most and leave less content on those paying less. I am glad to take the challenge and make sure that Film Annex can provide the highest revenues and demographic data available on the market. Did you ever get a check from Facebook, Twitter, or LinkedIn? And if you got one from YouTube, what was your CPM and revenue share?
This brings me back to a conversation about our division Target Marketing Annex, where Mike Sweeney and his team of experts asked three simple questions:
Are you a Thought Leader?

On what subject?

How do you quantify your leadership?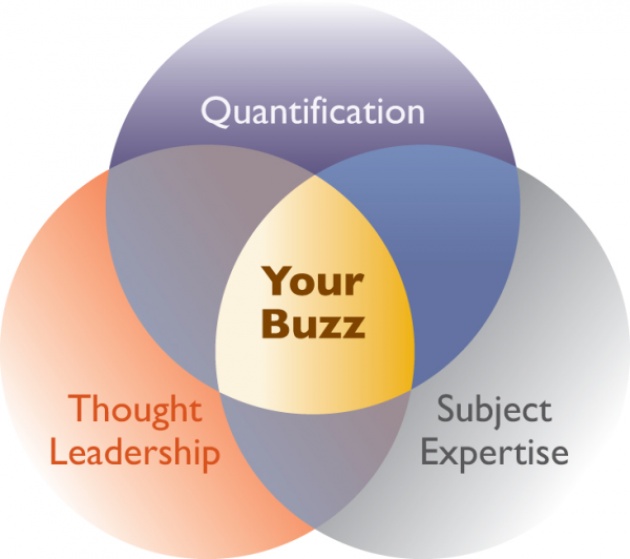 Quantifying leadership in inbound marketing is a complex matter that changes people's life. After my personal leadership was measured, the conclusion was that I'm a thought leader in the topics Building Schools in Afghanistan and how to utilize Film Annex's tools for educational purpose. It is a big shift from an initial personal perception of online film distribution for entertainment purposes. The reality is that Film Annex has 300,000 registered users which means 300,000 separate Web TVs and 300,000 separate niche subjects. From the best independent filmmakers in the world to NATO Web TV for peacekeeping efforts and JCI where Nobel Prize winners are interviewed, we have a variety of leading content with a variety of subjects and demographics.
In the case of film stars like Richard Gere and John Malkovich, this set of tools and initiatives can allow them to promote and finance a specific project and agenda, and possibly sponsor new and upcoming talents and visions. It is not too different from my relationship with Roya Mahboob, a 25-year old Afghan woman that became my mentor and inspiration in "Building Schools in Afghanistan" and who was recently featured on NewsWeek, Fast Company and Ted Talks. Roya Mahboob's wikipedia page explains her level of influence in the world and lists some of her references.