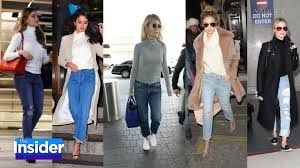 Sofia Vergara, Selena Gomez, and More Prove Turtlenecks and Jeans Are Still Hot
If jeans and turtlenecks are your winter uniform, you're totally on trend. Some of Hollywood's most stylish stars are covering up this season and look totally smokin' in the process.
Sofia Vergara loves to show off her assets on the red carpet but, on Thursday, the Modern Family star was spotted rocking a white turtleneck, deconstructed denim, and a pair of sky-high black wedges. To complete the modest look, the 43-year-old threw on a red, quilted Chanel bag.
Also getting in on the classic look is supermodel Gigi Hadid who stepped out in Paris with her little sister Bella on Thursday wearing a cream cowel neck sweater, light boyfriend jeans, chic nude stilettos, and a fur coat. That same day in L.A., Gwyneth Paltrow arrived to the airport wearing a fitted gray turtleneck and cropped jeans with a bright blue Celine purse and white Adidas sneakers.
Selena Gomez enjoyed a dinner at Nobu in NYC on Wednesday, sporting a cream turtleneck, a long camel-colored trench, a Louis Vuitton clutch, high-waisted denim, and black strappy heels. Margot Robbie arrived at JFK airport looking effortless in a black turtleneck, deconstructed denim, a black trench, and slip on shoes.
Celebrity stylist Daniel Musto explained to The Insider With Yahoo why the look is totally on point. "This year, it's all about clean lines and simplicity," he said. "Wearing this modest cut allows them to be extra playful with their hair and makeup. [Turtlenecks] are no longer just for golden girls trying to hide their age."
Check out the video to see the look on your favorite stars, and tune in to The Insider With Yahoo on TV tonight for the latest in entertainment news.