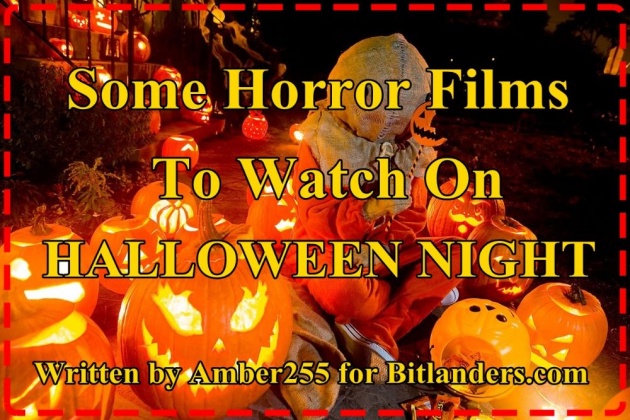 Some Horror Films To Watch On Halloween Night - Photo Credit: tumblr.com, Edition by Amber255 via Bitlanders.com
It so happened that in the last few years, Halloween in our country began to be called a holiday! I have not the wish to celebrate it painting my face in any scary zombie and go to the nightclub. But there is a wish to surround me with the spirit of the holiday! We buy pumpkins, carve them for the candles, buy candies and turn on our favorite movies!
If you do not plan to go to a Halloween party for the evening, if you are angry with the buzz of the streets and ghostly kids jumping from the corners of the homes, you can always stay home and celebrate your own Halloween.
When witches go riding, and black cats are seen, the moon laughs and whispers 'tis near Halloween. - Unknown

Credit:goodhousekeeping.com
The most important thing to do is to take care about festive ammunition: a pair of carved pumpkins, a few candles, perhaps to put a witch hat on your head and go to the horror film world. A great way to spend Halloween in the evening is also to invite your best friends and just spend time watching horror films. If you have not already selected what you want to watch, I made a list: dark fairy tales, funny horror films, and films, the plot of which is associated with Halloween.
Imagine what it is like on a day when all evil spirits wander around the world, the souls of the dead wake up, and various magical creatures are on full alert, watch a horror film about witches or vampires, or maybe something else more terrible.
10 Best Halloween Movies - ComicBookCom via Youtube.com
Goosebumps 2: Haunted Halloween (2018)
The American writer Robert Lawrence Stine has by now written 62 series of Goosebumps series, with over 400 million copies sold worldwide. Three years ago, the first movie, based on the work of a writer, more widely known just as R. L. Stine, came to the big screen. In it, the daughter of a writer together with a neighboring adolescent fought against a monster army that had escaped from the writer's book pages. After these events, the writer had to leave the town. Meanwhile, his house, known to everyone as the cause of the past chaos, did not interest fearing, superstitious buyers, and now, three years later, is more like a ghost hiding a terrible mysteries.
The shaking nerves, family-friendly adventure film Goosebumps 2: Haunted Halloween once again invites you to plunge into the world of monsters created by R.L. Stine and directed by Ari Sandel.
Just before Halloween, two curious little children in the town - Sonny (Jeremy Ray Taylor), and Sam (Caleel Harris) - dare to go to a devastated house. Of course, it would be difficult to expect festive sweets, but find the children that are not attracted by the mysterious houses in which they are likely to meet ghosts. Their curiosity is satisfied. Though all things (including the origins of the first movie disaster - the magic writer's books) - left the house, in the forgotten hiding place the greatest and most terrible surprise in their lives is awaiting the buddies.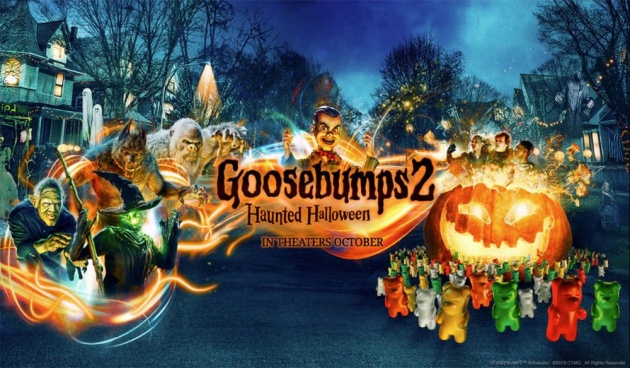 Halloween movie Goosebumps 2: Haunted Halloween - Photo credit: imdb.com
Slappy (voice of Mick Wingert)is the first of the book that materialized - a boy's demonic doll, who decides on the upcoming feast to hold a true Halloween apocalypse. Frightened Sonny and Sam run away. Slappy is pulling other monsters from the book to help him carry out his plans. The courageous guys who found the book and one of their sister Sarah (Madison Iseman) is fighting the monsters. The peaceful town of Wardenclyffe is sinking into even more chaos than three years ago.
Monsters look good. Special effects are able to surprise. I can praise the soundtrack too, it's very inspiring.
Monsterville: Cabinet of Souls (2015)
It's a youth fairy tale with zombies and monsters. You should not walk at night at various fairs.
In search of another interesting or not very film solely for finding some movies for Halloween blog, I came across this film. I will not lie, I did not like the description. There were too many clichés, and the description is too standard. Of these movies, you usually expect an average horror. And most often you are in a mood waiting for another failed film, which you do not want to watch even. But still, you're like a zealous masochist looking at it until the end, believing in a certain miracle.
Monsterville: Cabinet of Souls movie involved me. Probably, the best what I can say is - I recommend to watch it for Halloween night.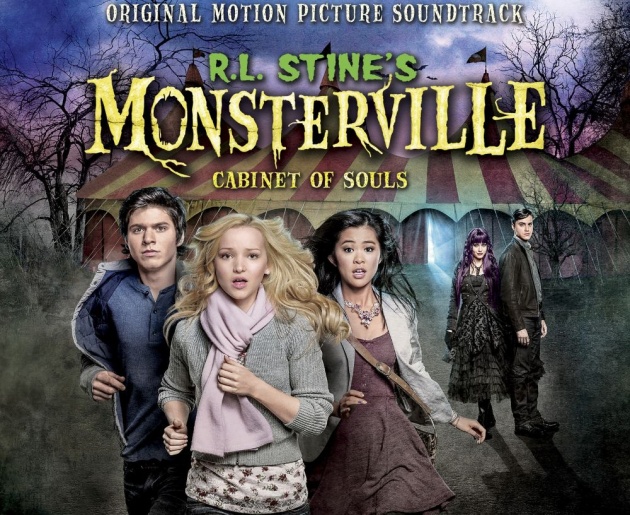 Monsterville: Cabinet of Souls (2015) - Photo credit: gurl.com
Teenagers have to resist the curse of the wizard, who arranged a real performance in one of the townhouses. Until recently, residents of the town of Danville did not know the worries. But in the town, there comes a real mobile horror tent. Teens from high school really wanted to look at this frightening show. The anons said that the vampires, monsters, and scary zombies will be there. What is even more fascinating than the performances of these creatures?
This performance will direct Dr. Hysteria (Andrew Kavadas). Cute Lilith (Katherine McNamara) helps to showman. These people know exactly how to scare the viewer. They are charismatic, and they are beautiful in their roles. On the eve of the Halloween feast, their appearance can very much dissipate the melancholic mood of the city.
Accidentally, Beth (Dove Cameron) sees that behind the scenes is a strange room. It turns out that the souls of adolescents who were once declared missing are hidden there A group of friends has to not only help the souls of these missed young people but also save their own lives.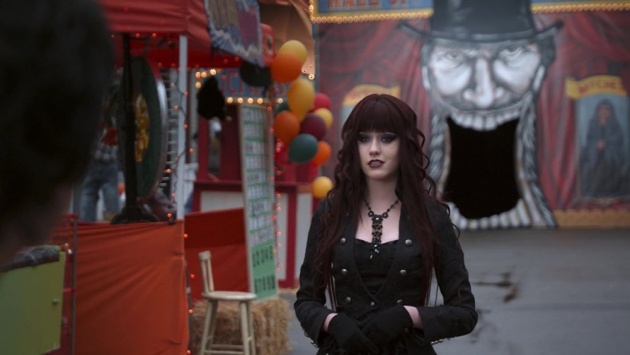 Katherine McNamara in Monsterville: Cabinet of Souls - Photo credit: imdb.com
In general, it looks like a good movie. Just some places were a bit banal. In short, I liked it. First of all, I liked the atmosphere of the film. All these costumes, masquerades, all this mystery. I want to say thanks to the filmmakers for all that.
Secondly, I really liked the performance of the actors. Well, really wow! It does not matter to me what kind of film it is, I look at the performance of the actors and evaluate them.
Despite the darkness of scenery, and the deliberate blackness of humor and some scenes, everyone can watch the film safely. There are no frankly terrible and horrible scenes in the film. This is not a classic horror and not a teen horror even.
This is a kind of solid story about friendship, loyalty to your feelings and ideas. This is a fairy tale about how you can stay human. After all, this quality is able to get out of a difficult situation, when not only your life turns out to be under the question, but also something more. Much more.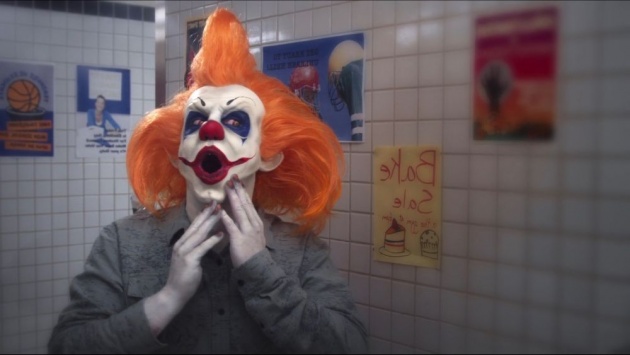 Monsterville: Cabinet of Souls - Photo credit:unobtainium13.com
Girl vs Monster (2012)
Girl vs Monster is a fantasy, action, adventure, and family comedy. In some places, the plot turns are predictable but really fascinating. Skylar (Olivia Holt) is sixteen years old, and she is the most ordinary teenager girl. The main character likes to have fun and spend time with friends. Soon will be Halloween, and the girl could not even think that for her, this holiday will turn into the most real nightmare and real horror.
In order to escape to the annual Halloween party, Skylar tries to damage the security system installed at home. When a girl drops a couple of wires, a terrific monster escapes from a special camera. What could this creature be doing in her home? It turns out that Skaail's parents have long been hiding that they are hunters of monsters. Maybe she inherited special abilities too?
While reading my blog, check QUERLO CHAT:
It turns out that, yes, she is a representative of the fifth generation of monsters hunters', although her time to hunt them has not yet come. But monsters do not care about this. They decide to get rid of Skylar now, not waiting until she will find her real strength and capabilities. Skylar will have to hurry to protect her father and mother from the powerful revenge of a long time captivated monster.
In general, an interesting confrontation will begin between teenagers and monsters. Skylar friends will help, and together these guys are capable of a lot. It's a good movie from the Disney channel, and it may interest many viewers, especially on Halloween night.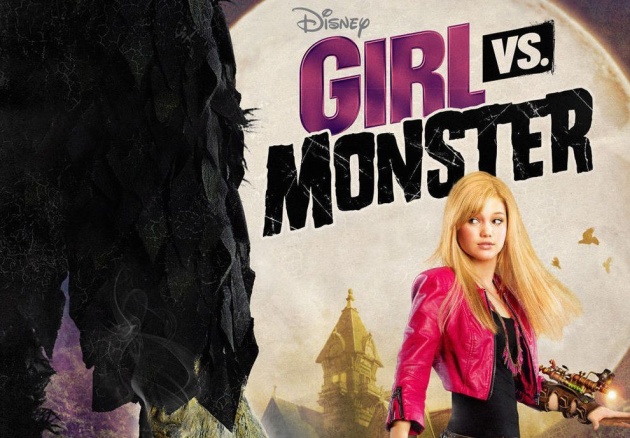 Olivia Holt in Girl Vs. Monster - Photo credit: youtube.com
Hocus Pocus (1993)
Hocus Pocus is a wonderful, scary tale for all ages! Sisters Sanderson will surely brighten up your Halloween! This movie I recommend for Halloween Family Cinema. If you do not like bloody cruelty, I suggest watching this film.
A few years ago I first saw the Hocus Pocus film, and was just fascinated! The cast (specifically the sisters Sanderson) is just awesome! The three witches are the wonderful Bette Midler, Kathy Najimy, and Sarah Jessica Parker. Awesome, incredible Bette Midler - who else if not she could show us the older of the sister: the smartest, dominating, and most ironic of the sisters. And of course, my beloved Sarah Jessica Parker. How well she succeeded in the image of the beautiful, naive, stupid witch! She is a true stereotype about blondes. Yes, from all three ones she is the dumbest. But also the most beautiful. I look at them and with all my heart believe that they are real witches.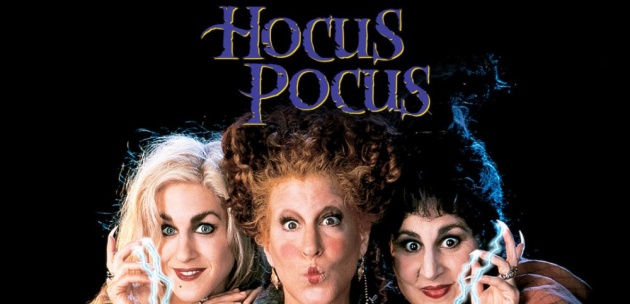 Hocus Pocus movie - Photo credit: natashastander.wordpress.com
Three Sanderson sisters live in 1693, and they use a special diet. They eat children, and it allows them to keep their young appearance. In short, they are witches. After they dragged off another sweet girl, the residents rebelled and executed the witches. However, the elder one managed to spew out prediction. She promised the witches will come back if someone lights a candle with a black flame in their house.
It took 300 years to wait for the witches. One boy fulfilled the prediction who got into a sisters' house with a younger sister and a girl to whom he was in love with. The three witches feel a bit confused when get confronted with the modern world. Even asphalt causes them difficulties - there are a lot of humor and wonderful eerie details in the Hocus Pocus.
The younger cast is very good, although they all did not become stars of the first magnitude, the child actors were great, especially the youngest, Thora Burch.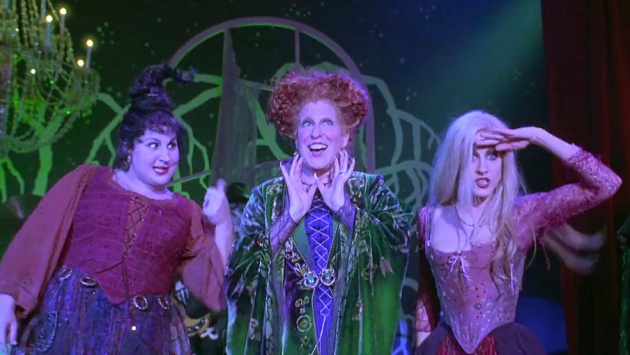 Bette Midler, Sarah Jessica Parker, and Kathy Najimy - Photo credit: abc6onyourside.com
The plot of the film is very interesting, original, I would even say exciting.
It is a good and wonderful Halloween movie, if you are afraid of bloody horror films and doubly - if you grew up in the 90s. Of course, the final of the film is pleasant, as it is supposed to be a fairy tale! The film shows some scary moments. It's humorous, and it has the coloring of Halloween and a little romance.
The town is shown as a very cozy province place. At some moments I even wanted to be in the festive fuss of the film and in a festive suit to run for sweets to the neighbors! I definitely recommend you to watch it!
Hocus Pocus (1993) Trailer - Puterboy2 via YouTube.com
Night of the Living Dead (1968)
The cult of zombies has really entered our lives, and it continues to grow with each passing year. A young and unknown director with a zero budget, but having a very idea, the enthusiasm of several actors, and people who agreed to help with the details and place for filming, was able to create a cult film that can safely be called the founder of the genre of the dead.
Arriving at the aunt's funeral, the relatives become hostages of satanic powers. The nightmares have become a reality. How long will the heroes survive and will not become mad from the horrors of the cemetery and the attacks of the dead? Unbelievable special effects create a 100% sense of action's reality - the viewer dives into scary and shocking movie events.
Seven people are being imprisoned by the cruel revived dead in the outlying farm in the west of Pennsylvania. Zombies attack relentlessly. They can be restrained only by sunlight. But time in the surrounded by zombies house going very slowly, and one after another people become zombie victims. Only one girl survives.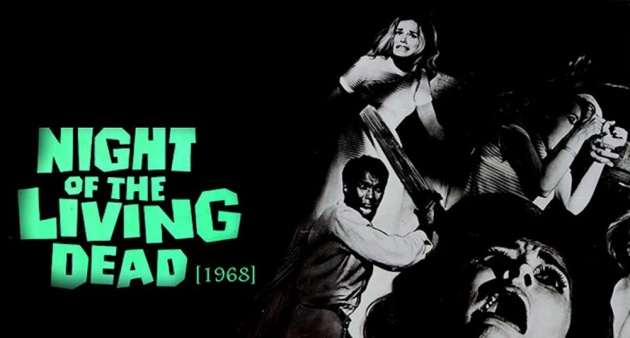 Movie Night of the Living Dead - Photo credit: thehiblog.wordpress.com
It's scary to horror, to the shiver on the skin. Never considered myself a fan of the genre of the revived dead, and may never dare to watch another movie about zombies again after this movie.
This movie has some later films about dead directed by the same director George A. Romero (1978 - 2010). Then was created Night of the Living Dead (1990) directed by Tom Savini. So, you can search online any of them and watch it if you love movies about zombies that very fit for the Halloween night.
On the Final Note
The tradition to celebrate Halloween originated in the distant X century. Since then, having undergone a number of significant changes, this holiday has become one of the most loved and awaited in many countries in the modern world. But not in vain from the ancient times there is a terrible belief that only this night the border between the two worlds is erased, opening the doors to our world for the terrible creatures living on the other side. So, horror films fit the best to watch at this night.
Due to its unusual nature, this holiday, which has long been widely celebrated only in the United States, is now gaining momentum in popularity in Europe as well, and all traditions and ceremonies that go with Halloween are taken over and preserved.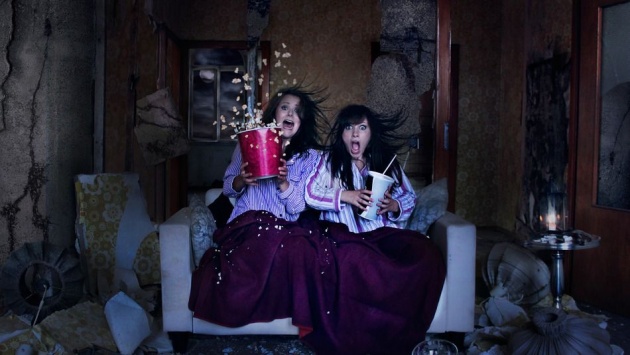 Horror Films On Halloween Night - Photo credit: itukartu.blogspot.com
And for those who really want a quiet evening, there is a great opportunity to spend this holiday among the golden collection of films that are best to watch on Halloween, since the genres and storylines are fully consistent with this day. Turn the light off in the room, turn the film on, and it is desirable to choose more terrible, and the Halloween will definitely succeed!
It's Halloween; everyone's entitled to one good scare. - Brackett

Credit:goodhousekeeping.com
HAVE MUCH FUN AT HALLOWEEN NIGHT!
**************************************************************************************************
Thank you for stopping by and reading my blog.
2018, All Rights Reserved.
You are very welcome to join Bitlanders and share your valuable knowledge and opinion.
**************************************************************************************************
You can check my other blog about Halloween:
1. The Halloween Origin, Its Traditions in Lithuania Now And In The Past
**************************************************************************************************