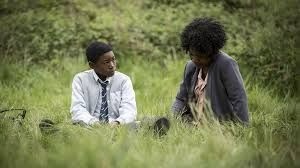 For the past twelve days (8 -19 October) cinemas across my capital city have played host to the London Film Festival. My family and I saw six different films in seven different venues. How is that possible? Well, my lad and I saw the same film at separate screenings. It could have been more, but I turned down THE IMITATION GAME because it was screening in Enfield on a rainy night. The elderly are more susceptible to influenza.
Was it a great festival? Well, attendance was up, but you can't see everything. The real problem is: someone else is always going to have a better festival than me. That ain't right.
I did however manage to have some unusual experiences at this year's festival that mark it out from previous years. Here's the list.
Never send an editor to do a director's work
Traditionally directors, writers, producers or stars are there at the end of their movie to talk about it. The representative for controversial college comedy DEAR WHITE PEOPLE was the editor. Now I know he might have something interesting to say about structure and omitting certain scenes because they messed with the pace, but he was not the writer-director Justin Simien. I don't recall Spike Lee running behind his cut-man when he came out to bat for SHE'S GOTTA HAVE IT. I felt sorry for the editor, though if he got a free plane ticket to London and a screening pass, not that sorry.
It is possible to make Monica Bellucci look ordinary
Alice Rohrwacher's THE WONDERS is an Italian film about squatter farmers who take in a German tearaway for extra cash. Papa makes honey but as members of his family are repeatedly told, you have to change the tub. Out swimming one day, the family's laughter disturbs the filming of a TV programme, 'Countryside Wonders', featuring Monica Bellucci as its host dressed as a Roman goddess – Bricobrac, Goddess of Tat. She is barely recognisable, not least because her character is a bit of a cheap skate, giving out hair grips. Nevertheless, the TV hostess motivates the eldest daughter to apply to participate in the show, publicising the family's honey. The film is a coming of age story with naturalistic performances, Bellucci blending seamlessly into the ensemble. It has some incredible moments – a bee emerging from a young girl's house and the enigmatic final scene of an abandoned property, a makeshift sheet for a door flapping in the wind. Most of all, you wonder how Bellucci could look so unglamorous; it's quite an achievement.
A pro-British director has made an anti-British film
Spanish director Daniel Monzon made the quite brilliant CELL 211 a few years back, but his follow-up, EL NIÑO, is controversial to British audiences. It was released during the summer after a period in which Spanish authorities were putting pressure on the population of Gibraltar, a British overseas territory that connects to it, imposing a tariff on those travelling to and from the Rock and creating a traffic jam that threatened to damage its economy. Spain itself endured the devastating effects of the Europe-wide recession, not as bad as Greece or Portugal, but difficult to weather nevertheless. Gibraltar was less affected and the gap between haves and have-nots was enough to ignite anti-Gibraltar feeling. EL NIÑO isn't about the overseas territory per se, rather a team of narcotics police on a long drawn out case to catch a notorious trafficker. It also follows a young man, the title character, who takes up drug smuggling to better himself. When the suspected smuggler crosses the border into Gibraltar, it is as if he has gotten away. There is no reference to Spanish-UK police cooperation that exists in real life. Instead the characters curse Britain and Gibraltar, perpetuating prejudice. For this reason, the film is hard to recommend.
Stars pick their premieres
In the summer, Tom Hardy turned up at the early morning premiere of EDGE OF TOMORROW at London's BFI IMAX, one of 'three premieres in one day' attended by stars Tom Cruise and Emily Blunt. (The others were in Paris and New York.) Hardy did not come out to support THE DROP, the final film to star James Gandolfini. Hardy is the most exciting British actor since Daniel Day Lewis. You never know where he might take a part. His facility for accents rivals Meryl Streep, though I must admit I have not heard his Margaret Thatcher impersonation. The director of THE DROP, Michaël R. Roskam, was there to greet his audience, and entertained us with tales of Gandolfini teasing the super-serious Hardy. I felt Mr H, should have showed up. It was a Sunday, raining, and the film isn't half bad.
We are moving to a cashless society
On a couple of occasions, I had to go out and sell spare tickets. What I noticed was that most people pay with plastic, so they cannot buy your spare ticket from you. Next year, I can see myself being even more cautious about booking films, because if you or your partner can't attend, you are wasting big money.
No one knows how to react if someone faints
Debbie Tucker Green's psychological drama, SECOND COMING, builds to an attempt at suicide – a long scene of a woman (Nadine Marshall) sitting on the toilet before self-harming. The scene caused a woman to faint in the audience at a screening at the Ritzy Picturehouse, Brixton. There was some mumbling. Someone called for a medic. I shouted for the house lights to be put on. The digitally projected film froze on screen as the audience sat rooted in their seats, unwilling to look behind them, waiting for medics to arrive. Watching the audience was like looking at a still photograph, a suspended reaction, a statement of embarrassment. Eventually, one man played with his phone, a woman took out a book. Two couples headed for the exit. It was as if, before this moment, we were all witnesses at a crime scene – 'nobody move' – or hostages to someone else's misfortune. It was a moment I won't forget, though I am happy to report that the woman recovered consciousness and was taken away for medical examination. The film did re-start.
Films seen at Vue Islington (DEAR WHITE PEOPLE), Cine Lumiere (EL NIÑO), Curzon Mayfair (THE DROP), Odeon Covent Garden (THE WONDERS), Hackney Picturehouse, Odeon West End, Leicester Square and Ritzy Picturehouse, Brixton (SECOND COMING, pictured)