"Earning back from all our hard work just gives us one more reason to keep going!" - Sorcha Anglim
Sorcha Anglim is a female filmmaker who currently fills the number 1 spot on Eren's Picks. This means that she actively promotes her Web TV on social media and also influences her audience. She's active on several platforms, especially on Twitter, for both personal and professional use. She likes to blog regularly to connect with her viewers and always tries to find new ways to attract people to her work.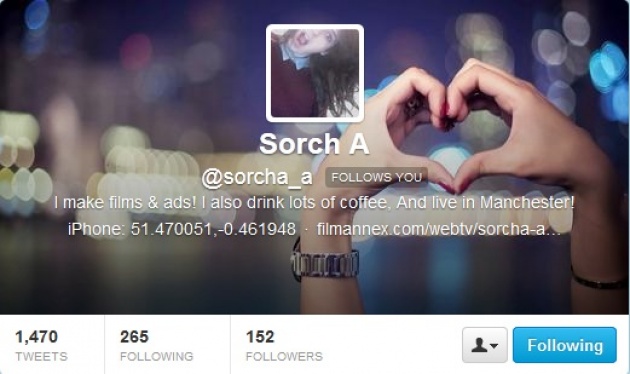 Sorcha's Twitter profile. The only listed link: her Web TV on Film Annex!
You can follow her on Facebook, Twitter, Google+, and LinkedIn.
Below is an interview about how she uses social media as a film promotion tool and how it has affected her revenues on Film Annex. She also gives a few tips on social media film promotion.
Film Annex: When did you start promoting your work specifically on social media platforms?
Sorcha Anglim: I have always promoted my work on social media platforms, ever since I started making short films! I think it's really important that the people who know you best can see what you've been up to and support you in the process. However, more recently, since I started taking an even more active role with my Web TV, I have tried to take this one step further than my friends, finding relevant pages on Facebook for example, to promote my films, or targeting Twitter users who might benefit from 1 or 2 of my blogs, and retweet to their followers. So I'd say I've been "actively promoting" for at least a year now.
FA: What social media platforms do you use? Which one(s) do you think is more efficient for filmmakers to use to promote their work and why?
SA: I use Twitter a great deal to promote my work. Partially because I post on there regularly anyway, using hashtags to join in 'big conversations' that happen on there. I think this allows me to promote on Twitter without being too intrusive or too pushy with my content, and finding a way of linking in trending topics or hastags with my content is something that can work wonders in spreading the word. Another great platform is of course Facebook, where you can reach people anywhere, who have similar interests to you, and hopefully, might also enjoy your films. Fan pages, film pages and groups are fantastic for both gathering your own 'fans', and also interacting with other peoples, for example to promote a film shot in New Zealand, there are tons of tourist pages and different activity pages that would be interested in seeing it, and who you can contact through Facebook. Finally, Linkedin is a great little platform, which allows you to connect with other short film makers, any freelancers, and many other types of people who might be interested in independent projects such as short films.

A post about her Web TV on her Google+ page.
FA: Did you make interesting contacts or create business opportunities by sharing your work on social media?
SA: Most definitely! On our latest venture in particular, as FourFingers we have tried to have a big presence on social media, linking to local businesses and generating interest for our up and coming projects, and I think it has worked really well. "The Shebeen Festival", which we filmed just before Christmas, was brought to our attention through Manchester companies that we knew, promoting it. People have even got in touch from the other side of the world asking for music videos making after seeing our work online! Our generation of filmmakers have an amazing advantage over our predecessors, and I like to think we are using it to the maximum to make contacts across the globe, and combining our skills and passions!
FA: Give us an example on how you promote your Web TV or work in general on social media?
SA: At the moment, I've really taken a liking to writing blogs to interact with my readers and create a conversation. I did a few blogs based around getting into the industry and posted them to @theunitlist , a UK based advertiser for freelance jobs in the media. She retweeted my blog, and soon I had questions firing at me from many different enthusiastic filmmakers and keen young industry people. This then lead them to my work, and got a few more people viewing my content. I also try and target uplifting, and quote type Twitter accounts with some of my positivity blogs and 'upbeat' films, to reach my target audience, and hopefully inspire a few people along the way. I think using blogs to make your audience understand the aim of your films just adds that extra dimension to what you're trying to do. I tried to put as much personality and honesty into my blogs as possible. Lastly, as I mentioned earlier, LinkedIn is a great place to meet future possible collaborators. I have made a LinkedIn profile specifically for my 'FilmMaker' career, so I can link with people that I think will be interested in what I am up to and people who may want to collaborate in the future. This way, I can really promote my work without my other colleagues getting too many updates from my "film" side.
FA: Did you see a change on your revenues on Film Annex after promoting your Web TV on social media?

SA: Yes, for sure! Its amazing...! I have never been so motivated and inspired to get back out there and make something! As you might know, a few of us in Eren's Picks actually studied film at university together, and as we were all creating and working along side one another, with a nudge here and there from lecturers, we got into a fantastic roll of being able to tune in with our creativity, and give it our all... And I feel like Film Annex has tuned back into this again. We're all yet again, working along side one another, and this time the nudge is from the Film Annex team and the Buzz Score incentive! Earning back from all our hard work just gives us one more reason to keep going!
FA: Do you have any tips for other filmmakers on how to promote their films on social media?
SA: I think Amy Hill hit the nail on the head: "Putting yourself in your audience's shoes is really important!" Why is someone going to click on what you post out there? A post with just a link to another website is going to be scrolled past, but if you can think of a witty title or hashtag it to a relevant event taking place, or let people know WHY they have to see what you are posting, they are much more likely to click... and maybe even share! Focus on sharing one thing at a time... If you post 5 things at once, people might just assume it's spam and ignore it. Lastly, interact with people, have presence online, and let people see your personality! People want to invest time into someone who is open about their work, who they are, and someone they can begin to really like, through their computer screen. If you appear too faceless or 1 dimensional, people won't take notice on give you their crucial time.
Click
here
to read more about promoting films online and on social media platforms.