Hello everyone! How are you? :)
And as I've said before, here is the third part of my blog on PHILIPPINE FESTIVALS: LET'S EXPLORE!.

BUT WAIT!
It's not just Philippine Festivals anymore. I've already included other types of events in the Philippines and not just Festivals alone, thus the title 'SPECIAL' Philippine Events!

For Philippine Festivals Blog 1, CLICK HERE!
For Philippine Festivals Blog 2, CLICK HERE!
Welcome to the new, fresh, and updated SPECIAL Events Philippines! I won't hinder you for too long, so let's begin!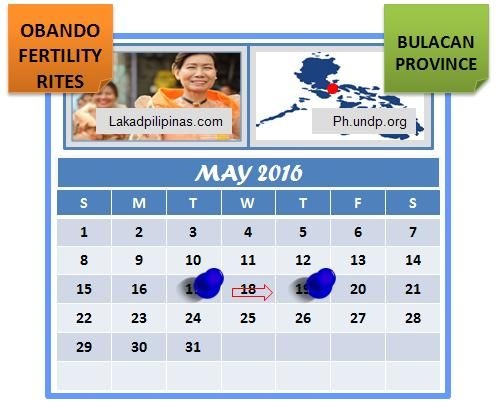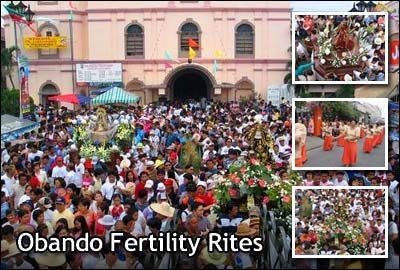 Photo compilation courtesy of Clickthecity.com
Many childless couples go to this ritual since it is not just an ordinary ritual. They believe that if they go here, they'll have a child. These couples join the event by dancing along the streets in a long procession as they carry the statues of their saints. What is even more interesting is that they dance in a gyrating pattern which visitors and tourists alike watch in awe.
Video courtesy of Johanna Toh (Youtube.com)
Whether someone believes in miracle or not, going here is still worth the visit. If you believe in miracle, prepare to see its awesomeness. However, if you are the other way around, it is alright. I would still encourage you to witness Obando rites as it shares a glimpse of Filipino culture.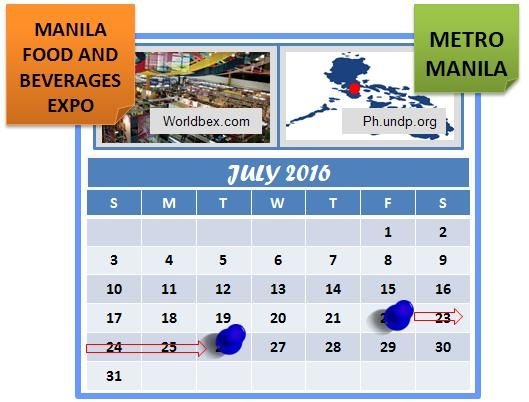 Many Filipinos love to shop, including myself (but that is if I've got tons of money). Shopping for clothes, devices, gadgets, kids' toys, and the rest, why wouldn't anyone be happy when they shop, especially when they shop for.... FOOD?
How about if you are given a day to go shopping for food? What will you do? Will you eat or retreat? Stay or pay?
That is why Worldbex Services International has decided to open an expo in the Philippines where different food and beverage companies can showcase their own products. This expo is no other than Manila Food and Beverages Expo (MAFBEX)!
Video courtesy of worldbex (Youtube.com)
At MAFBEX, one can do a one-to-one conversation with the companies regarding their products. Of course, he gets to enjoy exotic cuisine as well! And to those who plan to set up their own food and beverage business, it is the perfect time to ask questions about it. Who knows, your business might be the next one to join this expo!
*A scene from MAFBEX 2015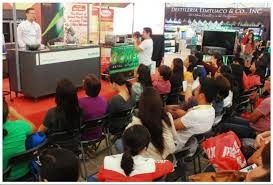 Photo courtesy of Ryancendana.wordpress.com
Video courtesy of Kent Cheong (Youtube.com)
Chill yourself with a good treat at Manila Food and Beverages Expo! Enjoy this coming July 2016!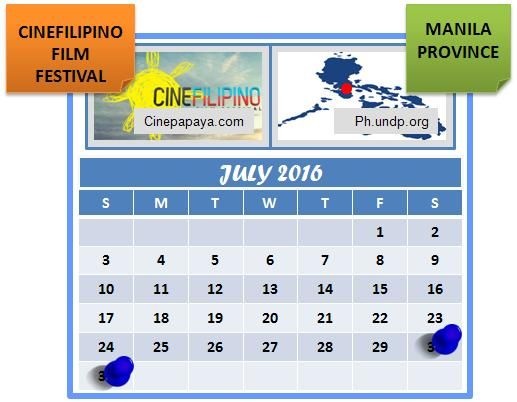 CineFilipino is a time of celebration for Filipino film industry. Many renown and amateur Filipino film makers attend to showcase their craft in film making by launching their movies. Different sorts of videos are shown, like comedies, thrillers, documentaries, short films, and a lot more. One way of preparing for this event is to make sure that your movie should be suitable for your target audience. Therefore, much preparation is necessary.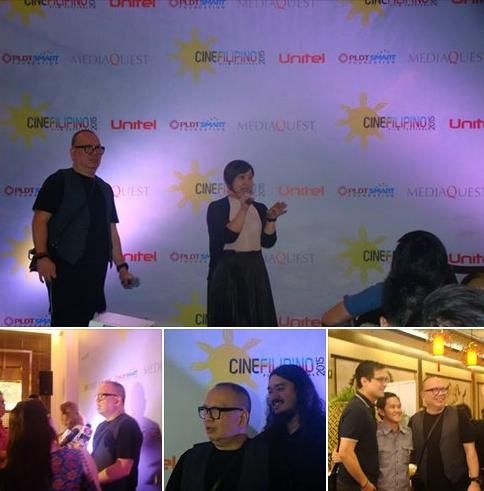 Photo compilation courtesy of Millette.sison.me
*Here is the short film entitled 'Last Call', an official entry to the 2013 CineFilipino Film Festival.
Video courtesy of Ascendancy MNL (Youtube.com)
Through this annual event, Filipino culture is shared. It is a means of showing the world what Filipino entertainment can truly offer. So, if you want to know how Filipino artistry goes, then consider attending this event. You might find your passion in film making here!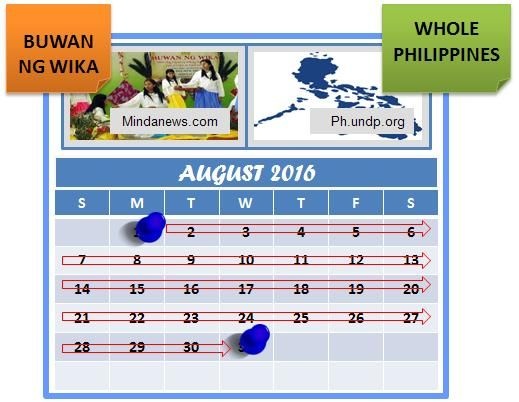 Let's get to know more of Filipino language through Buwan ng Wika, or the "Language Month"!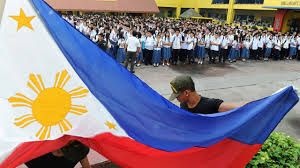 Photo courtesy of Rappler.com
*Grade 6 students dancing to 'Pasayawa ko day (Shall We Dance, Lady)' during the Buwan ng Wika 2015.
Video courtesy of Marianne Defensor (Youtube.com)
Buwan ng Wika is a Filipino yearly tradition done in remembrance of the Filipino language. At first, it was originally coined as 'Linggo ng Wika' (Language Week) but was expanded into a one month long occasion by the former Philippine president Fidel V. Ramos on January 15, 1997. Buwan ng Wika is held in all schools, colleges, and universites in the country. Also, Various activities are done like traditional dancing, Filipino musical performance, and displaying of Filipino artifacts.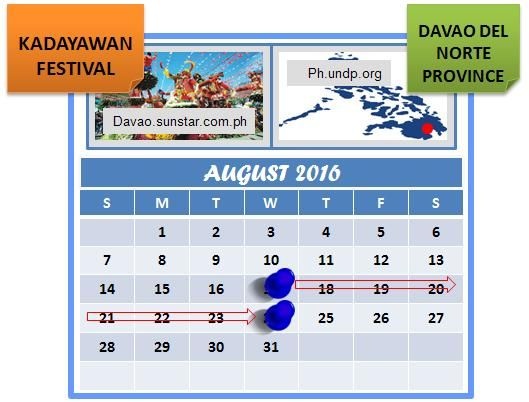 Celebrated in the province of Davao every third week of August, this festival originated from its historic times when the natives would go to a mountain known as Mount Apo to offer fresh fruits, vegetables, rice, and other offerings to a deity named 'Manama' as a show of gratitude of good life and harvest.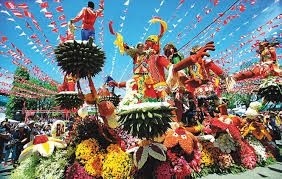 Photo courtesy of Davao.sunstar.com.ph
Nowadays, the joyous occasion is held by street dancing ( performed by dancers wearing bright colorful costumes), horse fighting ( wherein stallions fight each other so that one of them can mate the same mare they are attracted to), and boat racing.Tourists may also look for farm products and watch locals prepare local food.
*Let us look into a foreigner's eye as Kyle Jennermann, a Canadian traveller, explores Kadayawan Festival in this video:
Video courtesy of Kyle Jennermann (Youtube.com)
When you go here, don't forget to take photos. For sure, you'll be taking a lot more than what you'd think of! Kadayawan in Davao is indeed an impossible to forget kind of affair!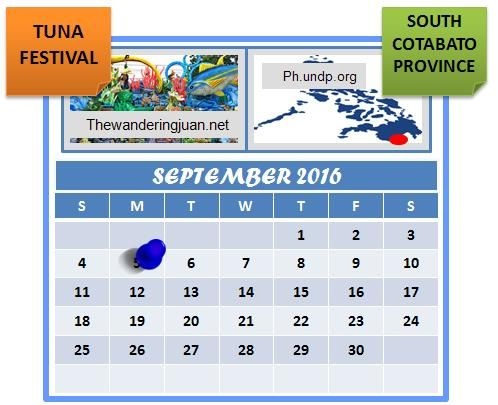 Philippines is known for its abundant natural resources, including fish. That is why it is not a surprise that one city in the country holds an enjoyable celebration in appreciation of fish abundance.
What fish is it?
It is Tuna. Tuna fish! Tuna festival!
*On the left: Lots of Tuna Fish in South Cotabato!; On the right: Tuna Festival 2012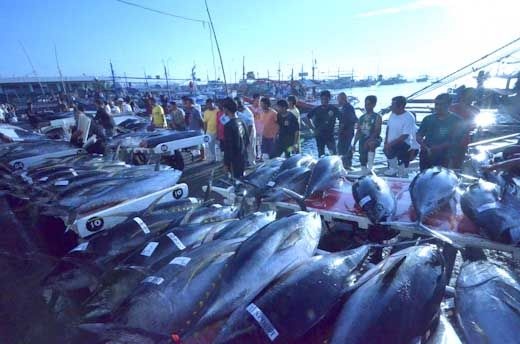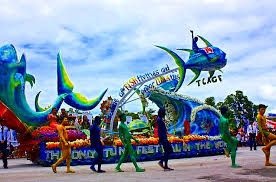 (Photos courtesy of Yellow-pages.ph & Hotelsingensan.com)
The location is at General Santos City, the Tuna Capital of the Philippines. In 2016, it will be on September Fifth.
*Tuna Festival 2014 Boat Racing
Video courtesy of Mr. Jimz (Youtube.com)
To savor the tastiest, most authentic, and most exotic (probably) tuna dishes in town, make sure to visit General Santos. This Tuna is made from the heart, so don't miss it!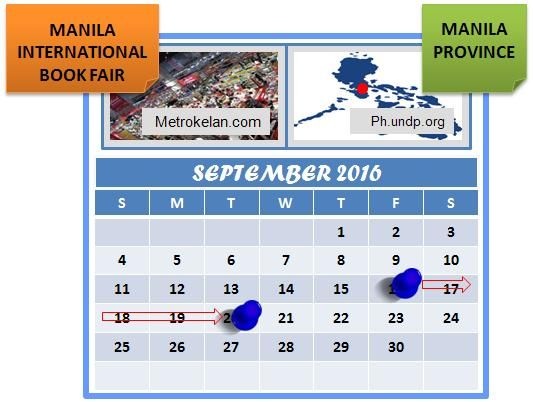 How many books do you read on a day? One? Two? Or more? Are you a bookworm? Well then, here is a challenge: How about reading as many books as you can at Manila International Book Fair 2016 (MIBF 2016)?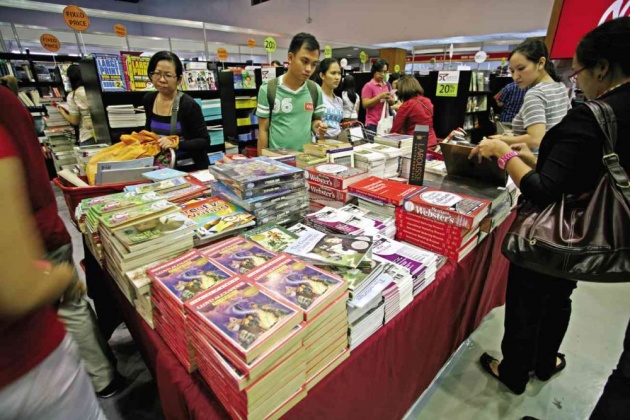 Photo courtesy of Lifestyle.inquirer.net.
If you indeed are a book worm, you would find my challenge a less challenging challenge. Instead, you would find it fairly entertaining! Because at MIBF, you name it and they have it! From novels, articles, bedtime stories, magazines, etc, you can never find another event like MIBF! You might also meet your favorite authors for book signing! Isn't that incredible?
*Here are 5 reasons to like MIBF!:
Video courtesy of Reimaru (Youtube.com)
The special event is a wonderful avenue for those who are literature maniacs. Reading nourishes the mind and soul, a wonderful bridge to human spectrum. Let's read then at Manila International Book Fair!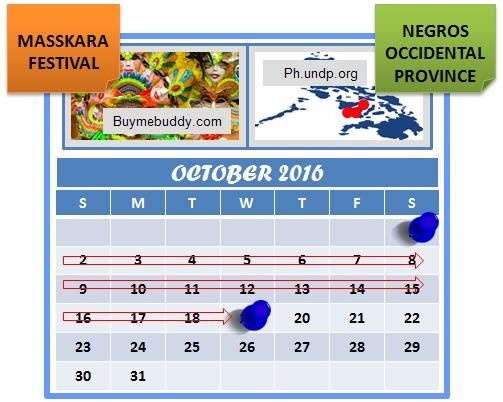 This festival in Bacolod City can be traced back to the times when the global price of sugar, the city's major crops, immensely dropped. Another shocking thing was when hundreds of people died as caused by sea catastrophe around the same time.. Hence, the festival appeared to re-instill hope and resilience to all Bacolodnons (The people living in Bacolod City). Through Masskara Festival, they are reminded to unite as one.
Today, the festival continues to be lively through its exciting activities such as beauty pageants, dance contests, and live music and other shows performed in a garden. Of course, traditional dishes are there too!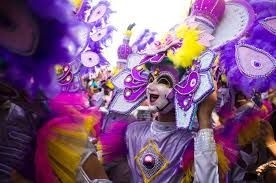 Photo courtesy of Kamustamagazine.ph
Video courtesy of Ferdinand Sanchez (Youtube.com)
Are you going to be busy around October 2016? If not or if you feel weary, feel free to come at Masskara Festival, the smiling festival!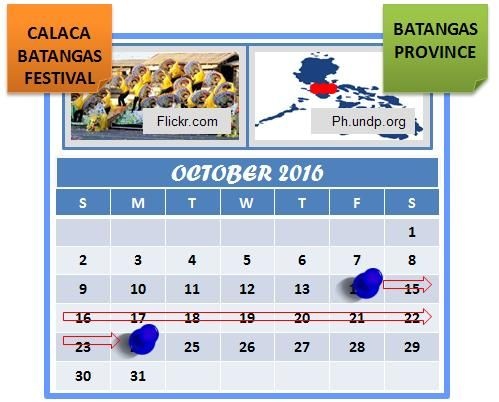 Fully known as Calacatchara Festival, it is made up of two words, "Calaca" ( which is the name of its host town) and "Atchara" ( which is an appetizer made from pickled raw pawpaw).
*Sample of Atchara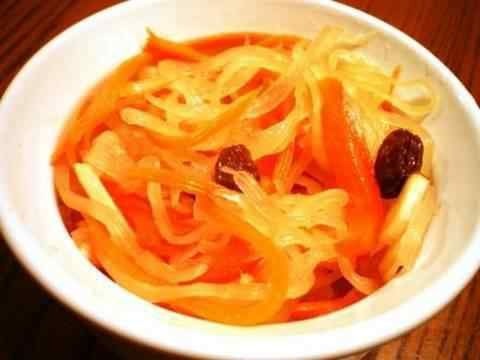 Photo courtesy of Toppinoyfood.blogspot.com
The appetizer Atchara is so popular among the people in the Philippines, so there's no hard time finding it in the country. However, if you want to try Atchara unlike anything else, come at Calaca, Batangas! But IF you try Atchara at Calaca Festival, just WOW!
*Atchara from Calaca, Batangas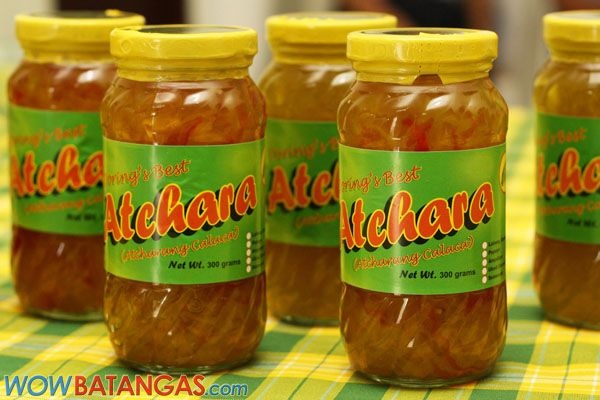 Photo courtesy of Wowbatangas.com
The festival usually lasts for a week with things like singing competition, food fest, job fairs, children's play time, and fireworks display illuminating the sky with oh so wonder vibrance!
*Dance number by Batangueno students at Calaca Festival:
Video courtesy of Calaca Batangas (Youtube.com)
Have you got excited? Sky's the limit. So if your heart is POUNDING with zest for this, don't miss out the date. Remember. October 14th to 24th it is! Don't you dare miss it!
And oh by the way.... They've got street dancing too! Now that's just one more feature to tell! Alright, see you at Calacatchara!

Did you like what you read? If you did, please leave some comments and I'll be glad to hear your feedback. Also, if you have some topics that you want me to blog about, feel free to leave comments still! Your feedback and suggestion is of my utmost importance! Have a great day mate and see you in my next blog? :)