Spontaniety is the best kind of adventure. - Anonymous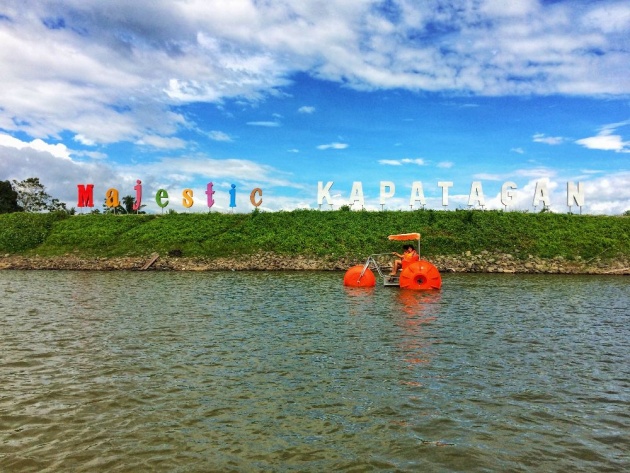 Image Credit: kneelyrac via Bitlanders
Sometimes, it's good to have a spontaneous getaway when the person you're planning to be with is your high school friends. Even if we discussed ahead of time and already set the date and itinerary, the chance of the go light is still unsaturated. When @yadeed15 and I decided to have chasing waterfalls getaway, we said that we will not wait for their confirmation. We decided it 3 days before the set date. It was really fortunate that we were able to go together with our one classmate in high school, Ayen, and my sister, @goiinmary.
Since we only have a day to unwind and have fun, we agreed to go to a municipality not too far from our municipality and has at least two (2) waterfalls. For the waterfalls, we can't deny that Iligan City has a lot to offer, but still, we chose to go to Kapatagan, Lanao del Norte. It is a 2-hour ride from our home which is known for its vast green and golden scenery.
TARGET DESTINATION
Cathedral Falls
La-Libertad Man-made Lake
Sta. Cruz Falls
CATHEDRAL FALLS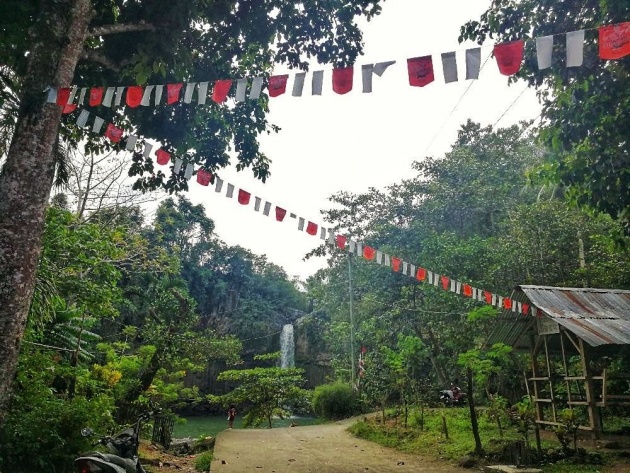 Image Credit: kneelyrac via Bitlanders
Cathedral falls is a 15-minute tricycle ride from the town center which is situated in Barangay Waterfalls, Kapatagan, Lanao del Norte. Usually, when we talk about waterfalls, it is always accompanied by extensive trek, climbing stairs, crossing a river or hiking to the heart of the forest just to witness the falls. Thus, you need to activate your sweat glands before you witness a majestic beauty. However, this is not applicable to this falls since it is one of the most accessible waterfalls I've been to.
The water drops approximately 35 feet high in a wide basin. The Cathedral Falls is named because of its distinctive rectangular rock formations that clumped unevenly in a vertical manner. Thus, the wide rectangular rock formation resembles the huge bamboo pipe organs found inside in a cathedral.

Image Credit: kneelyrac via Bitlanders
The basin is wide where you can swim, although, we decided not to do some plunging and splashing. For the sandbank, it is spacious enough that can accommodate an estimated of 30 people.
It was unfortunate that we weren't able to go to the top of the waterfalls and see a different perspective. To have a glimpse of what's on the top of the Cathedral Falls, you have to trek on a rocky slope from the falls.
La-Libertad Man-Made Lake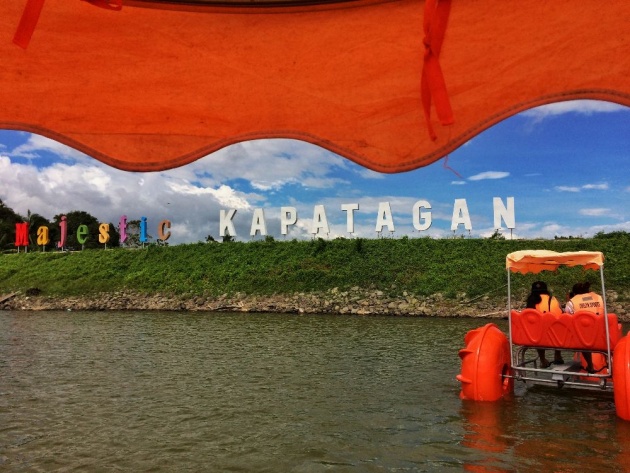 Image Credit: kneelyrac
From the town center, La-Libertad Man-Made Lake is situated at the top of La Libertad, Kapatagan, Lanao del Norte with an estimated total land area of 15 hectares. It is a 20-minute ride from the town center where you can either ride a motorcycle or a tricycle.
The lake screams serenity and it is big enough to do some water activities. You can either go for a big bicycle ride, kayaking or ride a swan pedal boat. Upon exploring the lake, you will see a big Majestic Kapatagan sign. Since the lake is surrounded by trees, specifically coconut trees, the wind is refreshing which is like an award to the tired legs that is busy in pedaling.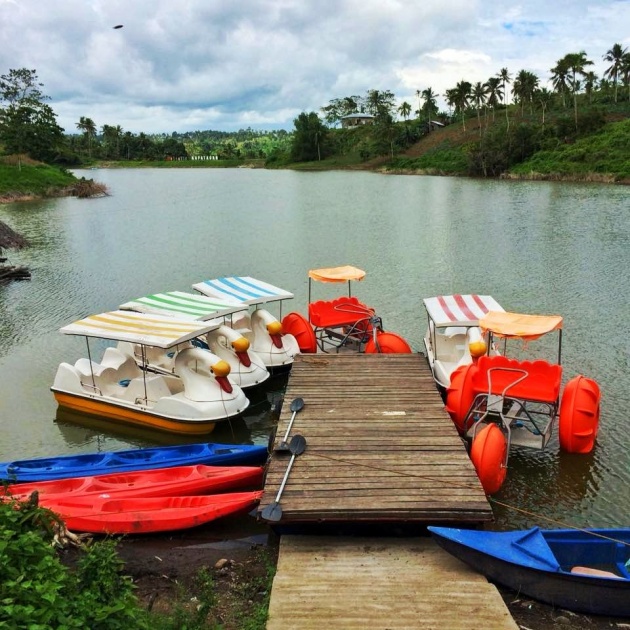 Image Credit: kneelyrac via Bitlanders
OVERLOOKING VIEW
As mentioned, Kapatagan Lanao del Norte is known for its vast green and golden scenery which can be seen along the road. Thus, in a highly elevated area, those green and golden scenery is like a painting on a canvas. Since the La Libertad Lake is at the top of Kapatagan, we decided to make a stopover to treat our eyes and be mesmerized by the overlooking view of Kapatagan Lanao del Norte.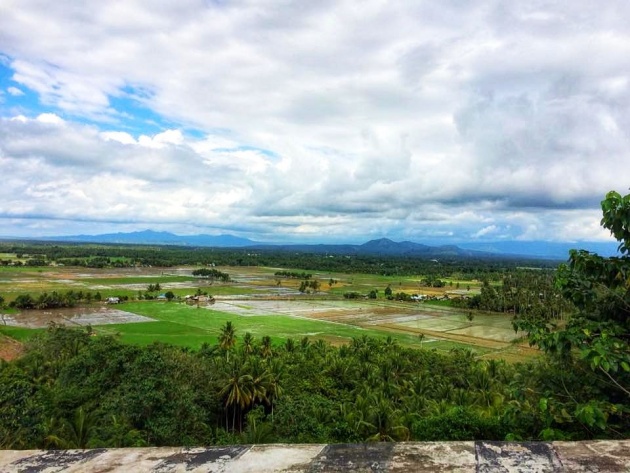 Image Credit: kneelyrac via Bitlanders
GETTING THERE
From Iligan City, you can ride either a bus or a van in the North Bound Tambo Terminal then choose with a board sign, Kapatagan, Pagadian or Zamboanga. Just tell the conductor or the driver to stop you at the Kapatagan Town Center.
You will see that there are lots of motorcycle drivers which are commonly known as habal-habal driver. Tricycles are also available which can accommodate 4 to 5 person.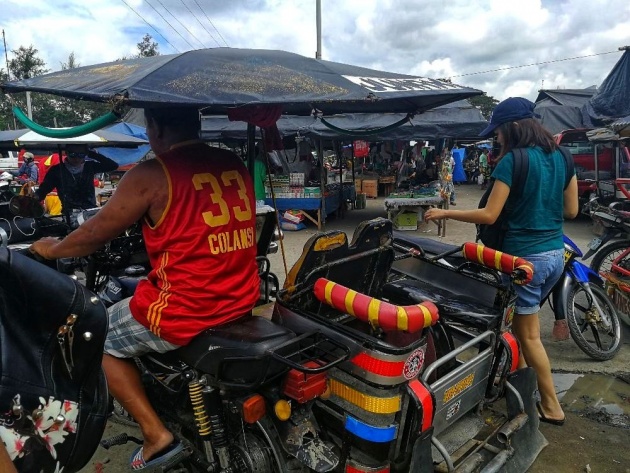 Image Credits: kneelyrac via Bitlanders
Sta. Cruz Falls, Failed To Visit
As you can notice, we included Sta. Cruz Falls in our itinerary yet we weren't able to visit it. After the Cathedral Falls, we took a break and had our lunch in one of the eatery (small restaurant) along the highway. Then, we found out that we need to trek for two (2) hours for an average trekker to reach the falls. We need a guide since we are foreigners in the area but for safety purposes, we decided to not go since we are all girls and it was already past 1 o'clock in the afternoon and we don't know what might happen.
COLORFUL HANGING UMBRELLAS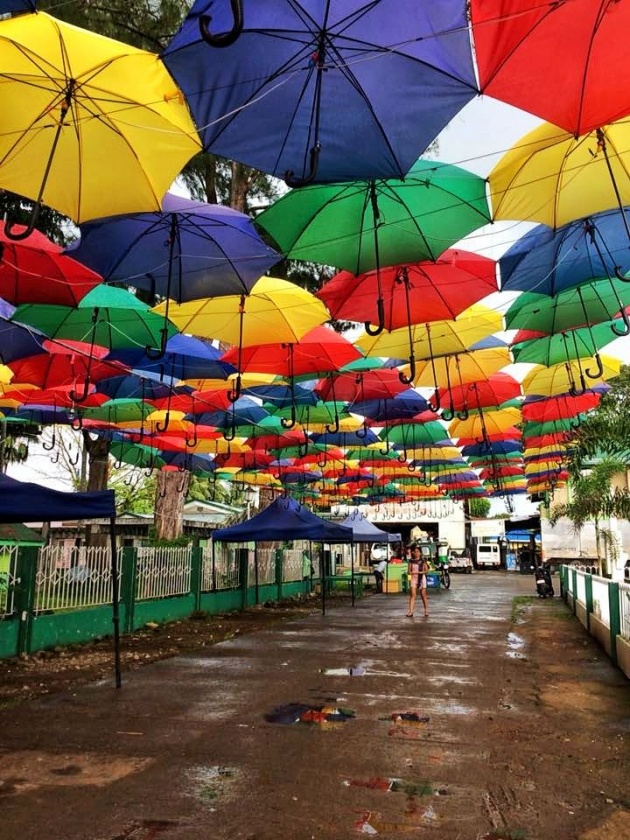 Image Credit: kneelyrac via Bitlanders
Since we failed to visit Sta. Cruz Falls, we agreed to have a shortstop in Tubod Lanao del Norte before the twilight. Tubod Lanao del Norte is known for its heart-stopping motocross competition, but since it is not yet the month of July, we decided to visit the colorful hanging umbrellas that light up during nighttime.
Again, another unforeseen event happened, the sky started raining cats and dogs while we were on our way. Luckily, by the time we reached the location, the rain started to slow down.
EXPENSES BREAKDOWN
Fare from Iligan City to Kapatagan -------------------------- 80
Town Center to Cathedral Falls ------------------------------ 20
Town Center to La Libertad Lake ---------------------------- 50
Big Bicycle Ride --------------------------------------------------- 75 per head
Kapatagan Town Center To Tubod -------------------------- 20
National Highway to Colorful Hanging Umbrella -------- 8
Tubod Lanao del Norte to Iligan City ----------------------- 60
CONCLUSION
This mini trip was spontaneous and budget-friendly. I will definitely visit Kapatagan again and this time, I'll see to it that Sta. Cruz Waterfalls will be visited.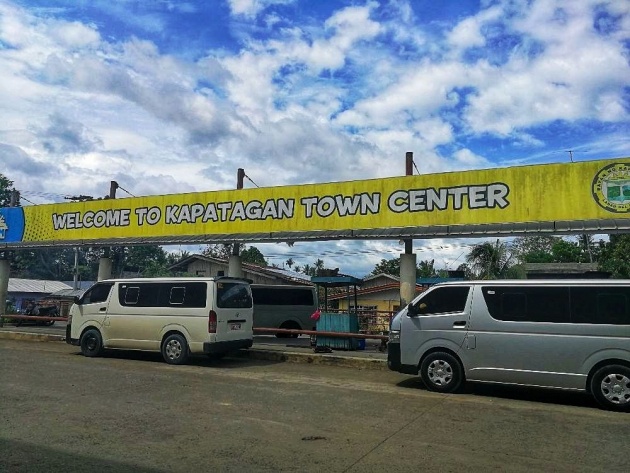 Image Credit: kneelyrac via Bitlanders
RECOMMENDATIONS
It would be better if Sta. Cruz Waterfalls is the first in the itinerary since both Cathedral Falls and La Libertad Man-Made Lake is accessible.
Cathedral Falls is accessible since it doesn't require trekking, climbing and other extensive activities, but, the place itself has a minimal access to the motorcycles. With that, if you plan to have some good splash, just ask the driver to wait a little longer. There might be an additional fee since the time is ticking and there could have been other passengers that awaits them. But if you don't want too, just like in our case, we walked towards the national highway until we found a habal-habal. It was a bit risky but we did go for it, one habal-habal with four passengers and a driver.
Don't get me wrong on this part, but, before asking the drivers, it would be better if you ask someone from the area like a security guard or a seller from a store for some information. Some drivers took the opportunity to deceive us by asking for an expensive fare.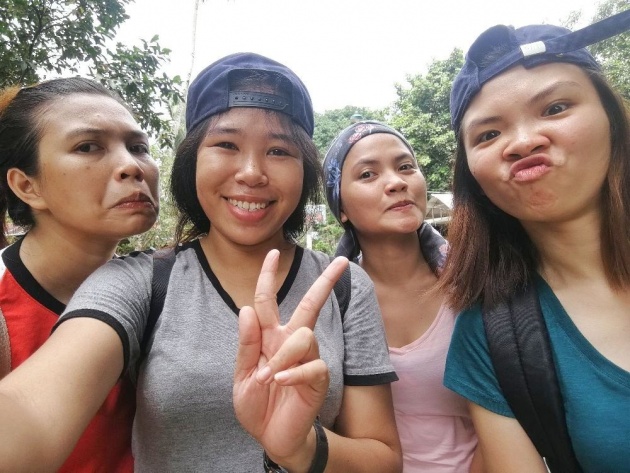 Image Credit: kneelyrac via Bitlanders
My Travel Buddies: My sister @goiinmary, Diday @yadeed15 and Ayen.
You might want to check these youtube videos!
The Cathedral Falls of Kapatagan, Lanao del Norte.
Video Credit: Olympio Lopez via Youtube
The Man-Made Lake of La Libertad, Kapatagan, Lanao del Norte
Video Credit: clashdaveclash via Youtube
..............................................................................
~ K N E E L Y R A C ~
.............................................................................