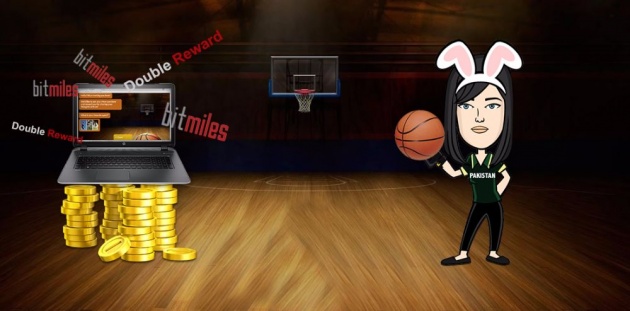 Source: Self Created
I always try my best to write on Micky's announced topics because to get reward in double. At this timeTopic for Double Reward is "Sports and Social Good".
Sports as a social good is a big power to create change in the people's lives socially in the following ways
· the growth of an individual
· the health of an individual physically
· the mental relaxation of an individual
· the socially development of an individual
· the economic development
Development sectors of the world are working for the social goods like providing clean water, hygienic food, education etc. Some of the development sectors are also working in a possible way for the sports as a social good.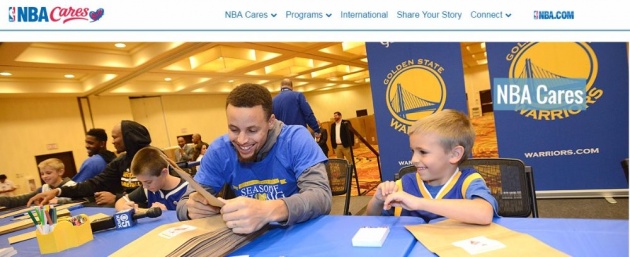 As I inspired by so many development sectors who are working for sports as a social goods. Through bitLandars I got to know about NBA (National Basketball Association) Cares.
NBA Cares works with internationally-recognized youth-serving programs that support education, youth and family development, and health-related causes, including: Special Olympics, YMCA of the USA, Boys and Girls Clubs of America, UNICEF, the Make-A-Wish Foundation, Share Our Strength and GLSEN.[1]
BitLandars' Awareness Survey Chat about Social Power of Sports:
Survey Chat sequence is still continue not only through bitLanders private chatbot but, through your bitMiles' account as well. As previously, bitLanders Survey Chat consists different interesting topics like economy, politics, sports etc. whereas this time when I participated in survey chat through my bitMiles account there I found several topics. So for writing on this announced topic I clicked on the topic "The social power of sports" where a window opened for a survey chat regarding the same topic. You can also open the same survey where Micky announced this double reward topic….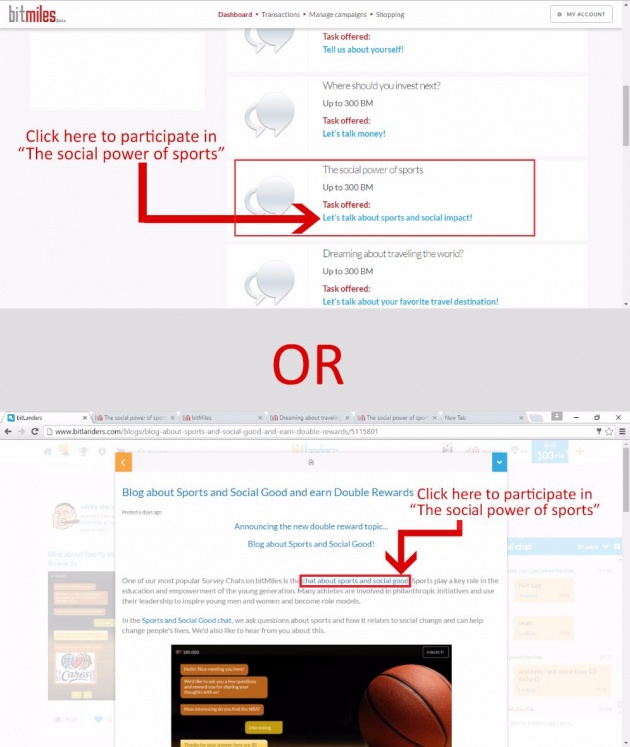 At this time of survey chat on topic "The social power of sports"I found attractive interface of basketball on the background of survey chat on the topic. More this survey chat contain very good information about sports & not only this now you will also experience of seeing images of related topics.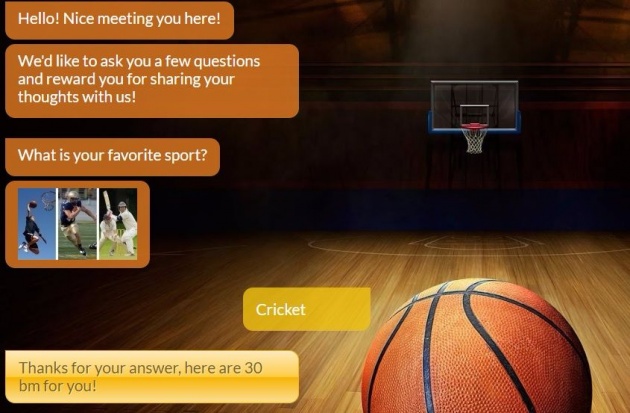 Source: BitLanders' survey chat on BitMiles
My Opinion Regarding Questions Asked in Survey:
When I joined the survey chat about "The social power of sports", here I asked 6 questions which are…...
1st Question:What is your favorite sport?
For answer there were three sports options given from them I selected "cricket" because it is my favorite play and also very popular and favorite sport in our country Pakistan. With three options of answer there also three images of sports was displayed and this attracted me too much.
2nd question: What sport facility is closest to your home?
Here I answered "cricket field" because where I live, there is cricket field is near to my home.
3rd question: Did you can play basketball by yourself?
Well after this question my answer was "yes" because basketball can also be played individually. You can play this game by yourself by practice shooting from difficult spots. You can shoot the ball from different locations around the court and throw it in the basketball net. If you miss a shot in the progression, you can shoot the ball again in the basketball net.
4th question: Rate your level of overall mental toughness?
I answered this question "average" but personally I would rate my mental toughness depending on present situation.
Ok after this question they shared very motivational and helpful information regarding basketball.
I felt how sports can play an important role like you can take quick decisions in other real life activities. Youth who participate in sports mostly they have ability to control on their emotions & they are friendly in nature.More they can learn the value of team work with competitive nature.
5th question: What kind of smartphone games do you play?
I answered "action games" because according me players of action games are better able to focus, do retain information & multi-tasking. More they can complete cognitive exercises such as rotating objects in their minds etc. (it is just my opinion guys..... :P)
6th question: On which cable network do you fallow sports news?
Personally I follow Ten Sports for sports news but during my survey chat I selected ESPN.
Latest Survey Chat with more bitMiles Loyalty Points:
One more plus point is this time reward of bitMiles loyalty points are increase than before. At initial survey chat I got 10 bitMiles loyalty points then after that it raised to 30. Now in latest survey chat I am getting more than before after giving answer of each question in different numbers such as 160, 260, 450, 630 etc. That means now you can earn bitMiles loyalty points in big numbers. :D
Pakistan & Sports:
Cricket is very popular game in Pakistan but now there are so many other sports are getting popular like football, tennis, squash and snooker.
Football is also getting popularity among the youth of Pakistan and there is no shortage of talent of its players in our country. Our young generation just require good sports academies who can trained our youth in a better way. In Pakistan there are so many well-known academies are available for cricket but there is no good academy available for football.
Self-talented Football Team in Karachi, the City of Lights in Pakistan:
As football is also getting popularity in almost major cities in Pakistan but in city Karachi there is an area named as "Lyari" football is most popular as compared to other cities of Pakistan. Even if you got the chance to visit to Lyari, it will be portraying a mini Brazil to its own. Here you will see the people of Lyari decorate the streets with colorful flags of different countries of football teams and pictures of famous football players like Cristiano Ronaldo, Lionel Messi and Neymar. Brazil football team is the most favorite team of the people of Lyari. There, youth is die heart fan of Brazil football team. In Lyari even parents encourage their children to play football.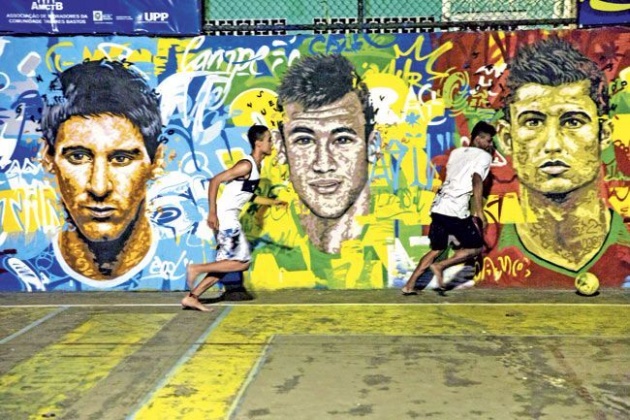 Source: Google
This talent of Lyari got popular and in 2014 in the Rio (the city of Brazil) when there was Street Child Football World Cup 2014 held among different countries of the world there Pakistan's street children were also included for Street Child World Cup 2014.
History of Street Child World Cup:
In 2010 1st street child football world cup was hosted by Durban (the city of South Africa), and sponsored by Deloitte. In this world cup 7 teams of boy & girls named Brazil, South Africa, India, Nicaragua, Ukraine, Tanzania and The Philippines were participated. Ages of participants were between 14 and 16 years old. The main purpose of street child world cup is to provide protection; rehabilitation, empowerment and opportunities that all children are entitled to. Initiative of Street child world cup was taken by UK human right charity named "Amos Trust" and for their coaching they got help from organization named "Coaching for Hope".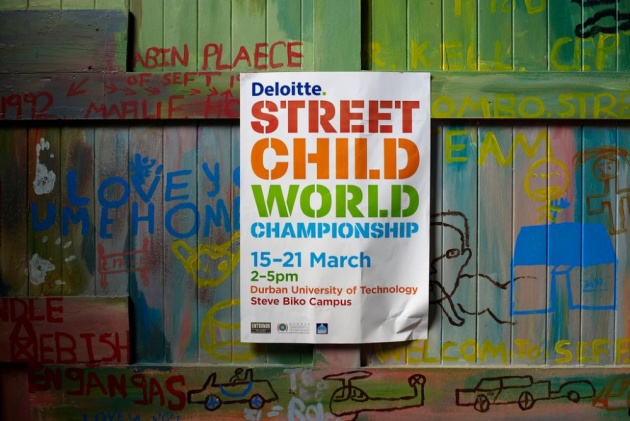 Source: Google
Pakistan's Street Children Empowerment Foundation"Azad Foundation":

In 1998 an NGO named "Azad Foundation" was established. Azad Foundation is playing important role for well being of excluded street children with the help of educating their families.
Azad Foundation with the help of another organization "Muslim Hands" made a team of football of 9 young street children. Azad Foundation & Muslim Hands took the partnership to strategic level by initially signing an MOU at Rio Brazil during street child world cup for a national campaign. Azad Foundation provides a trained coach named Abdul Rashid who trained the football team of Lyari's children in 3 months for participating in "Street Child World Cup 2014".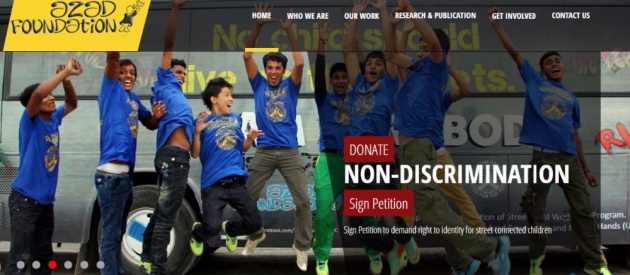 http://www.azadfoundation.org/index.php
Street Child World Cup 2014:
2nd street child world cup was organized in Brazil with cooperation of "Save the Children". In 2014, more than 230 street children from 16 countries joined Brazil in Rio de Janeiro for Street child football world cup Tournament. In this world cup Brazil also provided opportunity and selected Pakistan children football team from Lyari which was trained by Azad Foundation & Muslim Hands. Prince William Duke of Cambridge, Pop Francis, Gilberto Silva and Football Legend Zico also supported street child world cup 2014. In 2014, street child world cup Pakistan football team got 3rd position and win bronze medal.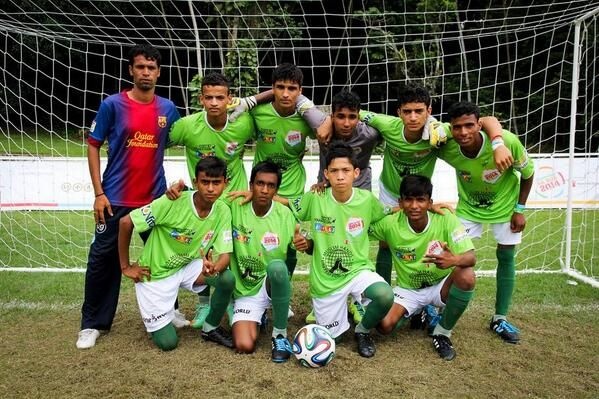 Source: Google
"This bronze medal is also an achievement. God must have a better plan for us; it's alright if we didn't play in the final. This is also a victory for us" said the Azad Foundation officialIrfan Maqbool.[2]
Success of Pakistan football team of Lyari in fact proved not only their worth as footballers, but also as brave individuals as well. Lyari is considered as backward area of Karachi & mainly it is known for its drugs, poverty, gang war & violence. But after operation of rangers the life of people of Lyari and children has changed.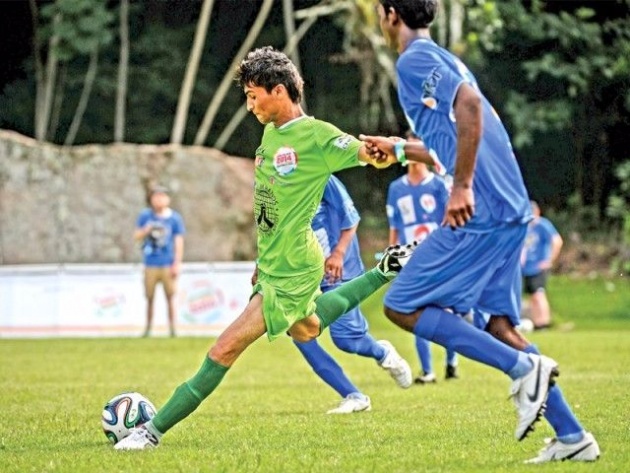 Source: Google
Social Good Create Change in Children's Lives of Lyari:
With the help of Azad Foundation and Brazil Street Child World Cup children's lives of Lyari have totally changed. Now they have a better life and through football they've now found a purpose of life. Street child world cup also played important role to change the lives of street children of Lyari & it also gave them an identity of such children over the world. As youth are the big asset of any country, if they are not involved & provide good opportunities in the form of healthy activities like different sports, so their attention can divert to other social bad activities.
Street Child World Cup change the lives of street children
In Last I will conclude my blog in a way that sport is an interesting way to do social good. So any one who is good in financially, can invest on sports as social service and this will put a positive impact on the lives of people. Through this people can aware about the benefits of physical activity in an interesting way like playing games. Those areas can be in focus for this kind of social services where people do not bother to take part in sport specially girls, disabled people and adults.
References:
[1] http://cares.nba.com/mission/
[2] http://historypak.com/pakistan-street-world-cup-rio-2014/
This is the End of my Blog. Hope you people enjoyed alot... I spend my hard working here in writing this and want your comments below in comment section.
Thanks for sparing time in reading My 19th attempt for my virtual home "Bit Landers".... Stay Connected for more articles.. :)