The local sports goods manufacturing industry is one of the major source of foreign exchange earnings of Pakistan. It is centralised in and around the city of Sialkot, where it has flourished as a cottage industry with most of its production by generations of skilled craftsmen. At the time of independence, this industry was in an infant stage with a nominal export of Rs. 0.82 million. The Government took immediate steps to develop this industry by providing loans and subsidies to the manufacturers and arrangements were made to market the manufactured goods. Since then, the industry has flourished locally and enjoys good reputation in the international markets as well.


Production
At present, there are more than 2000 units, mostly on small scale in operation with an installed capacity of Rs. 20 billion per annum. The units are operating on single-shift basis.
Pakistan produces a wide range of sports goods, accessories, games and athletic equipment generally following the British, American and German specifications.
The Government is also enforcing on a compulsory basis, minimum quality standards for sports goods manufacture. The Pakistan Standards Institute, a government agency, has devised specific standards for different types of sports goods. The important items being produced are tennis rackets, hockey sticks, hokey balls, polo sticks, cricket bats and balls, footballs, (complete) and numerous goods used in both in-door as well out-door games.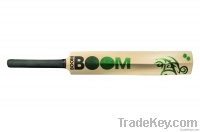 At present, Pakistan's sports goods enjoy a world-wide recognition mainly because of the care that goes into their designing, manufacturing and selecting of the finest raw materials. The basic raw materials required for the production of sports goods, are leather, wood, glue, nylon guts, rubber and chemicals. Out of these, leather and various kinds of wood are abundantly available in Pakistan. The industry annually utilises materials worth Rs. 8 billion including imported raw material.
Exports
This industry is one of the major foreign exchange earners for Pakistan and is, therefore, receiving full government backing in its development. It is estimated that more than 75 per cent of the total production is exported every year.