How To Foster And Raise A Resilient Child

(Photo Credit: Dr. Kelly Luu & Dr. Tram Nguyen via richmondpediatrics.ca)
WARNING! Kids are not as problem-free as one would think
Fostering resilience in children is an important role for parents. However, before discussing the importance of raising a resilient kid (and the process to do so), it is important to consider first the following reality...
Some adults will come across a point in their life wherein they would wish that they are a child again – and then there are others who would say that being a kid is so much better than being an adult. However, it is also interesting to wonder just how many of these adults have thought or wished about the same exact but opposite thing when they are still kids (I wish I am an adult now, what if I am older and I have my own place, etc...)
A lot of people have this notion that being a kid is as carefree as it can be – unfortunately, this is not the case and is very much far from the truth. In fact, one proof is already given in the preceding paragraph "...children wishing to fastrack to becoming an adult..."
This thought which is short and simple conveys a strong message – that at a young age, a child would want to escape the setting that he or she is currently in.
Stress Sources for Kids

(Photo Credit: Kumon Learning Centers via www.oprah.com)
Fostering resilience in children helps them adapt to the numerous stress that they are exposed to. Needless to say, stress is one of the reasons why some kids wanted to transition at such an early age (to escape the problems that they are encountering).
But one may ask, how can a child be faced with so much stress? Just what exactly are these so-called problems?
Sadly, many people fail to realize that kids have various stress sources – some of the common offline ones include a bully in school, not being heard of, and failure to be understood. To make matters worse, nowadays, digital lifestyle may also be causes of stresses for kids. There's peer pressure from social media, misconception of things done online (dangerous pranks thinking it is ok), exposure to terrible and dark side of the internet.
Why is it important to raise a resilient child?

(Photo Credit: Igor Yaruta/123RF via www.psychologytoday.com)
For obvious reasons, protecting their children is one of the principal goals of every responsible and loving parent. But every parent knows two inescapable life aspects:
• Bad things will happen no matter how much effort is exerted to avoid it
• Sooner or later, kids will have to learn to take care of themselves
The above two aspects are inevitable fears that every parent must face and accept. No one lives forever, undue circumstance will always happen, and a parent certainly wants the best for their child. The best way for a parent to accomplish this is to instill resiliency in their children so that they can adapt, cope, and take care of themselves no matter what the adversary is.
What Is Resiliency In Children?
According to Merriam-Webster online dictionary, resiliency are defined with two meanings and these two are quoted below:
1. The capability of a strained body to recover its size and shape after deformation caused especially by compressive stress
2. An ability to recover from or adjust easily to misfortune or change
Basically, developing resiliency in children means giving them the necessary tools to adjust and recover from any challenges that may come their way. Think of it as a great skill that they have attained to overcome any factors that may affect negatively influence their emotional, mental, and physical well-being.
Naturally, some readers may argue that resiliency is dependent on the child's genetic makeup. Yes, this is true, but developing resiliency in children can also be considered as a skill that can be learned with the proper method. When done correctly, the parent is confident that their child has just acquired necessary strength to thrive from life challenges by themselves.
Steps On How To Foster Resiliency In Children
1. An Atmosphere Of Care, Support, And Love

(Photo Credit: Navajo County Arizona via www.navajocountyaz.gov)
When a child is afraid, his or her first natural reaction is to look or cling on to someone for support. That being said, it is important to let the child know that even though they are being taught to stand their ground and solve problems on their own – they are still loved and the parents are still there for worst case situations.
Foster an ambience that the child is not being left out – instead, let the child know that they are not alone and that they can do it. An atmosphere of physical safety and emotional security is an important aspect of building resiliency in children.
2. Give Them That Feeling That They Can Bring Out Anything In The Open

(Photo Credit: PlayKidsSports via www.playkidssports.com)
Of course, a child would always need some help when starting out on this road to resiliency. This means, be sure to let the child feel that all communication channels are open. Make sure that children can open up and speak freely – otherwise, they may have feeling of insecurity, fear, and unsure of themselves.
Additionally, make sure that when a child speaks truthfully, it does not fell on deaf ears. When they are struggling emotionally, they should be able to express it and it is being heard with sincerity. Children can always feel if adults are earnestly listening or not.
3. Resiliency Needs Character and Confidence

(Photo Credit: WisieForKids via www.wisieforkids.com)
For obvious reasons, resiliency and confidence goes hand in hand with each other. This is actually a given since without confidence or belief in one's self, it would be quite impossible to overcome obstacles. As for character, this particular element is also needed for the kid to know or judge what is right and wrong. If the child feels secured and is ready to face his or her challenges (be it emotionally, physically, or mentally), the child must have confidence and character.
A good example would be if the child made a mistake. He or she must acknowledge the mistake. It is important for them to realize that it is a mistake and to understand why it is a mistake – this is character. Of course, the next thing to do is for them to learn from that wrong action – they must trust their own capabilities and have faith that they would be able to correct or not do the same moving forward (this is confidence).
A resilient child, thanks to confidence and character will know what good values are – and this is something that they would be willing to practice if resiliency is fostered correctly.
4. Practical Opportunities

(Photo Credit: Candice via insightfulkids.com)
To finalize developing resiliency in children, they must be allowed to practice it. There comes a time when parents should stop being overprotective and let their child face certain challenges that the kid can handle.
In this way, the kid's problem solving skills will also be improved, their confidence will be tested, and their character and values will guide them to morally correct outcome.
Building resiliency in children will let them know that they are capable of doing the right things by themselves and that they can control the outcome of their decisions. Finally, children will know that their actions will have positive impact not only for themselves but also for the people around them and society to which they belong.
Querlo / bitCharities / GMRF
As discussed, developing resiliency is crucial for the kid's growth and development. However, building resiliency is just one of the many things that a child needs.
In this section, let us tackle these so-called other needs of children mentioned above. For those who are not aware, there are some children who are victims of unfortunate events such as illness, war, and / or natural disasters.
Yes, it is heart-breaking to see children in such bad situations – but luckily, GMRF exists.


(Photo Credit: GMRF logo via gmrfchildren.org)
GMRF stands for Global Medical Relief Fund and it is actually one of the listed bitCharities. As for the purpose of GMRF, the quote below is stated in GMRF's website:
The non-profit, non-partisan Global Medical Relief Fund "Federal Tax ID: 13-3987722" aids children who are missing or have lost the use of limbs or eyes, or have been severely burned, or have been injured due to war, natural disaster or illness.
The explanation above is quite straightforward. However, you can also checkout the video presentation below for more information about GMRF:
(Video Credit: GMRF YouTube Channel via YouTube.com)
Now that GMRF has been explored, some readers might be wondering about what is Querlo?


(Photo Credit: Querlo logo via Querlo.com)
Querlo is dubbed as the chatbot with a heart. The creative team behind Querlo is also the same team that brought about bitLanders.com – this innovative social site.
To known more about Querlo, kindly see the informative clip below:
(Video Credits: Sky High Advertising via YouTube.com)


One of the main features of bitLanders is BitCharities. BitCharities has its own website at www.bitcharities.com
To know more about this particular feature, it would be advisable to visit the mentioned website. However, the flowchart below is a short summary flow of how BitCharities work: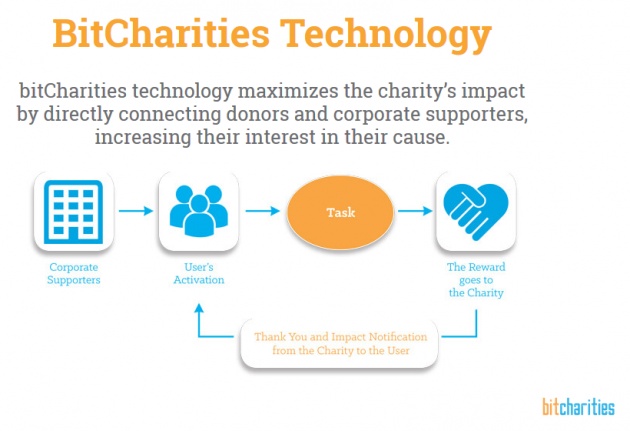 (Image Credits: bitCharities flow via www.bitCharities.com)
Now that we know the connection of Querlo, GMRF, and bitCharities, be sure to engage the Querlo GMRF chat below for more interesting insight.