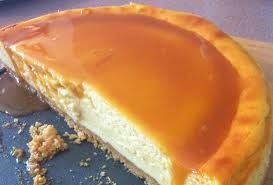 INGREDIENTS

8 shortbread fingers or biscuits
50g butter , melted
600g cream cheese or curd cheese
100g golden caster sugar
3 tbsp plain flour
2 tsp vanilla extract
3 eggs
142ml pot soured cream
300g white chocolate , melted
6 hard caramels , roughly chopped
225g jar caramel or dulce de leche

COOKING DIRECTIONS

Heat the oven to 180C/fan 160C/gas 4. Crush the biscuits in a food processor, stir in the butter and press the mixture into the base of a 20cm spring-form tin. Bake for 10 minutes then cool. Turn the oven down to 140C/fan 120C/gas 1.

Beat the cream cheese with the sugar, flour and vanilla. Add the eggs, soured cream and chocolate and combine. Sprinkle the hard caramels over the biscuit base, pour the cheesecake mixture carefully on top and bake for 40-50 minutes, the filling should still have a slight wobble when it is cooked. Cool and then spread a layer of caramel on top.