I am quite sure most of you are familiar with STREET FOODS sold by enterprising vendors and hawkers in your locality.
Image Credit: http://uploads.tapatalk-cdn.com
In the United States, cheap street foods hit the commercial district of New York dating back to the Colonial period. Home made biscuits, fruit cakes, caramelized almond nuts or pralines, roasted corn and coffee were openly peddled by American blacks. Today, it's the all American HOT DOG that tops the lists of stateside street food.
The good old French Fries was a popular street food in Paris since the 1840's.
British vendors of that era hawked pea soup, tripe, jellied eels and prawns.
In Romania, street vendors sold gingerbread, creamed corn and fried bacon.
The ancient Egyptians had lamb kebabs, rice and fritters as their favorite street food.
Would you believe, even during the time of the Aztecs, street foods of all sorts were sold in market places? They had tamales, turkey and rabbit meat, fish and frog stews.
In Asia, the Chinese introduced several recipes of ramen or noodles cooked in a variety of menus.
In Thailand and Vietnam, women folk sold spicy noodle soups, rice boiled in banana leaves, fish sauce, and exotic deep fried locusts and scorpions.
Image Credit: http://www.makemoneyinlife.com
The Philippines has its share of home grown street foods like "isaw" or barbecued chicken/pork intestines, "adidas" or grilled chicken feet, "helmet" or grilled chicken head, "atay" or grilled chicken liver, "balunbalunan" or grilled chicken gizzard, "tenga" or "tainga" or barbecued and finely chopped pig ears, "inihaw na pusit" or grilled dried squid, "calamares" or breaded squid rings, squid ball and fish ball.
Image Credit: http://www.pepper.ph
This, I think is the most popular of all Filipino street food sold by street vendors using wooden push carts with a built-in gas stove. Fish balls are considered a cultural delicacy. These are made from cuttlefish and usually served with a sweet and sour or spicy sauce. You can find these fish ball vendors almost anywhere in the Philippines. I did some research and I was surprise to learn that fish balls are also found in countries like Hong Kong, China, Indonesia, Singapore, Malaysia, Thailand and as far as Sweden and Norway. Of course, these are cooked and served in a variety of ways and ingredients.
Other typical street foods peddled by Filipino vendors particularly in the numerous provincial bus stations in-country are hard boiled eggs with a pinch of salt wrapped in a small piece of paper, sweet corn on a stick and boiled or roasted peanuts in little packs.
In the streets of Manila, especially during heavy traffic, ambulent vendors also sell these stuff to motorists. Only in the Philippines, I guess! If you are not picky, you will certainly enjoy these foods while making your way through long and tedious traffic jams. I am not the picky type, but sometimes I'd rather go hungry than patronize these foods that may have been cooked or processed by unsanitary means. I'd love to eat them if I cooked it myself.
Image Credit: http://www.baliwaglechonmanok.com
In many street corners of the Philippines, one will also find a proliferation of street vendors selling "lechon or litson manok" or grilled or roasted chicken, cooked the Filipino way. It's the mixed herbs and spices that gives it a distinct flavor. Usually sold together with lechon manok is "inihaw na liempo" or grilled pork belly. This is an all time favorite of Filipino men folk who take this appetizer with beer or wine during their happy hour.
Image Credit: https://www.stopsleepgo.com
Of course they also have a choice of grilled pork barbecue or "betamax". Funny names. Hehehe! Yes, it's not the old school betamax tapes you know of. Here, "betamax" is simply grilled chicken blood that are cut into square cubes that resembles a betamax tape.
Image Credit: https://chefsy.s3.amazonaws.com
Another funny named Filipino street dish is "Kwek-kwek". It's actually a hard boiled quail egg deep fried in butter coated with orange coloring. The chicken egg version, cooked the same way is called "tokneneng".
Image Credit: https://farm3.staticflickr.com
Image Credit: http://data.whicdn.com
If you have a sweet tooth, you should go for the favorite Filipino snack called "banana cue" or deep fried and caramelized "saba" bananas on a stick. Same goes for "camote cue" or sweet potato similarly cooked and served on a stick.
Street foods can also be a lucrative business to many street vendors. I think it's because many Filipinos enjoy eating outside their homes with friends or family members. And, good and sanitary street foods are the way to go. It's a lot easier on the pocket compared to fast food stores. You end up with a full tummy anyway.
Image Credit: https://i.ytimg.com
I know of some guys short of budget who would take their girlfriends for a "dining date" over a round of barbecue, fish balls, "isaw", "kwek-kwek", "adidas" or whatever street food is usually available from push cart vendors. Of course their dining isn't complete without a cold plastic glass of young coconut fruit juice or "buko" juice or a jelly drink we call "gulaman". Gosh, I'd never imagine myself in that kind of scenario! LOL! Funny it may seem, but many of these street and ambulent vendors have sent their children through school or university. I know many of their counterparts in Asia share the same success.
True enough, just like in any city around the globe the real flavor and character of its citizens can be seen by the street food they eat.
CHOW!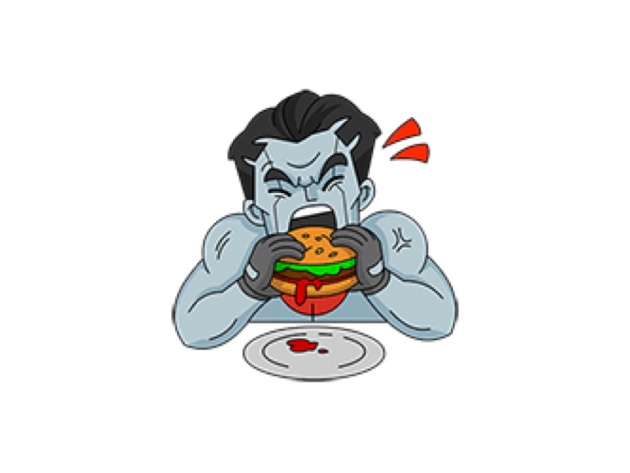 Image Credit: bitLanders.com