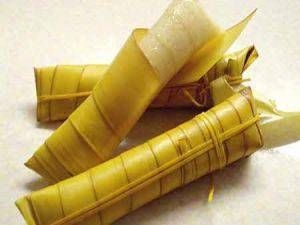 Suman sa Ibos Recipe
Ingredients:
• 3 cups malagkit rice
• 2 teaspoons salt
• 2 cups thick coconut milk
• 1 cup water
Procedure:
• Wash and soak the malagkit (glutinous rice) in water for an hour or until the grains are swollen then drain.
• Add salt and coconut milk, then mix well.
• Prepare Ibos wrapper (refer below) then fill with rice mixture.
• Seal tubes and tie with strips of the ibos.
• Arrange the suman in a big saucepan and cover with water.
• Cover the pot and boil for 2 hours or until cooked.
• Serve with sugar or ripe mango.
How to wrap a Suman Ibos:
• Fold the end of the buri leaf by 1 1/2 inches.
• Fold the bottom edge into a triangle.
• Start rolling up the buri leaf in an overlapping manner.
• Roll up the buri to make a tube.
• Attach a small piece of wooden pick to secure the tube.
• Fill the tube with malagkit.
• Seal the ibos tube.
• Tie with strips of buri.
\\^_^//