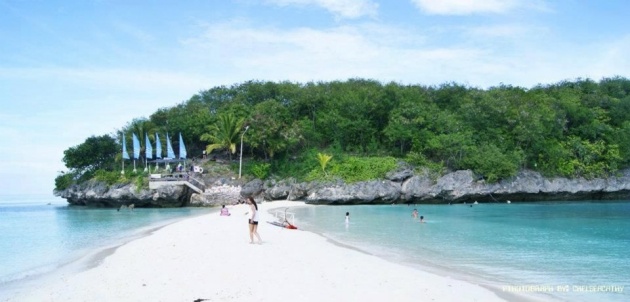 Photo Credit: Cathy Rodriguez
A dive haven for locals and foreign tourists that is famous in the Philippines specially in Cebu and even internationally. But the most well-known attraction of Sumilon Island is its sandbar. Depending on the season, the sandbar changes its shape and its locations around the island.
Men are afraid to rock the boat in which they hope to drift safely through life's currents, when, actually, the boat is stuck on a sandbar. They would be better off to rock the boat and try to shake it loose, or, better still, jump in the water and swim for the shore.
The word Sumilon originated from the Cebuano word "nisilong", which means "to seek refuge". It was named "sumilong" when fishermen need shelter to take cover from a storm/typhoon. It is a small island that is situated in the Southern region of Cebu. A three hours drive from Cebu City to the municipality of Oslob.
Video Credit: Francis Dube
"The real voyage of discovery consists not in seeking new landscapes, but in having new eyes." — Marcel Proust
There are two parts of the island: one is a public beach where most locals opt to stay to save some bucks and the other one is a private resort name Bluewater Sumilon Island Resort where the price is costly. But I won't be discussing the private resort since my travel experience was on the public beach.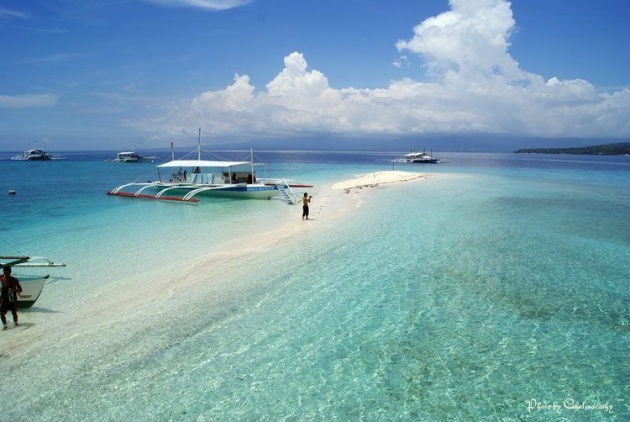 Photo Credit: Cathy Rodriguez
It was almost noon time when the tide is low. The famous sand bar showed up. This sand bar will vanish when the tide is high, pump boats won't be able to dock without the sandbar. The best time to go to Sumilon is during summer and travel early in the morning so you can have the place all by yourself and always check the tide status when planning to go to the island so you're time and effort won't gone to waste. Be there when the tide is low so you can fully enjoy a walk on the long stretch powdery white sand and never forget to put on your armour against the scorching heat of the sun.
HOW TO GET THERE & WHAT YOU NEED TO BRING AND DO?
o You need to go to Cebu South Bus Terminal in the city of Cebu.
o Take a ride on a bus bound for Oslob and advise the dispatcher to alight in front of Brumini Resort.
o The estimated time of travel is 3 hours.
o Rent a boat that will take you to Sumilon Island. The rate of the boat is P1,500 and if you go on solo just go along with other tourists so you can split the cost of the boat. Same goes if you're going back Brumini Resort.
o Travel time in crossing to the island is 15-20 minutes.
o Bring your own provisions since there are no food stalls available in the public area unless if you book a room in Sumilon then no need for you to bring your provisions.
o For the public beach make sure you bring a lot of drinking water to avoid dehydration.

Photo Credit: Cathy Rodriguez
This is the public beach of Sumilon, there is no available dressing room or shower room. No available huts or tables for your belongings. There is only one hut available as you climb the rock and look for a shaded space to cover while on the rock.
When you try to go up to the rock, there's a pathway that will lead to the private Bluewater Sumilon Island Resort. It is where you can do scuba diving in a protected reef, kayaking around a natural mangrove lagoon, snorkeling and other water activities that you might want to try. Since we're on a tight budget, we opted not to have an overnight stay at the resort.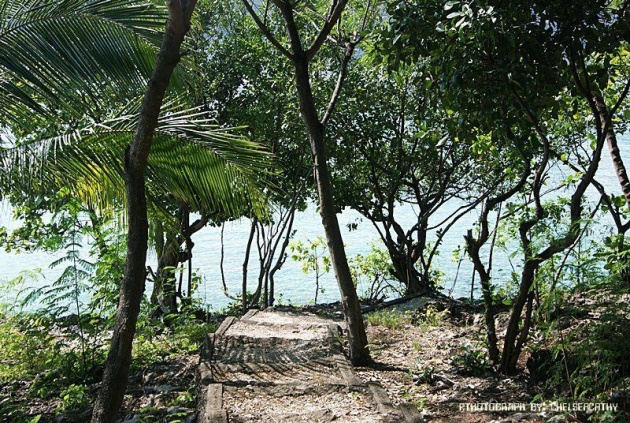 Photo Credit: ChelseaCathy
There are no cottages in the public Sumilon Island, only bamboo seats for your belongings. You can bring picnic blankets so you can settle on the ground while you're on top of the rock. It is best for day trip and no need for you to shell out from your pocket for cottage rentals.
Don't be a fish; be a frog. Swim in the water and jump when you hit ground.
Kim Young-ha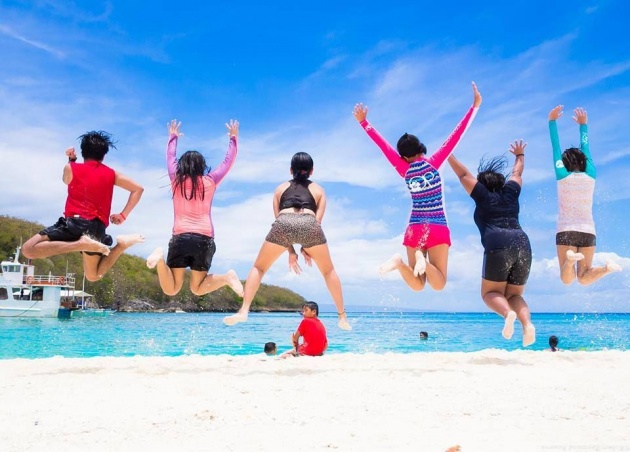 Photo Credit: Joseph Bacalso
Though this trip was on a tight budget, still we manage to make it as fun and as memorable as it can be. Fortunate of us that we had two friends who's into photography that we were able to have a good snaps during this trip. There we found a photo opportunity to do the mandatory jump shot facing our backs to the photographer.
Jumping with friends in the sand is better than jumping on your own.

Single Wanderess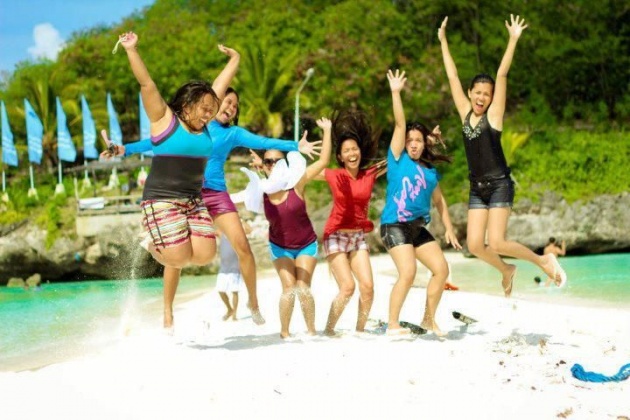 Photo Credit: Joseph Bacalso
A day in an island is never complete if you fail to do the mandatory jump shot. Never limit yourself to enjoy the place, always look for ways to make your trip worth the effort.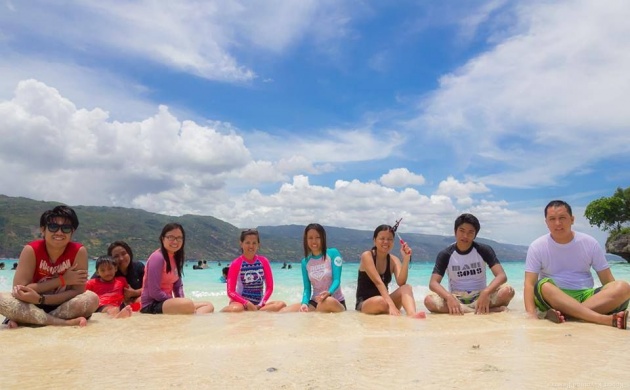 Photo Credit: Joseph Bacalso
Actually the photo above was my second time to be on the island. If you can notice I have different attires: the one with black sleeveless which was my first time to be in the island and the one on pink rashguard was my second time to be in Sumilon.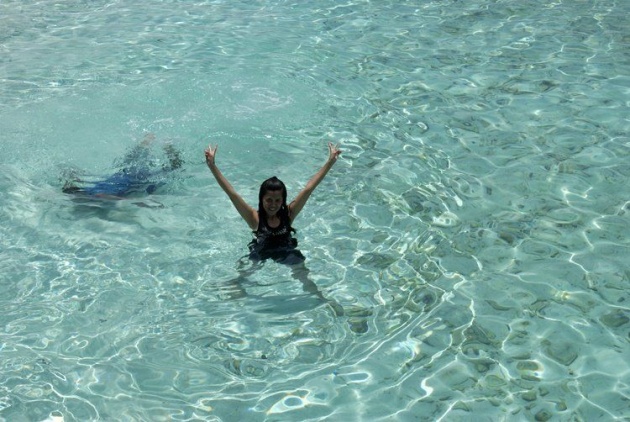 Photo Credit: Joseph Bacalso
I can never get tired of keep on coming back to this island. I just love how the crystal clear is so refreshing. You can't even notice the scorching heat when you dip yourself in the cool water.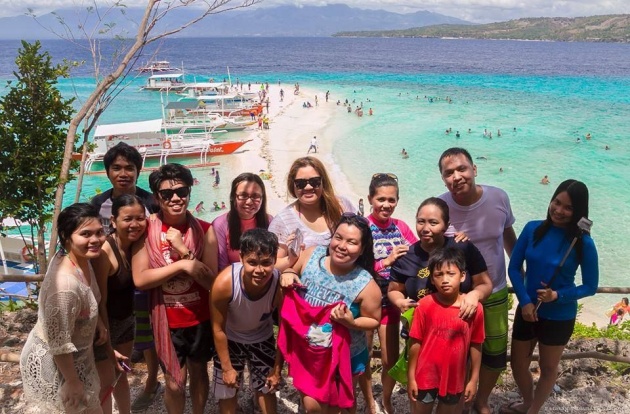 We have all the time and the four corners of the island to do the photo shots. Aside from snap shots we still manage to go on snorkeling, swimming, walking and kicking on the sand bar. Having a tight budget wasn't a hindrance at all to enjoy the whole trip. What matter was our tummy's are full and we spent our summer in a place where nature is always at its best.
You can never really appreciate how beautiful nature is if you can't see and experience its wonders firsthand. Traveling an island to an island is a fun and knowledgeable at the same time. In every island there is a story to tell. Be amazed how God created such wonderful places and be in awe with its beauty.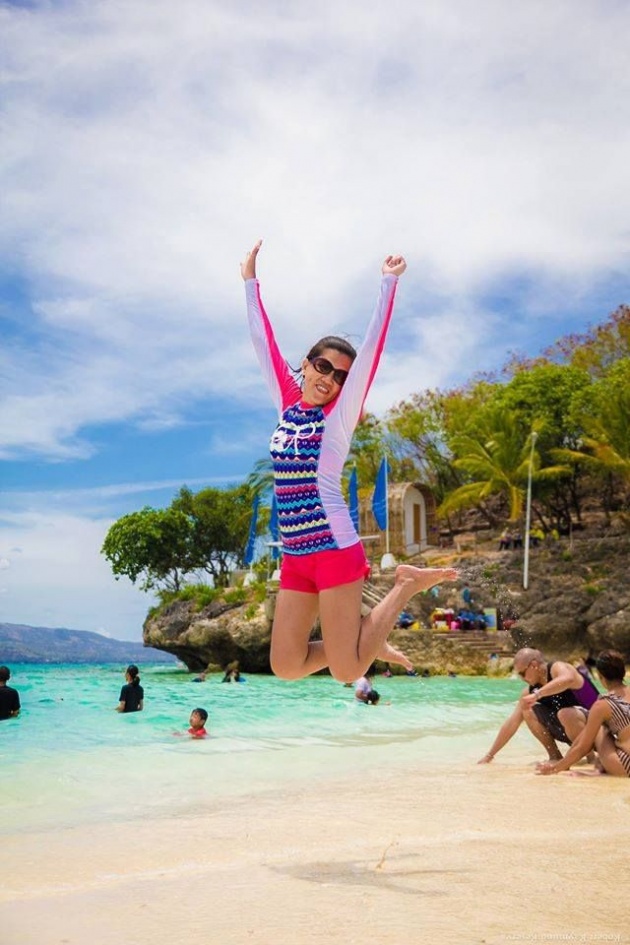 Photo Credit: Joseph Bacalso
Having this trip is all worth it. I don't have to spend extravagantly to experience a cool recreation. Costly or not, it is all up to you to make your jaunt meaningful and memorable. As for me, traveling from places to places made me appreciate not only the wonderful sorroundings but life in general. It's just a matter of learning how to paddle your own canoe to uncover every highways and byways of your own land but of course don't limit yourself in exploring what's beyond your horizon. If you can do that you can definitely say:
the world is full of wonder for me to wander.

Single Wanderess
Well, that's the end of my Sumilon journey and hopefully I can go back there soon. It's another travel journey has been tracked down, I hope you enjoy reading my travel blogs. Until next travel track down.
Video Credit: Rob Brand
Enjoy watching this video of Bluewater Sumilon Island Resort. You might want to book to this wonderful resort. It's costly though but you can have your best stay while on this resort. You can check on the details by clicking the highlighted name of the resort.
This has been Dimpsy and this blog is created and published for bitlanders.