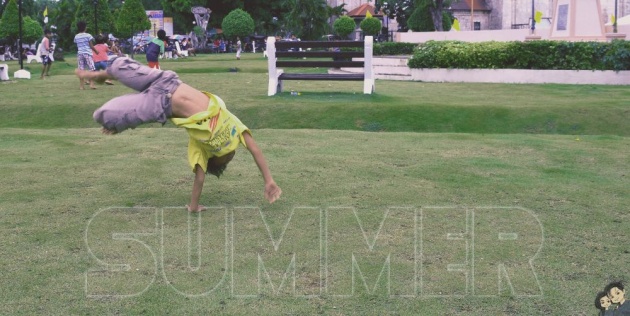 Photo is mine.
Growing up in Bohol, an island in the Philippines, life as a kid was full of wonderful memories. Every kid in our community would dream of summer every single year. And why not? We are compose of more than hundred kids who love to go out and play outside. There are countless games that we can do outside that we would prefer to just stay there even without food!
This new generation may not have experience this kind of childhood perhaps because of how time and technology had changed our environment.
While we were free and safe outside before, this generation is afraid of getting kidnapped or worse perhaps getting killed in an accident outside. Most may love to just stay in house because of technology, kids now a days would prefer staring at their iPads or tablets watching cartoons or YouTube and many more would spend hours and hours of playing online games either with their mobile devices or the computer itself. No wonder it is rare now to see kids playing with another kid at the seashore or at the dried rice fields.
This is why I am writing this blog so to recall or reminisce the wonderful childhood my brothers and I had.
Today, I have listed the activities which I had enjoyed and will never forget whenever school year is done and it's summer time. I know most of my Filipino friends can relate to this but I am writing this in English so those who aren't Filipinos can also understand.
Photo credit Thess Holder via Pinterest.com
These are the things I do when I was growing up literally every summer. I am blessed to live in a town, in a certain barrio where the sea and the rice fields are just steps away. Yes, at our backyard is a rice field which turns into a huge playground every summer because the farmers just harvested them. A few steps at the other side of the road, the sea is another alternative for us to enjoy the salt waters and the shore.
1. FLY KITES
Video credit: Christopher Java Jr. via YouTube.com
And why not? Kites are colorful, light and they fly! As mentioned, we consider dried up rice fields as our huge playground and the best thing about summer is the clear day sky with winds so it is best to fly kites.
I have three brothers so they always make the kites. The usual scenario was plastic bags are cut into halves creating a diamond shape, coconut leave sticks will be used as the skeleton and nylon strings rolled to a tin can. That's how creative and resourceful the kids before.
I on the other hand became their assistant in flying the kite. Their own made kites have nylon strings attached on it so they can control and maneuver the kite while in the air. I am the one who tends and throws the kite up in the air while my older brother would run to make it fly.
Photo credit: ImagesBazaar via Getty Images
It was fun and I love to see those kites up, we would sit on the base of a tree, they will tie the string on a branch and we will let it be in the air while we go play. Too sad there were no available cameras back then to capture the beauty of the kites.
2. CLIMB TREES
Unforgettable hot afternoons were spent up in a tree, we usually climb a huge mango tree or star apple tree at a neighbor's back of our old house. The mango trees are huge and their leaves are really shady so we most of the time will wait there while the sun is still up. Normally, we would be staying there to just chill and talk. Well, not really to just chill and talk but we would also be moving around like monkeys on those branches! We all know that moving around is a bit dangerous but we don't care at all.
Photo credit: Satori via Infinitesatori.org
Once the sun is already a bit down and that it isn't that too hot anymore, we would go down, keep our kites down too and off we go for our games.
3. JUMP ON HAY HILLS
Photo credit : Carrie Russell via dozenrussells.wordpress.com
During summer, everything dries up, well except for the sea though but most of the stuffs surrounding us, the rice fields, the river gets a little dry. But our love for playing and getting sweaty will never dry up on summer. Each day is like as if those were the last days of our lives! Like we would go out of our houses as early as seven in the morning and would not go home unless we were hungry. Of course mama or the parents will be looking for their kids specially for lunch time and the siesta time too but, we just don't care! We cry if we would be asked to go home. It's just funny reminiscing right now that all these things happened years ago.
On summer, the farmers finish their harvests. They will soon be making a giant mountain of hay and we were all there waiting for them to get that up! Just imagine how we patiently wait. But don't worry, we never get bored with waiting for the giant pile of hay because we get busy picking up the rice grains too. Those which were not included in the packing and are left in the field! We get to collect them and once we get a mug full of it, we can have it exchanged for a rice cake! Yes, we have snacks at that time.
The huge playground or rice fields has hills of hays which were from the harvested rice. They turn brown and fluffy so we would jump from the top part down towards the bottom. The boys would do some backflips, gymnast moves and those which break dancers do. It was all fun but after the fun comes our moms bringing sticks and scold us as the hays are really itchy at night.
4. PAGEANTS
If we don't feel like jumping and playing around, we would do pageants together with the neighboring girls. Never a dull day during summer. On days where we don't feel like being crazy jumping around and becoming sweaty, we would decide to just be relaxed and be girls. This part summer is solely for the girls though, the boys will disregard us as they can't relate to what we were doing.
Video credit: MyTurn via YouTube.com
Most of the time, I would steal lipsticks and blush-ons from my mom's and my girl friends' moms too and we would apply it to our faces. We don't actually know that the make up would somehow hurt our baby faces (say what?) but we still did it anyway.
I had always been the host and the judge too and the girls would cat walk and say their own speeches. Whoever wins will be crowned with a hay crown we also made. That was really funny but that's how we want those days to happen, just to be happy!
5. UNLIMITED GAMES AT THE SEA SHORE
Sometimes we get over with all the games and activities we can do at the rice fields so we would go to the other side of the road where the sky meets the horizon and the sand is colored gray and black. My grandparents and cousins live by the sea shore community and so I together with my brothers always have a reason to go to the sea shore but most of the time our grandparents don't really know that we were already at the shore.
Photo credit: Andrea David via Pinterest.com
In fact, I had met an accident on my way to the seashore because I was too excited to go. I can still recall how that event happened even after decades. I was about to cross the street when I was hit by the motorcycle. I fainted right away on the spot and I was found at the side of the road. Yeah, it looked like a scene in a movie or TV series but it's real. When I woke up, I heard commotion and some random guy was carrying me towards a vehicle and I saw my parents, my mom already crying but I fainted again. There second time I woke up, I was finally at the hospital, half of my face was covered with plasters and my legs too and my knees at the same time.
Gladly, I didn't get any fractures, just cuts and wounds which were not really something that could kill me. After that incident, mama would always tell me not to go out anymore but at the time that my wounds were headed and I can manage to go out and walk properly, I immediately went out and played again.
Whenever it is low tide, the shore extends and since it is windy at the shore area, we had lots of games to be played. Unlimited fun with tumbang preso, bato lata, shato, bahay bahay, marbles, skipping ropes, Chinese garters and a lot more.
6. COMPETITION AND FIGHTS
Photo credit: Thess Holder via Pinterest.com
It was all about fun and friendly competition, of course there were also fights among the kids but the next day, we are all friends again. That was how our lives were when we were kids and I am thankful that I was able to experience that kind of childhood. Unlike these days, kids do not go with other kids anymore specially those who lives in the city. Even those kids at our neighborhood in the province are all staying in internet cafes and other places where they can play video games or online games.
I must stay that the games we played with other kids before were much more fun and it requires physical strength as well as psychological. It built our emotional strengths too at the same time. Plus we got to learn about interacting with other individuals.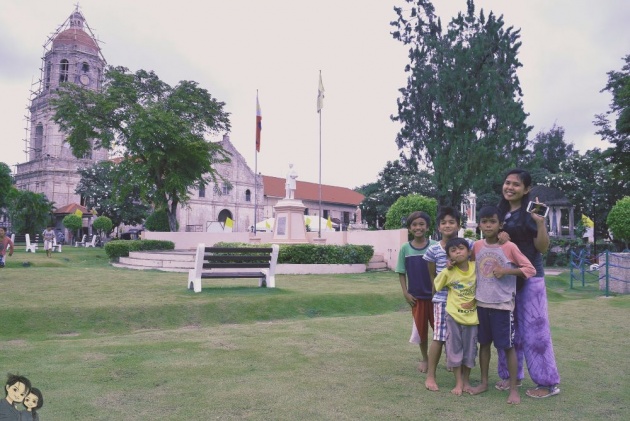 Photo is mine.
I hope you enjoyed this blog entry. Take care guys!
Oh! And since games are kind of related to sports, I am adding a Querlo Chat about sports, make sure to participate in this survey below:
©Jean Beltran-Figues
All rights reserved.