Sunday is a Sundate.

My husband and I had this deal since then that we should be going out to any certain place to chill. Lately we haven't been able to do that because he was really busy at work that he has to spend some rest days at the office for overtime, last week we only went out for a jog at the Lapulapu Camp which was also a first for me but that couldn't be considered a Sundate, maybe half sundate only.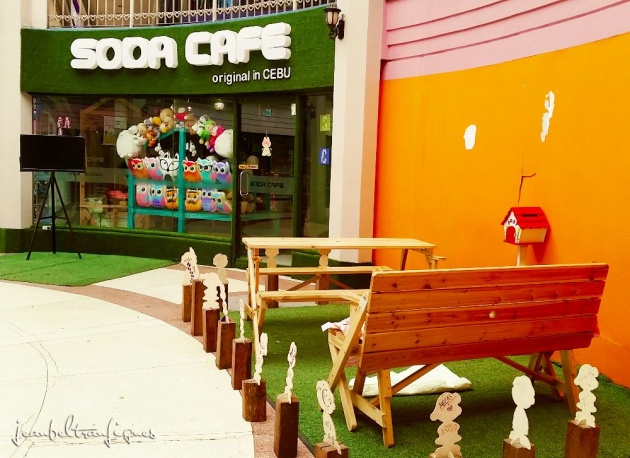 Fortunately, he is free today and so we made a quick Sundate at a cafe which we just found out through Facebook this morning. We opt to go here since we have plans to go to National Bookstore for some wrappers and another book for my husband too and this cafe is just a few steps away from the bookstore.

Raintree Mall - this is where the cafe is located and it is called such because there's literally a tree inside the mall which stands higher than the mall's ceiling and whenever it rains, it also pours inside the mall. I couldn't get a better photo of it though.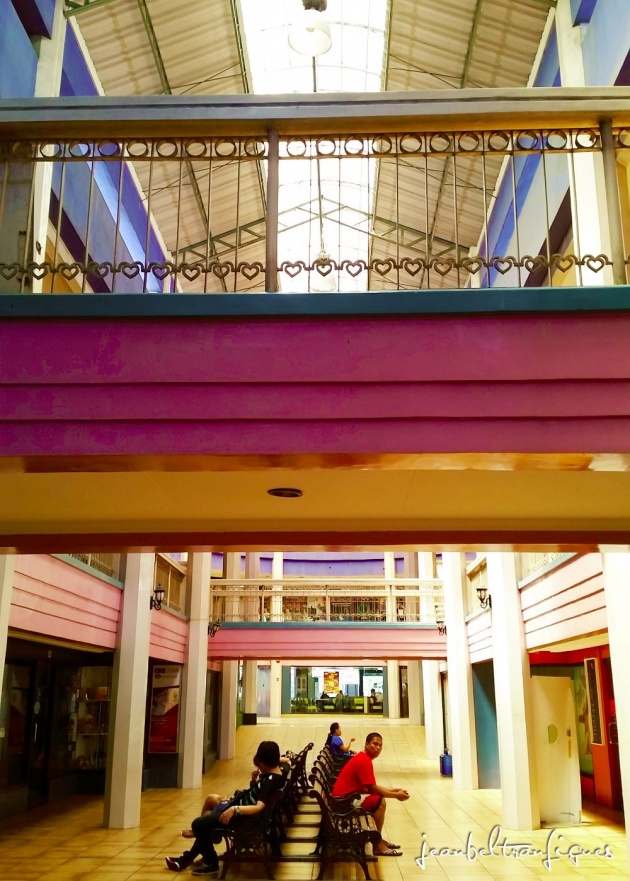 Since it is a weekend, there aren't too much people inside the said mall, this is just a very small type of mall which made me think this shouldn't be called mall, it can be a building only but then let's just leave it that way. At the inner corner of the said mall or building, we found this cute designed glass windows.

And yes we had though this will be the best place to spend the afternoon for some sweet liquids into our system.Upon coming inside, I noticed that even if it has glass walls, I wasn't able to really see the inside view from the outside but coming in awaken the child in me. Check the photos below: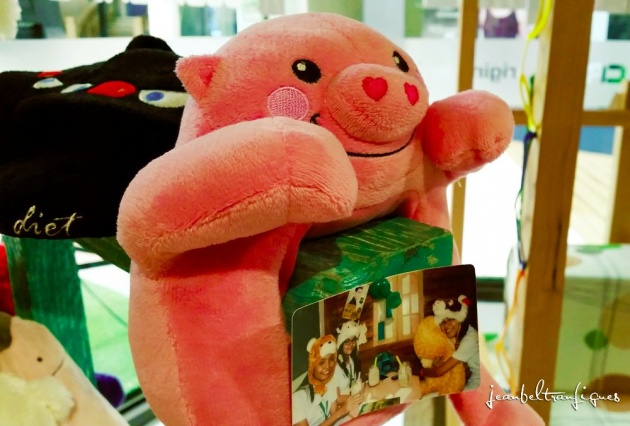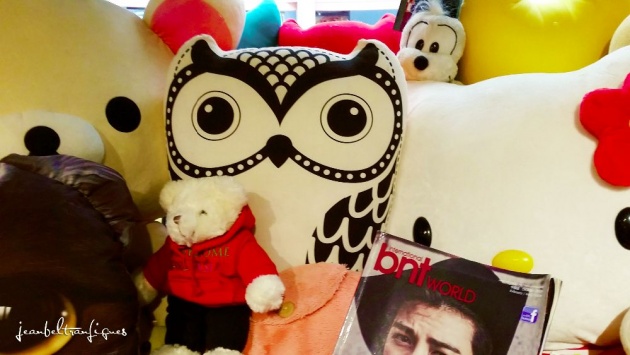 Oh yes of course little cute piggy and this black and white owl are my favorites! But wait, there are more cute stuffs!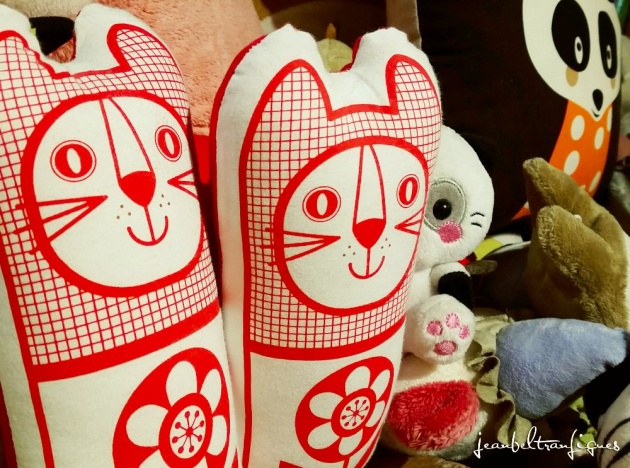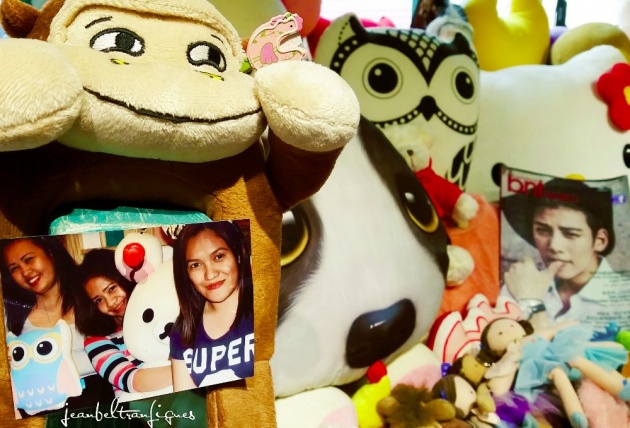 Also this monkey is holding some photos of the guests who had visited the said cafe. I believe they are printing these photos and changing them every once in a while!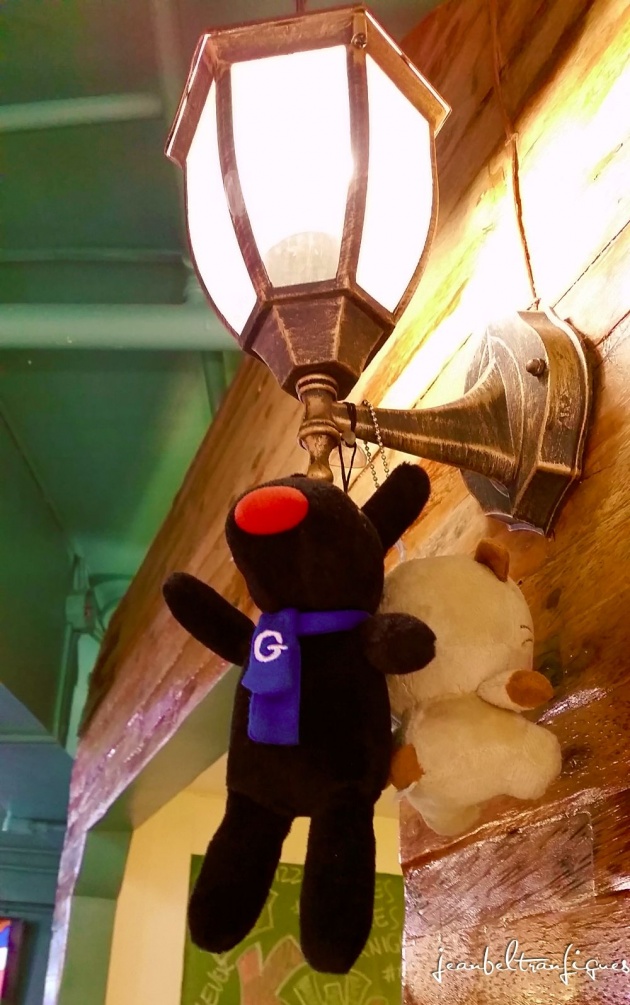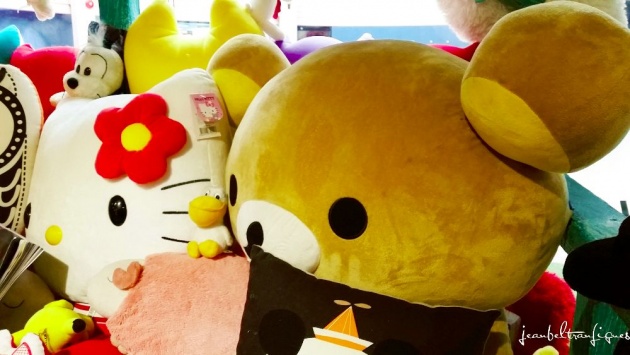 A big headed relakkuma is a must see! I want to get it out from there and hug it so tight but it's totally fine that I wasn't able to hug it because I have other stuffs to hug to!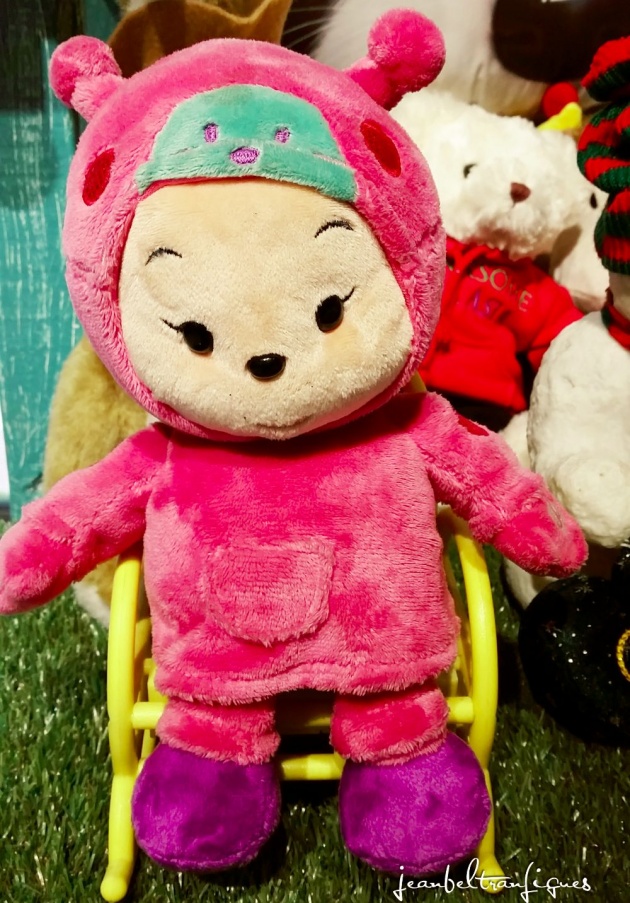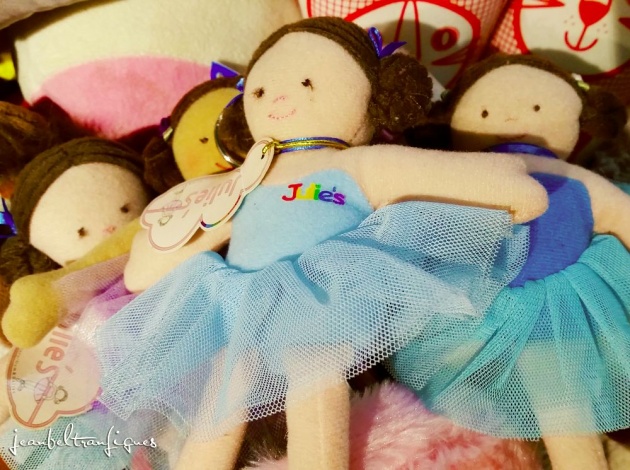 And of course dolls! I am really having a feeling that the owner is a young girl obsessed with these stuff toys and dolls! Here's a wider view of these toys: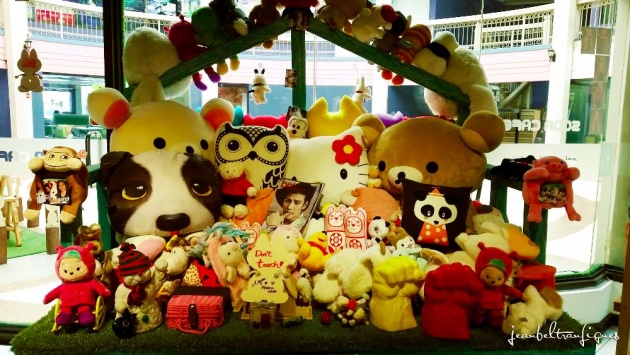 Enough with the pictorials and we have to order, unfortunately, we can't order any kind of pizza as they only have one type of pizza - Oreo Pizza with Whiptoppings and that is totally sweet I thought. For the drinks we one serving for their healthy soda as per the staff, Mango Peach Soda and their best seller Trio Oreo. Now it looks like they are offering all kinds of sweets!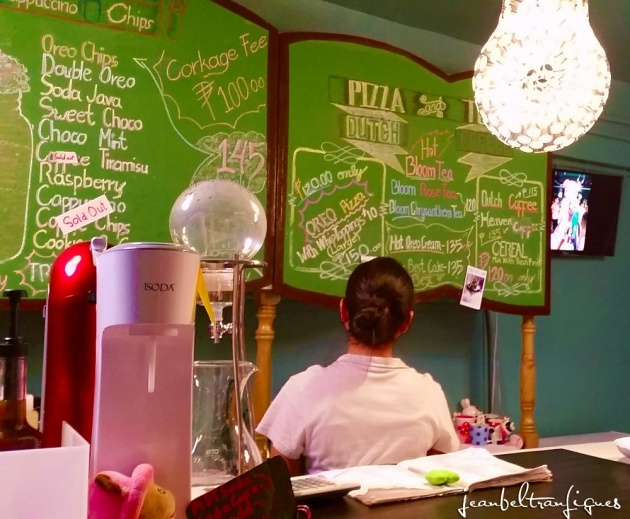 We ordered from this counter which is also a cutesy one!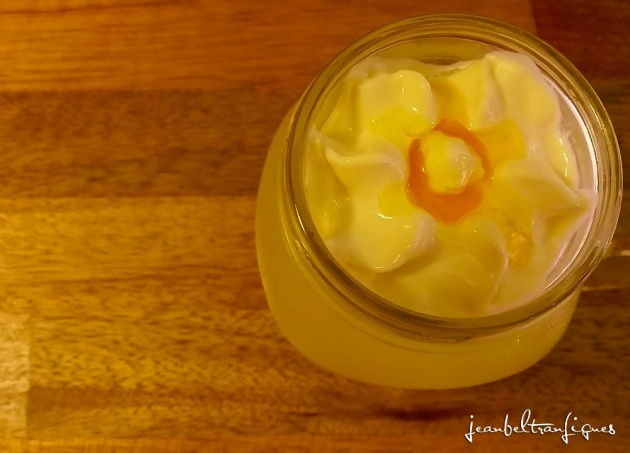 Mango Peach Soda worth Php 15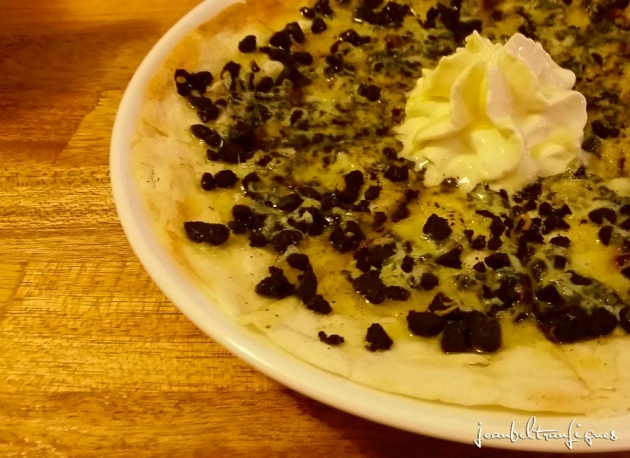 Oreo Pizza worth Php 120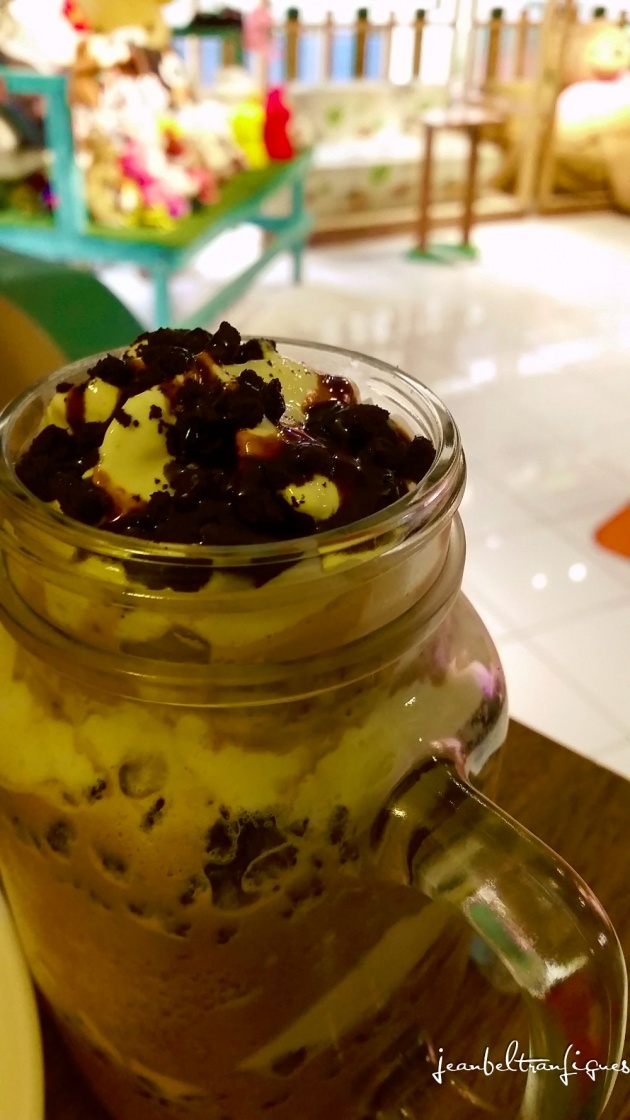 Their best seller, Triple Oreo worth Php 165
While waiting for our orders, hubby and I had fun exploring the whole place, it isn't that huge though so just a little few steps and you can already see the entire place.
There are certain favorite spots that I had taken photos of, hubby also helped me out and took photos himself, he took photos of me in that cute but huge stuff toy which I was guessing a rat? Haha we laughed about it but it does look like a rat. It's kinda personalized but never mind about it. It is placed in the center of the cafe and anyone who is visiting this place will get a chance to take a photo in there like sitting in the stuff's comfy legs.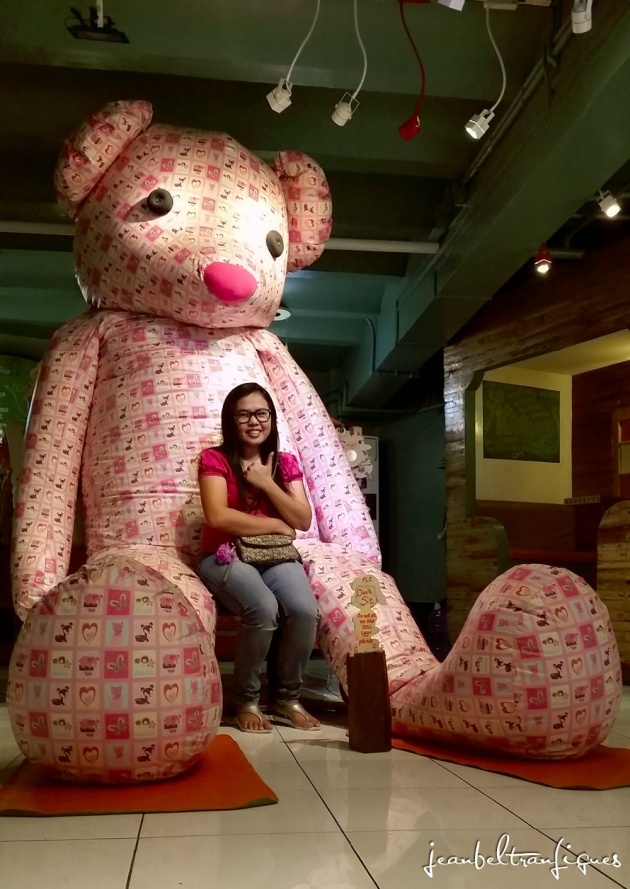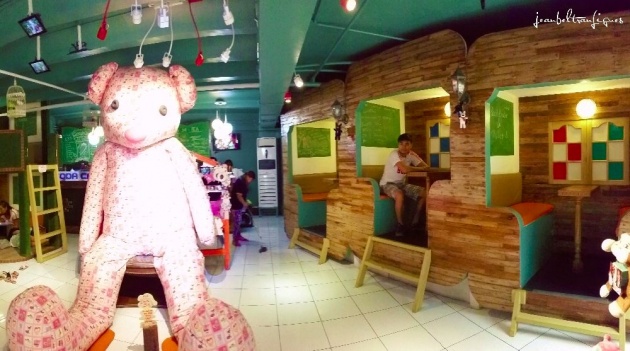 This was where we were seated, that's hubby while waiting for our orders, he just let me be a child.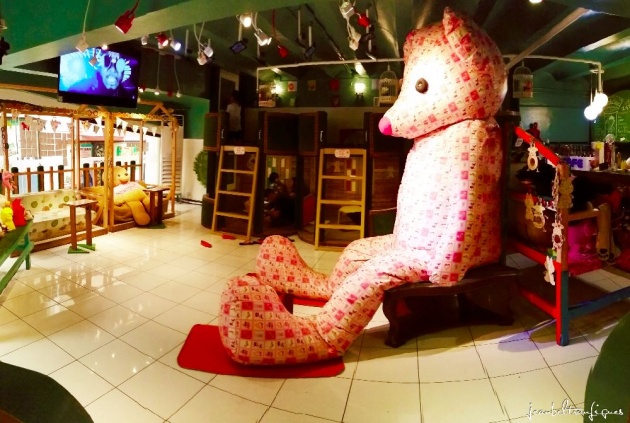 A view from where we were sitting! I can see another cute stuff toy from my seat!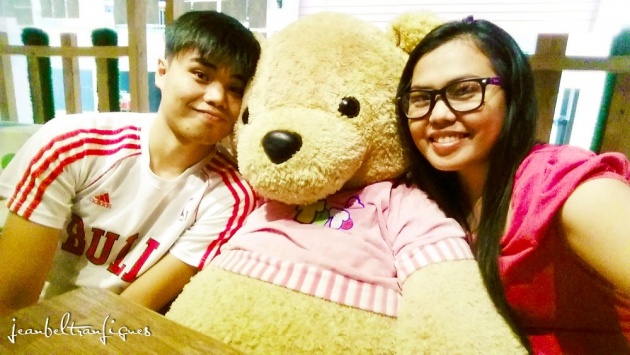 He already know that I will be taking a 'groufie' with him so here we are!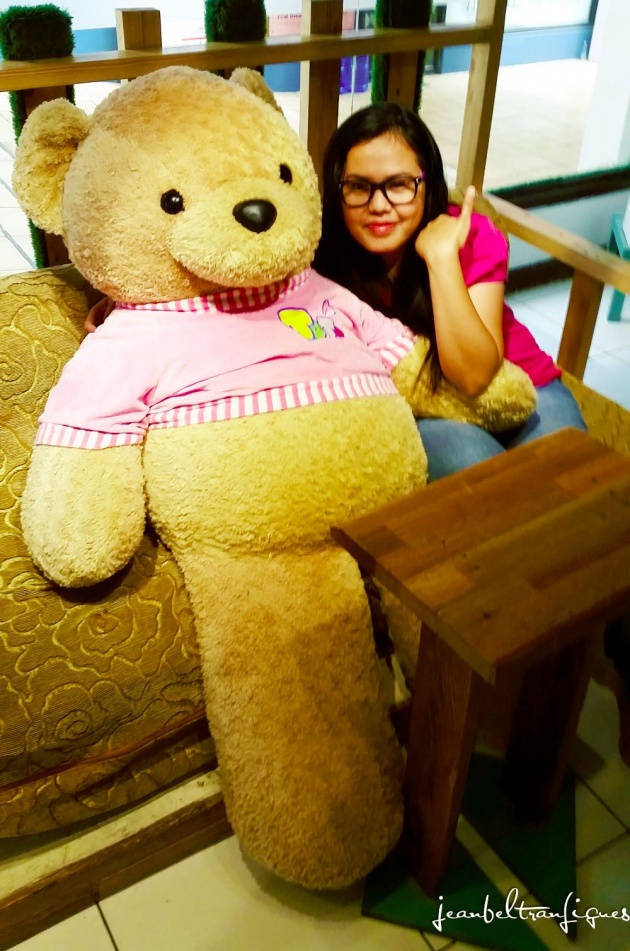 A bit blurry but this baby girl is something that I want to bring home!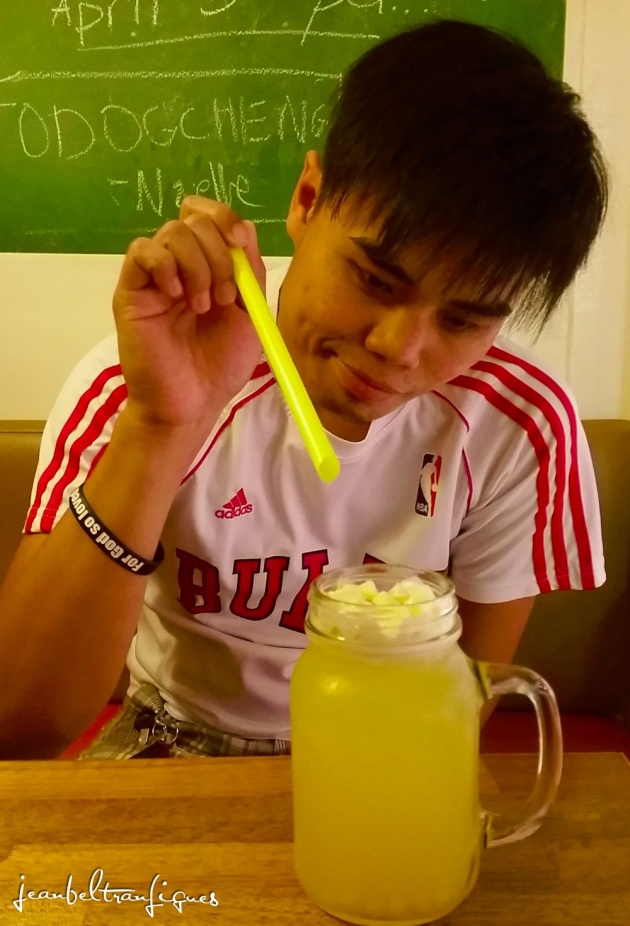 We eventually went back to our seats when our order came, first was the Mango Peach soda. By that time hubby realized he doesn't want to drink soda, as per the staff who served it, we should stir it so we can get the great mixture of all the flavors. He did that but he was not really appreciating the taste at all. Hmm, he was asking for the pizza!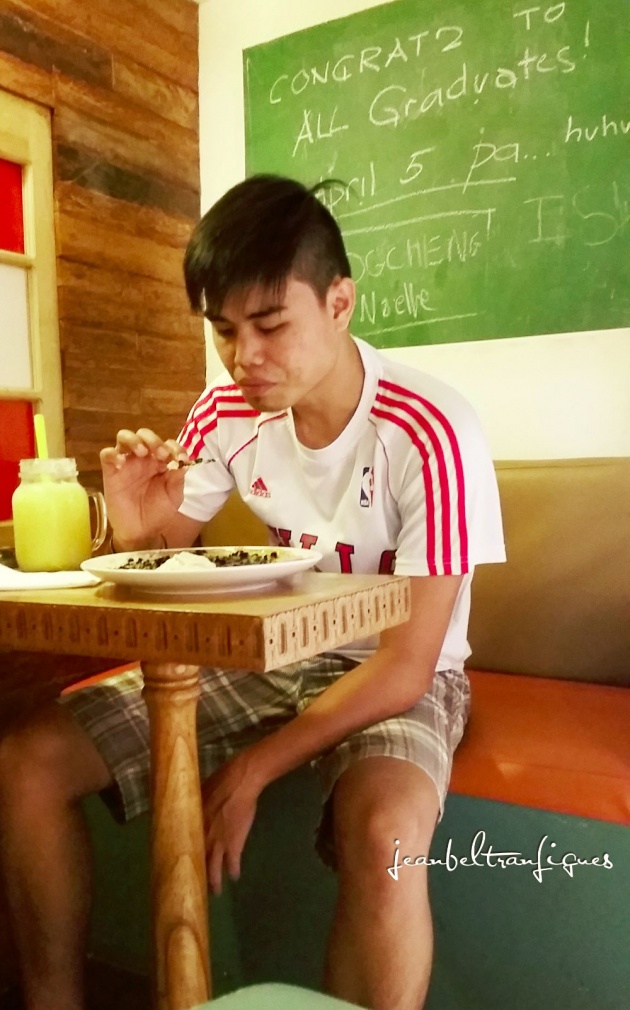 Pizza came and he immediately took a slice off and plunge his fangs on it. Remember, it was the only available pizza at this cafe so there's no murmuring or asking for another one. He was disgusted as it was too sweet. He asked me for a real food, a real pizza! Isn't it obvious with how he looks at the photo?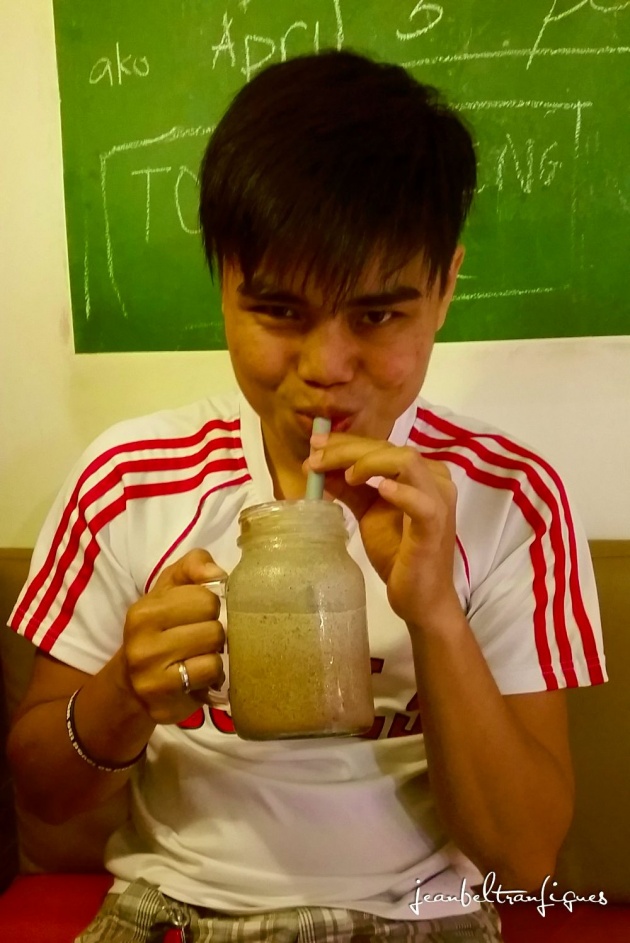 Gladly, he liked the one I had ordered for myself and that's the cafe's best seller, the Triple Oreo treat! So we ended up switching the drinks instead. Now he is a bit fine, he smiled at me while having a long sip on the gorgeous mason jar. I really want to put it inside my bag though but I realized, it is too big! Haha just kidding!
Now while he was enjoying himself with those sweet drinks, I went on and took photos again. Here are some of the things that captured my attention.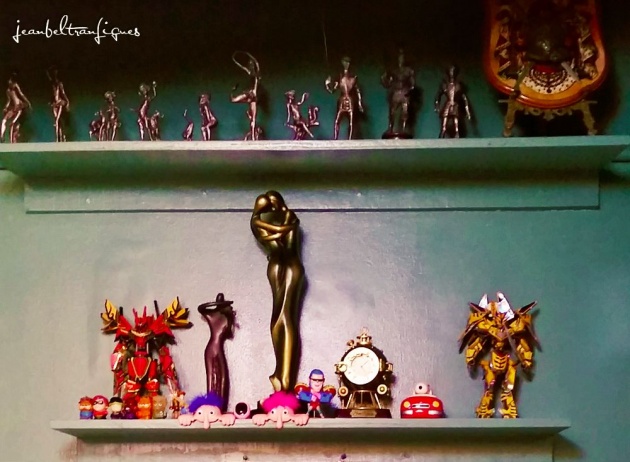 I bet you know why this attracted me.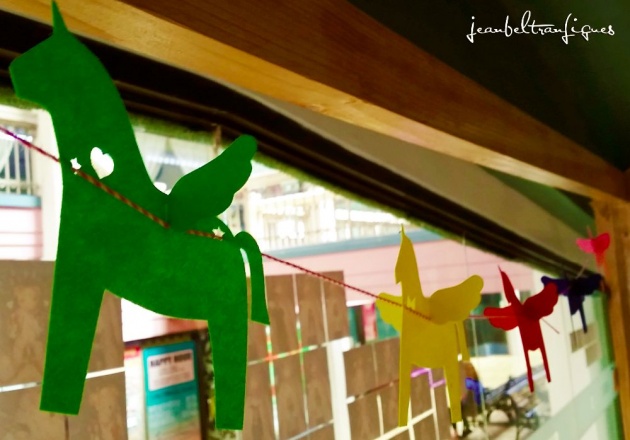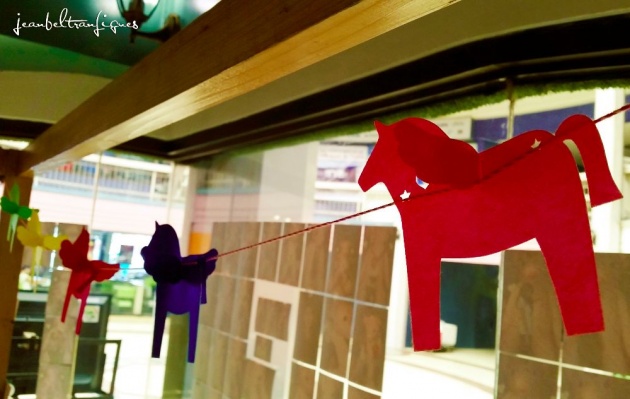 I am really having a feeling that this was made for children. Look at these paper animal lanterns!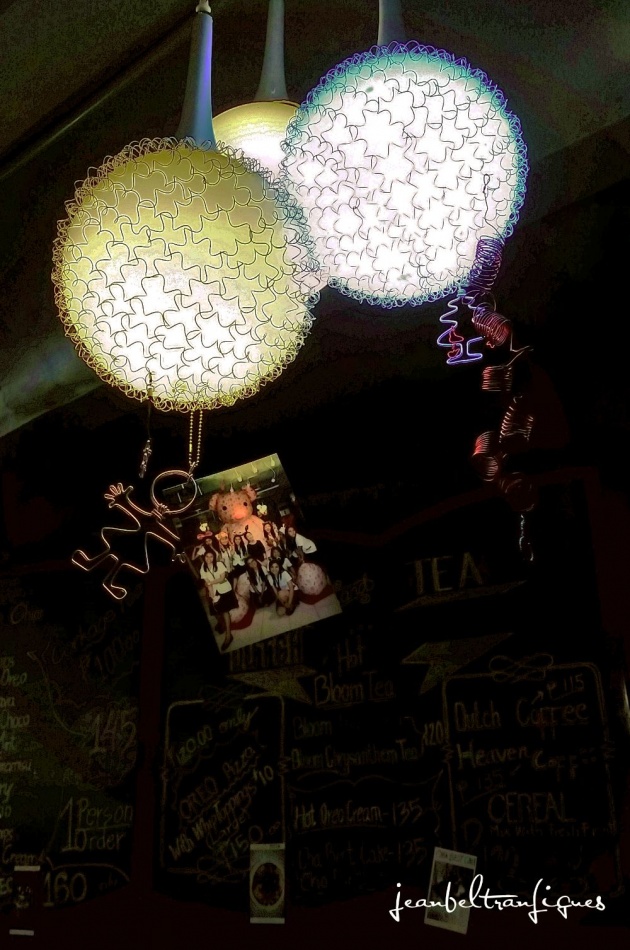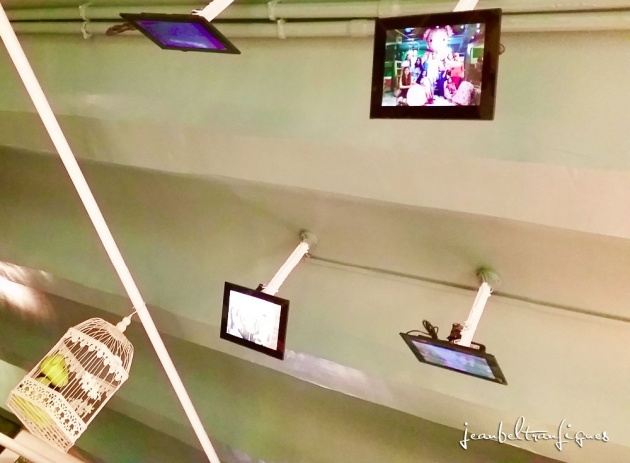 Another thing, there are certain photo frames hanged in the ceiling of the cafe, we thought it was just photo frame but later on, we learned they are gadgets more or less photo slideshow gadget! Amazingly cute cage as well with some teddy bears inside caught my attention!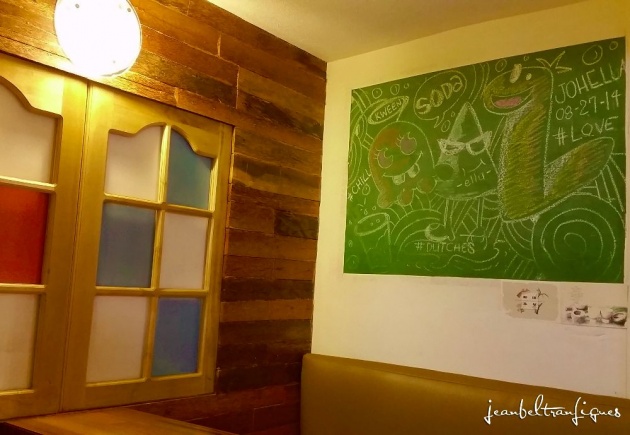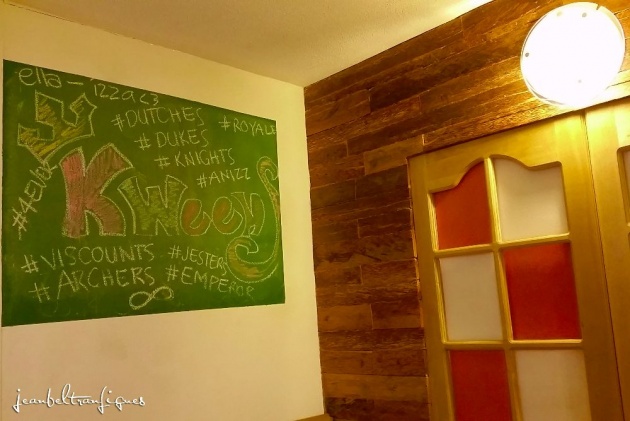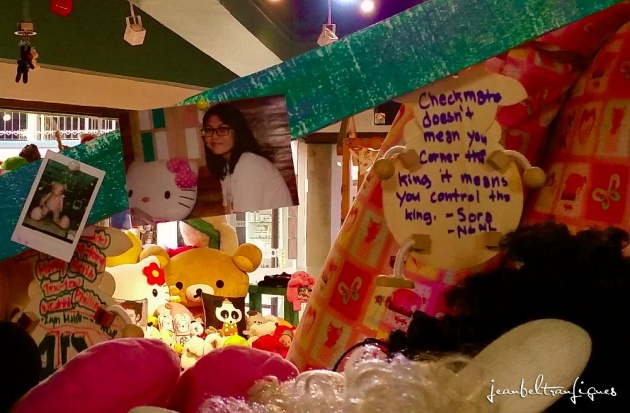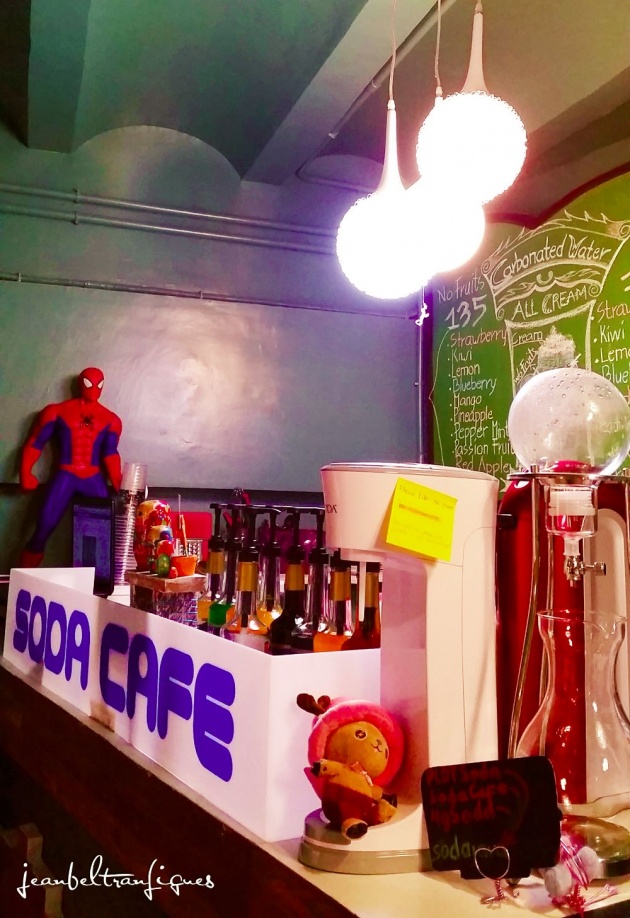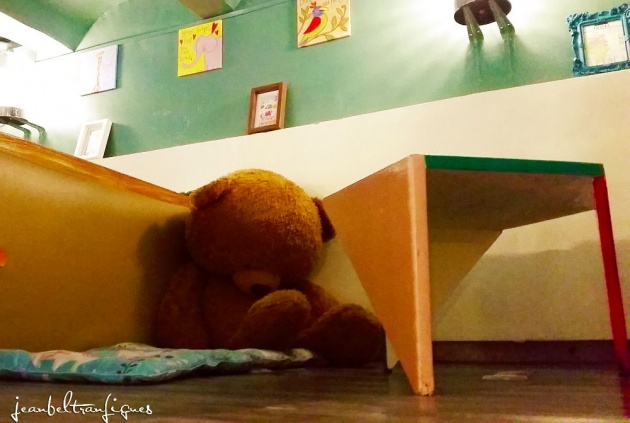 Aww! I was surprised to see a huge but lonely teddy bear at the second floor of the cafe! See don't you worry, some children are coming to play with you soon.
Now if you didn't find it really cute, then there's something wrong with you, I suggest you should have yourself checked. I like the ambiance, the cute stuff toys, the coolness of the cafe and how it is designed but I guess we are not coming back anymore since they only have a few list on the menu. But then it was worth the time and it is best to be enjoyed with friends and other company, the more the merrier!
Here's our obligatory selfie photo taken with the huge stuff toy: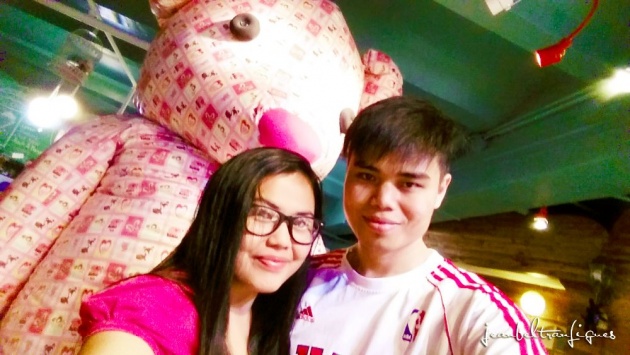 Watch this 360 video of the cafe as well:
For more information of the cafe: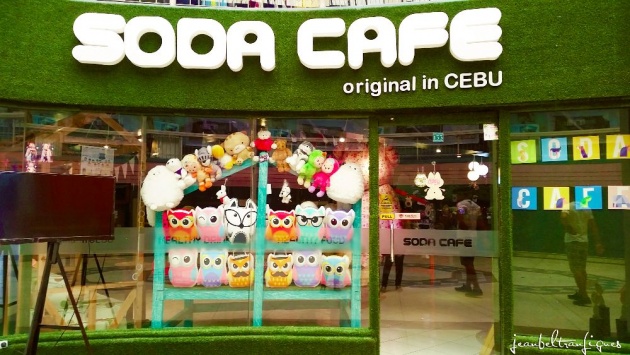 Contact number: 0922 864 7999
FYI: They take photos of their guests, literally all of the guests and upload them on a daily basis on their fan page.
Check some related blogs: