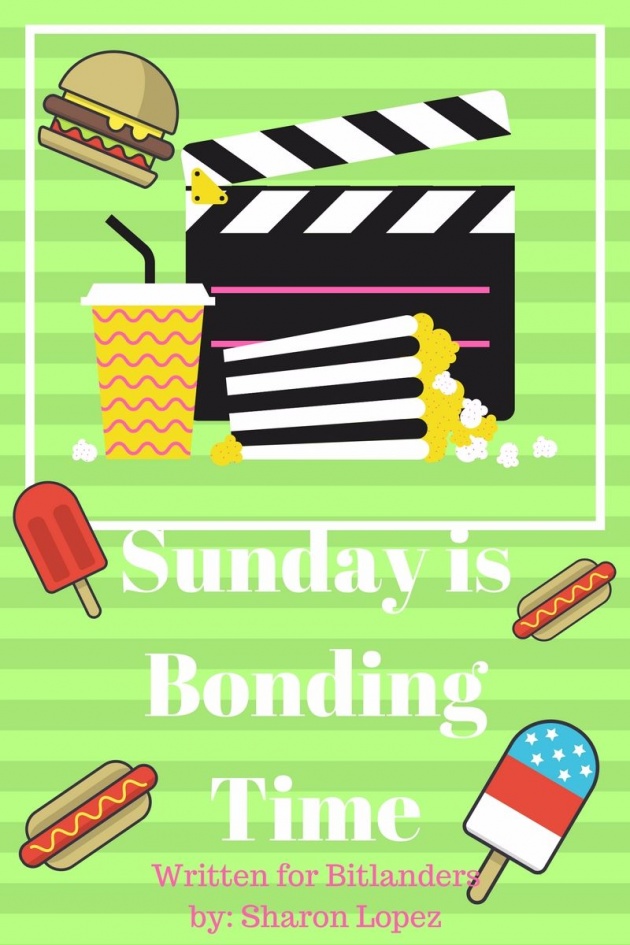 Image Credits: Sharon Lopez via Bitlanders
As a working mother, I am in some way guilty for not having enough time for my children, especially with my daughter who grew up without me at her side most of the time from the moment she was born. My current work would require most of my time which is sometimes extended even over the weekend because of some schedules which are beyond my control. I had several experiences wherein I must be in my area of responsibility, especially during typhoons. Worst scenario, typhoons usually visit our place during Christmas season, the time of the year when we should be with our family. I remember last year when I spent the Christmas eve outdoor with the Local Chief Executive checking the condition of the people especially those who are living in the critical areas. It is our mandate to secure the people during times of typhoons and other calamities.
I am not complaining about my job because I know the nature of my work when I accepted it and my family is very supportive of me. I am also sure that I love my work because I am serving the people. I am just wishing to have more time, I mean more time to spend with my family. The latest example was the recently conducted training orientation as part of the Children's month celebration. Said activity was conducted on a Saturday and I was tapped as speaker. You may read my post about it here.
Much as I wanted to spend more time with my children, due to the exigency of service, I need to prioritize my duty as a public servant. There are times when my daughter would like to spend time with me or asking help over some school work, but I couldn't give her attention.
Weekend Bonding
Sunday is the only day when we can be both free so I have to make the most of this time. We attended the mass at 4:00 PM and after the celebration, we went to the newly opened cafe just across the street. Well, she was probably notified on her facebook that there is a 'buy-one-take-one' certain type of tea so she was forcing me to go there to avail of the promo. With the fast-paced development in our area, I didn't even notice the new business establishments such as restaurants and shopping centers sprouting out on every corner of the place. Perhaps, coming December when the weather permits, I could check on those places.
Trying Out a New Cafe
Image Credits: Bon Appetea Facebook Page
Bon Appetea is one of the newest cafes in our place. Part of the opening promo is the buy-one-take-one on Medium Nirvana Milk Tea with Pearl, this is the one which my daughter would like to avail. The place is just a few steps away from the Penaranda Park, the main landmark in our place. It means this is accessible to other places like the church, City Hall, the Provincial Capitol, Albay Astrodome, Gregorian Mall, and other government agencies and private offices.
The Cafe was on the second floor of the Sifelan Building, so you can have a nice view of the places around the area. A good place to relax after office hours or even during break times provided that you are working near the area. They serve refreshing drinks and delicious meals and open between 11:00 AM and 10:00 PM.
Image Credits: Bon Appetea Facebook Page
Upon reaching the place, we were entertained by the friendly staff and my daughter immediately ordered the Nirvana Milk Tea. Since we will be watching a movie afterward, she only ordered the tea.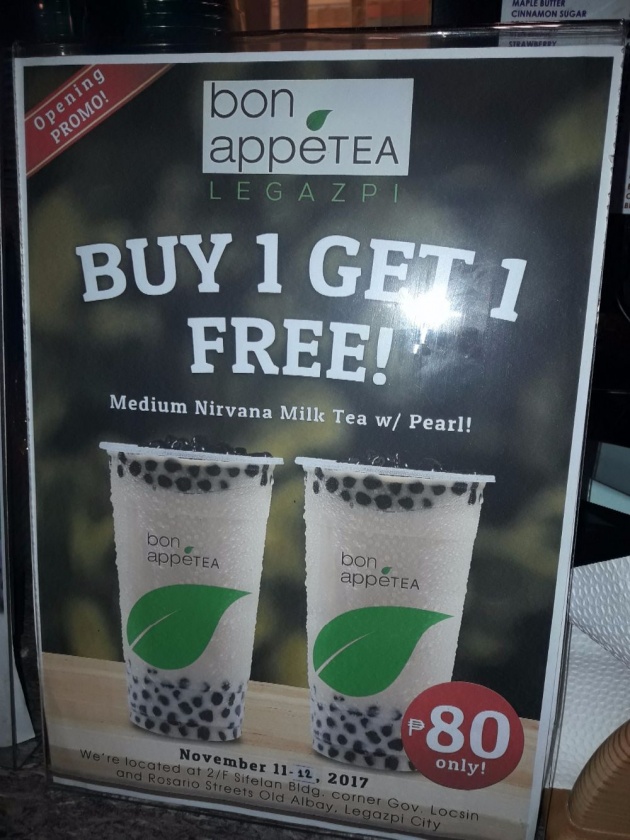 Image Credits: Sharon Lopez via Bitlanders
While waiting for our order, we take a sit on the high chairs and enjoyed the cold temperature and view of the place. It was a small yet comfortable place. They have several tables and chairs which can accommodate a small group of people. A nice place to have a chit-chat with friends or to just let the time pass.
Video Credits: Sharon Lopez via Bitlanders
They are offering several viands like sandwiches, and rice meals and fries and other desserts. What I want to try is the Berry Banana Split which I could probably do on our next visit.
Image Credits: Bon Appetea Facebook Page
On the overall, I can say that the Bon Appetea is a good place to sit for a while and have a sip of deliciously brewed tea with their freshly made sandwiches on the side.
My Little Baby Girl
Here she is sitting in the high chair and waiting patiently for her order.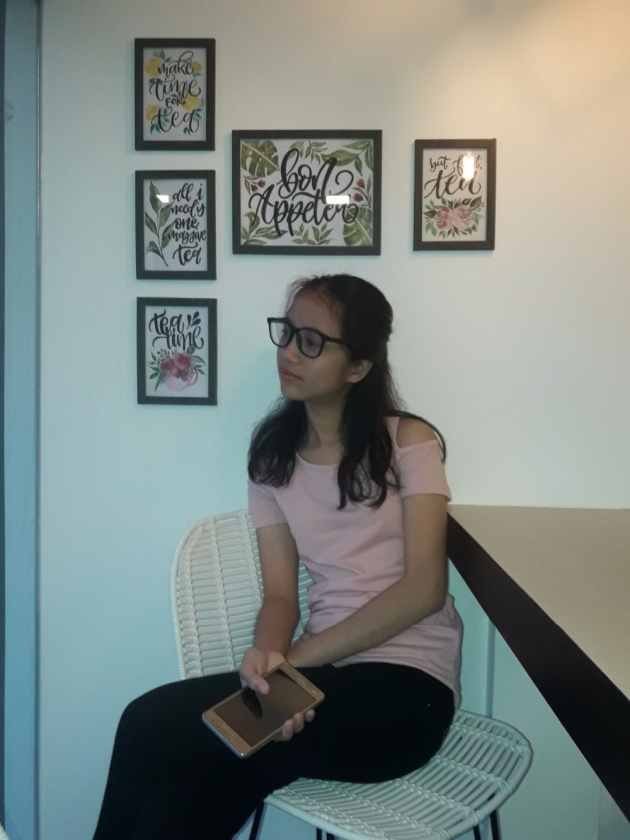 Image Credits: Sharon Lopez via Bitlanders
Here is another video that was taken during our visit.
Video Credits: Sharon Lopez via Bitlanders
During our next visit to the place, we'll gonna sit on the chairs facing the window to see what's going on outside. Hopefully, next Sunday.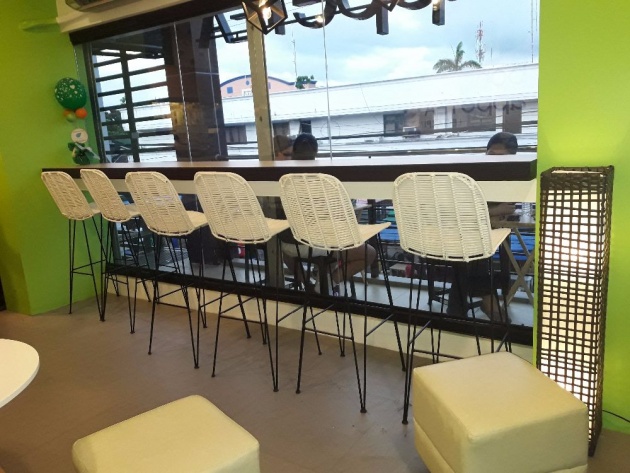 Image Credits: Sharon Lopez via Bitlanders
Movie Time
After we had our order served, we immediately proceeded to the theater because she said she wanted to watch the Justice League which was showing on Ayala Cinema. Upon reaching the ticket booth, we have known that the cinema is almost full and the remaining seats were those in the front row. So my daughter agreed to take those seats.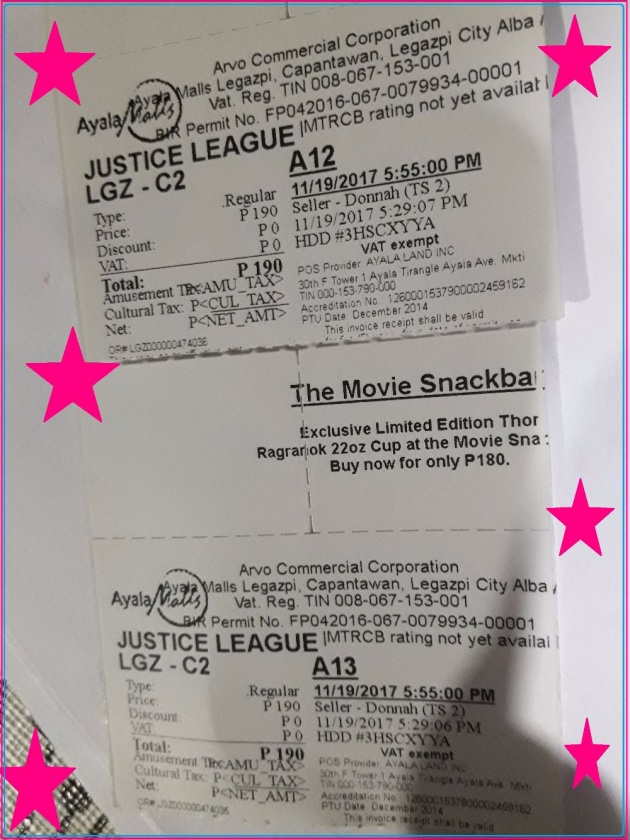 Image Credits: Sharon Lopez via Bitlanders
We didn't have to wait for long because the movie is about to begin, so we enter the cinema and seated on the front row.
The movie is a good one, full of action and funny moments with The Flash and the rest of the characters. I know my daughter enjoyed the movie that much and she was still asking me why The Flash and Superman decided to have a race before the end of the movie.
The only concern I have is that since we were seated on the front row, I couldn't understand much of the scenes because we were too close to the huge screen. But on the overall, it was an enjoyable moment because I know my daughter is happy and enjoying. She has a lot of plans that we weren't able to do because of lack of time.
Here are some photos taken after watching the movie.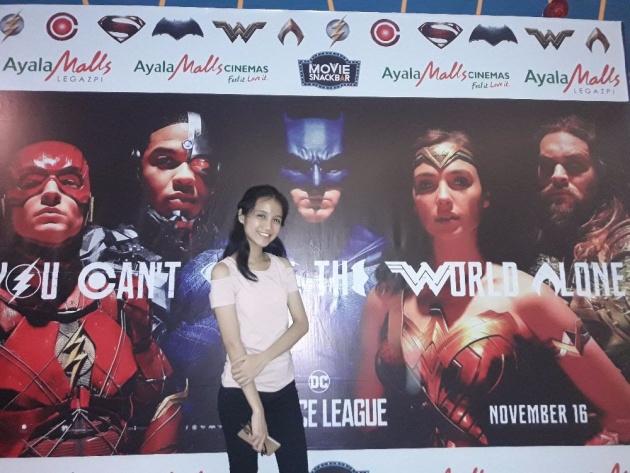 Image Credits: Sharon Lopez via Bitlanders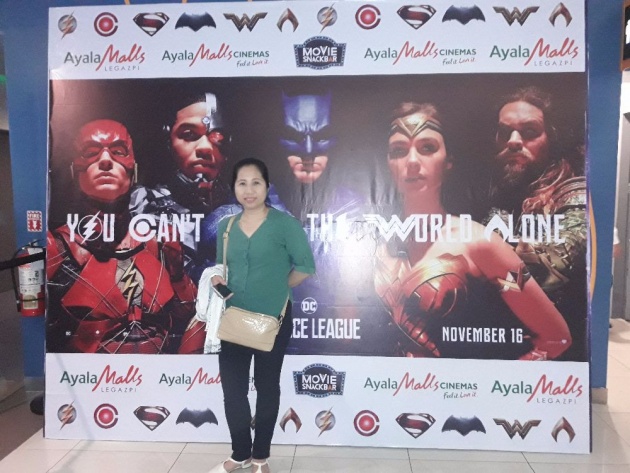 Image Credits: Sharon Lopez via Bitlanders
Hopefully, we could again spend time together on the next weekend before my travel to Manila for another training.
Thank you for visiting and taking time to read.
Here is a Querlo chat for you...
___oOo___oOo___oOo___
Written for Bitlanders:
by: Sharon Lopez
Thank you for reading.
Please visit my blog for more articles.
You might also like:
One Sweet Day at Lazy Baker Cupcakerie
Bitlanders: Understanding the Buzz and the Reward System
Sharon Lopez is a graduate of Bachelor of Science in Commerce Major in Banking and Finance and currently working in the government handling programs on Business Friendly and Competitive LGUs.
You may visit me on Facebook.
-oOo-
Disclaimer: The views and opinions expressed in this blog post are that of the author and does not in any way represent the agency or department she currently belongs.
Additional Note: The opinions presented in this review may be subjective but does not in any way influenced by compensation in any form. The author does not receive remuneration for this review and the opinions are based mainly on her experience.