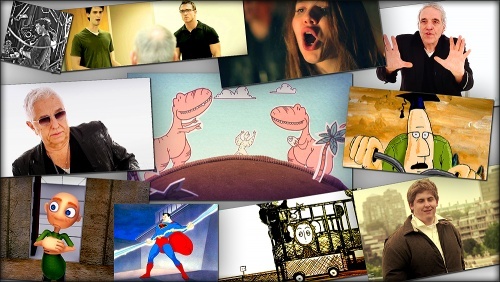 He runs faster than a train, jumps higher than the tallest building, has X-ray vision, but hides behind a shy newspaper reporter. You recognized the Man of Steel of course, aka Superman. You may know about the movies, but have you ever seen the animated cartoon series from 1940? Re-discover America's legendary superhero in 17 episodes (in Technicolor!) that will bring you back to the golden age of animation.
Our featured filmmaker
Harry Bozino
, who is based in France, seems to have a particular love for New York City as you will see in his videos. He first came to us with the short film
It Was Nice Meeting You
, in which a pink dragon meets a depressed cop. Bozino's style and sense of humor instantly grabbed our attention. When the young filmmaker isn't working on short movies, he likes to direct music videos like the one he made for French artist
Freezé
, also set in the Big Apple!
And our 9 top movies this week are:
The Cursors Curse
by Richard J. Gillies
Neggy Meets Sammy
by SrMundo
This Is Ronald
by the Vancouver Film School
None of the Above
by Daniel Aronson
The Great Mind
by Rene Adema
Thick as Thieves
by Kevin Parry
Project Underdog - Iridescent
by Mark Kuczewski
Christ Zois
on the Strauss-Kahn story
Abel Ferrara
on the Strauss-Kahn story
For more short films, follow us on
Facebook
and
Twitter
. These are also the places where you can engage with our filmmakers. This week, Charles Pieper and Mark Kuczewski await your questions about their work and will be happy to give you tips. So ask away
here
.
Enjoy the rest of your week!
The Film Annex Team