Any travel getaway won't be complete without a place to stay and it is important that the hotel or apartment suits well to the traveler's preferences in terms of convenience, price and services as well as comfort most specially. This blog is intended to help other travelers learn what to expect and experience when deciding to stay in these hotels. The previous blog posted was regarding the resort in Britania Group of Islands called La Entrada Resort and Restaurant. We had a good time at this resort and today, I would like to share my points on what are the things I love about the place and the things they need to improve at for QBen Apartment and Lodge and Jullian's Inn.
Road view on our way to Tandag. Nice weather and nice skies. Video is mine via YouTube.com.
Tandag's Qben Apartment and Lodge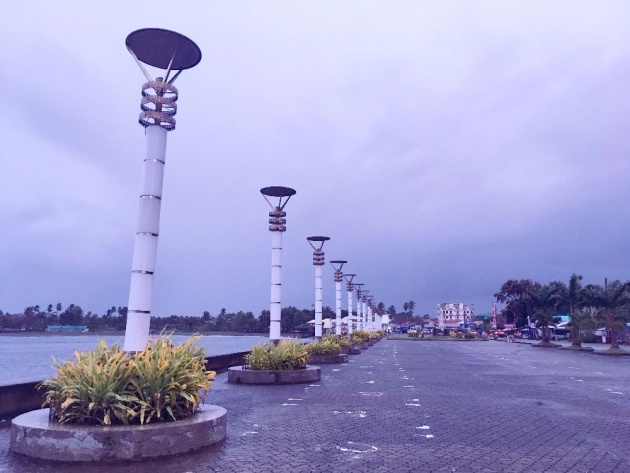 The view of the Tandag Boulevard, it was almost night time when we reached there for dinner. Photo is mine.
Got ourselves packed up on the second day after launch and headed to Tandag. This is another city in Surigao for our flight back to Cebu. However, the weather was not really looking good at that time, there were rains here and there plus winds too. Later that day, we learned there's a tropical storm heading towards Surigao itself, that was super lucky of us.
I found a good deal at QBen Apartment and Lodge while we were still in Cebu. We will be staying here for the night as our flight back to Cebu was at 11 in the morning on the third day. Little did I know, our flight got cancelled but before going to that part, let me share what I like and what can be improved.

Here's my list of good things about the apartment: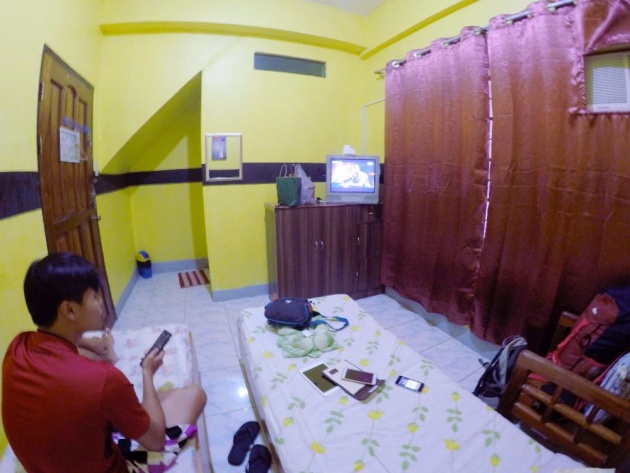 James watching television during our stay at the Qbens Apartment and Lodge, we were just killing time. Photo is mine.
- Affordable
With just a little more than Php 500 per room, we got a great deal for having a room with its own comfort room plus a proper working Air Condition. It was a twin bedroom so my husband and I had moved it together which made it into a huge bed! And there was television too! Since we were there for the entire night, we had killed time by watching National Geographic!
I definitely like the rooms we got plus it is in the ground floor which made it really easy to access. And oh, I almost forgot, I also love their CR! It was clean, it has all the necessities from toilet papers, to soap, shampoo, mirror, sink and shower with a pretty stable water system!
- Wi-Fi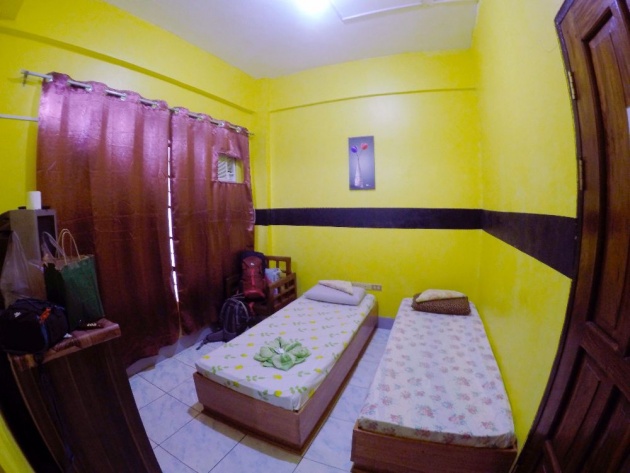 View of the room, its a two bedroom worth Php 500 only! Such a great deal! Photo is mine.
One best part of the deal was a good internet access speed! Although I didn't get a good signal in our room because of the cemented walls which barred the signal, just outside our room, the connection is pretty good! Thumbs up!
That night we had the time to go to the third floor of the apartment and found the connection is much more faster there!
- No Hassle Reservation
I like their costumer service because when I had found this in Agoda, I preferred not to book it there as how I usually do, instead, I contacted them directly and arranged a reservation. The personnel who answered the call advised me that the price in Agoda is higher since they had to add some fees on top of their normal pricing, that made me happy.
And, there were no down payments asked, he just simply asked for my name, contact number, the dates and length of stay and the time of arrival. And that was it! When we arrived at the front desk, the guy immediately provided our keys and there was no waiting time at all!
A view of the Pacific Ocean from Butuan City. The ocean was a bit rough because of the bad weather. Video is mine via YouTube.
Here's the list of stuffs to improve:
- Narrow pathways
I am not complaining about this, in fact I didn't mind but I have to put something on the things to improve. But I am not really sure how they could improve it since the structure is already permanent.
But what I noticed was that their pathways were really narrow that it is hard to move if you are having huge bags. I was guessing the building has been designed for the petite ones.
- Canteen / Pantry
The apartment has a little mini store at the front desk but it only offers the very basic stuffs, perhaps this is because there aren't many guests at all times. But I believe it is something which they can improve on, more food items perhaps and more variety of goodies for sale!
- Maintenance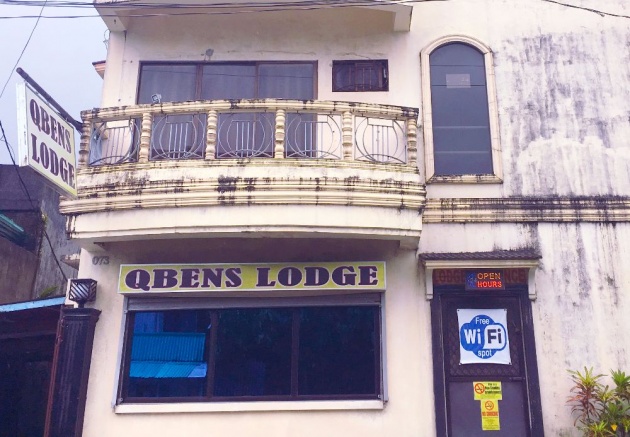 First impression: This looked like a haunted house or something like that but it turned out okay. Photo is mine.
The rooms were fine and it provides our basic needs which is something we appreciated considering that the room was super affordable, but I noticed when I opened the curtains covering the glass windows, there were some parts of it which were broken and the paints had worn out due to the age I guess as well as the outside look which for me had a "haunted house" effect when we first arrived.
So, I strongly believe they should do some repainting and fixing on those parts. And their signage too since the tarpaulin design had already faded.
Butuan's Jullian's Inn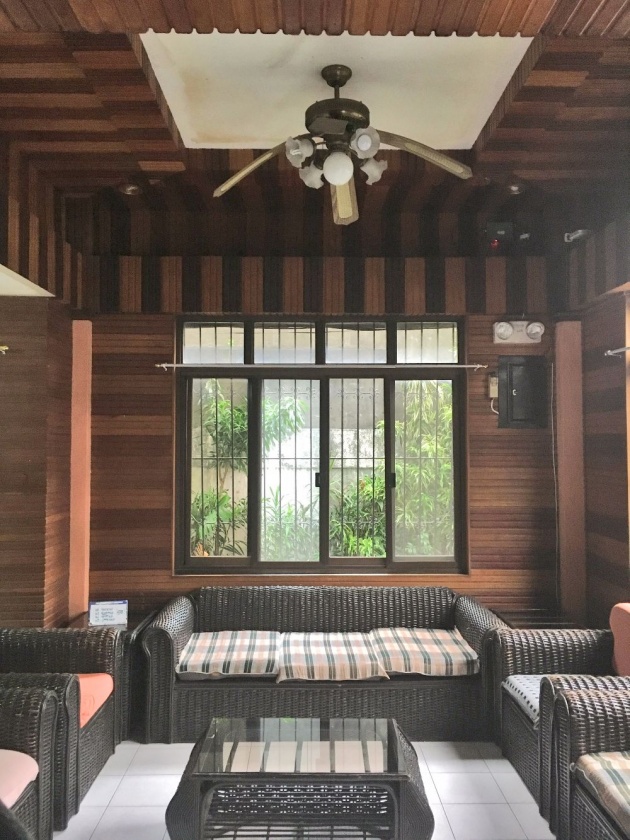 The living room with a rustic approach! Love the furniture. Photo is mine
On our flight day back to Cebu, we were advised that our flight has been cancelled. It was pretty obvious that the weather was bad and that was a pretty small airport with no lights on its runway so it was not advisable to get a plane moving which I understood but it was frustrating that the service desk of the Cebu Pacific Airline was not really that helpful, in fairness of her, she tried to explain and provide us the options but I asked for the connecting flights option which is available on the website but she was not willing to give it.
I ended up choosing to call the Cebu Pacific customer service support over the phone which took more than an hour of waiting. Gladly, I talked to someone named Audry, I won't forget her name, she was helpful and had given me the earliest connecting flight the next day from Butuan to Manila and then to Cebu on the same day. So that meant, we have to stay for another night in Butuan City. Great!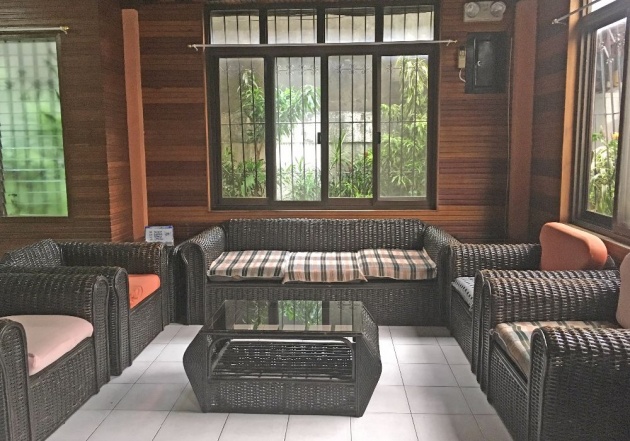 Living room is great! Photo is mine
We didn't have any reservation to any hotel since it was an emergency. I was searching for the best option online and stumbled on Jullian's Inn. Here's the list of things I like and what needs improvement:
Here's my list of good things about the apartment:
-

Affordability
This was the most affordable apartment we had stayed so far, we got two rooms and we had only paid Php 180 per person for the one night stay! Can you believe it?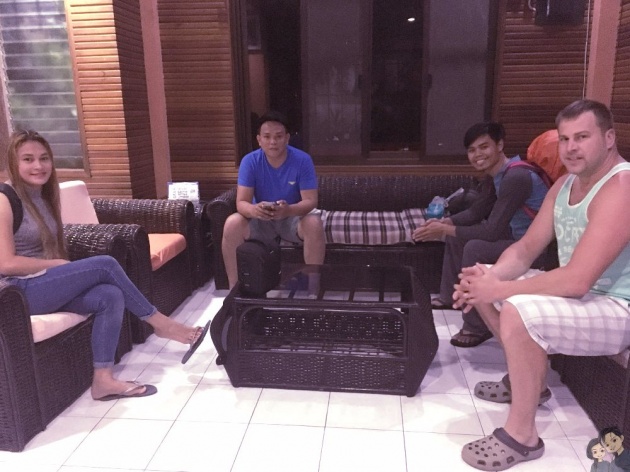 From left to right: Gecell, Jonas (jjeeppeerrxx-nartleb), James and Steven at the living room. Photo is mine.
I was first hesitant when it was offered by the front desk in their main restaurant but I thought I should check it out first, it was a walking distance from the main Inn but it was fine. It does look like a residential house before but had been transformed into an Inn.
-

Wi-Fi is Good!
And this added extra points for the Inn! We all got our devices connected to the wifi connection and it looked like we were the only ones around so the connection was speedy too!
-

Ambiance and Design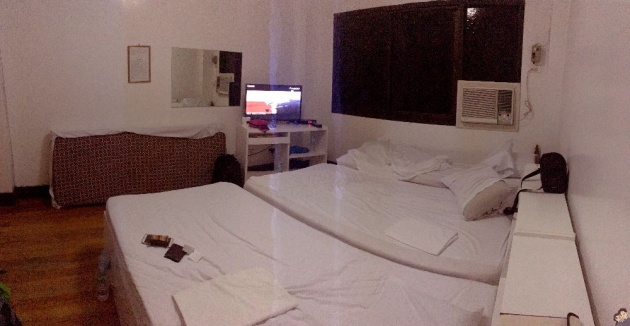 The view of the room with our beds and the flat screen but I can't still believe this only cost us Php 100 each. Photo is mine.
Wooden floors, nice living room with white painted walls. There's a spiral stairways too! I definitely love the living room. Our rooms has three beds, we added one extra bed for the four of us to fit in, my friend and her brother were staying on the other room. Cable TV was also provided!
The spacious living room holds native furniture too! Everything was clean, from the living room to the bedrooms and the comfort rooms too!
Here's the list of stuffs to improve:
-

Customer Service
The front desk personnel who was showing us the options looked unfriendly though, I don't know if that was only me or what but I had a feeling that he was tired and he was uninterested but he entertained us and given us the best deal for their Inn.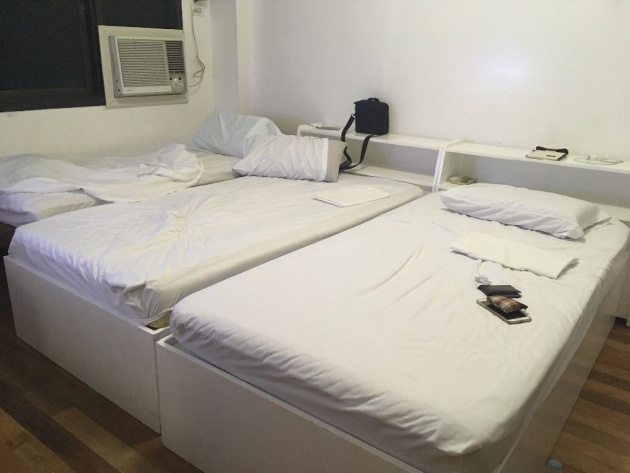 White bed frames and white bed sheets. Perfect! I like white bed sheets. Photo is mine.
Since the location of the Inn we were staying was walking distance to the main front desk, (it was like an annex since they already have rooms there in the front service desk) anything we need or concerns, we can contact them. However, the phone was not working, I personally went out to where the surveillance cameras were positioned (they were connected to the main front desk) but they didn't respond, I ended up walking here and to.
-

Deposit Amount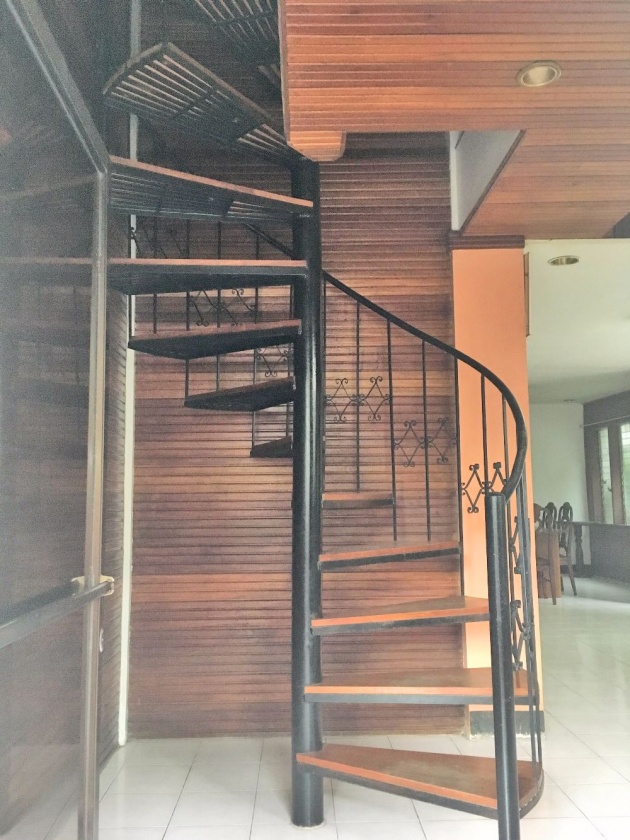 The spiral staircase of the inn is really cool but I have not checked what was upstairs. Photo is mine.
It was a drawback learning they don't provide towels for free. If you want a towel, it needs to be rented for a certain amount. The worst thing was that we had to give them an insurance amount to be deposited and the amount will be returned back to us during check out time.
Aside from the towels, they won't be giving any remote controls unless deposited too! And the keys as well. I had enough of the rental though but I don hope they can lessen the deposited amount or just taking out that option. However, they'd be returning the amount afterwards during check out but it would still be a hassle though specially when in a hurry.
That's all for my three hotel/apartment reviews in Surigao. Thanks for reading!
And please don't forget to participate on the Querlo survey chat added below.
All images and videos are mine, otherwise stated.
©Jean Beltran-Figues
bitLanders user since 2014