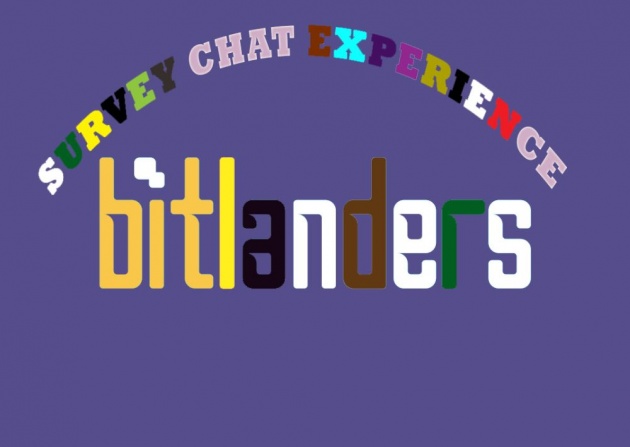 Source google: (Edited by me)
Survey Chat Experience:
I am going to discuss about Survey Chat experience that I gained after its launching, as I already wrote a blog about survey chat and got 4 stars after review (http://www.bitlanders.com/blogs/survey-chat-a-new-way-of-earning-bitmiles-loyalty-points-bm/5022472), this is the link of my previous blog. I tried hard to get maximum review result but did not get that, anyhow its up-to Miss Hillary, she reward users with his own style of estimating. So, I am satisfied with rating.
So my experience from my last blog is not too bad, I am happy that Miss Hillary gave me some good rating. Thanks Miss for your tight marking, I hope this time you will do loose marking, Now I will try to work more good, up to your expectation. So for this, I recorded my survey chat with Miss Hillary this time and I am starting with this video now, She just appeared as usually and starting asking some questions about different things, Some I know and many I don't know as well. But I tried to answer every question to get my 30 BM reward. I am happy that even after wrong ans we get reward :))).
SURVEY TIME WITH HILLARY
Recorded by me
I spent a good time with Miss Hillary in this video. There were many questions that were out of my mind or with what I was not too much familiar.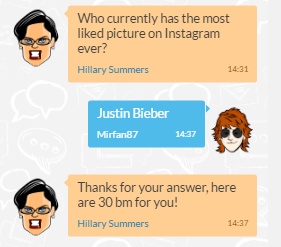 screenshot
I was able to answer this because my friend was discussing me about this recently. The Justin Bieber is the right answer for this question, but previously the Kendall Jenner was the most liking personality on Instagram.
Being a globally accessible website the bitlanders ask us every kind of question, so this is why sometime we are unable to answer all those, Because many of those are not related to us. So spending time with this survey suddenly increase of knowledge in this way, if we come across this kind of question, then we find means to know about that that thing.
DOUBLE REWARD OF SURVEY CHAT:
The basic purpose of survey chat is only to reward users with Bit miles points, for this purpose we see three auto bots of Micky, Miss Hillary and Bitlanders, appearing every time we login and asking us some questions. Bit miles points are given us as reward in this survey. Its encouraging!
Instead of this reward, if a user write a blog about survey chat and submit it for review he will get double reward in return. Again its very much encouraging for every user to come forward and share his though and experience to get reward and points.
Google.com
DOUBLE REWARD IS SPECIAL OFFER FROM BITLANDERS TO USERS, IF USERS WRITE BLOG ABOUT DOUBLE REWARD TOPIC AS ANNOUNCED BY BITLANDERS, THEY ALL GET DOUBLE REWARDS i.e.

1 stars = 2 buzz for 5 days

2 stars = 4 buzz for 5 days

3 stars = 6 buzz for 5 days

4 stars = 10 buzz for 5 days

5 stars = 30 buzz for 5 days
A NEW WAY OF EARNING BIT_MILES:
Bitlanders introduced bit miles technology to calculate users reward, and this is method which count users reward they earn here for their contents. I am sharing here definition of bit miles technology,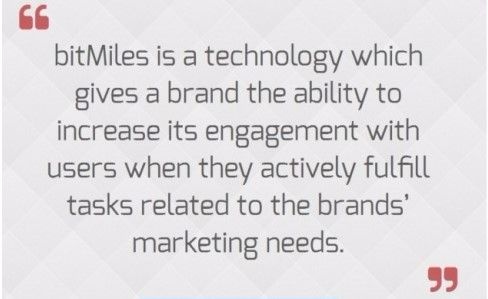 google.com
Now we can get bit miles points with many ways, as we open a post with showing BM on its top, we see a box of jewels, by clicking on it we get points,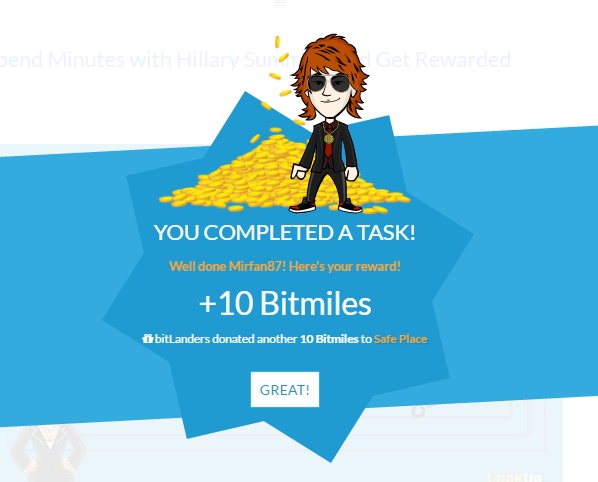 screenshot
Overall, my experience regarding this new feature is being very good yet, because instead of chatting with public now this new offer provides us opportunity to come across with new things that are happening in world, we can share our thoughts with others by participating in this survey chat,
Also, instead of giving our opinion by surveying now bitlanders is proving opportunity to ask others about our own questions, we can send our own queries to bitlanders and they will include those question in survey soon.
I personally recommend that all users must join this survey chat to get more info as well as rewards in return. Instead of wasting time in chat with public, we give our time to survey to get some knowledge. That is my experience about this feature which is not bad to me. I wish good luck to bitlanders.