Sweet Chicken Bacon Bites – Perfectly seasoned chicken pieces, wrapped in glorious bacon, rolled in brown sugar and baked to golden perfection. Need I say more?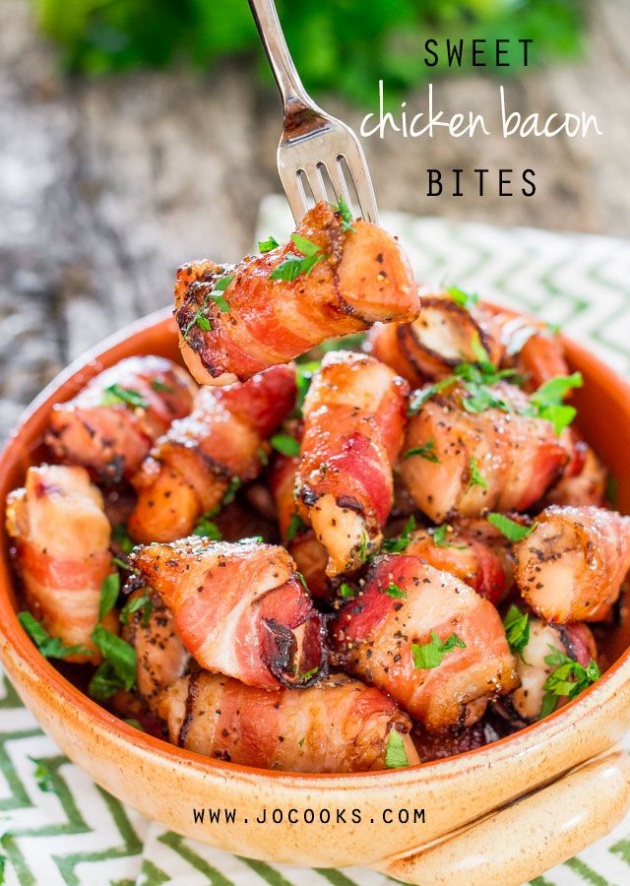 Happy Thanksgiving you guys! I have a super yummy fabulous and ridonculous appetizer for you today. Bite size pieces of chicken wrapped in bacon, B.A.C.O.N. my friends, and rolled in brown sugar then baked to perfection. Can you say Y.U.M.!!!
Let me first apologize to all of you my bacon lover friends out there, because I feel like I've neglected your needs. But I hope these super duper delicious sweet chicken bacon bites will more than make up for it. So really, let's talk about these puppies because they are too good to be true. The bacon, the brown sugar, the chicken, OMG these appetizers have got to be the motherlode of all appetizers. They are full of flavor, they are sweet from the brown sugar, salty from the bacon, plus I sprinkled them with a bit more salt and generously sprinkled with lots of freshly ground pepper. The hubs, the dog, they were going nuts in the kitchen. The poor dog was wondering what the heck were all those smells and why wasn't the bacon in her mouth.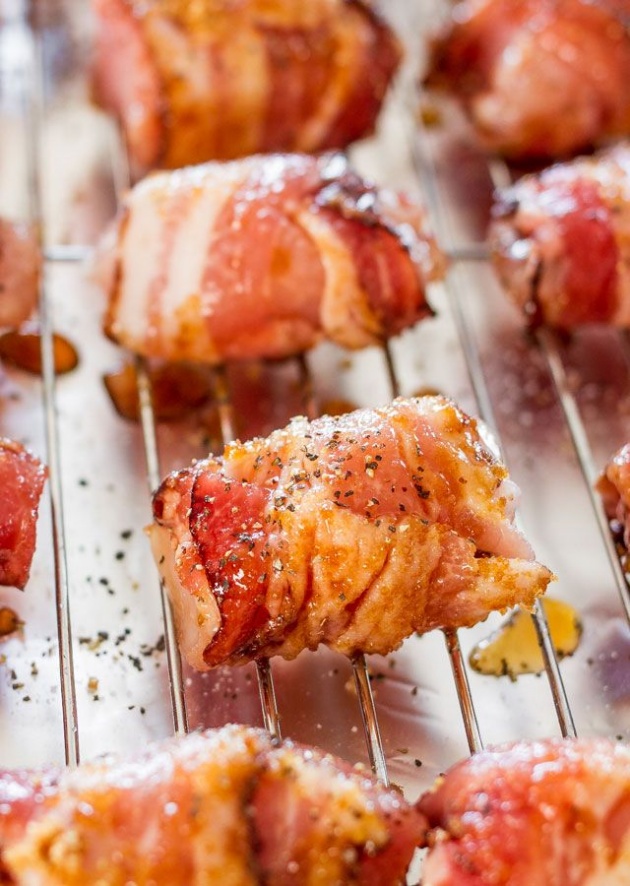 I once told you that if I were ever stranded on an island, the two foods I'd take with me would be bacon and nutella. What more does a girl need, really? Come to think of it, these super fabulicious bites would have been awesome with some drizzled nutella over them. Eh? You with me? If you're not with me, you're against me. Work with me here!
Ok maybe I lost you at the drizzled nutella so let's get back to these bites. All I can tell you is that as soon as I was done with the photo shoot for these puppies, 2 minutes later they were all gone. So although I say 6 to 8 servings here in the recipe, that totally depends on who's eating this. If you've got some bacon lovers at the dinner table, this is probably enough for one or two people. Totally up to you how many of these babies you make. Though I'd strongly suggest you double or triple the recipe, because they're just that good.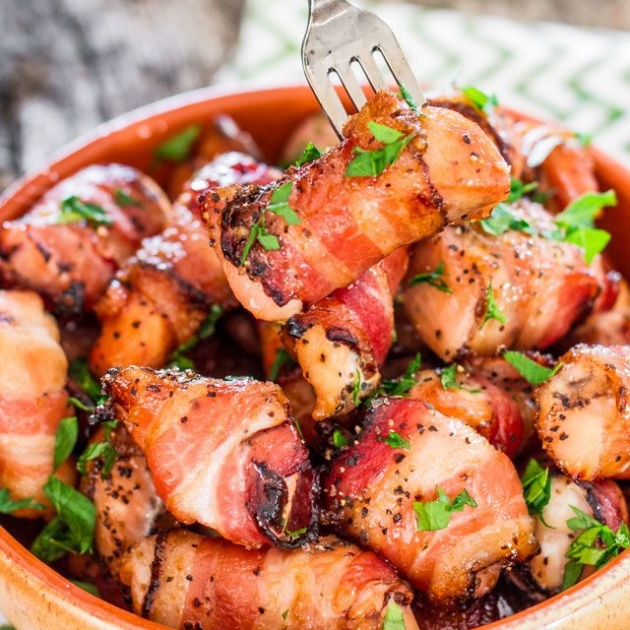 Now I urge you to take a closer look at the photo above here, because this my friends, is true food porn. I don't normally use the food porn term, but I think it best describes what you see here. So happy Thanksgiving to you all my Canadian fellas, and eat lots of turkey. Oh and I'm thankful for my awesome husband, and my family, my super cute and adorable dog, and these chicken bacon bites.
Scroll down for more food porn, oh and the recipe.

SWEET CHICKEN BACON BITES
Author: Jo Cooks
Serves: 6-8
INGREDIENTS
2 chicken breasts, boneless and skinless, cut into 1 inch cubes
8 to 12 slices of thin cut bacon, cut into halves or thirds,
¾ cup dark brown sugar
salt and pepper to taste
parsley for garnish
INSTRUCTIONS
Preheat oven to 350 F degrees.
Cover a baking sheet with aluminum foil, this will save you from having to scrub your baking sheet. Place a cookie rack on top the baking sheet. I used a cookie rack here. Place the sugar in a shallow plate.
Season chicken pieces with salt and pepper.
Depending on your bacon how thin or thick it is, cut each slice in either half or 3 pieces. I cut mine into 3. Wrap each piece of chicken with a piece of bacon. There is no need for toothpicks, the bacon will stick to the chicken. Roll the wrapped chicken into the brown sugar and make sure each piece is nicely coated in the brown sugar.
Place chicken pieces on the prepared baking sheet and season again with more salt and pepper.
Bake for about 45 minutes or until bacon is nice and crisp.
Garnish with parsley, so that it looks pretty..........