SXSW Day 3, or, The Dana Brunetti Experience.
Yesterday was almost completely education based for me. I planned on going to 2 screenings that I just didn't end up making it to. As a Texas Filmmaker, I feel bad for missing Linklater's film, but here's hoping I'll have time to see it when it hits theatres. The other film was a smaller indie film that I'm pretty bummed I probably won't get a chance to see again. But, c'est la vie. I participated in some cool stuff that pretty much makes up for it.
I went to two panels lead by Dana Brunetti. Here's a picture from the first one: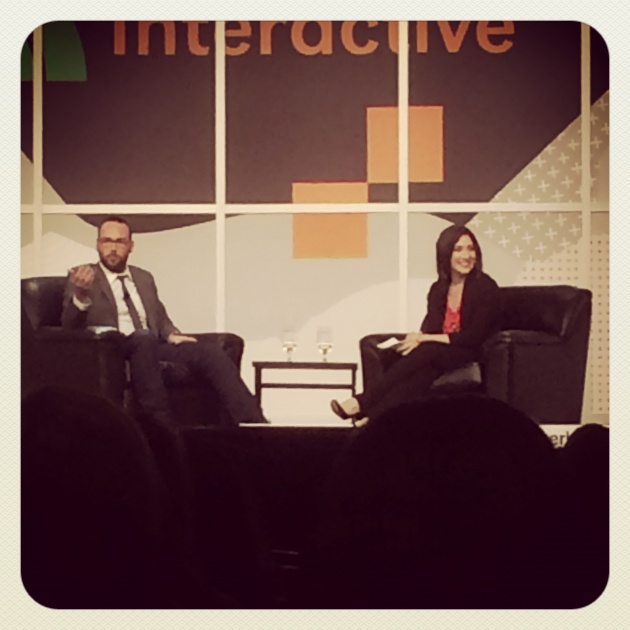 If you don't know who he is, you should. He is revolutionizing the way we consume TV and film and is a smart guy who isn't afraid to share his opinions. Basically, he's a bad ass. His first panel was in this huge ballroom on the 4th floor of the convention center that was titled "Are We All Producers Now?" in which he shared his opinions about just that. The talk, moderated by Randi Zuckerberg, was largely centered around how the evolution of television is evolving onto the streaming platform and is trending towards binge watching. As the producer of House of Cards, he, naturally, is pretty into the idea. He thinks this is just the beginning and that watching a show week to week is soon going to become a thing of the past. I tend to agree with him and although the point was brought up that marketing television is going to have to change, I think this is going to force the quality of television to increase even further than it has in the past couple of years. (Which, it has. A lot.) Because audiences are so into binge watching shows, writers have to be really on top of their game. There isn't room for plot holes, or irrelevant or uninteresting story lines. We, as consumers, want our entertainment, and we want it now. He addressed that the "water cooler conversation" aspect of watching television is also dying because everyone you know is probably watching a different episode than you. With all 12 episodes of a season available all at the same time, you are bound to not stay on pace with the rest of your friends. My favorite quote of his on this topic was (forgive me if I misquote by a couple of words) "if your friends spoil an episode for you, they're assholes and you need new friends."
In this session, he also addressed crowdfunding and his thoughts on it. He basically said that crowdfunding is a great idea that's gotten a little out of hand. In his opinion, people like Zach Braff and Spike Lee are ruining it for the little guys. Why should people who already have money and an audience use a tool that should be really helpful for those of us who are actually underfunded and less well known? I wholeheartedly agree with him on this. One thing that using Seed & Spark has really taught me is that people giving you money is nice, but the best part of crowd funding isn't the money. It's the audience you build. When someone donates $5 to your campaign, they are immediately invested on how your project will do. When 100 people donate to your campaign, that is 100 unique people who are pretty much guaranteed to watch your film and since they've invested in it, they're going in with a positive bias towards its. People like the Zach Braffs of the world already have an audience. They will already get our money when we pay to see their movies in theatres and when we buy their DVDs and when TV channels play their shit over and over again. With that in mind, it makes me feel like "how dare they also ask for money on the back end as well?" I already felt this way, but especially after hearing Brunetti speak passionately about the subject, I am even more compelled to urge you to look into very small indie projects on crowd funding platforms and ignore Katherine Heigl's Indiegogo Campaign. (And every other famous person who will inevitably try to rope us into giving them even more money than we already planned) Another strong point on that subject that Brunetti made was that giving away producer credits and walk-on roles as part of your incentive package devalues your art. I'm still on the fence about this opinion, but I understand why he made the point and encourage you to think on that.
The final thing I want to touch on about his first panel is how social media is effecting the entertainment business. This is a point I've made a thousand times to anyone who will listen to me about why I decided to join Twitter and why I actively seek out new followers on a daily basis, and hearing Brunetti validate it was rewarding. When a producer/director/writer/whoever is casting a movie or TV show looks at actors, they look at a variety of things. They look at talent, work ethic and personality mostly. But one thing they are starting to look at is social media presence. If you're choosing between two actors who are almost identical in every way (look, talent, etc) why wouldn't you choose the one who has more followers on Twitter or more likes on Facebook? Why wouldn't you choose the one who actively engages in lively internet discussions and Instagrams their day? That's free marketing. And if they also happen to have a good reputation, they are publicly giving your production a good reputation. That's gold for your business. Don't forget that. And, you know, I don't think its too far off to say that people probably choose their crew on this criteria as well. If my AD wants to Instagram my DP setting up a really cool shot, that's some more free advertising for me. However, the other side of this coin is that you never want to give too much away while you're in production. Your audience wants to feel involved behind-the-scenes, but they don't want things to be spoiled. If you make movies, I highly suggest you sit down and write a social media clause into your contracts right now. It'll keep things from getting too messy later on.
The second panel was more intimate and ultimately dove a little bit deeper into some of these subjects. It was called "SXSW Film Startup Alley: 50 Shades of Creativity." He and Fred Seiberg (President, Frederator Studios) shared their opposing opinions on where TV is going, how to get into the online platform to make money and whether kickstarter is valuable to those who have money already. Brunetti talked in depth about the Jameson First Shot competition that his and Kevin Spacey's company (Trigger Street Productions) runs to help filmmakers break into the entertainment industry and Seiberg touched on his youtube channel. This panel was particularly interesting to me because their opinions did not exactly line up, but they were able to have a healthy discussion in front of a crowd of strangers. It really made me think. The tone of this panel was a big more serious and in depth than the first, and I'm really glad we saw Brunetti twice. When the panel was over, we got up to shake Brunetti's hand (my boyfriend is a big fan of his) and we went on our way.
After the Brunetti double header, we headed out of South By land to support some friends in their comedy show (Duncan and I both do improv and sketch comedy at a little theatre in South Austin called The Institution) and hung around afterwards to congratulate all the people who showcased their talent for the first time. Shortly after that we headed to Rainey Street (a hipster bar district) to hang out at the Above Average party where we got free T-Shirts and hung around some UCB/Saturday Night Live people. It was pretty late by the time we got there, so we just stayed for a drink and went home. Although we didn't see any screenings, the day was very fulfilling and left me excited to see where the rest of the week takes us!