Hi again to everyone!
Today I'll write about the first fictional short film I directed. It took more time than I expected, to finish the process. Full of good and not so good moments, but of course a good experience to learn about it. And most importantly, the amount of people that helped the movie to became finally a good work.
Years ago, and before the idea became a story and a script, I made some drawings. These were something like a storyboard about a girl trapped in a painting. But not much happens, apart from that. Over time, the drawings evolved into a love story about a painter, who's painting his "feminine ideal" and discovers that the woman lives her own life inside the painting.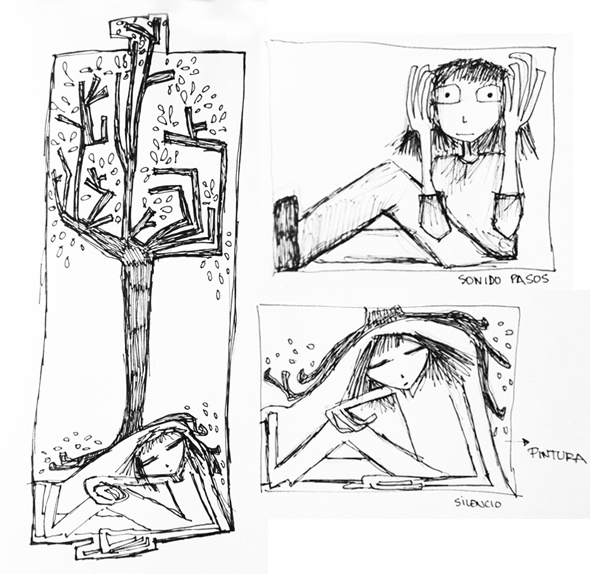 Making a movie is always a challenge, and it always has different requirements depending on the project. I think that's also what I like of making films. In this case, we build two spaces from scratch: the Artist's Studio and the world inside of the painting. As I mentioned in my first post, I think it is very important to look beyond cinema, when we are creating a world. Therefore we took some pictorial, theatrical and musical references to develop the aesthetic of the film. The three most important were: The german group of artists "Der Blaue Reiter", Bertolt Brecht and Edith Piaf. Well, apart of the influence of czech cinema, in particular of the film "Daisies" by Vera Chytilová.
To create the world inside the painting, we build a theatrical stage, which was divided in separated layers, to simulate the depth of the painting.
Here're a few images, comparing sketches and movie result
I never worked with actors before, so it was a huge challenge. I realized with this project, that it is very important to choose carefully and spend time with those who lend their face for your story to became true.
So, if you have an idea, do it! No matter how much time it costs, good ideas always will evolve into something special. And the second idea will be better, because of the lessons you learn with the first work.
Hope you can see the short film soon,
best regards and good look
Amanda Mora Klein