Tagaytay Brunch at Charito by Bag of Beans
Out of Town Food Trip
We planned to go out of town after my grandma's funeral, to do some destressing and unwinding. We deliberately choose Tagaytay because travel time was short.
The trip was cousin exclusive, meaning, our parents were out of the list; I was a bit anxious but excited at the same time as it was our first escapade without some form of guardian (other than my uncle's friend, who became our driver and humorist).
We've been to Tagaytay a few times before, but much had changed since. My eldest sibling recommended that we try our either Bag of Beans or Antonio's, but since the former was nearer and is in right of way, we opted to dine at the said resto.
We arrived in Tagaytay around 9:00 am, a 2-hour fun filled ride from Manila because we just can't stop talking and chatting. The eldest insisted that we take our breakfast at Bag of Beans; sadly though, it was still closed! So we advanced further along that road and hit jackpot when we saw Charito's opened gates.
About Charito by Bag of Beans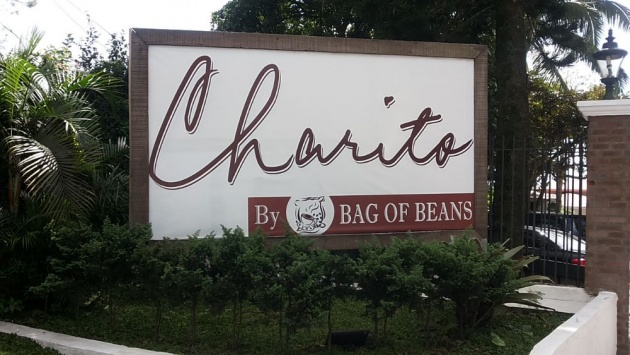 Photo credit: lapiz-lazuli
Recently opened in the first quarter of 2016, the fifth branch in the Bag of Beans line is named after the owner Charito. Following the success of the first four, Charito still follows the perfect components and ingredients that make up the Bag of Beans signature.

Carefully designed to capture the upper class market, Charito is a tad more high-end than the rest of its predecessors. The French style semi-fine dining restaurant radiates the same elegance offered by all of Bag of Beans braches while still introducing its own personality.

Rustic, chic and flawlessly designed interiors can also be seen here, but more than its first class style and lay out, Charito presents additional features that are distinct to this branch. Charito the restaurant with bar set up. To add to their exceptional service, Charito bartenders also concoct a special drink each month to excite regulars and visitors who are always coming back for more.

- from bagofbeans.ph
Place
Video credit: lapiz-lazuli via bitlanders.com
Parking isn't that large and a little less adequate for would-be diners, but we still managed to grab a slot, and instantly. The place felt like I was entering a solemn place, somewhat a convent or a secluded chapel, from its greenery and flooring. When you get inside, though, the feeling dissipates. You'd feel like you're at some big shot's guest house.
The interior design is a bit posh, victorian-ish but color schemes are either lively, monochromatic or rustic. We settled along the veranda to have a relaxing view of the Taal Volcano. Because it was a hot day, we changed tables twice (but still on the terrace).
Food
The menu had a mix of western and Filipino dishes. We managed to order many foodstuff, as the waiter had said.
Breakfast Sampler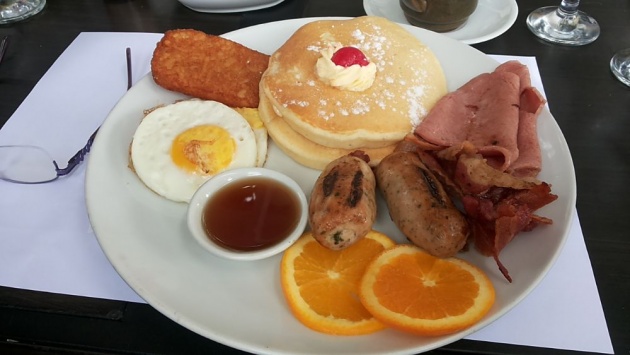 Photo credit: lapiz-lazuli
Eldest cousin's order. You get a bang for your buck from the amount of protein on this plate. She's a breastfeeder so she needed those extra macros in her diet. Serving was fit for an average westerner's diet.
Carbonara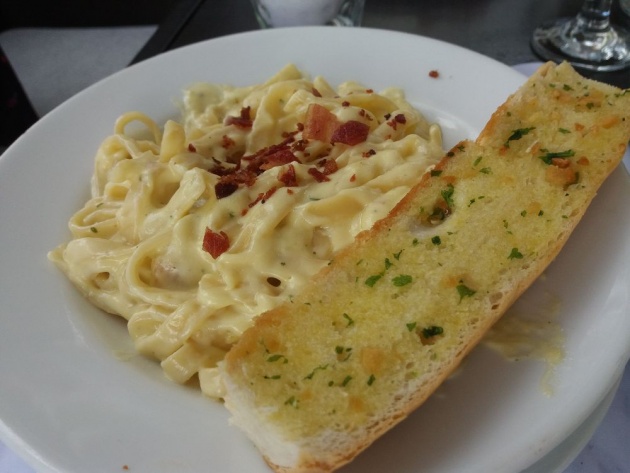 Photo credit: lapiz-lazuli
British cousin's order. She emptied this one instantly as she said it was really delicious. It was bigger than your average carbonara at Pizza Hut. She was really surprised because she ordered another dish as she was accustomed of London's portion sizes compared here in the Philippines. Little did she/we know...
Bangus and Longganisa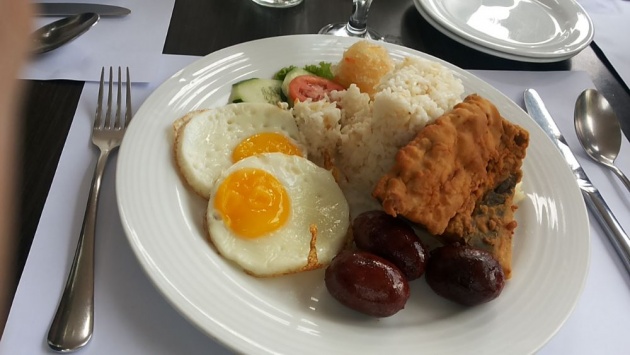 Photo-credit: lapiz-lazuli
Another of her orders. No complains about this dish, except that her gut capacity had reached its limit, so she set aside her remaining fish. The fish looked very "breaded', but I think she enjoyed it.
Bacon Omelette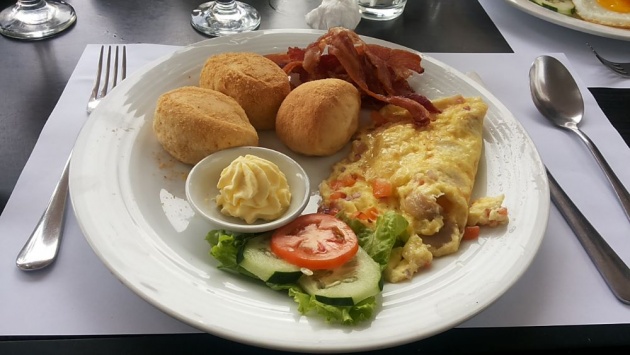 Photo credit: lapiz-lazuli
Youngest cousin's order. He also ordered the salad which we all shared among our group because it was good for 5 solo portions. The bacon omelette looked really tasty, don't you think? He finished it, and didn't hear any qualms about it.
Banana Walnut Pancake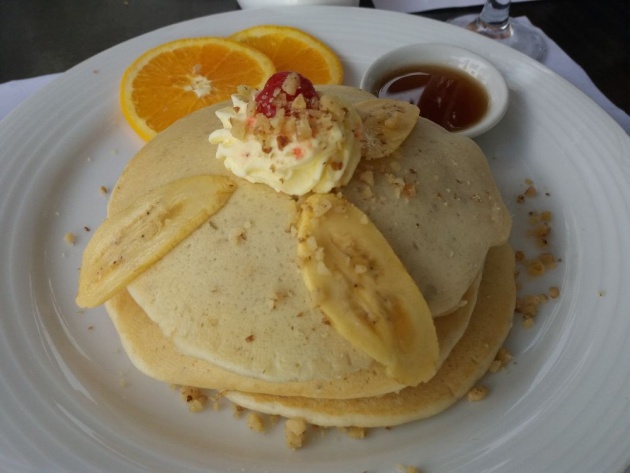 Photo credit: lapiz-lazuli
My eldest sibling's order. There were three huge and fluffy pancakes that she didn't manage to finish. We can't just let it go to waste so we requested to take this leftover home (in the Philippines, this is called "pabalot").
Blueberry Pancake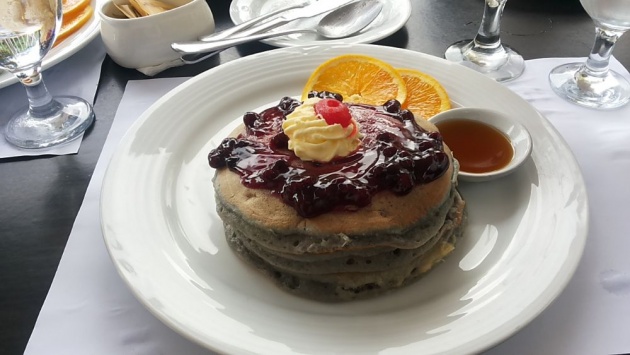 Photo credit: lapiz-lazuli
Ah, here's my order. It has 2 thin slices of orange added. I don't know if it was just for plating or it goes well with blueberry pancake, but I still ate them when we got home. I'm a light eater so my leftovers were also wrapped and taken home. The blueberries used tasted like it was canned, not fresh. But still, it was tasty. It was just difficult to finish because they were unexaggeratingly huge!
Ceasar Salad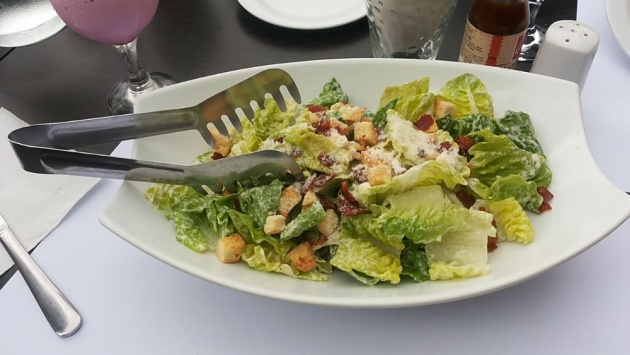 Photo credit: lapiz-lazuli
This wasn't on the breakfast menu, so this dish was good for 4-5 people. It was the first one to be served at our table (because of quick prep time), so it became our appetizer. Croutons were crispy, so were the bacon bits. The dressing was just enough and delicious.
Lechon Kawali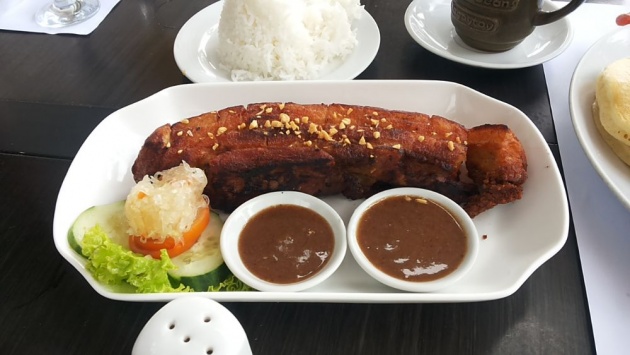 Photo credit: lapiz-lazuli
This was elder sibling's order, which was among the entreés, so the serving was good for 4-5 persons. We also shared it among our group. I think it was really fatty and from the looks of it, it was just about to be burnt black. I didn't really enjoy it, or I just couldn't remember, so I couldn't recommend.
Blueberry Cheesecake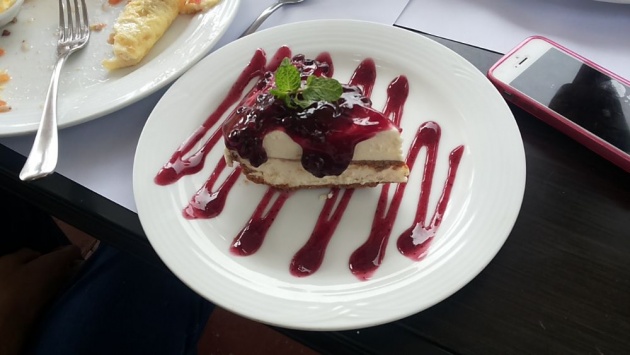 Photo credit: lapiz-lazuli
Another of youngest cousin's order. He only ate half and gave the remaining to me. I also can't remember how it tasted (but I'm a sucker for cheesecake, so...). He didn't like it; it was very sour for him.
Drinks
I've hit maximum photos, so I'm just gonna do a slideshow and a quick rundown of the drinks...
Video credit: lapiz-lazuli via bitlanders.com
Fruit water

- don't remember much, but it was free!
Barako Coffee - a bit bitter, so you need more than 2 sugar packets. There are better tasting Barako coffee around.
Hot Chocolate - I forgot who ordered this one, but as I could remember, it was just so-so.
Strawberry Milkshake - felt a really refreshing refreshment. Take my word for it.
Ripe Mango Juice - very delish one! Serving was just enough.
Mojito - very good cocktail. I just don't like the many mint leaves floating on the surface as it will cling to your lips or teeth, just llike what happened (to me).
Hot Green Tea - Brand used which I never heard of. But any hot tea after every meal is an exquisite pleasure in itself.
Staff
Their staff was generally nice, I was just a bit surprised not one ushered us onto our seats. Still, they were accommodating, from all our jokes and requests and questions. They wear formal attire, i.e. longsleeves, even at the heat of the day, but they still remain polite and cordial. I think they're understaffed though, as we waited for our order for more than half an hour.
We had a generally good dining experience at Charito by Bag of Beans!
Disclaimer: Pictures, videos and write-up are originally made by lapiz-lazuli, unless otherwise stated. Views and opinions in this blog post are truthful but subjective and are not influenced by sponsorship of any sort.