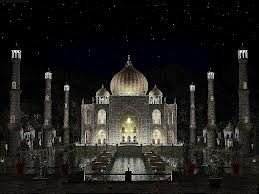 Taj Mahal a monument telling the story of love that was immortal and became the inspiration for others who believe in love. Taj is basically a monument that is made up of white marbles. Taj is famous for its beauty and it's the one of the mostly loved and appreciated monument. It's on top of main tourist attractions in India.
Taj Mahal was built in year 1631 in the memory of his beloved wife Mumtaj Mahal. Mumtaj died while giving birth to her 14th baby. Mumtaj was a Persian princess to got married to Mughal emperor Shahjahan. After her death Shahjahan was in a deep shock but later he decided to use his feelings in a way that people will always remember that love never dies. This beautiful monument is the live example of Mughal art in India.
The work done on the walls of Taj is so delicate and impeccable that one can feel lost in the beauty of Taj. There is a saying that Shahjahan ordered his soldiers to cut the hands of all the artists so that in future no one can build such a beautiful monument. It has 3 tombs and 4 pillars that are placed around on all the 4 sides of Taj and there is a fountain in the middle of the Taj and the entrance gate. Even the main entry gate is also delicate and marvelous but it's painted with brick color.
The main thing about taj is still left and that is that Mumtaj's grave is there in the middle of taj and that is why no one can enter inside with their slippers. Very few people know that there is another piece of art which is a copy of Taj which was not made up of white marbles and was built by Aurangjeb son of Shahjahan but that piece is in Maharastra and that is not as beautiful as Taj.