Here is some information about Takashi Murakami who is currently showing his amazing work at the Gagosian Gallery in New York City. - Wikipedia -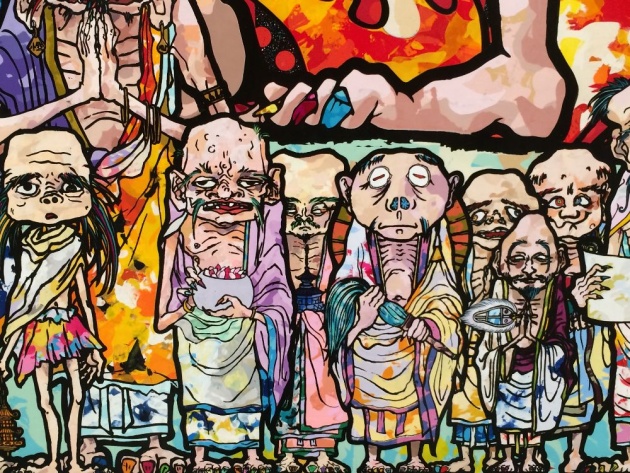 Profile
Takashi Murakami is the originator of the "Superflat" Theory and the artist most associated with its tenets. After several years of high profile projects and exhibitions, his is a name that needs no introduction. He has helped scores of young artists make their professional debut under the banner of his art fair "GEISAI," held annually in both Japan and Taiwan.
In 2007, a large scale retrospective of Murakami's work entitled "© Murakami" opened at the Museum of Contemporary Art, Los Angeles. It toured various locations around the world for the next two years.
In September 2010, he held a major solo exhibition at France's Palace of Versailles.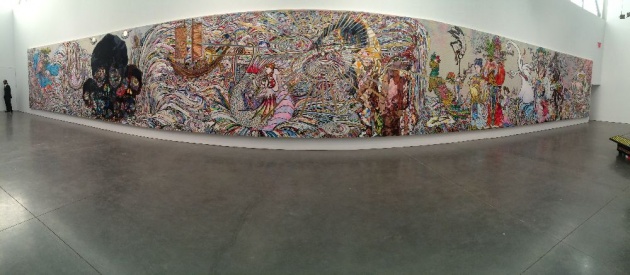 CAREER
| | |
| --- | --- |
| 1993 | Tokyo National University of Fine Arts and Music, P.h.D |
| 1962 | Born in Tokyo, Japan |
Awards
DOMESTIC
2008

GQ Men of the Year 2008 Awards

2006

11th AMD Awards, Prize of Recognition (Digital Contents of The Year'05)

Heisei 17 (56th) Educational Minister Rookie of the Year, Awarded by the Agency for Cultural Affairs for the Advancement of Art

2004

Les Compagnons du Beaujolais, Honorary Knighthood

Tag Heuer Business Award

2003

Special Award, 46th Japan Fashion Editor Club (FEC) Awards
INTERNATIONAL
| | |
| --- | --- |
| 2008 | Time The Most Influential People In The World 100 |
| 2006 | Best Thematic Museum Show in New York, AICA USA |
| 2005 | Japan Society Imajiné Award |
| 1998 | Visiting Professor, School of Art and Architecture, UCLA, Los Angeles |
| 1994-95 | Asian Cultural Council Fellowship, P.S.1 International Studio Program |
SOLO EXHIBITIONS
2015

"MURAKAMI TAKASHI: THE 500 ARHATS" Mori Art Museum, Tokyo

2014

"In the Land of the Dead, Stepping on the Tail of a Rainbow" Gagosian Gallery, New York, NY

"ARHAT CYCLE" Palazzo Reale di Milano , Milano, Italy

2013

"Takashi in Superflat Wonderland" PLATEAU, Samsung Museum of Art , Seoul, Korea

"Solo Exhibition" Galerie Emmanuel Perrotin, Hong Kong

"ARHAT" Blum & Poe, Los Angeles, CA

2012

"Flowers & Skulls" Gagosian Gallery, Hong Kong

"Murakami – Ego" Al Riwaq Exhibition Hall, Doha, Qatar

2011

"Solo Exhibition" Gagosian Gallery, London, England

2010

"Solo Exhibition" Gagosian Gallery, Rome, Italy

"MURAKAMI VERSAILLES" Palace of Versailles, Versailles, France

2009

"I Love Prints and So I Make Them" ARKI Gallery, Taipei, Taiwan

"I Love Prints and So I Make Them" Kaikai Kiki Gallery, Tokyo, Japan

"Takashi Murakami Paints Self Portraits" Galerie Emmanuel Perrotin, Paris, France

"©MURAKAMI" Guggenheim Museum, Bilbao, Spain

2008

"Davy Jone's Tear," Blum & Poe, Los Angeles, CA

"©MURAKAMI"Brooklyn Museum, Brooklyn, NY; Museum für Moderne Kunst, Frankfurt, Germany

2007

"©MURAKAMI" Museum of Contemporary Art, Los Angeles, CA

"Tranquility of the heart, torment of the flesh ― open wide the eye of the heart, and nothing is invisible" Gagosian Gallery, New York, NY