I always believe that life is a book and if we don't go to other places, we are just reading one page of that book. This is the reason why I love to travel, go to a certain place locally within the Philippines which I haven't been to and that is also one of the reasons why I agreed to go abroad to the United Arab Emirates because I want to experience a different environment, culture and language. But before I could go away to different places, I have to got to those just near me, those areas which are just my reach and that I can easily come with very less traveling. There are so many travelers out there go to thousands of miles away from their homeland to check other places without even able to visit their own and that's something which I don't want to happen. I have to first visit my own land before going somewhere else.

And so, one available Saturday, I tagged my boyfriend who has been my travel buddy to a quick stroll over to go become "Chinese-sey". I am glad that he agreed and so even if it was kind of rainy that day, that didn't stop us to go there and experience a Chinese kind of environment. Actually, I had come here when I was small like three years old and I only have a few memories of how the place looked like. I do have some photos of it but it didn't capture the entire place and so I have to come again.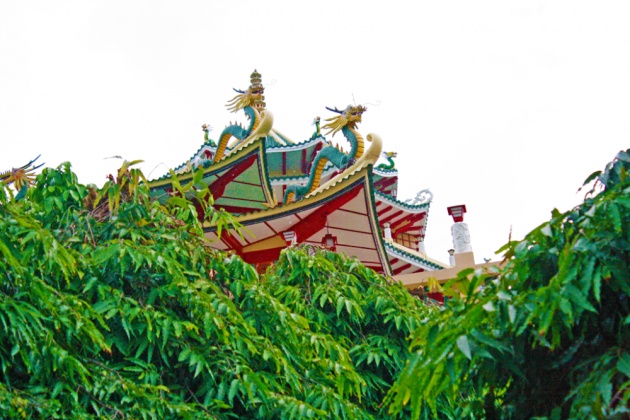 The Taoist Temple was built on the 1970's by the Chinese community here in Cebu City. It has been standing for years, a sanctuary of prayers, meditation and worship for the Taoists. However, the temple has been welcoming even those who are not with the same belief. Eventually, it has become a tourist spot both for local Cebuanos and other nationals from different countries.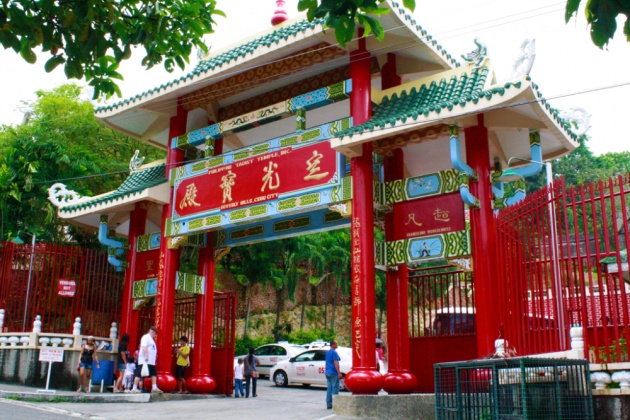 Located in Beverly Hills Subdivision, Lahug in the city of Cebu. Those who doesn't have any vehicles with them like us can take the motorcycles for hire or what we refer to as "habal-habal" and travel for a few minutes only. The motorcycle can't go inside the subdivision and so we have to stop at the subdivision's entrance gate. We have to walk towards the temple for ten minutes, it's a good walk as we were covered with trees, flowers and all green in there. We were welcomed by this huge gate with cool Chinese-themed design. I can't read Chinese characters but it's just totally appealing to me. You can't come in without receiving some reminders from the security guard, in the printed note we found: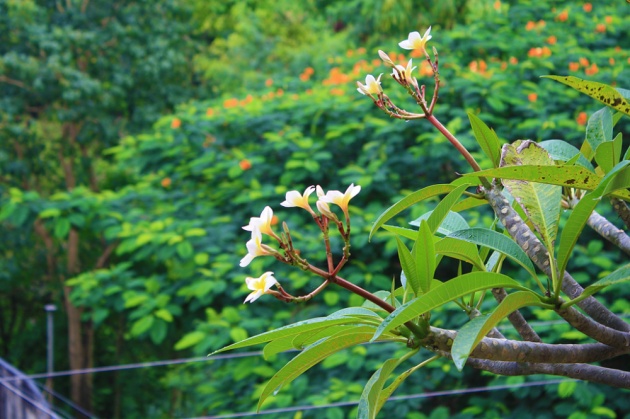 Aside from the one above, there's also a strict notice that not all areas of the temple can be filmed or photographed specially the one inside their main temple, it is very sacred that anyone coming in needs to take off their footwear and observe solemnity.
Eighty one steps will be taken to get to the main temple, it has been considered as a replica of the Great Wall of China except that it only has 81 steps but then it was a joyful climb as there are nice views on the way to the temple.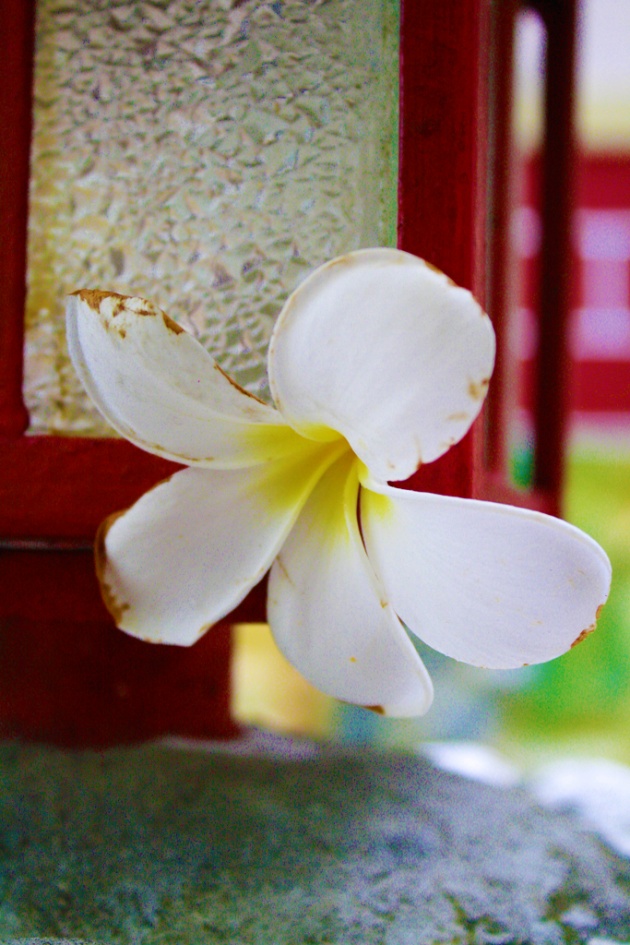 A flower fallen off from the tree branch while on the way to the temple.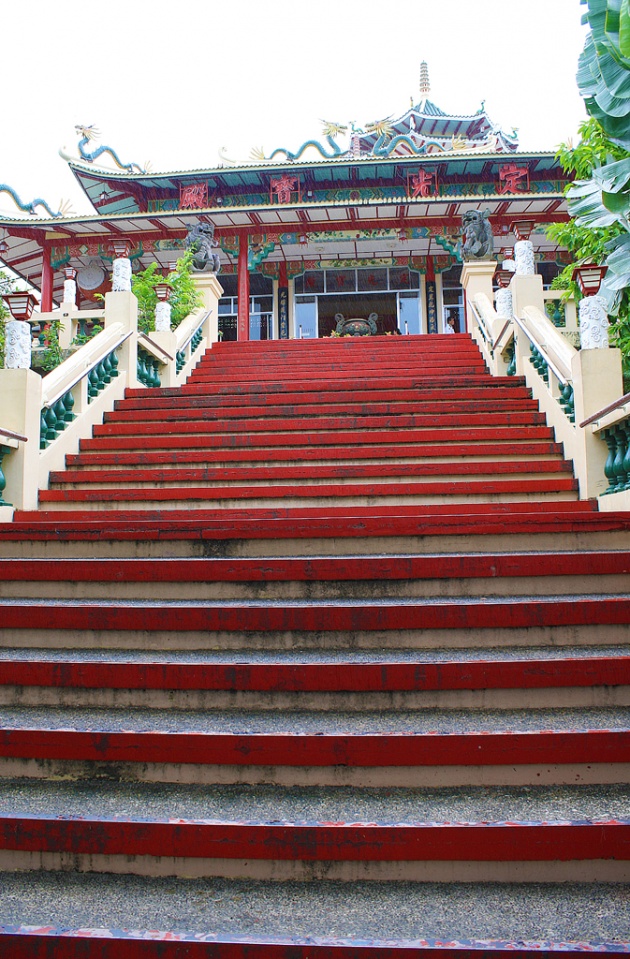 Obviously, the photo shows that it rained while we were climbing up the stairs, we were ready with our umbrella though and thankful that there were covered stops with chairs in the stairs so were able to stay there while the rain was still pouring. I had to take a photo of the last level of steps.
Here are the photos we took while inside the temple although we were unable to take any photo from the main temple itself because it is prohibited, we took every corner of the place and make sure to take photographs of ourselves as well while in the area. And of course, we can't be out here without taking a photo with the dragons!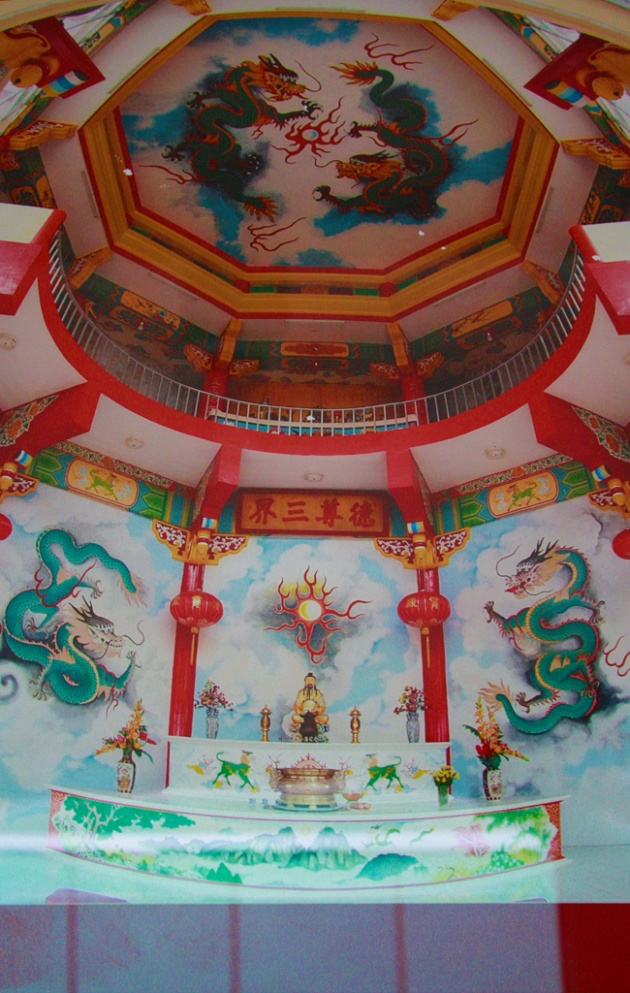 This is what is seen inside the main temple, I did not take any photo while we were inside the temple but this was a photo posted outside, I instead took a photograph of that one.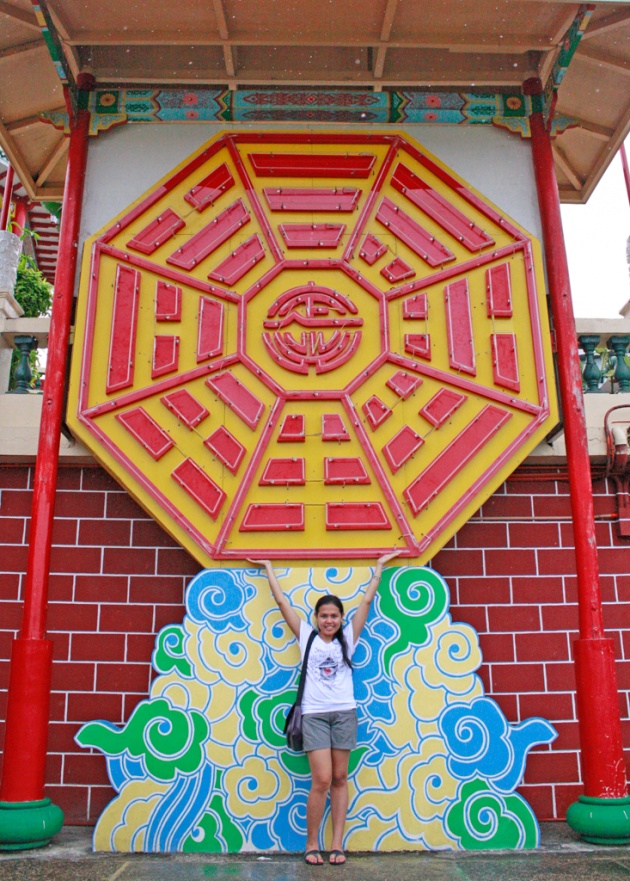 Baguas can be seen all over as well but this one caught my eyes as it is the biggest one in the entire temple. I took a few poses with it though as well as my boyfriend. Gladly, the rain stopped at that time already.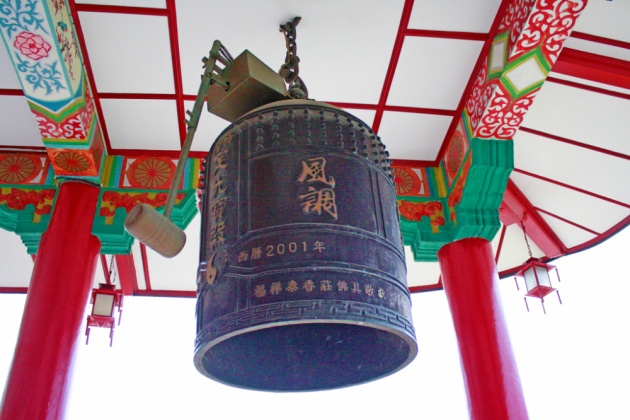 A huge kind of bell which looks really heavy was hanging outside the main temple and it seemed to me that the roof might let go of it at anytime but I guess it has been securely placed as it has been there for years. They are using it whenever there are certain ceremonies and special events, notice that thing on the left side of the bell? That's the tool they use to bang it with and produce a sound.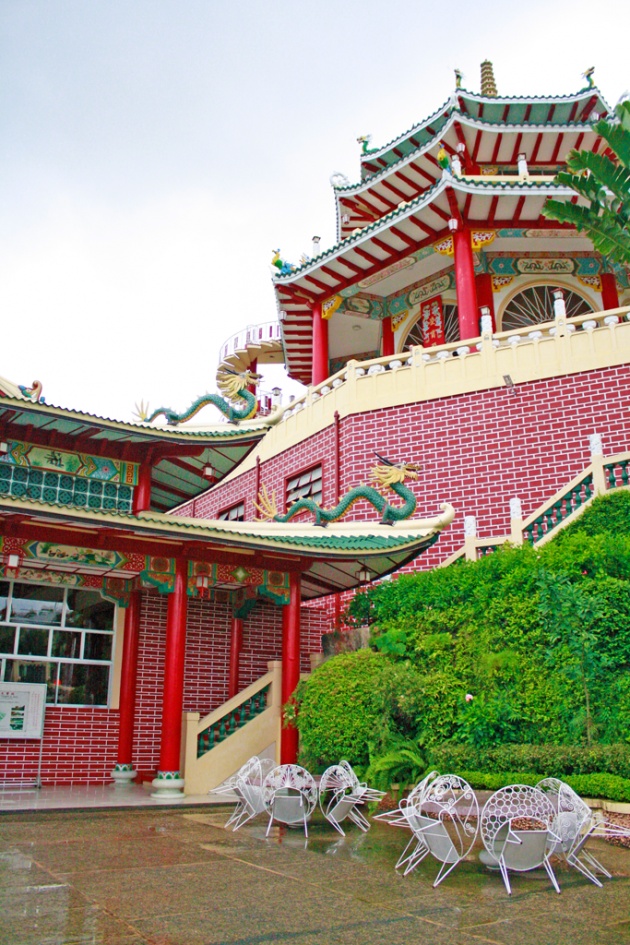 Totally made of stairs, everywhere you go, you have to use stairs, from the time you go inside the temple to the topmost part of it has stairs and steps.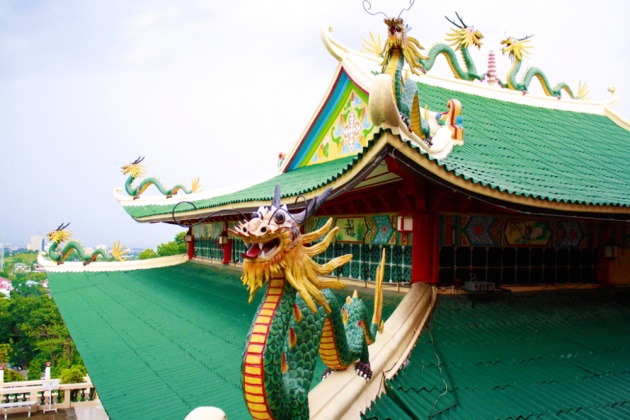 Dragons were my favorites of the area, there's a different kind of feeling seeing them up close and personal compared to just looking at them from afar. They look like real ones, I have this thought before that these creatures aren't real but then after seeing the in person, I had a change of heart, I then thought it could be possible that they are existing.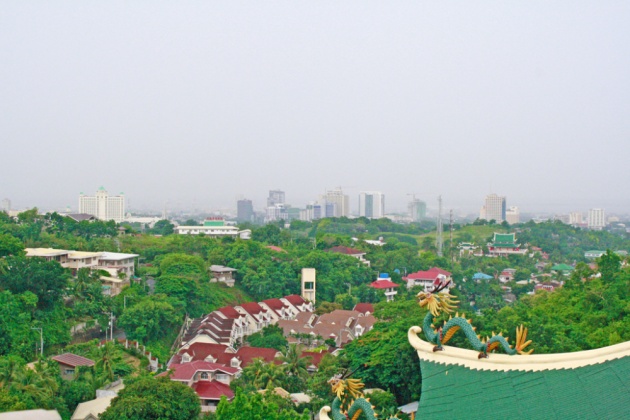 This was one of my favorite photos as the dragons look like they are observing and looking over the city of Cebu below.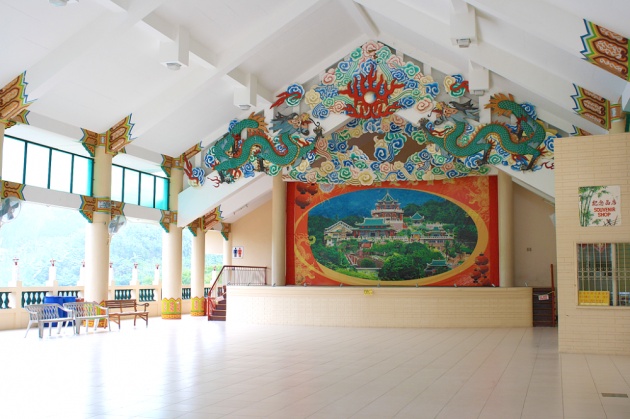 This is the welcoming area for the guests and visitors, we can eat here, drink, take calls and whatever we need. Comfort rooms are also in the sides and there are rules pasted on the walls here to remind the visitors. There's a souvenir shop as well where one can buy some good remembrance of the area, little keychains, cups, mugs, tshirts and everything else is available in this shop. The signs though were both in English and Chinese!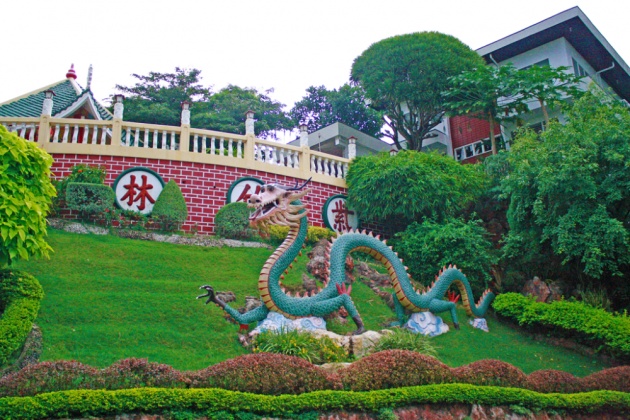 This is the biggest dragon in the temple and we can't go home without taking a photo of it and we did a 'selfie' too!
Took us hours to completely get tired and decide to go home but it was worth it, the ambiance was truly great plus we had learned something from Lao Tzu himself. First is that we realized why most Chinese have Koi pet fishes and that is because they have this belief that those Koi fishes are considered a good luck in times when certain family members has illnesses, instead of taking that person, the Koi fish will get the bad element thus keeping the member of the family safe.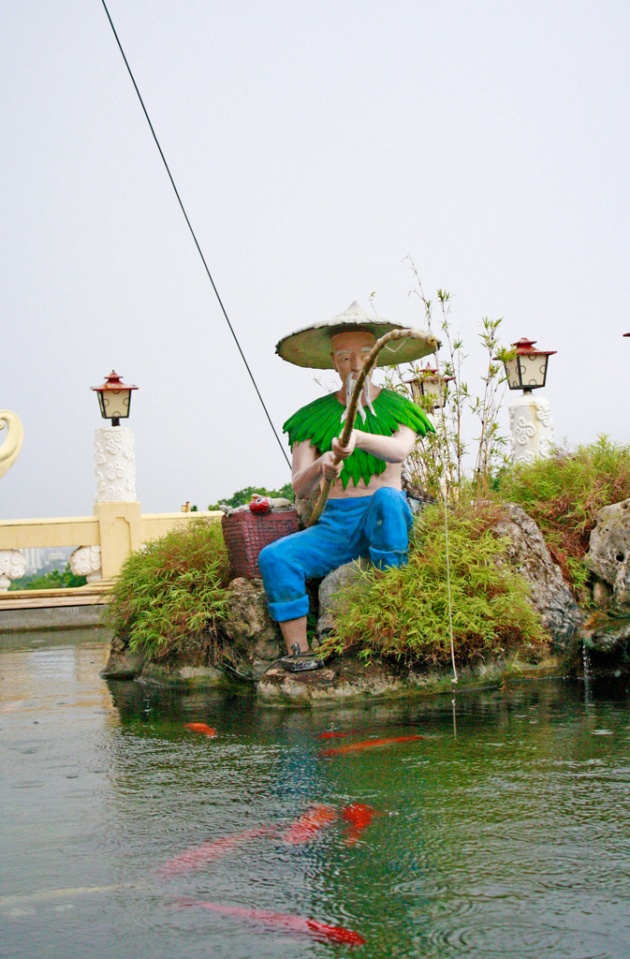 And the second one is this quote:
"Give a man a fish, feed him for a day. Teach a man to fish, feed him for a lifetime."