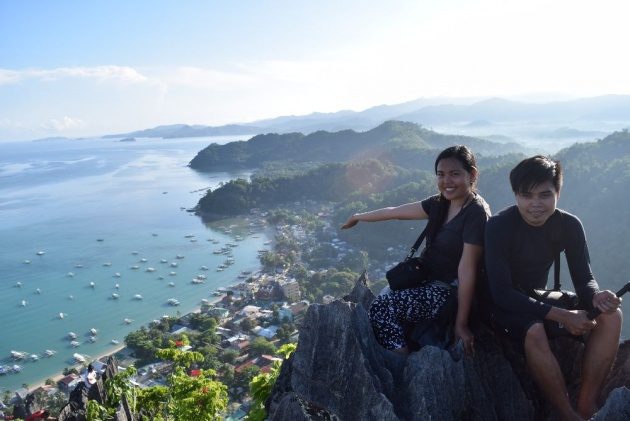 Taraw is a Cuyunin word for mountain. And the mountains which greeted us during our first morning in El Nido was just calling us out, inviting us to see its beauty and we had nothing left to do but to agree and go for it. We have to respond to its calling and even if both of us were not sure about it, we can't deny the fact that Taraw is totally tempting. And so we had made up our minds that we will definitely go the next day to this adventurous activity.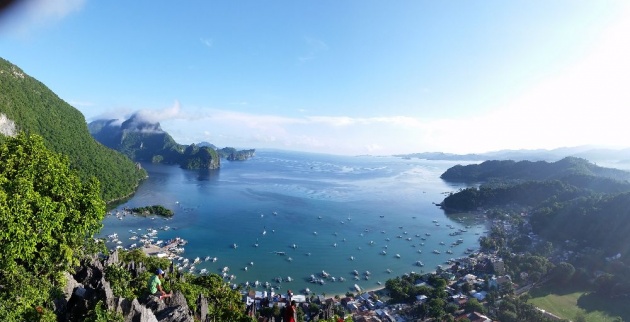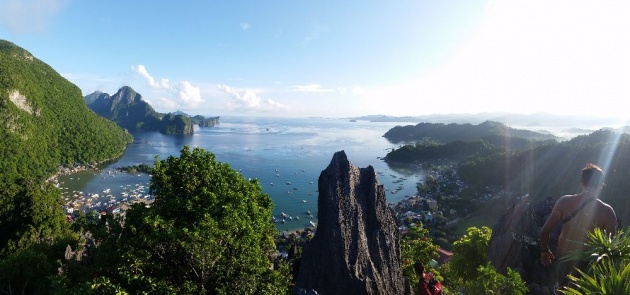 As per our tour guide, we have to be ready by around five in the morning so that we can reach the top before sunrise. Normally, the trek would take around an hour going up and another hour going down. So we went to bed early that night so that we can get up earlier. We didn't care for the nightlife anymore and in the first place, we don't have night life actually.

However, we ended up late, instead of five in the morning, we reached the tour guide's place by five thirty already because my husband woke up late. And when we reached there, our tour guide has already left. That was an unfortunate thing but gladly, another guy offered the service for 300 pesos each so we are still going.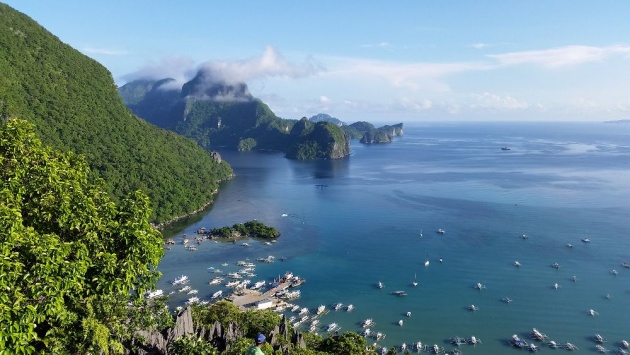 The only problem was that we were wearing slippers and the tour guide said the rocks are sharp and maybe our slippers won't be able to survive it. We don't have any other footwear available though because this was not part of our plan for this vacation. But then he just said fine, we can still continue but we should be very careful with our steps and always check the rocks before stepping on them.

Both my husband and I were a bit feeling bad about wearing only slippers when the tour guide was wearing hiking shoes but anyway, off we go for this unexpected hike.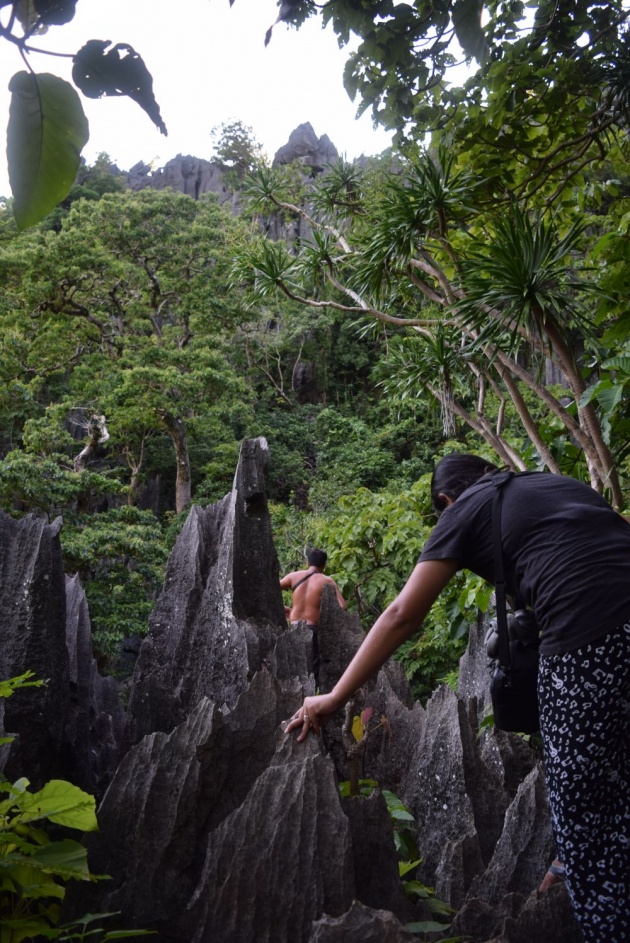 Look at how sharp those stones are. That was super dangerous and the guy at the distance is our Tour guide who took his shirt off now so he can breath properly.He was also tired but he is already used to this activity.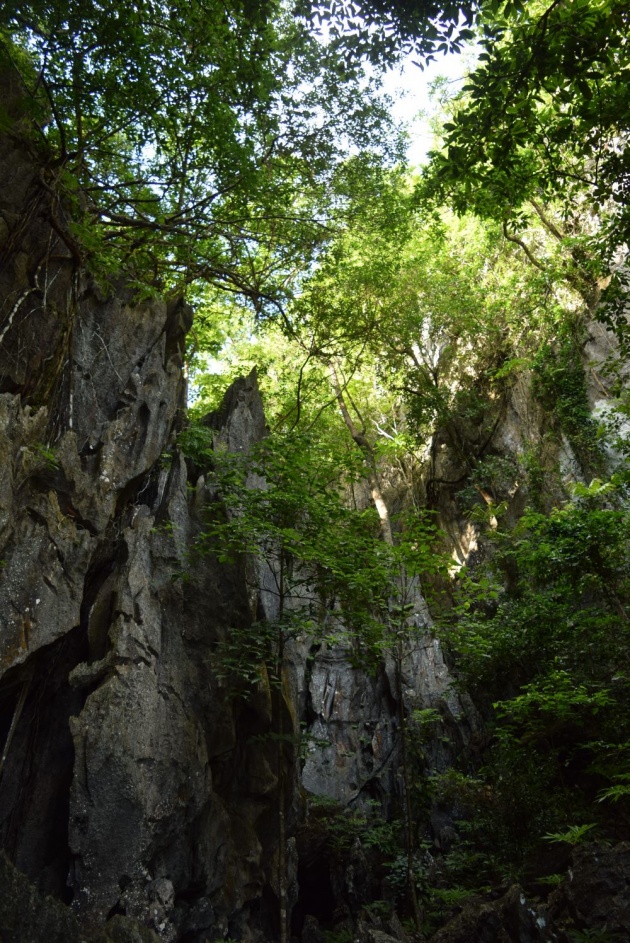 It was amazing that the mountain is just in the backyard of the El Nido proper that a few walks away from the main town, you can already go for the hike. I guess it was just five minutes of walking an uphill-ly path and my heart rate was already increasing. We passed by a lake but the path was still dry so we were lucky that it didn't rain that night.

It was not as easy as we thought. We imagined an easy walk while holding our hands together towards the top. But it was totally the opposite. We were holding on to rock protrusions and stable clefts for us to push ourselves up to the steep rock wall.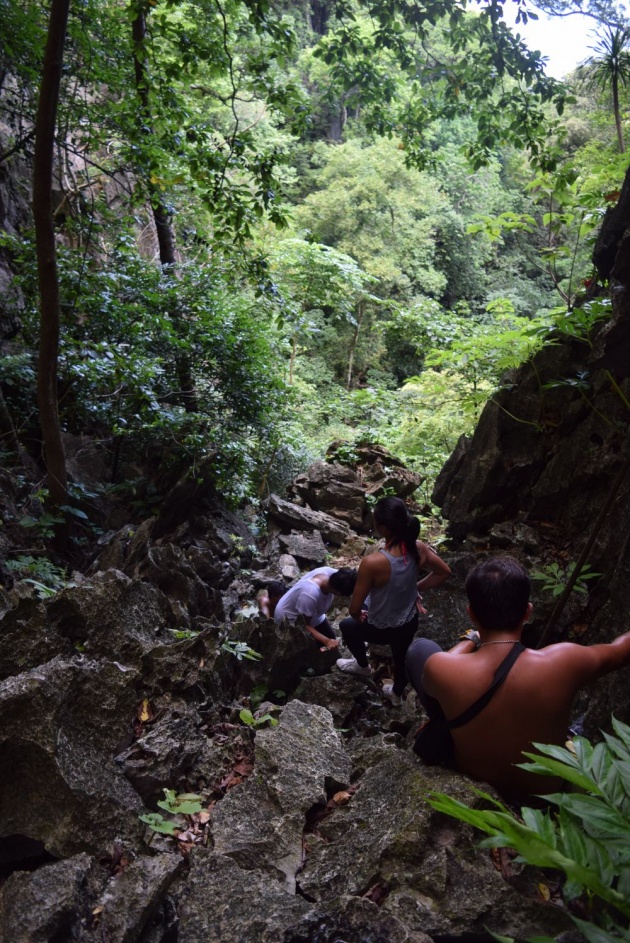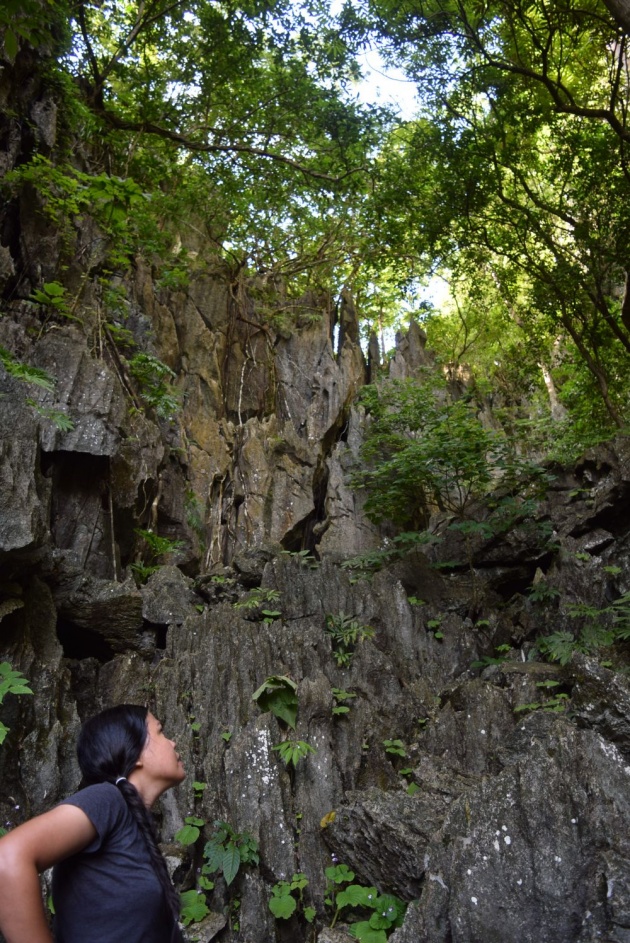 Good thing we didn't climb that part right there.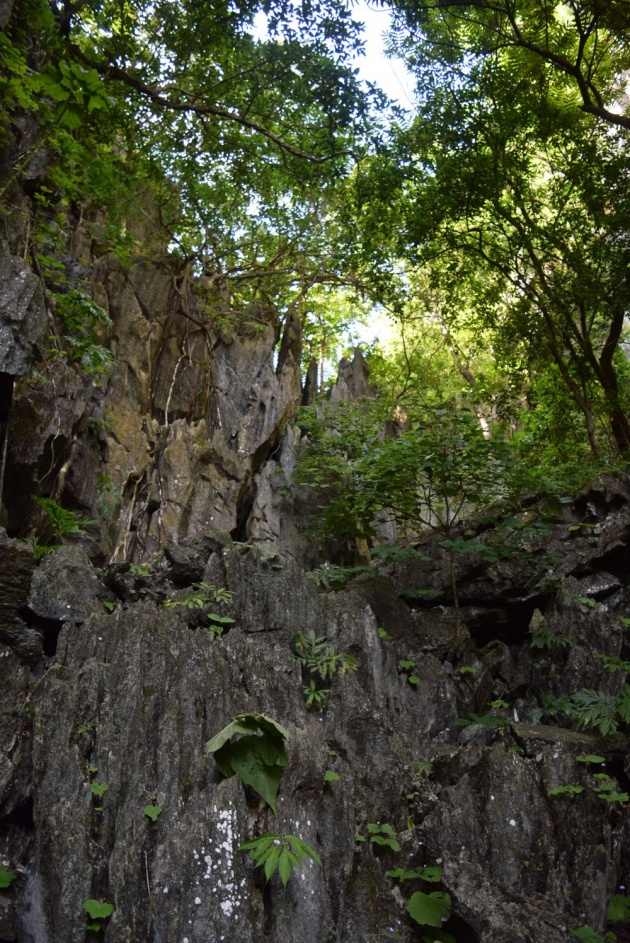 So the real hike thing had started when we saw the rocks which are just as sharp as how they look like from the town proper. This was the reality. I was thinking it was only an easy hike but no, I was mistaken. We have to pull ourselves so we can climb up but then the rocks were sharp and we have to first look and choose which is the best part to hold on to so we won't get any cuts or wounds. The ten minutes climb felt like forever and our hearts palpitating really fast, sweats felt like pouring in every single sweat gland.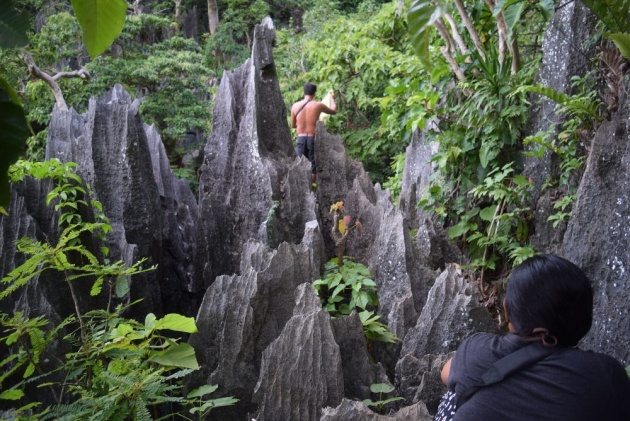 On other challenging part is where will we be stepping on because there was no specific signs or writings on where to do so. We have to follow our tour guide was really fast. It was just a few minutes of pulling and climbing and our bodies were already feeling it. Sweats were all over and my knees were feeling really tired already. I was asking the tour guide if we are almost there but then he said we had just completed 10% of the trek, I was feeling like oh! Can we stop and go back instead? But then again, Taraw was calling us to continue. So, without further ado, we went and started climbing again.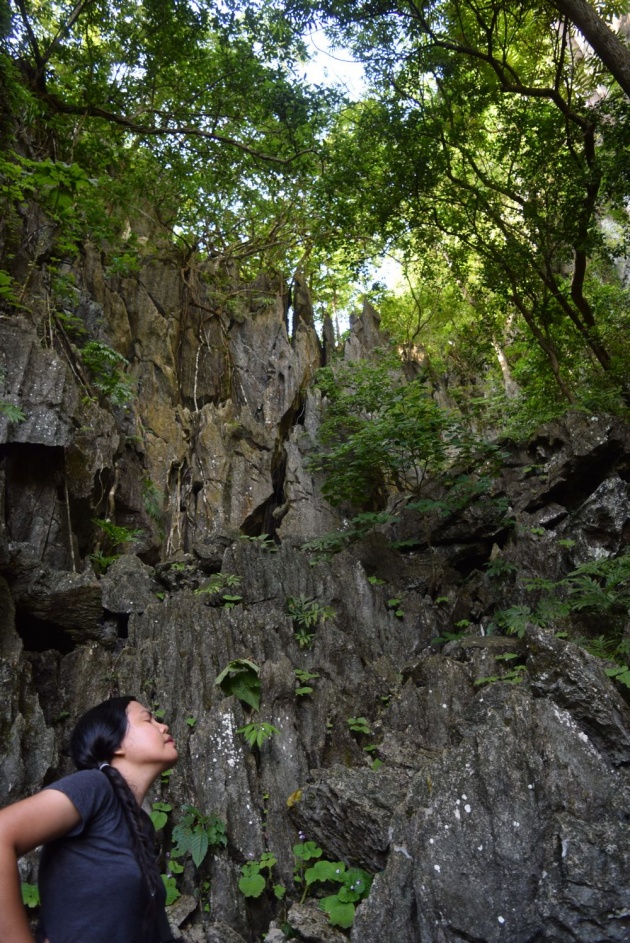 No pain, no gain.

No guts, no glory.

So we have to continue moving.

We hardly stop and when I can't anymore grasp air, I asked the tour guide for a rest. We rested when we were about 50% of our trek. My shirt was already fully wet like literally. Gladly, we have water with us. Then we have to hand down to our tour guide our cameras for safety purposes. That was also one reason why we were unable to take photos of this trek until we reached the top.

When the second time we rested, we already had a glimpse of the Bacuit Bay. The sun was already on its way up so we have to keep moving. We can already hear the other groups from a far.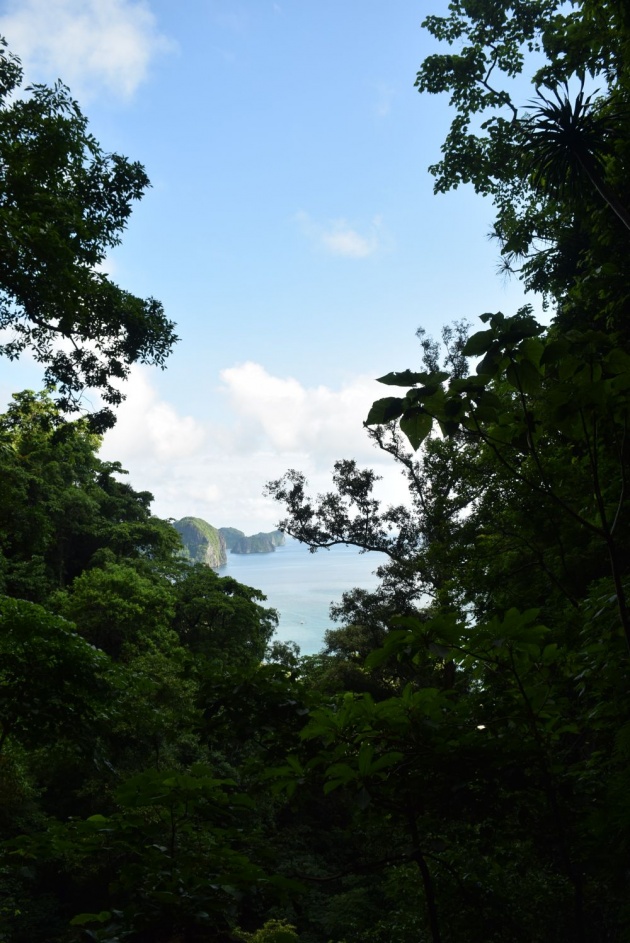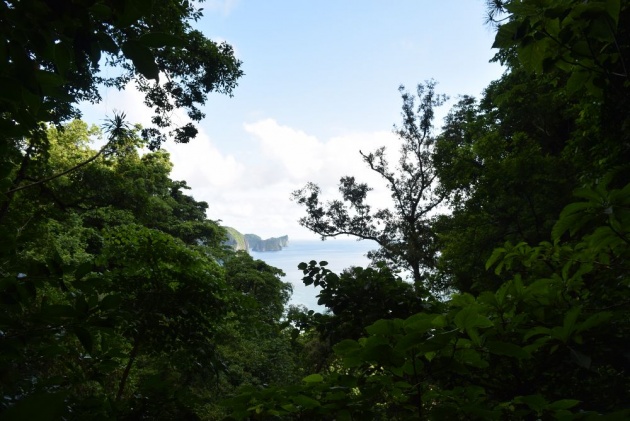 We also received a compliment from our tour guide that we were really fast since it took us only 45 minutes to reach at the top.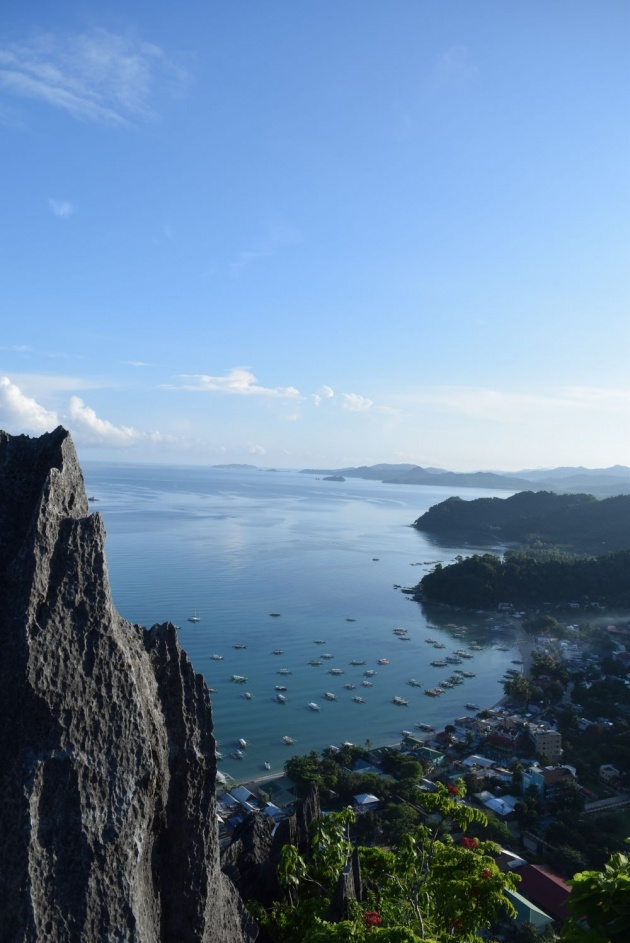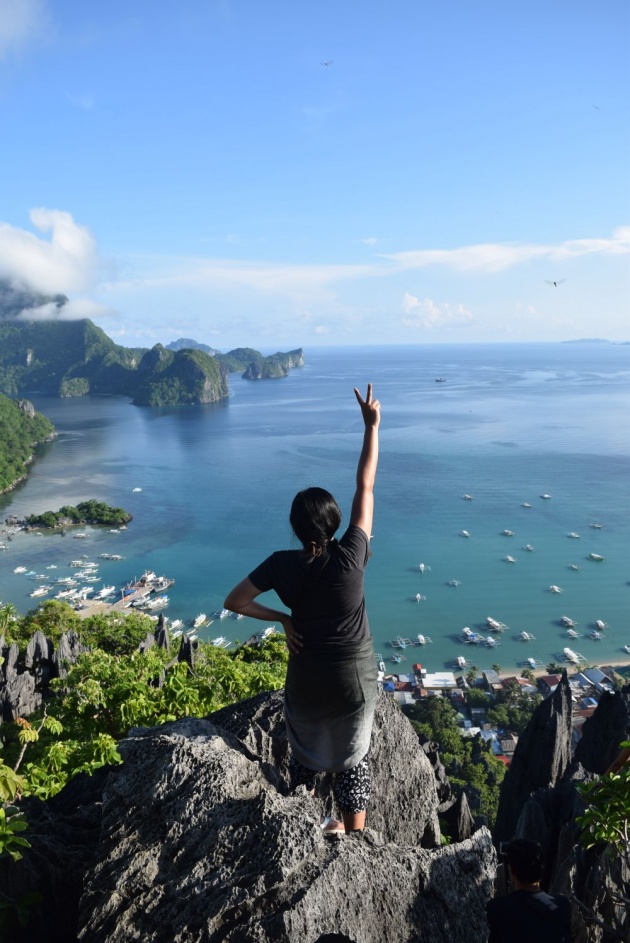 My victorious sign upon reaching the top. Still very tired but the view just took all of that away. For the meantime, I have to capture every inch of this view as I guess I won't be able to go back in the future.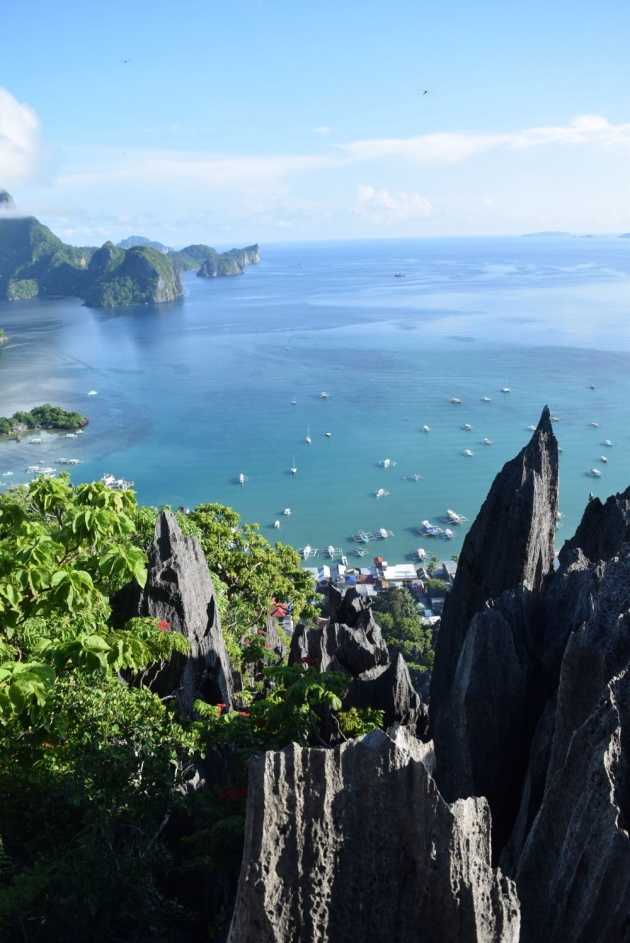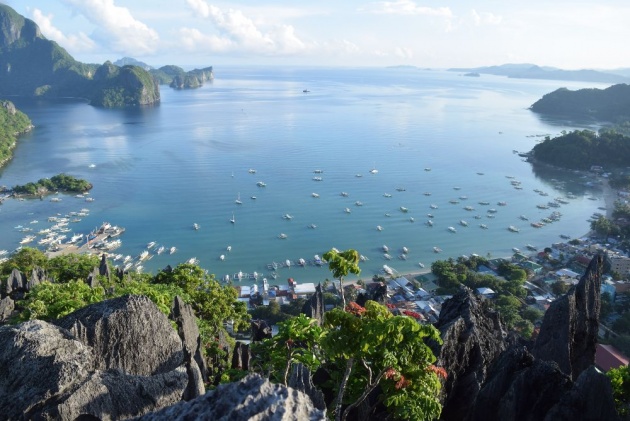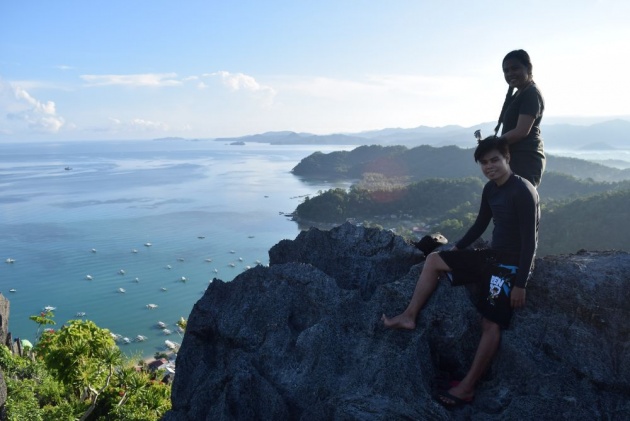 Thankful for our tour guide for the photos he took while we were up there. Shout out to that Ben10 shorts.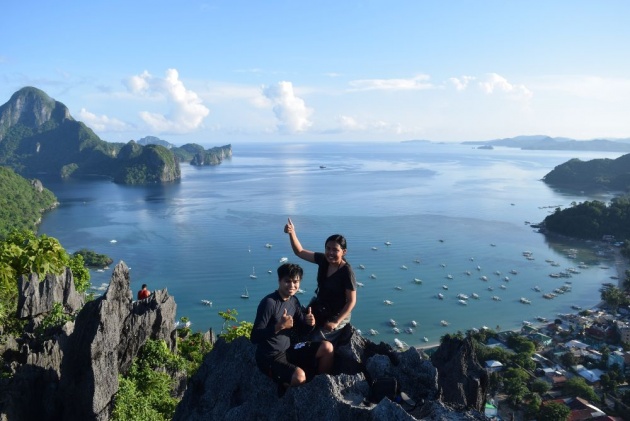 Words can't really describe how much beauty we were seeing at the top of the cliff. The glorious clouds and Bacuit Bay view was enough to compel and let us forget about what we undergone on our way towards this spot.
Check out some videos we took while in the top of it. Although it was really hard for us to take such, we managed to do so. Thank God we came back in whole piece.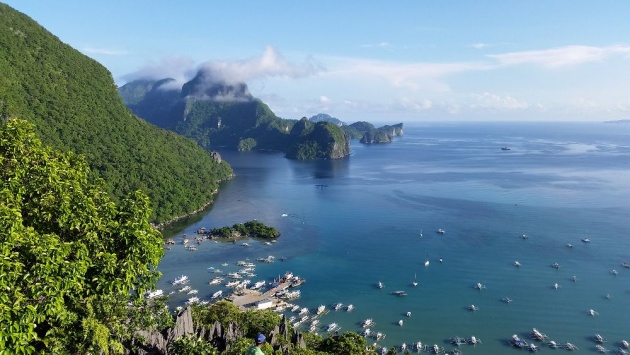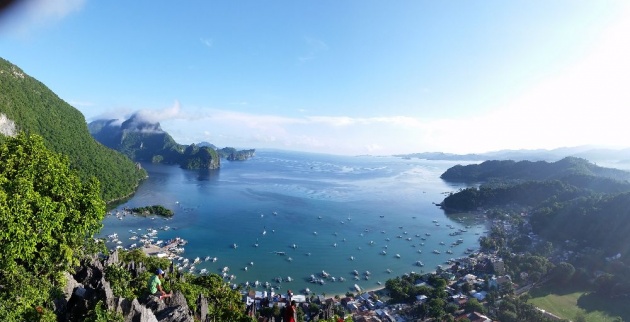 We sure won't forget this event.
A selfie needs to be done while at the top. Excuse our oily and sweaty faces:
We were not in our best climbing outfit with just slippers and I was on my loose pants which was not able to hold it and eventually was torn off while trying to reach a steep rock. Gladly our slippers survived. We were thankful for not getting any bites or wounds, only wriggly knees and dead hungry stomachs.
Reviewing our photos makes us both proud to have conquered these monoliths.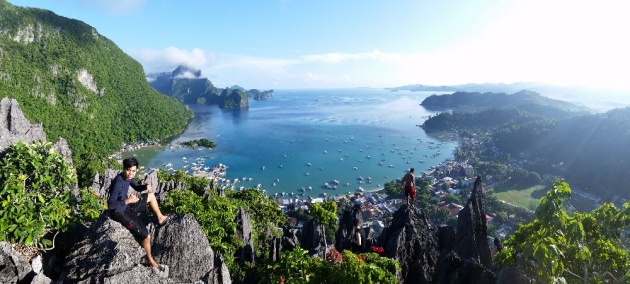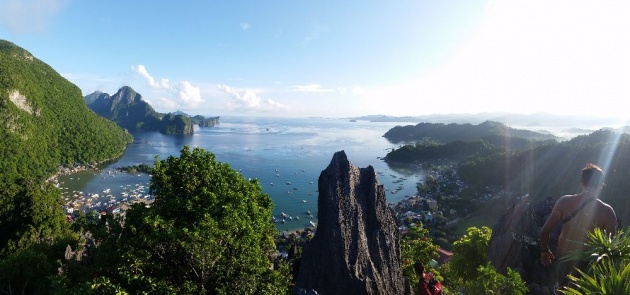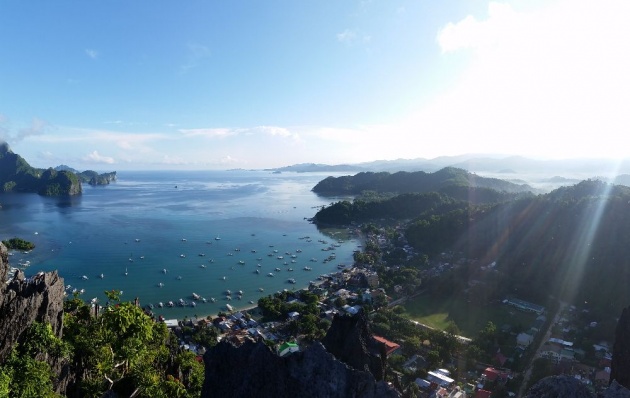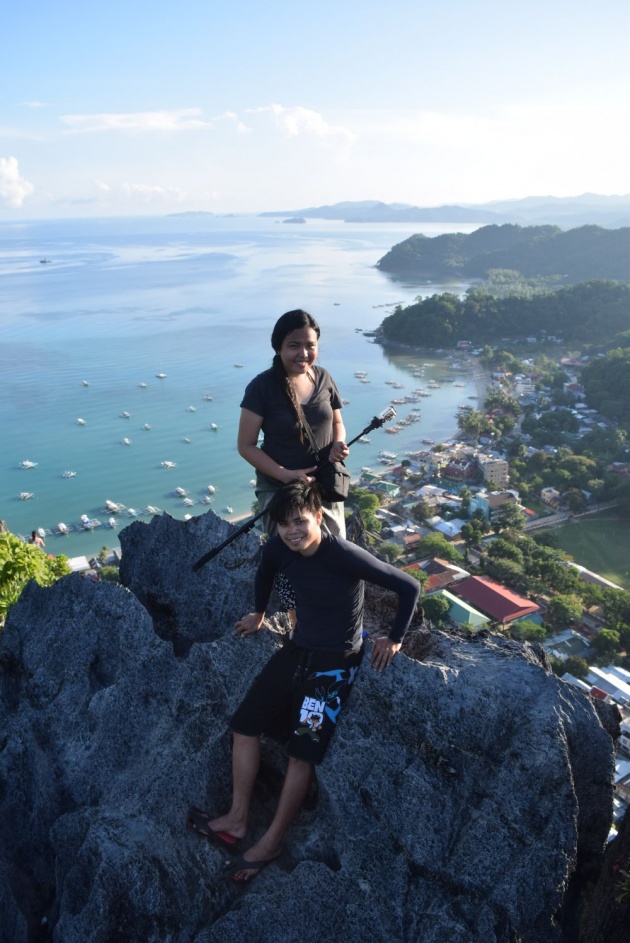 It was like a dream being able to climb this high. While we were at our room, we looked at the mountain again and reminisce the hardships we gone through just to be able to see the beauty of Bacuit Bay. That was indeed an awesome experience.
Check out our other adventures together: