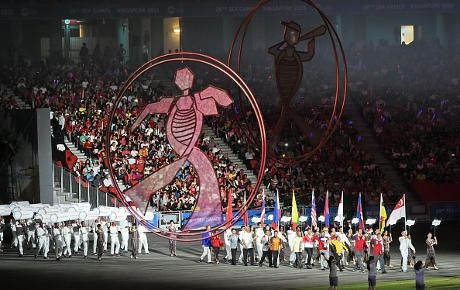 Jakarta - For the first time since the 1993 Singapore back to host the SEA Games. There are plus and minus of the "lion country" was about events that they hold for approximately two weeks.
"If you want to say their pluses and minuses, it's just a lot plusnya Singapore. They were preparing the SEA Games is three to four years. I have also heard in swimming, one of the swimmers, Joseph Isaac Schooling, school six years in the United States. So all is already prepared, "said Chef de Mission (CDM) Team Indonesia, Taufik Hidayat in Jakarta, Wednesday (06/17/2015).
"If the facilities are better yes lah. If it does not have to be asked. If there is a little error, and certainly there are normal. His name is no shortage of events but still normal," he continued.
In terms of coaching, Olympic gold medalist in 1994 was much better assess Singapore. He even dismissed the statement of Indonesia swimming coach Albert C. Sutanto who mengambinghitamkan his team's defeat simply because it did not expect a record time competitor child care was sharper than usual.
"It's only sport that does not have the data of athletes in Singapore and Malaysia. It should know dong data. 'Kan No matches ago too. Now there can grab the data as well, also the number. Do not tell me do not know that," Taufik said.
"Moreover, it is a sport swimming measurable. So in record time found out how, his opponent who ''ve already seen."
Questioning minuses, Taufik highlights the persistence of the 'victory innings' of each country that hosted the multievent