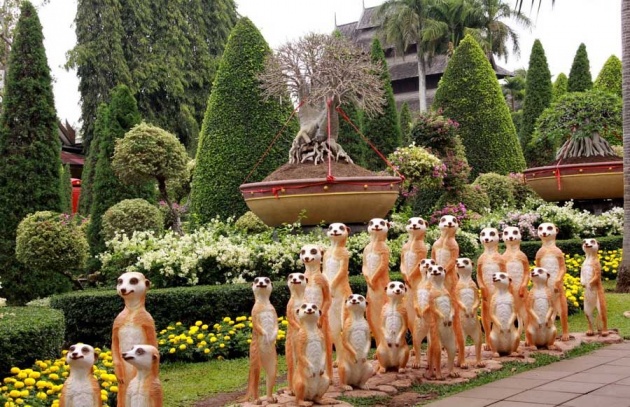 The stars of Meerkat Manor even have their own place among the sites of Nong Nooch Garden.
As winter warms and gives birth to spring, many renew their perspectives on the outdoors and, for those of us with green thumbs, gardening. If you do a bit of acid before setting your green thumbs to work, your handiwork might come close to resembling one of the world's most grandiose, bizarre, and colorful gardens: Nong Nooch Tropical Botanical Garden in Chonburi Providence, Thailand.
Khun Pisit and Khun Nongnooch Tansajja purchased the site in 1954, with the intention of developing it as a fruit plantation. Somewhere along the way the owners changed their mind and decided instead to use the space as a wildlife conservation project. After Nongnooch converted the land from an agricultural area to a flower garden, she then added hut houses, a town house, a Thai-style house, a swimming pool, a restaurant, and a seminar room. The duo officially opened the Nong Nooch Tropical Botanical Garden in 1980.

The garden consists of immaculately sculpted shrubs and bushes, countless assortments of technicolor flowers, elephant rides, artificial animals from around the world, and even a collector car showroom on the site, because why not?
The pristine gardens stretch as far as the eye can see in geometric patterns, with a central Stonehenge-style resting area. From above, it would be easy to believe that the Nong Nooch garden was actually that of a royal family.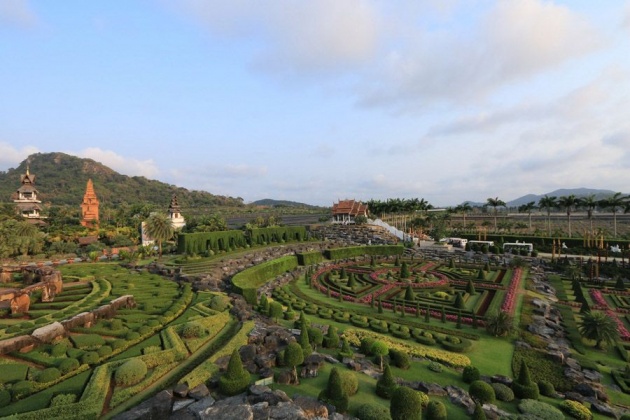 The true expansiveness of the Nong Nooch Garden is hard to believe. The garden sits on 600 manicured acres and is expertly maintained year round.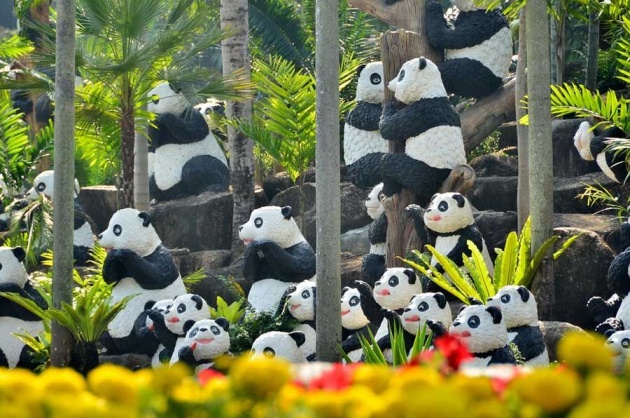 The expressions on these pandas may be the most unsettling thing on the garden grounds.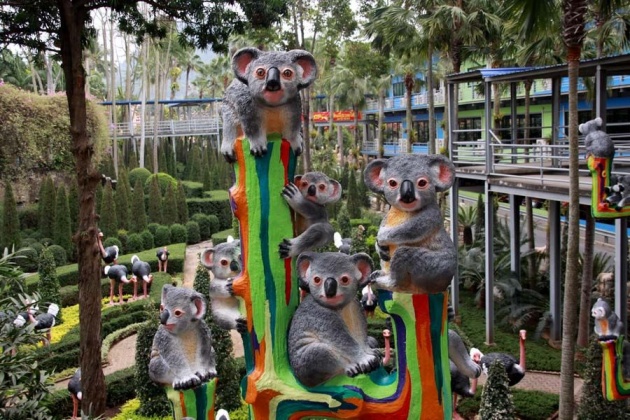 The koalas surprisingly seem right at home in their tie-dyed trees.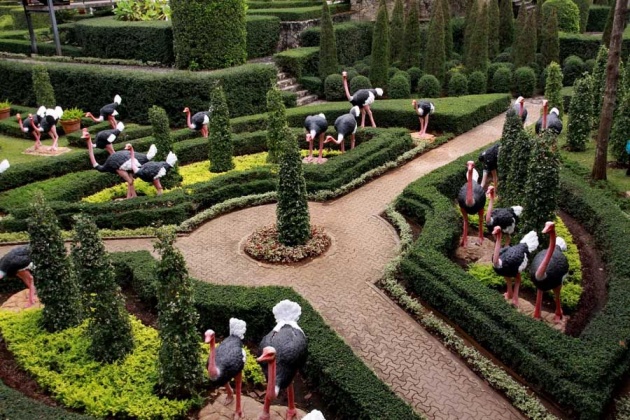 It's a good thing these giant ostriches are not real, or else they would probably be chasing the patrons throughout the grounds.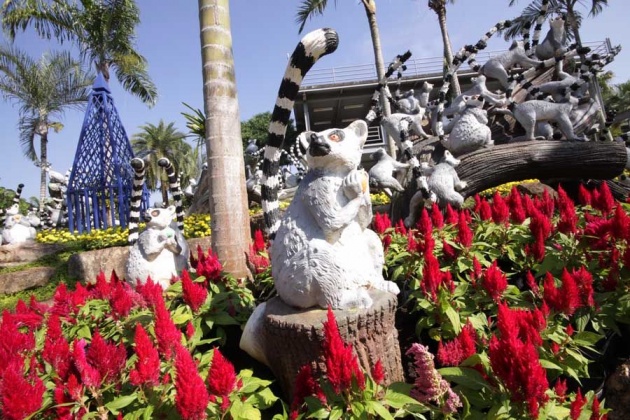 Lemurs are among the many animals represented in sculpture throughout the park, and one of the favorites of children guests.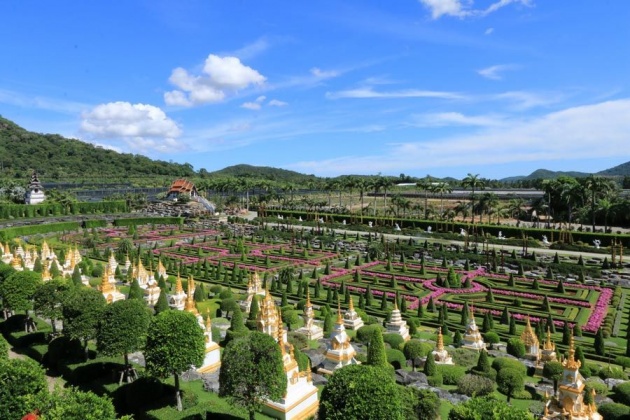 One of the premier tourist destinations in Southeast Thailand, the tropical Nong Nooch Tropical Botanical Garden draws visitors of all ages from around the world.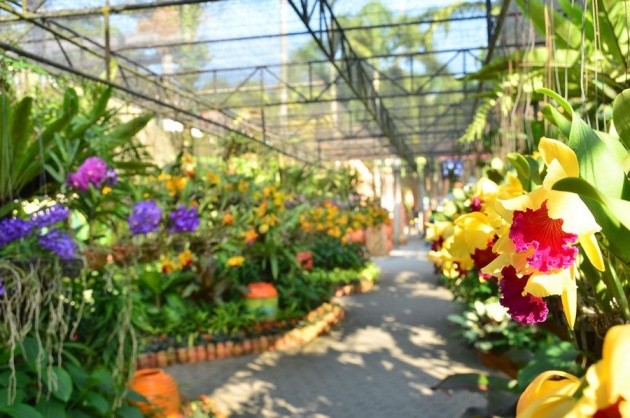 The assorted flowers come from many regions of the world, and thrive in different climate conditions. From shaded areas to greenhouse, conditions are kept just right for each of the many floral varieties.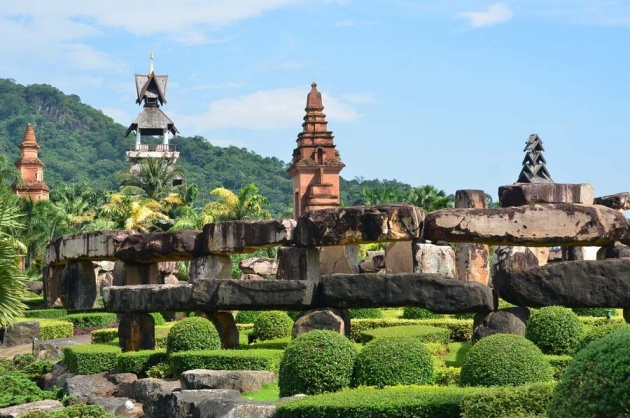 The Stonehenge-like structures are one of the many styles from around the world that have been brought together to create the magic of this special place.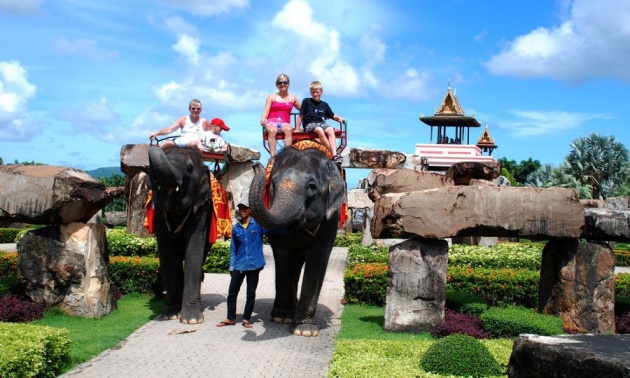 Not all the animals at Nong Nooch are artificial; real elephants have been on the grounds since the beginning, available for tourists to ride on garden tours.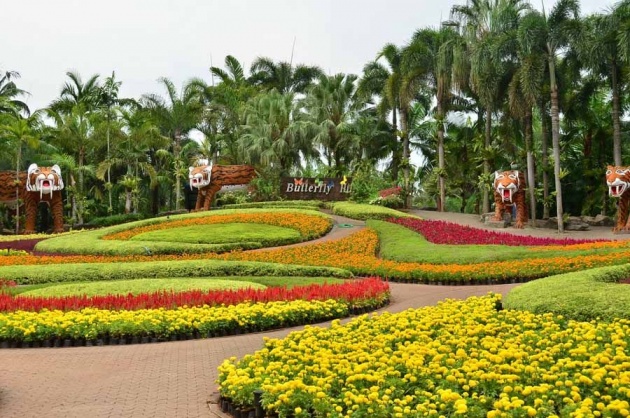 Beautiful colors, gorgeous weather, and sweet scents all combine to create a magical trip that is hard to forget.
Photo credit: Source: Nong Nooch Garden
(All credit goes to the author of the article Erin Kelly)