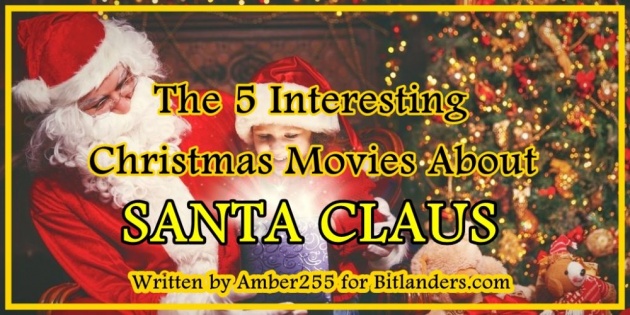 The 5 Interesting Christmas Movies About Santa Claus - Photo credit: topsimages.com, Edition by Amber255 via Bitlanders.com
With approaching Christmas and New Year, I want a miracle and a fairy tale. I know, a good movie can easily create such a mood. Although our TV channels take care that these holidays did not end without Home Alone or Irony of Fate (in Lithuania, it is very popular Russian movie), and the cinemas also sometimes announce the Christmas premieres, I still have a big list of Christmas movies I want to watch at evenings. After work, in long dark evenings, I love to watch a good Christmas movie.
I guess many of us spend a lot of time watching TV shows, concerts and, of course, films during the Christmas holiday. Did you notice that there are movies that never become boring and always make your mood? And what be better for that than the good old, long time did not see Christmas movies that inspire the Christmas spirit, make you feel this wonderful time, and sometimes make you laugh or even
This time I focused on one of the greatest symbols of this wonderful celebration - Santa Claus, whose stories have been moved to big screens more than once. Out of the many films about this funny man, I've chosen five, which not only present different Christmas portraits but also provide a wide variety of emotions during the review.
Happy Holidays!
While reading my blog, check QUERLO CHAT: What kind of movies do you like?
LETTERS TO SANTA, 2011 – 2017
Before each Christmas, I'm just browsing a bunch of Christmas movies to create a certain mood. But alas, often they are really just a bunch. And rarely I dig up a really worthwhile thing among this pile. LETTERS TO SANTA. was a kind of a surprise to me.
Polish films at all times, it was high-level, intellectual, and atmospheric, and stylish. Of course, LETTERS TO SANTA does not pretend to be a Polish masterpiece but as the pre-Christmas gift to the viewer - very good.
I cannot even doubt that many of you have not even heard of this Christmas film trilogy, which comes directly from Polish (our neighbors). And unfortunately, in my opinion, this is one of the best films on this topic over the last ten years.
The storytelling structure of each part of this trilogy is very similar to the presentation of the cinematic comedy Love Actually, released in 2003. Therefore, viewers will have to see on the screen several exciting stories that have a lot to do with these beautiful holidays.
One of the stories is about the misery living Santa Claus played by Melchior in the big shopping center in Warsaw (Tomasz Karolak).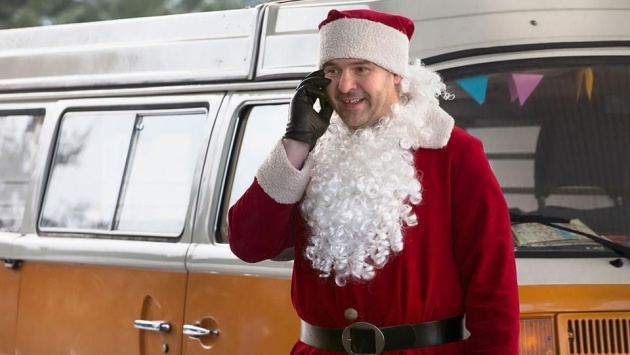 LETTERS TO SANTA - Photo credit: fakt.pl/wydarzenia
In every part of this trilogy that promotes the warmth, Melchior is a unique talisman of all the stories presented, which in various situations allows viewers to grasp what is true happiness, pure love, true truth, and of course, what is the Christmas spirit that often visits many of us.
Christmas is a wonderful time, the time when we wait with hope that all our problems will be resolved, insults and quarrels will be forgotten, and most importantly, we will be close to our loved ones. It's Christmas. It is not celebrated alone, sitting on a sofa, watching TV.
Don't turn around from this movie just because it is made in Poland with Slovenian director, just watch it! Emotionaly deep without any to-long dialogs. Characters are amazing, and they will rock your Christmas right to the core of it's meaning.

Credit: imdb.com
So are the characters of this Polish movie. And what about the Polish Santa, St. Nicholas? It is also not easy for him; he is looking for one worthless thief who stole something important from him. No matter how hard it is, it's Christmas soon, and everyone is dreaming about miracles. So, perhaps, the letters of our heroes will reach St. Nicholas, and all their dreams will be fulfilled.
Now, let's talk directly about the impression. I liked almost everything. Stylistics, plot twists, dialogues. Actors - all are good. Adults performance is high, but children are at the level higher! The performance was very natural. The visual view was also magnificent, strictly maintained in certain tones. It is such a warm, bright, and truly touching soul film.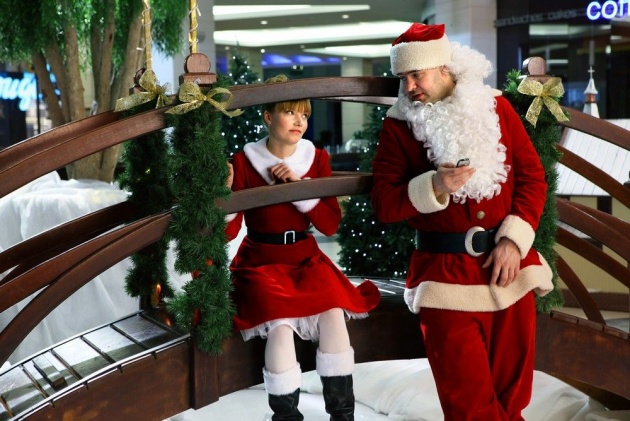 LETTERS TO SANTA - Photo credit: imdb.com
I liked the film, it's very positive, and despite some sad moments, it creates an excellent festive mood. It is about our ordinary human life - about what surrounds us, what worries us, what we want for ourselves, our loved ones, how we value our actions. After all, the evening before Christmas is considered a saint, and we want to be honest with yourself and the best for others.
THE CHRISTMAS CHRONICLES, 2018
This year, NETFLIX was delighted not only with great serials but also with several high-quality movies. Some of them appeared at the end of the year. One of such good and worthy films was the Christmas story about Santa Claus and his small assistants from Lovel's town.
The storyline revolves around Teddy (Judah Lewis) and Kate (Darby Camp) - a brother and sister who, while watching an old videotape, finds out that Santa Claus is real. And, in order to prove this to the whole world, they come up with a clever plan to get into the carriage of Santa Claus (Kurt Russell). However, as usual, the plan fails, and together with the perpetrator of this whole story, they have to sort out the misfortune they have done, till the Christmas morning.
This is a standard, simple but very positive Christmas tale, in which one clear idea is thrown to the audience - not the gits is our happiness, but a time we spend with our loved ones. Therefore, a film in addition to fun and curious situations is able not only to cheer up but also to give what to think about. And not only for adults but also for young spectators, who bogged down into the cell phones, are sick by meaningless things.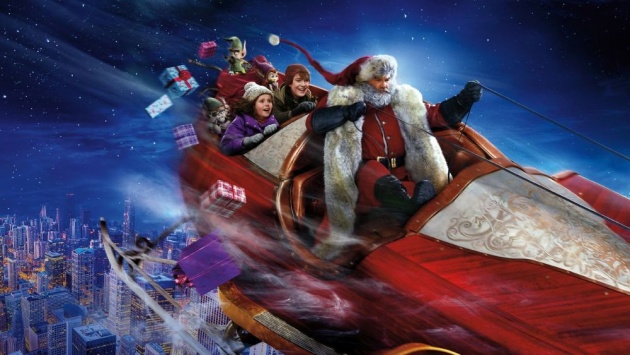 THE CHRISTMAS CHRONICLES - Photo credit: imdb.com
I did not expect that I like so much the children's film. It's a miracle, how good is Kurt Russell in the role of Santa Claus. An excellent hero played by him, beloved by children of many countries, kind, sophisticated, musical, and modern. He even sports and does not eat carbohydrates. Well, this is how Clay Kaytis showed Santa to us.
Someone in the reviews criticizes the fact that the film has a few special effects. To me, the main thing is its possible to make a holiday to us, show the spirit of Christmas, cheer the spectators, and create a festive mood.
The film is completely festive, for Christmas, interesting, musical, with many scenes, causing a smile. I smiled a half movie as a child. Humor is cheerful and fun, the plot is wonderful, adventure, exciting. This is a true family film. For a long time, I have not seen such high-quality films with Christmas themes.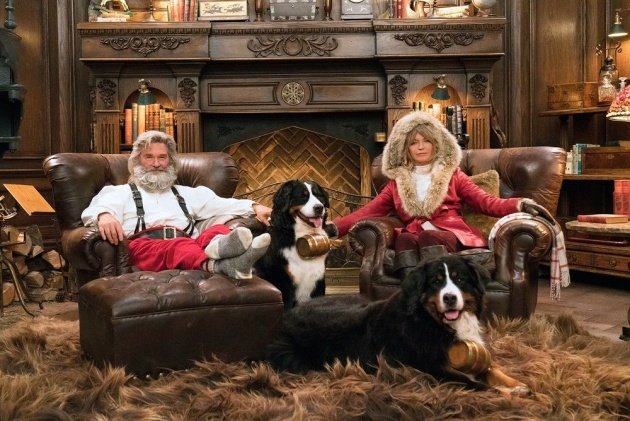 THE CHRISTMAS CHRONICLES - Photo credit: webz.site
The actors in the film, in my opinion, are selected very organically; they play wonderfully. Special effects are not so much but more than enough touching moments. in short, the fascinating story, well-chosen actors, organically used in their roles, perfect sound editing, and musical accompaniment. In general, the film is very kind, fun and, of course, fantastic.
It's a great Christmas family comedy, kind and touching. After all, it is very important for a person to remain a child in the soul, to believe in miracles, in the most incredible things that sometimes happen in our life!
THE CHRISTMAS CHRONICLES

makes it clear to children that Christmas is not only gifts but also something more - support of loved ones, friendship, and responsibility for each other. It helps us understand that the family for each of us is the most important thing in this world.
THE CHRISTMAS CHRONICLES, Trailer - Video credit: Netflix via YouTube.com
RARE EXPORTS: A CHRISTMAS TALE, 2010
This Finnish film, which appeared eight years ago, completely falls out from the context of my previous movies. Because it's not a comedy, a melodrama or a fairy tale, but a horror thriller of a tense plot, where one of the main engines of the story is the evil Santa Claus imprisoned in the glaciers for centuries.
I really do not want to tell the film's story because I think that then the film will not be so interesting and unexpected, but I can point out that there are a lot of strange and scary scenes in this film that are not recommended for children and even teens.
The audience of the film will see a lot of interesting discoveries and unusual plot twists. In addition, the creators, having a very small budget (up to 2 million Euros), generously supplied their cinema with the original Finnish humor, excellent acting work, gloomy-stylish picture, good soundtrack. All this creates on the screen a special atmosphere that will change the viewer's standard presentation of Christmas movies.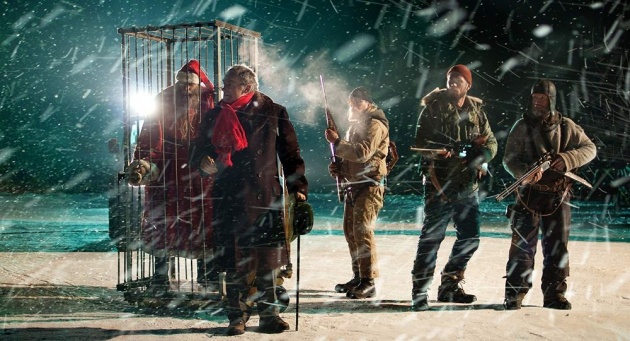 RARE EXPORTS: A CHRISTMAS TALE - Photo credit: imdb.com
The main plus of the tape is the fast pace of narration and the very unpopular situations that the participants of the two opposing barricades enter. Therefore, it's not only fun to watch the whole story, which is quite original, but also not worth it, because one and a half hours just pass instantly.
The film is designed primarily for an adult audience. RARE EXPORTS: A CHRISTMAS TALE sure will please people with a good sense of humor, who appreciate extraordinary movies, original stories, and particularly black humor. The inhabitants of Finland decided to tell such a strange festive story right from the homeland of Santa Claus.
The film, shall we say, negates all we know about Santa Claus himself and about his closest friends elves. Again, this is not a simple Christmas tale with the kind old man we are used to seeing.
Of the artists, I will not highlight any one. All three men looked organic, such a great Finnish guys. The film attracts by intrigue and stress from the very first minutes. And very skillfully supports the secret almost to the very end. I was very impressed by the harsh beauty of the north, shown in the film.
Yes, it's not a Hollywood movie; it shows harsh life in harsh places and the true friendship of people who find themselves in an unusual situation.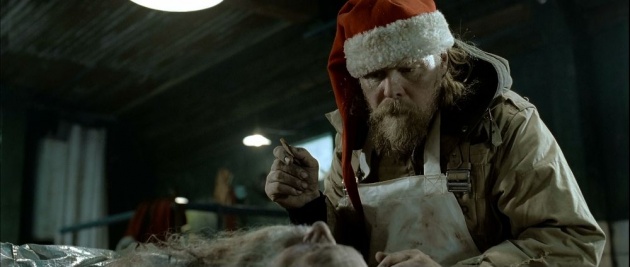 RARE EXPORTS: A CHRISTMAS TALE - Photo credit: youtube.com
FRED CLAUS, 2007
We have had more than once a great opportunity to get to know Santa Claus, but we have not gotten to know his brother Fred, who is becoming the main hero of the 2007 film.
Fred (Vince Vaughn) - the complete opposite of his brother Nick (Paul Giamatti). He grew up in the shadow of his brother, so his life was not covered with roses. Finally, Fred decided not to celebrate Christmas, because faith in this holiday gives him pain and disappointment. But one evening he unexpectedly receives an invitation to visit the North Pole, where his brother with his family and elves await him. He does not even realize that this visit will not only change his life but also will affect the Christmas all over the world not in the best way.
I think the film's story is as clear as it is, but it has its own attraction. Here the viewers are given a great opportunity not only to see working Claus from the side but also to grasp his meaning through the perspective of the unlucky brother Fred.
That is not only a funny story. In the film, the main role was played by a very popular actor in the United States, Vince Vaughn, who is able to attract viewers only by his own charisma. Undoubtedly, the storyline is enhanced by both technical solutions and a great soundtrack.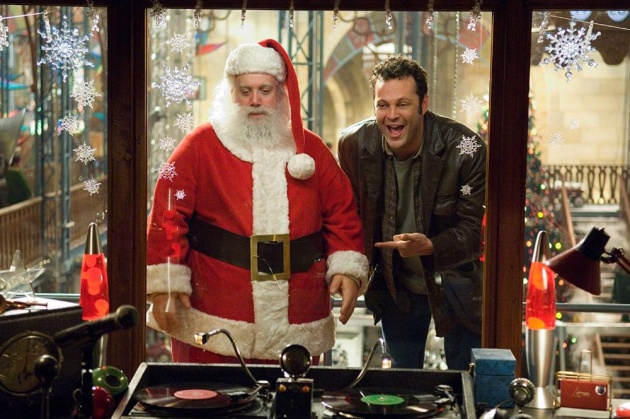 FRED CLAUS - Photo credit:imdb.com
The main thing - there is a real Christmas spirit, and everything on this subject is available: Christmas trees, elves, deer, and other Christmas wonders. I would also like to note the humorous side of the film, in this regard, the film also made me very happy! Good jokes, positive, understandable for both children and adults.
The film makes the viewer believe in the bright magical holiday. We want to believe that miracles come true, just need to believe it. After all, children see miracles and all because they just believe in them. Also, the film reveals that everyone can be wrong, even Santa Claus, you just need to help a person understand his mistake. Undoubtedly, this film is perfect for the whole family.
In a word, it is cute, not stupid, ridiculous, and well-played film. FRED CLAUS is a very positive, kind and funny tale for the whole family. What else do we need from the Christmas comedy?
FRED CLAUS trailer - Video credit: oldhollywoodtrailers via Youtube.com
MIRACLE ON 34th STREET, 1947
I just could not put this movie on this list because in my opinion it is the best ever film about Santa Claus, which until now has not been overshadowed by any other tape.
This is a classic story of 1947 that won three Oscars. It tells all the children that Santa Claus exists, and he can enter the house at any time carrying not only an excellent holiday mood for all the others but also gifts: peace, love, happiness, and health.
It is also a movie that embodies the sincerity of childish desires without any harm.
Unusual grandfather appears in the city. His name is Kris Kringle (Edmund Gwenn), he truly believes in miracles and is well versed in Christmas attributes (what, how and when should happen). He considers himself Santa Claus, and in all seriousness. By coincidence, he finds himself in Santa's position at a local store - meets with children, listens to their stories and desires. Everything would be great, because Kris Kringle really creates miracles and the whole city becomes happier, but not everyone shares the positive attitude of the new Santa.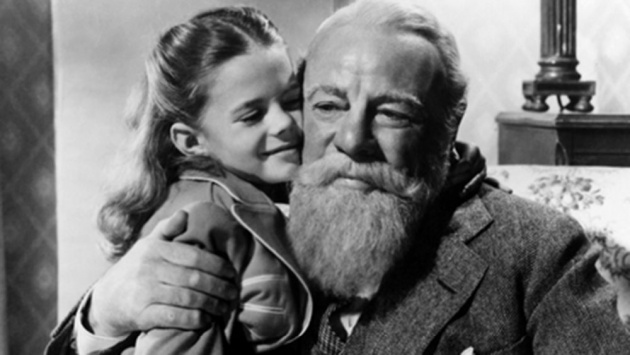 MIRACLE ON 34th STREET - Photo credit: newsneednews.com
On the one hand, the story of the city and its inhabitants, that captures the magic and kindness. And on the other - very personal, because the main action takes place around one girl who never believed in Santa, and in general does not know how to fantasize.
The film is beautiful not only on the inside but also on the outside. We see many beautiful and meaningful decorations, cozy rooms, and costumes. And it is necessary to mention the wonderful acting of the main actors.
The movie has an interesting plot, well-chosen characters, acting perfectly too. The feelings after watching - awesome! Easy, gentle, cheerful, very family and such a magical film!
It is light, it is charming, it is delightfully funny and completely captivating. It is all that, and something more. - Kate Cameron, New York Daily News

Credit: rottentomatoes.com
On The Final Note
Almost every person is looking forward to Christmas, a holiday featuring incredible wonders and the magic of the whole world, with impatience and reverence. It is on this day that all wishes are fulfilled, fictitious tales are turned into a form, and the impossible becomes possible.
Those who live in the North know how long and dark can be evenings waiting for the biggest holiday of the year. So, such evenings can be used for watching the cheerful and heart-warming Christmas movies.
There are a lot of classic Christmas movies, funny comedies with famous actors, and vivacious animated movies for the whole family - for everyone's taste.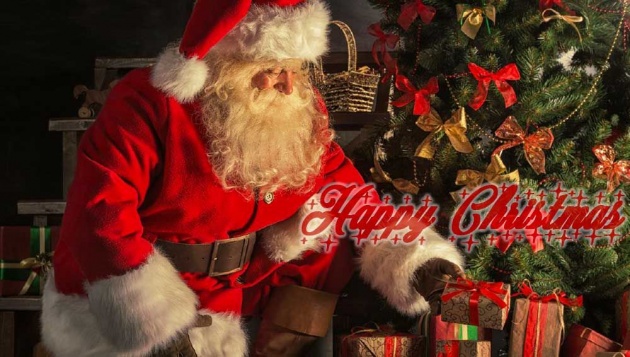 The 5 Interesting Christmas Movies About Santa Claus - Photo credit: suntpitic.ro
I described five movies about Santa Claus. I know, they are especially loved by little ones, but adults also can spend time watching them with children. These are films of various genres, years and countries, but each of them is about love, fulfillment of desires, meetings, and miracles. It is what everyone is expecting from the most beautiful holiday of the year.
Merry Christmas!
**************************************************************************************************
Thank you for stopping by and reading my blog.
2018, All Rights Reserved.
You are very welcome to join Bitlanders and share your valuable knowledge and opinion.
**************************************************************************************************