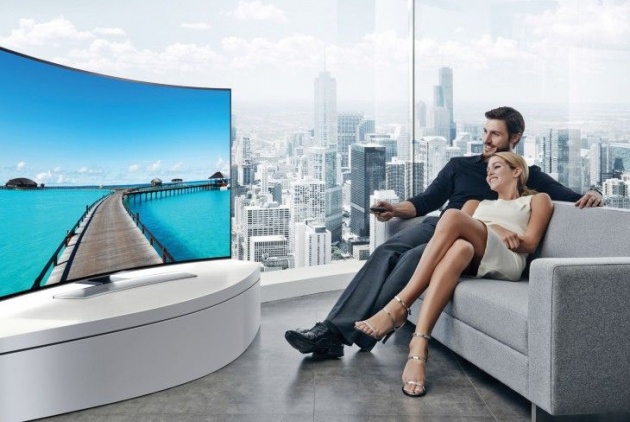 If you're looking for the best new TV you can buy, you're looking for a 4K Ultra HD TV. 4K Ultra HD TVs have 4x the pixels of 1080p HD which means you're going to see crystal clear, life-life details that will truly blow you away. Even your older content (like Blu-Rays) will look sensational thanks to the 4K upscaling capabilities of these TVs. If you're ready to dive in, I'll help you decide which 4K and TV manufacturer is the best fit for you
In this article I strive to outline the best features from 6 excellent 4K TVs that make them stand apart from their counterparts (from Samsung, Sony, Vizio, Sharp, LG and Panasonic). Rather than in-depth TV reviews, I've provided a brief overview of the best 4K TVs to give you a sense of what's out there. I've chosen what I feel is the best all-around 4K TVs from the top manufacturers—which is to say these may not be the flagship, top-of-the-line luxury offerings from each manufacturer, but they are excellent choices for "average" consumers. That means that this article contains the best 4K Ultra HD TVs for everyone from the person on a budget (yes, you can get an amazing 4K TV for under $1,000… see below) to the person looking for a bit of luxury and opulence who has $8,000 to spend.
Price: $749.99-$2,499
Incredibly feature-packed at an incredibly low price.
The Vizio P-Series has the amazing ability to have up to 72 active LED zones which intelligently adjust the brightness so that darks and lights are incredibly sharp, deep and pure. Remove unwanted artifacts with Pure Pixel Processing and have your picture adapt to the smallest on-screen detail with Active Pixel Tuning. Get max speed and performance with a 6-core processor. Vizio has included a scaling engine to upscale your 1080p content. And thanks to Vizio's Internet Apps Plus you'll have access to 4K content right out of the box. Hardcore gamers will appreciate the high velocity mode which will display game content at 120 frames per second with incredibly low latency. Movie lovers will enjoy the Pure Cinema Engine which adjust it's frame rate to show movies in their native 24 or 48 frames per second format. Available in 50-70″ screen options (and only 2-inches thick). Oh ya—and it comes with a QWERTY remote.
Price: $7,999
Better sound, social viewing, the most 4K content and built-in PlayStation gaming.
The Sony XBR-79X900B definitely has some features you won't find elsewhere, in addition to those that are basically standard for any 4K Ultra HD TV. Sony's exclusive X-tended Dynamic Range technology gives you up to 2x brightness. In practical terms that means you'll get unparalleled contrast and peak brightness; blacks that are truly black. TheTRILUMINOS display is the widest color spectrum Sony has ever made available. That means faces will have natural skin tones. The sound of the XBR079X900B is unparalleled thanks to the Wedge design which featuresbuilt-in subwoofers and larger speakers. You can add a Sony 4K Ultra HD Media Player (the FMP-x10 which is sold separately) for exclusive access to the Video Unlimited 4K service which hosts the largest selecting of 4K movies and TV. A very unique one-flick remote brings up a shortcut menu for finding what you want to watch as fast as possible. The Social Viewingfeature lets you watch TV with friends and family, Skype video chat or view tweets while you watch. You can even stream PlayStation 3 gameswithout the need for a physical PlayStation console.
Price: $2,999
THX certified with all your digital content in one easy-to-use place.
The Sharp Aquos LC-70UD27U is one amazing TV. Before I get to the technical specs, I want to point out a feature called SmartCentral 3.0 which places ALL your digital content in one place by combining a smart guide, the best apps and mobile connectivity. This is the largest THX 4K-certified TV on the market. This means it has passed over 400 rigorous tests to ensure amazing detail, gorgeous depth and consistent color. This may very well give you the best cinema viewing experience of any of the TVs I've listed here. Compared to a conventional HDTV, this Aquos will give you a 21% wider color spectrum meaning you will see more color than ever before. How dark are the darks and how much detail can you see in them? Thanks to AquoDimming technology, which adjusts each pixel in realtime, you'll see details and contrast like you never have before. TheRevelation Upscaler means you can see your old content like never before too. When it comes to action (like sports) the AquoMotion 480 refresh ratewill ensure a crystal clear view.
Price: $3,799.99
Perfect for a wide viewing angle.
The LG 65UB9200 is a 65″ Ultra HD TV features a whopping 8.3 million pixels. The IPS (in-plane switching) 4K Panel provides a wide viewing angle (wider than Samsung TVs according to it's website). Get near-4K quality from your Blu-Rays and other legacy 1080p HD content thanks to LG's Tru-4K Engine. This is an LG Smart TV meaning you can easily access premium content from Hulu, Netflix and YouTube out-of-the-box without the need for a Roku, Apple TV or Chromecast. Includes HEVC decoder which is essential for next-generation playback. The TruMotion technology gives you 240Hz of clarity to dependably un-blur sports and video game action. Using smart share you can put content from compatible devices (computers, tablets, phones) onto the TV.
Price: $3,999
Unique curved display.
What is special about the Samsung UE65HU8500 is it's curved displaywhich lets you immerse your senses. This curved screen is optimized for the optimal viewing angle for most living rooms and, importantly, gives you a wider field of view. One unique feature is the auto-depth enhancement which aims to make you feel as if you "are there" by analyzing screen areas and applying contrast enhancements for a "superior sense of depth." Since 4K Ultra HD content isn't as easy to come by as regular HD content, this curved Samsung TV features UHD upscaling. Another interesting feature built into this TV is calledPurColour which produces more accurate/natural colors. If you'd like toSkype a friend or business contact, a built-in camera will pop-up. This camera can also be used to control your TV with gestures. Available in 55″, 65″ and 78″ sizes.
Price: $7,999.99
Minimal glass and metal design.
The Panasonic AX900 has a number of proprietary features to deliver a top-of-the-line viewing experience. The Studio Master Drive is one such feature that provides blacker, more detailed darks and more accurate color expressions regardless of the brightness level. This TV recovers brightness lost to compression for brighter, richer and more brilliant images. If you're looking for precise noise-reduction and motion image compensation (whether from broadcasts or web content) you'll get it here thanks to Panasonic's 4K Fine Remaster Engine 2. The AX900 smoothly decodes 4K HEVC (H.265) for smooth streaming of Ultra HD online content. If you're into simplicity and minimalism, you'll appreciate that the AX900's design eliminates all redundant elements while shooting for a touch of elegance by using glass and metal in the design.