Oh yeah, finally did something truly art related last year and I'm very happy I did! I was too busy since last August until early January this year because of my two jobs but I still managed to squeeze this into my very busy schedule. After 3 months, I finally get to write about my experience. Lol.
First of all, let me give you an intro on what the event is all about.
What is Komikon?
(Photo credit: Komikon)
Komikon is an annual event for every Filipino comic lover, artist and more!
According to Wikipedia:
Komikon (with komik as the Tagalized form for comic, and convention) is an annual comic book fan convention in the Philippines founded by Artist's Den to be the first convention solely dedicated for comic book enthusiasts.

Ain't that cool?! This is something we Pinoys can be proud of. ☺️ Actually this event not only promotes mainstream komiks, but also indie comics and other independent artists. I'm sure it's such a big help especially to any artist starting out and/or planning to be a full fledged artist of note. It's also where you can whet your geek appetite because it is not solely for local artist products, there's also the imported comics of course. Marvel, DC, manga and other books/comics are also sold there.
ArtGirl's photo Inside the Bayanihan Center in Pasig City during Day 1 of Komikon, it is where the event is held yearly.
The event was created in 2005 by Artist's Den, and one of it's founding members is the creator of Beerkada comics, Lyndon Gregorio.
From then until now, I think I've only been able to go to two Komikons ever. The first one I don't remember what year anymore. Back then I just randomly go to such events whenever I can. But, I think it was maybe 2013 or 2014 because a former officemate also became a seller there that year. That was when I saw a lot of sculptures/scale models and such from other artists.
Anyway I just love going to comic cons. You get to see all kinds of art in different forms.
The second time I got in the event was in 2015. Someone encouraged and invited me to go. There were a lot of comic talks/panels as well that were interesting so I went. And of course there were also toy scale models. See, I told you! Lol. See below. Oh yeah that's me being low key but still caught on cam. At one point I thought the photographer was following me. Hahaha~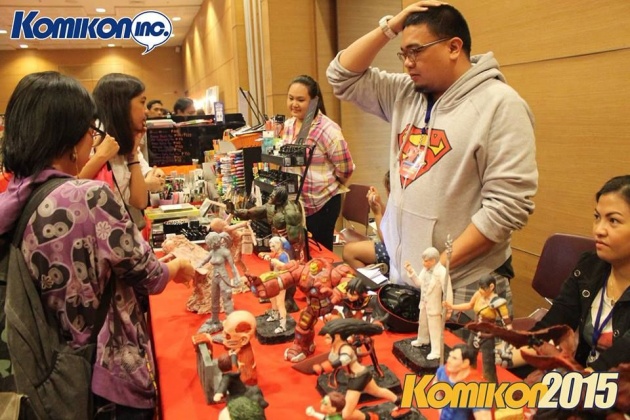 (Photo credit: Komikon 2015 Official Photos via Facebook)
Comics and Me

Video in Filipino about Comics in the Philippines (Video credit: News5Everywhere via YouTube)
As a kid, I grew up reading a variety of komiks. It was a national pastime and I loved it. There were all sorts of stories, fantastic stories and fantasy stories, with great artwork too! And then the anime wave came to our national TV and Boom! Every kid, teen and kid at heart got hooked on watching anime. So of course, it would only be natural that I and my cousin would start drawing our own comics right? Actually she started doing it, I just followed suit. Haha.
We also bought Funny Komiks all the time back then because the stories are for kids and we love how fantastic some stories go. I don't think I was able to submit any fan art or picture or whatever back then even though I wanted to.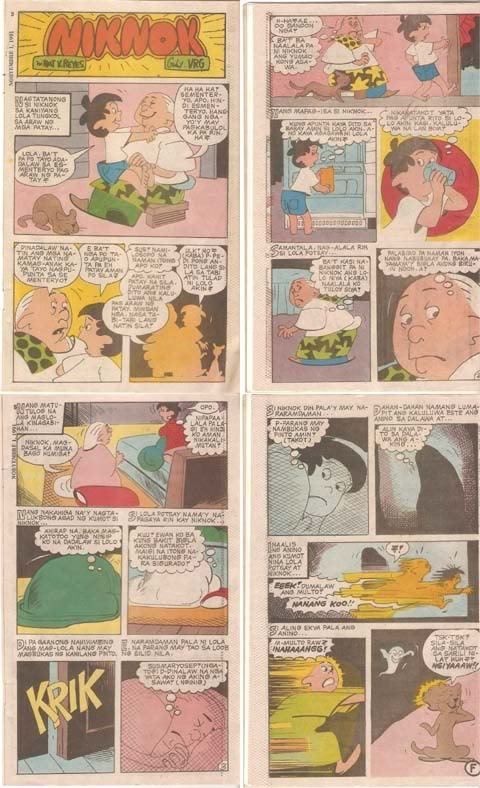 The above image is of Niknok, a lovable kid who prefers to eat chicken all the time. My favorite story in Funny Komiks is Mantsa. The story and art is so amazing! (Somebody make it into a film already! Tsk.
Anwyay when I got to college I was finally able to submit something to a comic publication. I sent an original copy (!!!) of my unfinished comics to Culture Crash comics, one of the best Filipino bi-monthly (?) comic book / magazine ever made.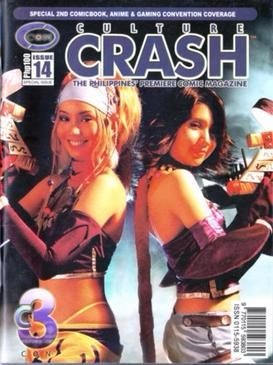 (Image credit via Wikipedia)


Somehow I don't remember how I bought a copy. Hmmm... Must have been one of those days when we were in Manila. See I spent my teenage years in the province and kept coming back to Manila from time to time. I love the city. I'm a city girl!
Anyway, check out what I submitted below! Lol.
'
Selling at Komikon
(Photo credit: @ArtGirl)
I never imagined to sell anything in Komikon. No sir. Not at all. I actually am trying to get downplay my artsy side but then it keeps haunting me. Yeah I've got issues. Anyway so a fellow artist who I met in a bazaar 2 years ago asked me if I was interested to join as a seller in Komikon. Of course I said yes even though I had two jobs. Haha. Wtf is wrong with this picture right?
Somehow I managed to scrape up and produce some items to sell: statement stickers and my caricature service. Actually the main reason I said yes was to be able to distribute some property flyers, stapled to my art flyers, to hundreds of people who will attend. Whatever the hell I was doing, I blame my overthinking brain.
And so I got in Komikon as a seller! Hurray! Here's a pic of my stickers and mini greeting cards for sale.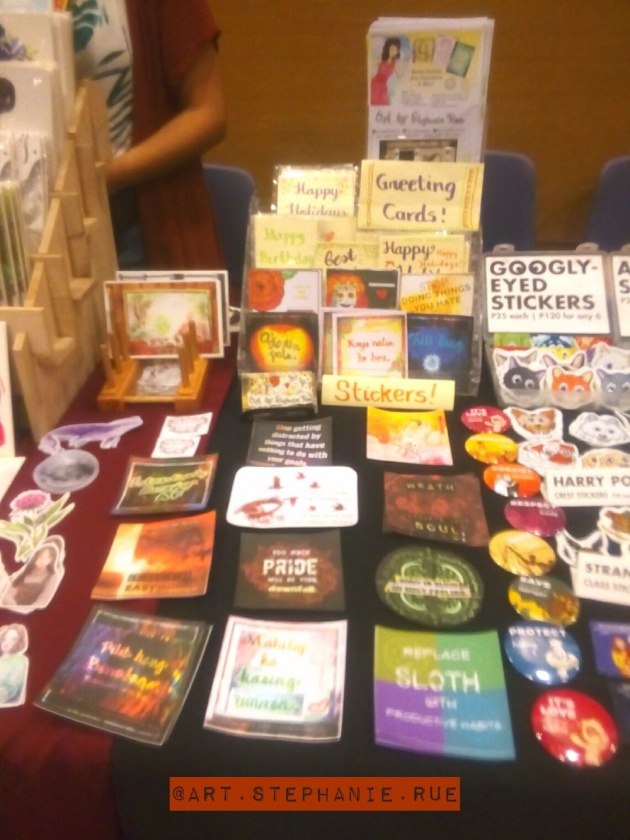 While I was giving away my flyers to prospective clients, I also did quick face anime/cartoon caricature for anyone who'd be interested.
One of them even asked me to create my own interpretation of their characters! Cool huh?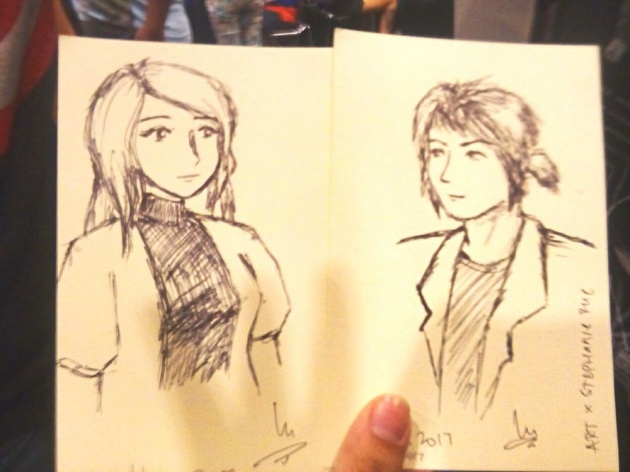 Because I was busy selling inside and giving away my flyers, I wasn't able to go out of the hall at all. Come to think of it, I should have, but I didn't! My brain was too tired to think coherently maybe. Tsk.
Anyway check out the Funny Komiks panel last year (in Filipino) that I wasn't able to attend because I was busy selling/flyering/drawing! That's the disadvantage if you have other priorities in mind. sigh
Overall, I can say my Komikon experience was something I learned a lot from. Not only in terms of being a seller but also on how to manage time and make priorities as well. The next convention I will be joining, I will be ready with my items for sale. I will be well prepared this time.
© Art x Stephanie Rue
All rights reserved