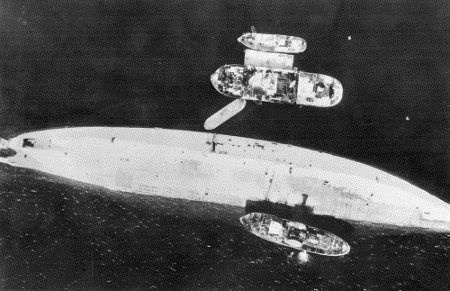 On November 12th 1944, the Kriegsmarine battleship Tirpitz, the second of two Bismarck-class battleships built for the German navy, the largest battleships built by a European navy, came under attack in Operation Catechism.
Operation Catechism was the ninth, and last as it was successful, of the attempts to destroy the battleship during World War II. 30 of the RAF's Lancaster bombers were dispatched to sink the ship.
The destruction of the battleship pretty much ended the threat of German surface attacks against ships in the Allied Arctic convoys supplying the Soviet Union.
Image: By Australian military [Public domain], via Wikimedia Commons (commons.wikimedia.org/wiki/File:Tirpitz_%28AWM_SUK14095%29.jpg)