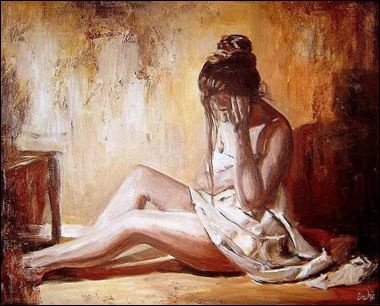 Yes it was indeed her....it was she!!! Those dark gliterring eyes could tell...her unfailing expressions now weak and slothering...those lips which could turn quiete some heads now pale..asking for help..I held up my lantern close to make sure... and yes it was true...the famous dancer amarti was right in front of me....
As fate would have it I was transferred to the small village of bastipur on the shores of river Bhagirathi...I was totally dismayed when the government decided my transfer to some village school to impart education to the underpriviledged children..I somehow collected my few articles..pacifying myself that I wouldn't be gone long enough to carry all my luggage..it was hard for a government primary teacher to secure job anywhere else so the decision to get transferred remained final...the responsibility of my old parents now where in the hands of my young sister...I believed that it was my responsibility to look after my family but on the other hand the world is shrewd...care and affection wouldn't bring food to my family..wont impart quality education to my sister so I supressed my shoulder of responsibility and went on what fate had for me...
I arrived at bastipur bus stop around eleven during the night...I had already made arrangements for the night over a trancall the day before..a young village guy named ravi came to my rescue...unlike big city people who have their own whims this guy welcomed me with open arms and even carried my luggage to the humble lodge which I had booked through my school..the day went hectic with all the packing...my luggage was off course less of clothes and more of food which my darling mother and sister packed for me...ravi saw me off for the night and promised to meet me early next morning...I lied down on my single bed for sometime and when I opened my eyes it was morning light....
Ravi kept his promise and arrived before I got ready...I quickly got ready and managed to fix myself up with some breakfast from the food which my mother had packed for me.I scurried quickly into the tiny village lanes behind ravi who was almost like a mongoose chasing some snake..I reached my school and finished my formalities quickly as I didn't want to go through it much...I just quickly glanced over my papers and nowhere it was mentioned when I was going back...suddenly going back reminded me that I forgot to call my family after I reached...I made a trancall again from the school administrative office to a local std shop beside my house in Raipur.. The administrator of the the school mr shyamlaal was local and a jolly person...everyone seemed jolly but me...but he understood my agony which I doubt somebody in the city would want to do... he called me in for lunch to his house which at that point I couldn't refuse as I needed support...emotional support...
Mr shyamlaal helped me find a proper room to stay for my tenure of exilation...being a local he wont be overcharged so he found a place for me to stay beside the marketplace where there was easy access to shops and small village restaurants...post lunch ravi helped me put away my bags to my room...shyamlaals hospitable wife made me forget about my mother for a little while...little while till the time I was left alone in my room again...the thoughts of loneliness overcame me...my doubts for future nurtured my melancholy and I closed my eyes without thinking anything...
I woke up in the evening and suddenly my young mind refused to give away..I quickly got dressed into my usual attire and decided to take a look around at the local village market and as well buy some necessities which earlier was taken care by my little sister and mother..I got out into the fresh air of the village...
The village of bastipur turned out to be misnomer...it was too big to be called a village or to small to be called a town..but the fresh air and the humble people somehow interested me..the village market was full of twinkling lights..some coloured ones...fragnance of local village cheap perfume..fragnance of fresh fried samosas and scent of fresh flowers mesmerized me..I quickly gobbled down few of the street food which the village had to offer leaving me with no appetite for dinner..so I decided to take a more vivid look around the entire market place...ration stores..utensils..clothes..draperies..steel..the village had almost everything which a man could need to survive with satisfaction but not with luxury..luxury is a term used in big cities...I looked through the stores at times stopping by to buy something necessary..by the time I almost finished examining the market...I entered the female market section...till now female in my mind was only the image of my mother and sister so I decided to look around and see if there was something worth buying for the two gems of my life...
I was bedazzled by the local jewellery shop like any other female...the variety and the shimmering lights which no female heart could despise blinded me...for a moment I stopped and gazed around...amidst all those shiny pieces of metal and the females of all ages chiping away like young birds my eyes fell upon a young female bargaining over a shiny piece of anklet..
For a moment that female took away my gaze away from all the other dazzling metals..decorative pieces and mirrors..it felt as if she was the most exclusive gemstone of that shop..decorative and sobre..unlike other local women..she was very soft and seemed pretty pleased with herself with the anklet on to bargain further..for quiete sometime I stood looking at this image which was unusual for this village...she quickly handed over the money to the shopkeeper and hurried away...she had other women looking at her as she went and she kindof avoided talking to or making eye contact with anyone and disappeared quickly into thin lanes...
The next day went usual...talking to village kids about their families...trying to teach them and they seemed to have learnt nothing till now..it was hectic and mr shyamlaal was busy too as he had some guests over that evening..the day passed on quickly and soon it was evening..I don't know why but I quickly got dressed combed my hair and got out in the market giving myself a rational explanation as to why I was out in the evening after such a tired day...I quickly looked over all the other shops before scurrying into the female market not making it obvious to myself as to why I was heading towards that market...I looked into the clothes shops..bangle shops..basic necessity shops..searching for I don't know who...the women in that market started to look at me with an eye of suspicion...after quiete sometime I left my search and went back to my room..
soon this became a regular routine for me until one day mr shyamlaal invited me to accompany him to the local village dance place...accepting his request was a little awkward for me as I have never been to one of these place before and also it was off my routine procedure to go out in the market and search for that beautiful face..but I decided to give myself an off from the usual routine of boredom and search and loneliness and soon I was out with mr shyamlaal towards the famous dance joint...
The joint was a cozy place...filled with smoke of the hukkahs...scent of pan masala coming out the hukkahs...the place was playing Bollywood numbers which would otherwise be called vulgar and men of all ages and sizes talking loudly boasting about their achievements which they could never attain...I did not like the place that much but it gave me a sense of relief from the boredom of life..the monotony which it had become...soon they started with some shows of men playing tanpura and singing local village 'baul' songs...it took us away to some other place..other world where civilization had not thrust its fangs..the peaceful life..the serene life...soon the music and the local village liquer made me drunk...when the joint owner announced a dance show...upon the announcement I saw all men making drunk noises thumping their feasts on the table as if they were awaiting something which they had come for...soon the joint started playing some local folk music..and a dancer entered the stage...she walked slowly onto the stage and I kept looking at her as if my mind recalled something....it was the same girl I saw the other day....
Some said that she was not a local and came from some other village as a young girl where her father had to keep her with a local lady when he decided to go to city to fend for the family of two young girls but he never returned..the lady kept them till the time they got young and later started to force them into prostitution...the younger girl couldn't take the pressure and commited suicide by giving herself away to the Bhagirathi river leaving behind her elder sister who decided not to give up on life but use her talent to fend for herself...and indeed she was talented!!! Her dance was famous in the surrounding villages...and audience..mainly men came far to see her on the stage..soon her talent made her popular and earned her good money but to the villagers and the society she was a cheap dancer(almost a prostitute) who showed her body to other men...and these mongers were none other than women who had nothing else to do but to condemn her since she surpasseth everyone in that village..infact she surpasseth any other female I ever knew in my entire life.......