Am not a bookworm, I can hardly finish a book but I am a good keeper or shall I say, hoarder! I always tell myself to finish the books I have bought but never really had a chance, although I had finished a few thin ones. I guess the two books which I had annihilated were all from Dan Brown and I was planning on buying his other books from the biggest book sale ever! I am referring to the Big Bad Wolf Books!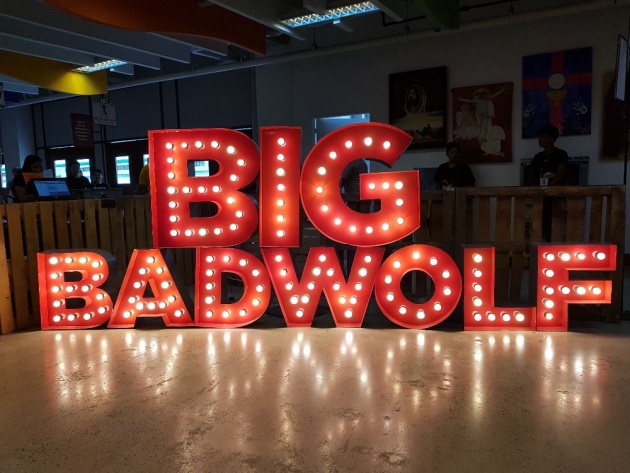 Image credits: Jean Beltran via bitLanders
Ever since @haraka shared her own book shopping at the Jakarta's Big Bad Wolf Sale, I had decided that I will go to that event if it befalls in Cebu City! And guess what? It did!
Two months ago, a college friend shared the event in social media, I told myself I won't miss this for sure and so on its premiere, my husband James and I went, spent Php 3000 on books! Let me share how that day went!
Who, What and Where is The Big Bad Wolf?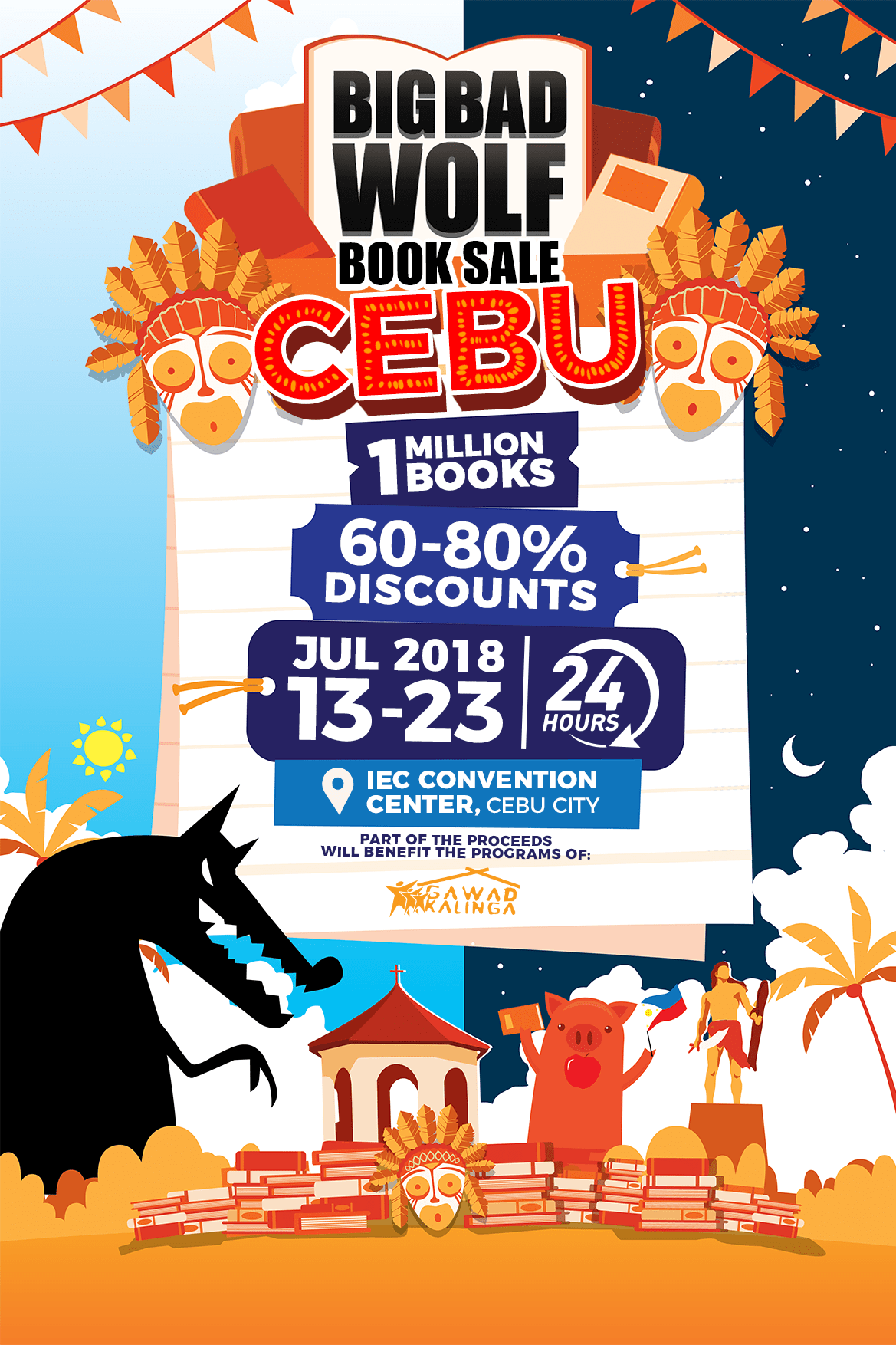 Image credits: sugbo.ph
WHO - It may sound negative, wolf often is being referred to as a dangerous, pretentious, and alluring type of animal which has been always used as an antagonist of some famous stories such as the wolf in the story of the three pigs, there's also a bad wolf in the book of the Red Riding Hood!
But the Big Bad Wolf isn't that bad at all in this case because it is actually a character that signifies every reader's best friend, of which has a mission of bringing out the very best books at the lowest prices!
WHAT - According to Big Bad Wolf Book's official website
The Big Bad Wolf Book Sale is the BIGGEST (and most affordable!) book sale in the world offering 60%-80% discounts on all books. The Sale is in Cebu City, Philippines for the second time and will be held from the 13th to the 23rd July 2018 and will run 24 hours a day, for 255 hours NON-STOP. The sale will have over 1.5 million books covering 20,000 high-end English titles across all genres, including fiction, non-fiction, children's books and even rare collector's titles!
In short, it sells books at its lowest prices! So this is for the book lovers, bookworms and even for those who are mainly hoarders like me!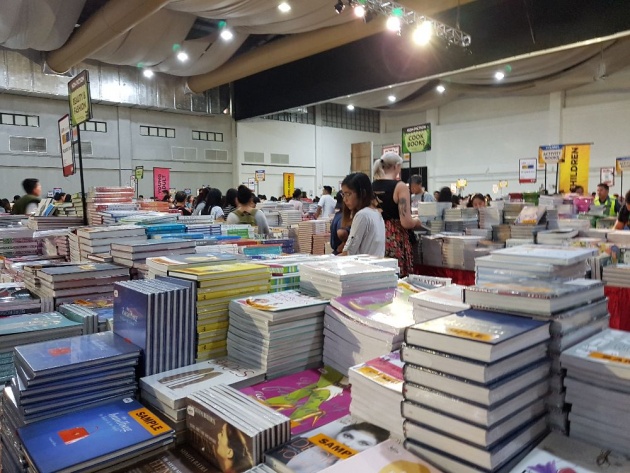 Image credits: Jean Beltran via bitLanders
WHERE - The Big Bad Wolf Book event's held at the International Eucharistic Congress or IC3 along Pope John Paul II Avenue in Mabolo, Cebu City, Philippines. This is a structure built for the 2016 congress event held in Cebu.
What to Expect at the Big Bad Wolf?
Prior to this event visiting Cebu, I already have a little background on what it offers because of the blog which was published by @Haraka. Thanks to her, I already know what to expect. Of course, there are no less than millions of books!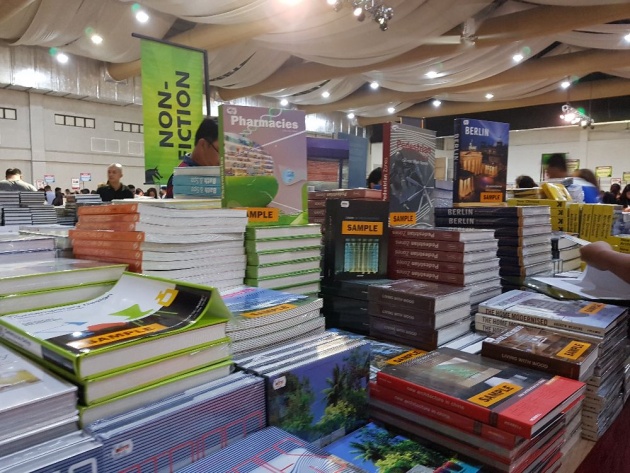 Image credits: Jean Beltran via bitLanders
Being held in IEC, I am pretty sure that it will occupy a huge hall, and just like how it looked like in @Haraka's blog, it has all the books laid in stacks, corner to corner where guests can simply walk pass its center aisles and can read on their covers from one book to another.
But most importantly, I also expect it to have a lot of visitors, especially during its opening day. I expect the elbow-to-elbow type of course and I have to be ready for that!
Realities at the Big Bad Wolf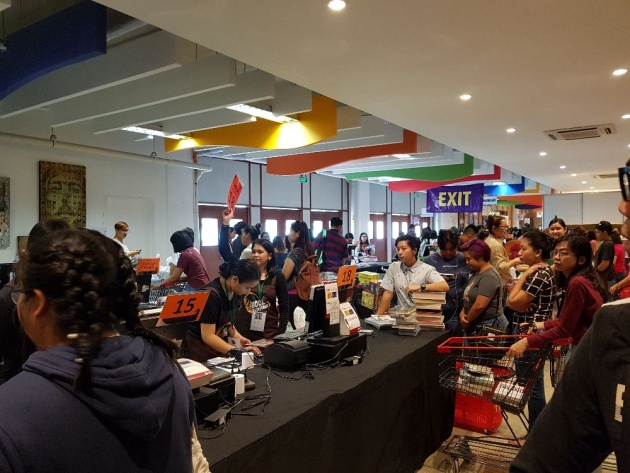 Image credits: Jean Beltran via bitLanders
Now a few days before the opening day, the Big Bad Wolf Book's Facebook page posted a game, and the game price was two passes for their Preview Day! I missed the game but my colleague did and she won. Of course, I had to stalk her and ask her about the experience.
Unfortunately, she was a little disappointed to the extent of delivering a three-star review on their social media account! Stiff, as to how we call her said there were too many people during the Preview day which was the day before the opening and most books which she was really looking out for was not available. The worst thing was that it took them four hours to check out!
Oh well, that review made me think I must wear the most comfortable outfit and shoes just in case I have to wait that long as well during the opening!
Video credits: Jean Beltran via bitLanders
Since I am not really a bookworm, I had to set my book wish list short. I only have two agenda, first is to get a new Bible and some children's books for my niece and nephew who's coming home by the next weekend! My husband, on the other hand, has no agenda at all, he said he'll just go to accompany me!
My First Big Bad Wolf Experience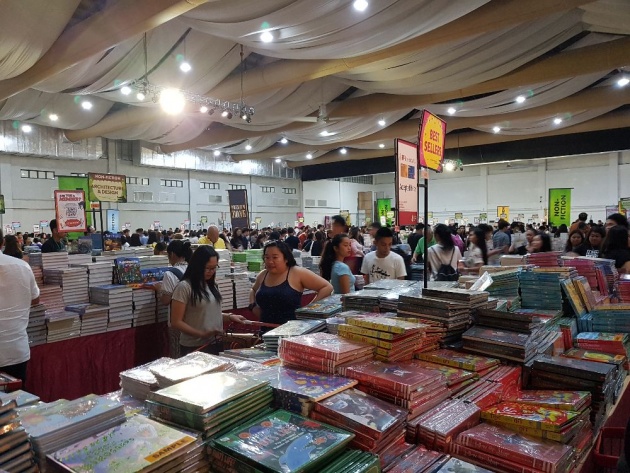 Image credits: Jean Beltran via bitLanders
Its a 24 hours access book sale so I was already anticipating it to be open by the time we arrived, which by the way wasn't really early, it was 10:30 in the morning of Friday the 13th! (I don't believe in bad luck though.)
A long line welcomed us, bottled waters were also displayed outside, I learned food and drinks aren't allowed which was pretty understandable. A few volunteers were helping the bouncers outside inform the guests about the dos and donts.
As we came inside, there were booths of BPI, Globe GCash, and some food stalls as well as Coffee selling ones. A huge red Big Bad Wolf with light bulbs on warm welcomed everyone as we enter the hall of million books.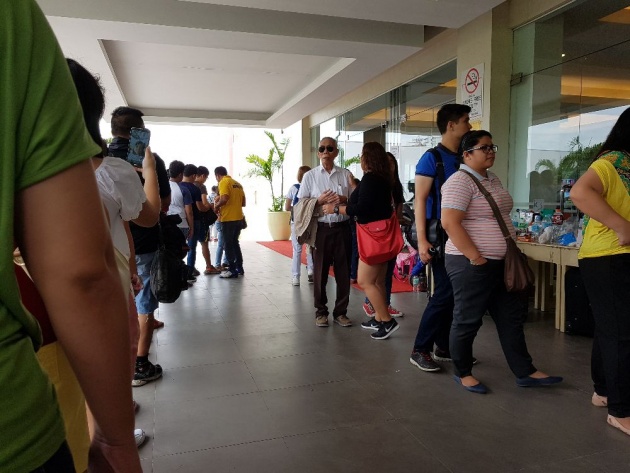 Image credits: Jean Beltran via bitLanders
I was already stunned and pressured as I stepped in! I just realized I was not ready for this! I have been to one book fair before inside a ship but not this big! Literally, this is a huge event and I was not sure where to begin and what to really check, again, I am not a bookworm!
Anyways, I just followed where my gut told me to go, there were hundreds of people around, if not thousands and I don't want to go where the crowd was but my curiosity was really pushing me to go instead. Anyways, there was no time limit so I had to just roam around, look here and there and try to entertain myself with all the titles, book covers colors and illustrations that they all come along.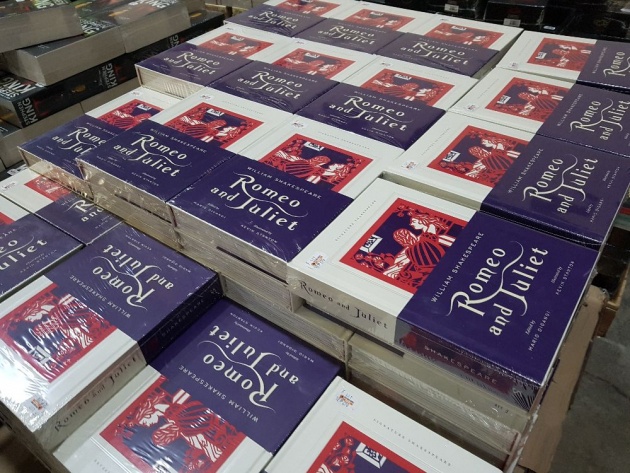 Image credits: Jean Beltran via bitLanders
It took me a few rounds before I had the courage to place something in my cart! I opted for a plastic hand carry with a trolley type of carriage because I am pretty sure I won't be buying a lot.
I was looking for Dan Brown's but I overheard someone chatting that it was already sold out on the Preview Day, bummer! Anyway, I looked for some other famous writer like Nicolas Sparks and picked up his book, I have watched the movie and I thought I should read someone else's. The thick hardbound book of William Shakespeare's Romeo and Juliet which costs Php 290 only caught my attention, I thought I should challenge myself with reading and finishing this thick one and so I placed it in my cart.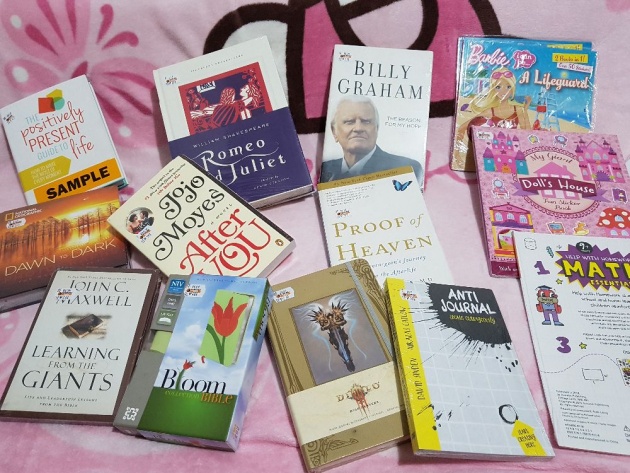 Image credits: Jean Beltran via bitLanders
At this point, I already left James at the Art and Photography section because I want to walk around, he was also happy to be left alone as he doesn't want to exert energy moving here and there. Plus, he said he might be able to buy one or two books from the photography section.
Then I spotted Jojo Moyes' After You which is a sequel of Me Before You which I assume we all know the movie right so I am sure I can relate to this, I hope so!
By the time I got these two books, I remember my goal so I proceed directly to the children's section where I found a lot of overwhelming books for kids, there were board types, stickers, reference and a lot more than I don't know which could be appropriate. Well, I just picked up random ones and decided to keep the sticker book set, two other Barbie sticker sets which were only Php 40 each and a Maths Essentials book for age nine. I believe my niece will like these and so do I because of those stickers!
Finally, I went to the Religion section. The past few weeks, I had been into the spiritual journey, I watched many videos about Christianity and the Gospel that I decided to buy a new bible, one that I can call my own, my old Bible is in Bohol, and my Bible here in Cebu is in New Living Translation. I spotted a New International Translation which was really handy with a Red Tulip cover design! I like that it can be laid flat and the pages are thin, it costs Php 480. I placed it in my cart!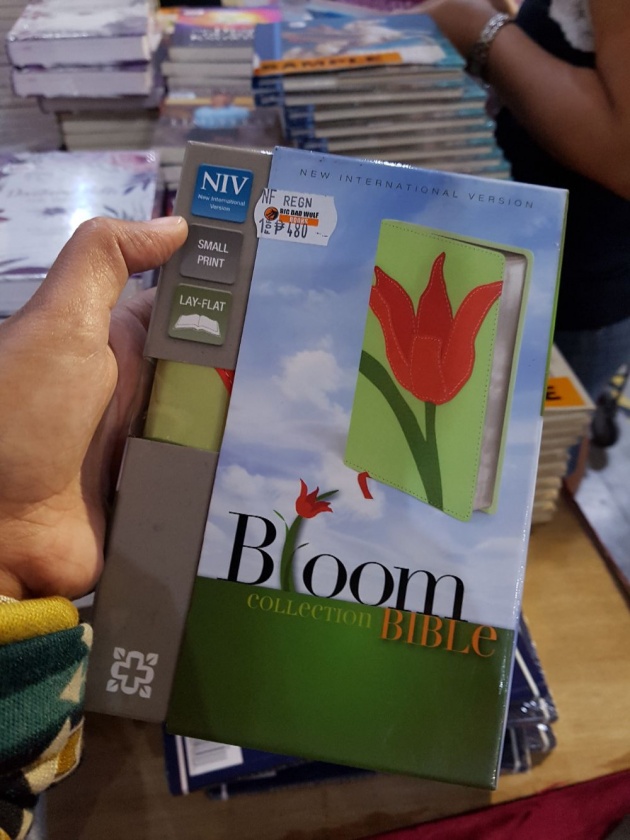 Image credits: Jean Beltran via bitLanders
While in the Religion section, I found some interesting books, some personal testimonies and I was really interested in them that I bought two, one from Billy Graham and another from Eben Alexander, M.D.
I thought I was done but I passed by the Activity Books and guess what I have found? Some Journaling books. I clutched the very attractive Diablo blank journal with pockets book and another Tea Party Journal but ended up putting it back on the shelf. But I grasped another one with a title Anti Journal Create Outrageously by David Sinden and Nikalas Catlow, its title is very intriguing!
I called James and he came up with two books, one of them has run out of stock that he brought the sample one instead and a National Geographic one plus I showed him a John C. Maxwell book too which is his favorite author.
At the check out section, I really thought it would as well take us hours to pay but gladly, it was smoother this time, it only took me 15 minutes.
Video credits: Jean Beltran via bitLanders
James had to leave me behind because he has to go to his office, it was just 30 minutes before he'd be tag as late so I let him go. Total bill was Php 2980! I am glad I didn't go beyond 3k!
It was a great experience! I never thought I would end up buying more than 10 books! But the deals are really good! I am just sorry I didn't get Dan Brown's book, oh well, I guess I have to buy them from the National Bookstore instead soon.
Thanks again Big Bad Wolf Book Sale for this opportunity! I hope I won't just be hoarding them. Wish me luck!
This blog entry was written and published by Jean Beltran-Figues for bitlanders.com.
Join me, click here to sign up.