The bitLanders Film Series to Support Women Empowerment - DARK RIVER - Photo credit: imdb, Edition by Amber255 via Bitlanders.com
I still have not written a review about the last movie from bitLanders Film Series to Support Women Empowerment - DARK RIVER. So, it's time to correct this mistake. The film DARK RIVER was filmed in the genre of mystery, thriller, and drama. I did not see this movie before, but being a big fan of thrillers and drama films, I, of course, watched it on Netflix. The DARK RIVER is directed and written by Clio Barnard, well-known from some documentary and short movies.
Even in the swelling canon of British rural miserabilism, this unrelentingly intense psychodrama burrows beneath the skin. -
Jeannette Catsoulis, New York Times

Credit: rottentomatoes.com
The gloomy and cloudy Yorkshire is like a witness to unspoken pretensions, the feelings of guilt and shame, which Clio Barnard's characters try to deal with in DARK RIVER. The British director shows us an emotionally very strong movie about how abuse can destroy and make a traumatic impact on a young woman's life.
Feelings that have been rooted in the past are trying to find a way to escape. The drama film DARK RIVER combines the poetic and brutal nature of human relationships through the main heroine Alice embodied by Ruth Wilson.
DARK RIVER - Official Trailer - Video Credit: Clio_Bamard via Bitlanders.com
The Short Story Of The Movie
Alice (Ruth Wilson) escaped from home fifteen years ago, leaving her older brother and father on a thriving farm. Since this escape, she has traveled alone through the country, stopping where she found work for her. Now she lives in a small village, works on a sheep farm, and gets well along with her colleagues.
But the unexpected news about the death of her father makes Alice return to her homeland to inherit the family farm, which he promised her one day when still was alive. Upon arrival, she immediately begins to manage the home, feeling like a full-fledged mistress of the home.
But her brother Joe (Mark Stanley) is absolutely not happy about the sudden appearance of his sister, who left home fifteen years ago and did not come when he and the seriously ill father needed her help. Now the siblings have to decide who the land will belong to.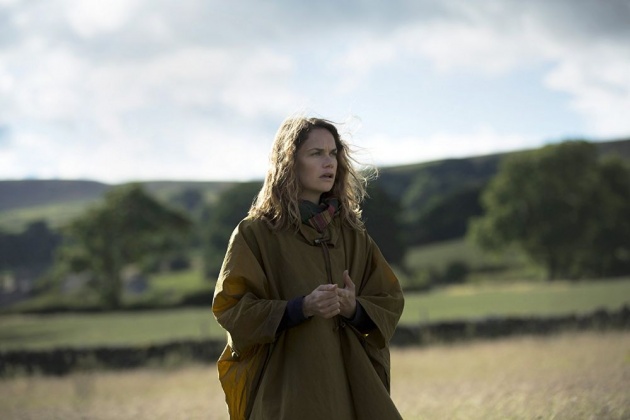 Ruth Wilson in drama film DARK RIVER - Photo credit: imdb.com
An abandoned house full of rats is not like the old glory, and the farm is on the edge of bankruptcy. Alice covers her sleeves and goes to work while Joe sabotages her every move. It will be a long and often dirty crossing. Old house's corners remind painful memories to Alice that many years she kept for herself. The siblings grow unspoken claims, mutual misunderstandings, and conflict of interest.
Alice's father left behind not only the earth but above all a painful trauma that for years has been a shadow on the woman's life.
As always, I do not want to spoil the joy of discovery watching movie that you still have not seem, so the details of the movie I will leave to find out yourself. As always in my reviews, no spoilers.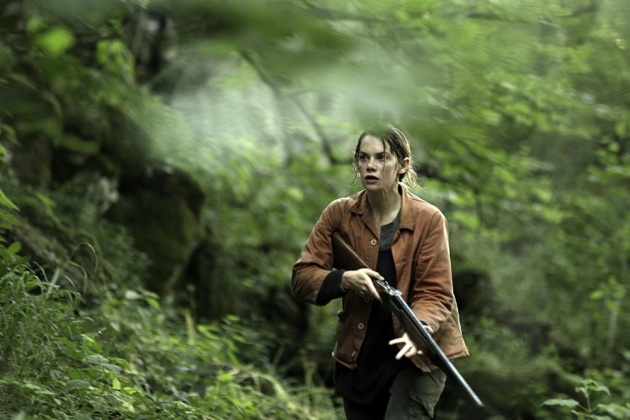 Ruth Wilson in DARK RIVER - Photo credit: imdb.com
The Content Of The Movie
The director of the sensational The Selfish Giant returned after a four-year break with the film, from which many expected a lot again. Many reviews after the preview said that the DARK RIVER seems to be an accidental work, an etude is stretched to a full-length, in which there are too many emotions, but everything seems quite slow. Luckily, great acting cast and landscapes compensate the slow plot.
DARK RIVER is based on what is not spoken. Clio Barnard begins her story with a light and idyllic song "An Acre of Land". This is an important point that becomes the counterpoint of the whole story.
While reading movie DARK RIVER review, check the QUERLO CHAT: "What kind of movies do you like?"
Clio Barnard conducts her film in two ways - mundane, everyday life mixed with the stifling atmosphere of mystery, which manifests itself through retrospectives and memories. The whole is extremely deeply rooted in nature. Gray sky and heavy clouds reflect the atmosphere at home.
And the many times used the symbolism of water gives hope for washing out all fears and rebirth in a better life.
While some staging, such as immersion in the river after every unpleasant memory, can be considered a banal poetics, Barnard is quite productive in building metaphorically developed sequences. Alice and Joe are strong on the ground, and only the confrontation can knock them out of emotional lethargy.
DARK RIVER is a strong, emotional, and precise in building a mood that - although it is drowning in the dirt of degenerated family relationships - leaves a hint of hope. Clio Barnard makes the sun appear in the gloomy sky.
What I dislike in this film? It has a bit boring and slow without dynamics plot. There is not a dynamic development of the plot. Many people say the film is very boring and drives into sleep after the first ten minutes. Everything is somehow slow and dull. The gloomy natural landscape adds an effect of grayness, and the heroes somehow do not shine with colors too.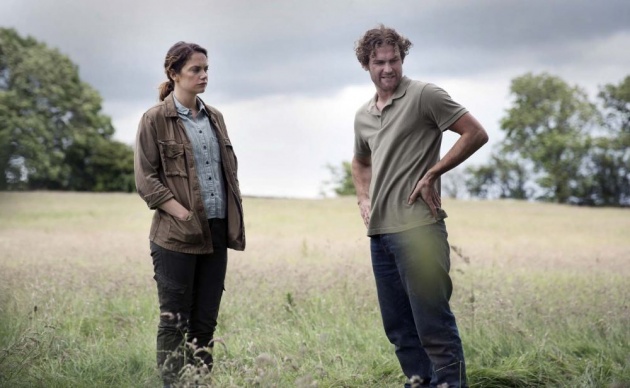 Drama mystery thriller DARK RIVER - Photo credit: DarkRiverFilm via Twitter
Much time of the film is devoted to the views of nature, landscapes, surroundings, houses, and so on. And those who will not understand the moral of the film and the meaning of symbolism, easy will value this movie as too boring.
Neither the characters of the heroes nor their actions or their desires are revealed fully. It is almost impossible to understand the personages' motives and ideas. The film looks a bit depressively because the plot and the actors are very melancholic. But nature and landscapes are beautiful. There is raining half of the movie, and its sound is a musical accompaniment of the film.
I definitely went to the thriller genre. From the first scenes of the movie, it was a disappointment when I watched heroes take care of sheep for days: shave, wash, and walk them. Certainly, somebody likes such films, and I would like this film too (I thought so watching it) if I had a depressive condition and rain outside the window, then this movie would come as great choice to watch sitting in a warm home. But when you are purposefully looking for a great thriller, and you get it in the world of sheep, then, of course, there will be an incredible dullness.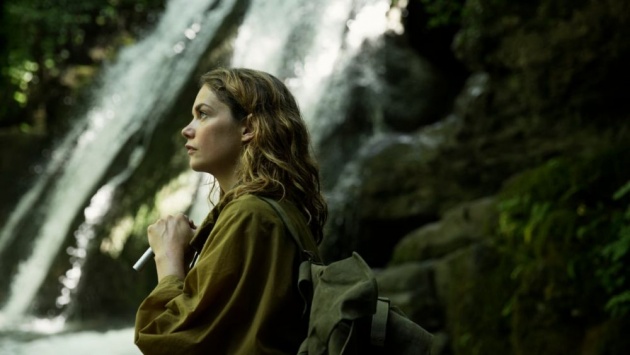 Drama film DARK RIVER - Photo credit: vimeo.com
But wait!!! DARK RIVER is not at all a dull movie. The longer you watch it, the more it involves you.
Of course, the film deals with not only the problems of property division but also the problems of fathers and children, the relations between siblings. These realities, shown in the plot, are insane and terrible. I do not want to believe that somewhere it actually happens. It's terrible, ugly, and in my opinion, it is illegal to even with the agreement of both parts.
It is a big tragedy for a child to be born in a brutal family with no escape. And it perfectly shows a reason why the main heroine avoided her home for 15 years. It's an abuse, father's sexual abuse.
Summary, it is not a movie to watch who search for funny time spending or who wants to dive into a strong involving thriller. But this movie has a strong message, and if you dare to watch it to the end, you can learn something for yourself.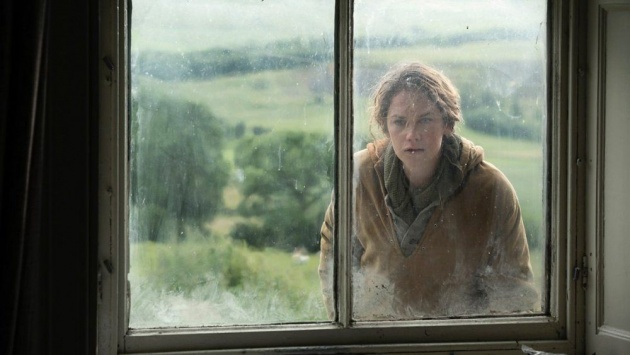 Drama film DARK RIVER - Photo credit: laceysfilms.wordpress.com
The Technical Side Of The Movie
First of all, I must mention beautiful landscapes and surrounding. Nature is shown much and beautiful, although too much rain can be boring. Anyway, for me, there were too much grey depressing colors. The heavy feeling accompanied me through the entire movie. However, even if it's too gray and dim, it fits the story and its atmosphere.
Great shots of green hills, fields, river pictures, and all perfect landscapes are worth attention. The director perfectly used the landscape and whether to present a mood of the film. The cinematography of Yorkshire country is really attractive as it's a beautiful country, however, very harsh.
There are some great close-up shots, action switches between sister and brother making the tension of drama more perceptible. The visual part of the film is done well enough.
And the musical backing is perfectly reinforcing senses. The sad and slow melody of the song "An Acre of Land" by PJ Harvey and Harry Escott that we heard at the movie's beginning and end greatly complemented with the atmosphere and storyline of the film. The lyrics of the film could whisper you what about the film is.
PJ Harvey and Harry Escott - An Acre of Land - Video credit: J Harvey via Youtube.com
What I lacked there are more dialogues that would better help to understand the characters and what is going on.
The Collective work of The Actors
RUTH WILSON in a role of Alice
If to talk specifically about the game of the actors, then, of course, the work of the main heroine is convincing and charming. From the first scenes, I thought the director chose the wrong actress of the main heroine, but actually, she showed enough charisma in this role. It was a very good performance, and I liked her facial emotions that talked the same great as the words spoken.
I felt the personal inter tensions of the main heroine. She expressed it realistically and convincing. Her anguish and misery of traumatized women were greatly delivered to viewers.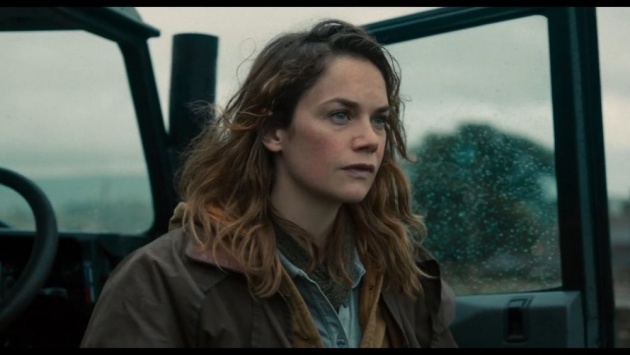 RUTH WILSON in a role of Alice - Photo credit: vimeo.com
Still, the great performance of the main heroine could not overshadow the plot's problems.
I want to add a few words about the rivalry of the sister with brother. I also have a brother, and I could not imagine such a relationship with him that was showed in the movie. We are the closest friends, the biggest support to each other, and there is no any idea to rival with him for anything. If we had parent's heritage, I think we would friendly share it without anger, quarrels, and fighting. However, in the movie, everything is different, the relationship between siblings is complicated, and they fight all the time.
Especially it is hard to perceive how brother could not help when father abused her and let her leave home. Maybe the feeling of guilt at the end of the movie forced him to get a sister's fault? Anyway, it's a very harsh theme of the movie.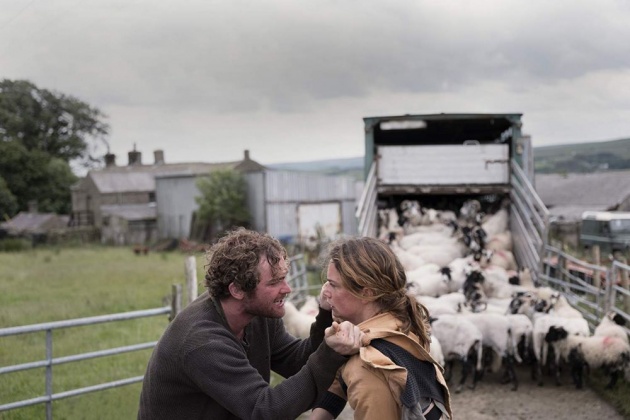 Ruth Wilson and Mark Stanley in drama film DARK RIVER - Photo credit: imdb.com
OTHER ACTORS
Mark Stanley, who embodied a brother Joe, showed a great performance too. He greatly showed all controversial emotions related to his sister's return. And I have not seen such a great performance of terrifying anger's rampage a long time.
We also see Sean Bean, Esme Creed-Miles, Shane Attwooll, and many other actors in the DARK RIVER.
The Theme of Sexual Abuse and Alice's Strength
The sexual abuse from the father surely traumatized Alice's life, but it is obvious this woman is very strong no matter how fragile she looks. Having such dark sides of her past, Alice manages to live and even fight for what she deserves - the heritage of father. She has to deal with various severe emotions and memories and even find a way to the friendship with her brother. Yes, Alice is a strong woman.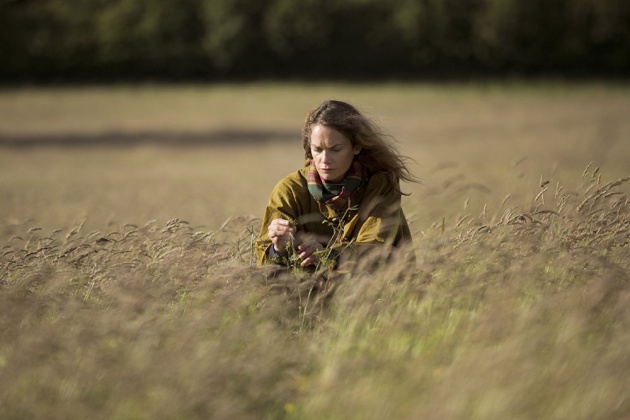 Drama mystery thriller DARK RIVER - Photo credit: imdb
Sexual abuse is a sensitive and painful topic. I love that Bitlanders offered us to write a movie review about a strong woman who experienced sexual abuse. It's a great theme to talk about even in our days as many women still experience it.
Sexual abuse hurts you very deeply, especially if you experience it in childhood when it is hard to fight with it and manage your emotional trauma. You have to live with it all the life knowing that the parent who supposes to protect you, to support and love, humiliated you sexually and hurt as no one. It's a big burden to carry on your shoulders all the life. And if you manage to live with it and still find the meaning of existence, you are a very strong person.
While reading movie DARK RIVER review, check the QUERLO CHAT: "Do you support women empowerment?"
On The Final Note
Would I recommend this movie to watch? Yes, I do. Many after preview may say it is too dull, too much nature shots and so on, but it definitely has a deep meaning to all who are not just searching for a fun, laugh but who are eager to watch serious movies that leave a hint what to think about after final titles.
It's a sad, emotionally tense movie forcing you to support the main heroine, to carry on together her burden of abuse. I very hope that such movies leave a great impact on people, help to understand that every person on our Earth is worth respect and love, that relations of siblings should be based on love and support.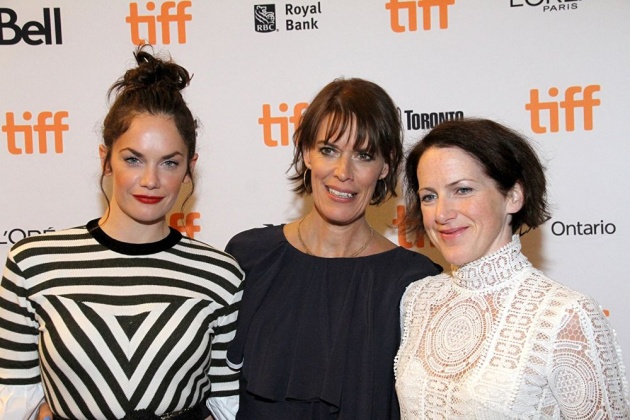 Clio Barnard, Tracy O'Riordan, and Ruth Wilson at an event for DARK RIVER - Photo credit: imdb
Let's dive into the BLACK RIVER leaving your black emotions, feelings there and go out of it revived, with a fresh look on life.https://www.rottentomatoes.com/m/dark_river_2018/
My rating: 7.5/10
Rotten Tomatoes: 79% ( of 100)
Critics average: 67/100
IMDb: 5.7/10
Have fun watching!!!
***************************************************************************************************
Thank you for stopping by and reading my blog.
2018, All Rights Reserved.
You are very welcome to join Bitlanders and share your valuable knowledge and opinion.
***************************************************************************************************
You can check my other blogs with movie review:
1. The bitLanders Film Series to Support Women Empowerment: THE HUNGER GAMES
2. The BitLanders Film Series to Support Women Empowerment - THE HUNGER GAMES: CATCHING FIRE
3. The bitLanders Film Series to Support Women Empowerment: THE HUNGER GAMES: MOCKINGJAY – Part 1
4. The bitLanders Film Series to Support Women Empowerment: THE HUNGER GAMES: MOCKINGJAY – Part 2
5. The BitLanders Film Series to Support Women Empowerment: JULIE & JULIA
Come back to find more...
***************************************************************************************************