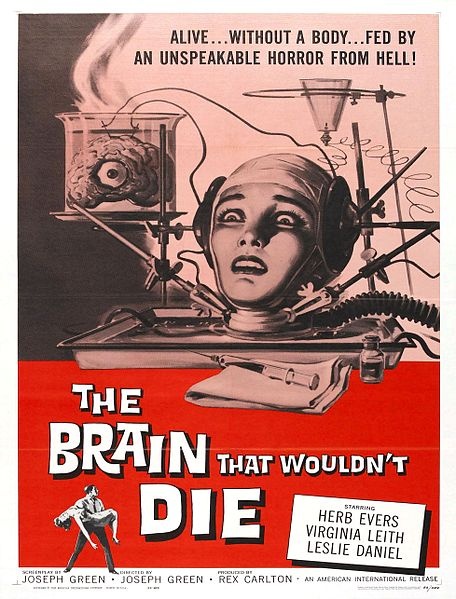 Continuing our b-horror film cycle, I present you "The Brain That Wouldn't Die". This movie was originally made in 1959 but released in 1962.
The plot: doctor Bill Cortner (Jason Evers) has developed a miraculous technique that can save millions of lifes but he is using real people to test it out. After bringing back to life a patient that was already declared dead, his father, also a doctor, warns him about the side effects it could have on people. Cortner continues with his experiments until somebody close to him has a mortal accident, now he will do everything in his power to keep that persona alive, and even unravel unknown horrors.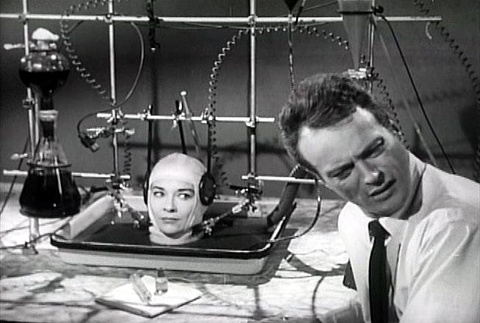 The movie is fun and does a good job building suspense. The acting is not so bad and the script, though it has errors, has a structure and a clear dramatic line. The cinematography is nothing special. *SPOILER* The biggest downside for me was the build up for the monster. It took so long just to appear for 2 minutes in the very end of the movie. To say the least, I wasn't satisfied with those 2 minutes. *END OF SPOILER*.
It's not one of those "so bad its good" type of movies. And although this is a very low budget B-film, the production had some quality standard.
The movie is available for free for everyone since its in the public domain:
Only recommended for fans of this genre in particular. Ideal for a cold dark night. Just turn the lights of and enjoy!
1 / 4