INTRODUCTION:
The China–Pakistan Economic Corridor (CPEC) is a development megaproject which aims to connect Gwadar Port in southwestern Pakistan to China's northwestern autonomous region of Xinjiang, via a network of highways, railways and pipelines to transport oil and gas. The economic corridor is considered central to China–Pakistan relations and will run about 3,000 km from Gwadar to Kashgar. Overall construction costs are estimated at $46 billion, with the entire project expected to be completed in several years. The Corridor is an extension of China's proposed 21st century Silk Road initiative. According to a First post report, "this is the biggest overseas investment by China announced yet and the corridor is expected to be operational within three years and will be a strategic game changer in the region, which would go a long way in making Pakistan a richer and stronger entity than ever before.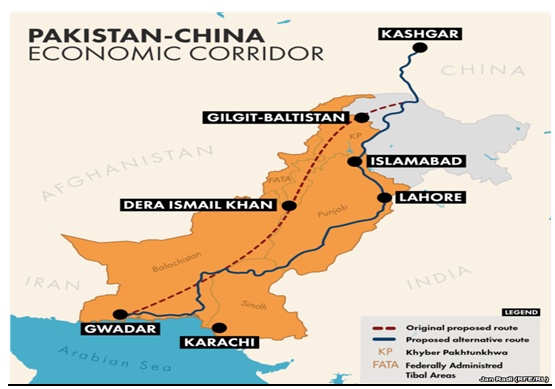 History:
Perhaps the single biggest thread that has run throughout the history of Pakistan is the inequitable distribution of resources by the federal government, a phenomenon that can be held responsible for many instances of civil strife in the country. And yet, the government seems bent upon not learning any lessons from history. Its attitude towards the allocation of resources to the various alignments of the China-Pakistan Economic Corridor (CPEC) is a case in point: less than 12 per cent of the infrastructure development spending for fiscal year 2016 has been allocated to the least developed parts of Pakistan — Khyber-Pakhtunkhwa (K-P) and Balochistan — while nearly 70 per cent will go to the most developed parts of Punjab and Sindh. Added to this is the government's circular logic to defend the action, making matters worse.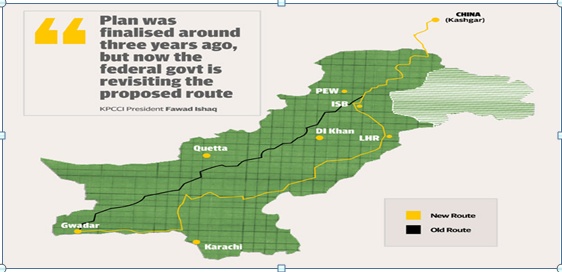 A Chinese official has denied that the route of the China-Pakistan Economic Corridor has been changed and insists that both countries had agreed to only one route from the outset.