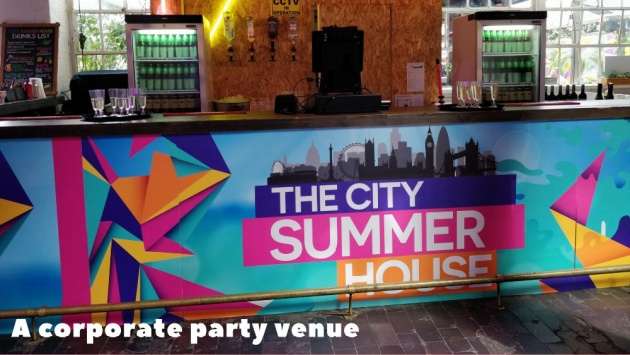 Image credits: by Naotalba via bitLanders

Since I did go there for an actual party some time ago, and got a chance to take pictures before many people arrived (this way, I didn't have to edit out my colleagues), mentioning the City Summer House seemed like the thing to do on this nice sunny day.
It's not a touristic place, in that its doors are only opened for corporate events, but this may still be of interest for anyone who may have to book the place at some point.
Nearest Tube lines are Central, Circle, Hammersmith & City, Metropolitan and Overground at Liverpool Street station, and Overground at Shoreditch High Street station.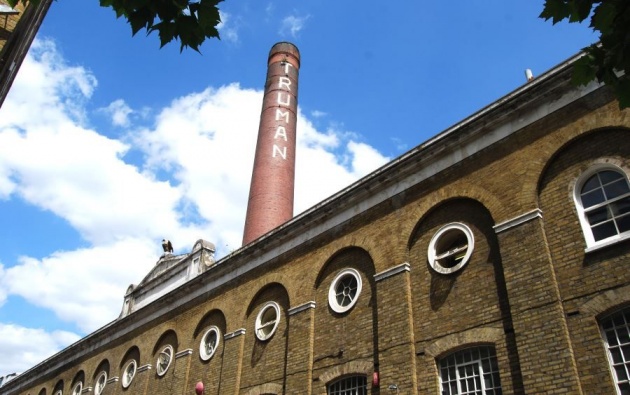 Image credits: The building, via citysummerhouse.com

What's this place?
The City Summer House is located on Brick Lane, in what used to house the Old Truman Brewery, founded in 1666. Not only is the area easy to access (see the Tube lines above), it has also become in recent years quite famous for its student and art-inclined population, with lots of artistic and fashion-related exhibitions.
In the middle of this area, the City Summer House, seen from outside, looks just like the kind of place where you'd get to see such an exhibition: brick walls, a first-floor gallery... and a couple of gardens at the back.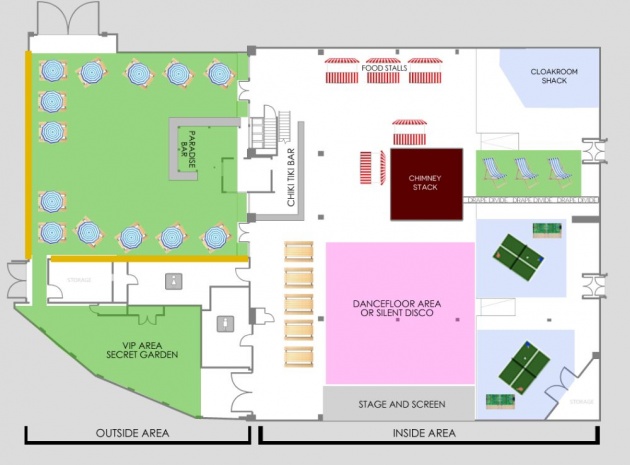 Image credits: Floorplan via citysummerhouse.com
Activities at the City Summer House
Video credits: City Summer House by The Awesome Group via YouTube

The place lends itself to various activities, in a changing setting. When I went there, it had been set to accommodate employees as well as their families: one could bring their spouse and children if they so wished, and so the City Summer House had been geared towards games as well as eating and drinking.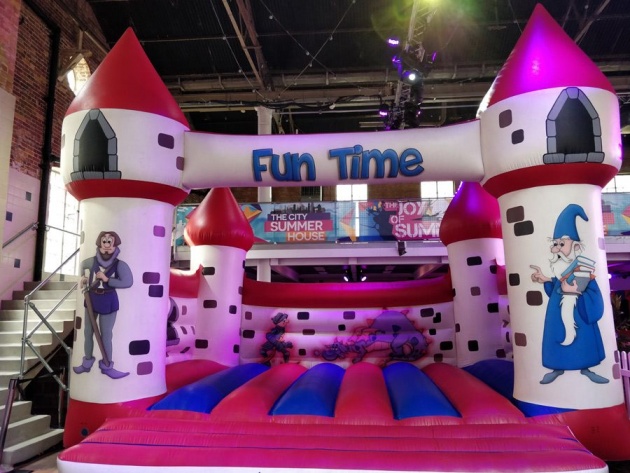 Image credits: Bouncy castle by Naotalba via bitLanders

I didn't get to go into the bouncy castle (that's not very convenient when you have a drink in hand, is it?), but you can be sure I did give a try to a couple of shooting games. I even won a plush toy, which is now among the many other 'trophies' on my desk.
Image credits: Shooting games area by Naotalba via bitLanders
Another kind of activity you can find at the City Summer House are video games, which I believe are a permanent fixture, as well as ping-pong tables.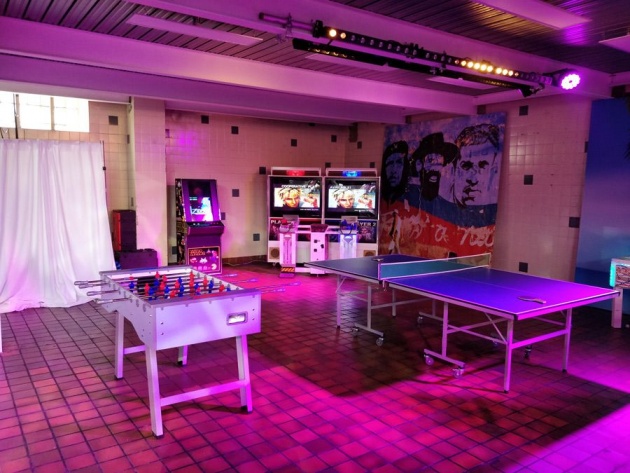 Image credits: Shooting games area by Naotalba via bitLanders
Next thing all of us did was, of course, to go in the garden--the main one, as well as the smaller, secret garden (where another bouncy castle took most of the space, so I admit it didn't lend itself to contemplation much this time). The weather was fairly sunny, which is always appreciated in England, and eating and socialising there was a pleasure.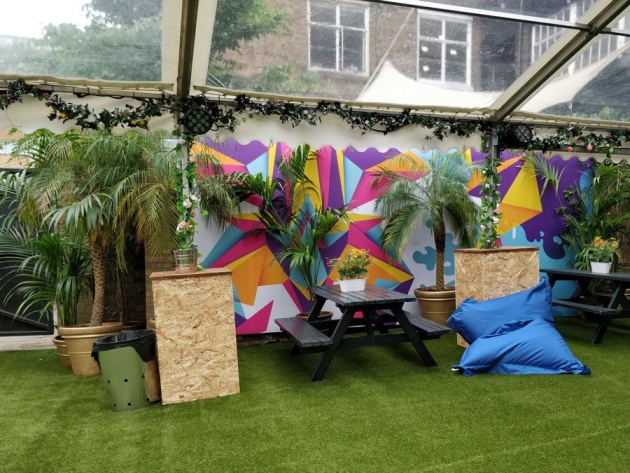 Image credits: The garden by Naotalba via bitLanders

We could also enjoy the presence of a band whose music enlivened the place, while never making it difficult to hear each other (something I have a hard time with in pubs in general, for instance).
Video credits: Musicians by Naotalba via bitLanders
Food and drinks
Last but not least, whenever one says 'party', food and drinks are involved.
I cannot not mention the chocolate fountain: sting a skewer in various fruit and marshmallows, then dip it in hot, flowing chocolate. Delicious, if a little messy (there were plenty of bins under that table, and paper napkins to boot).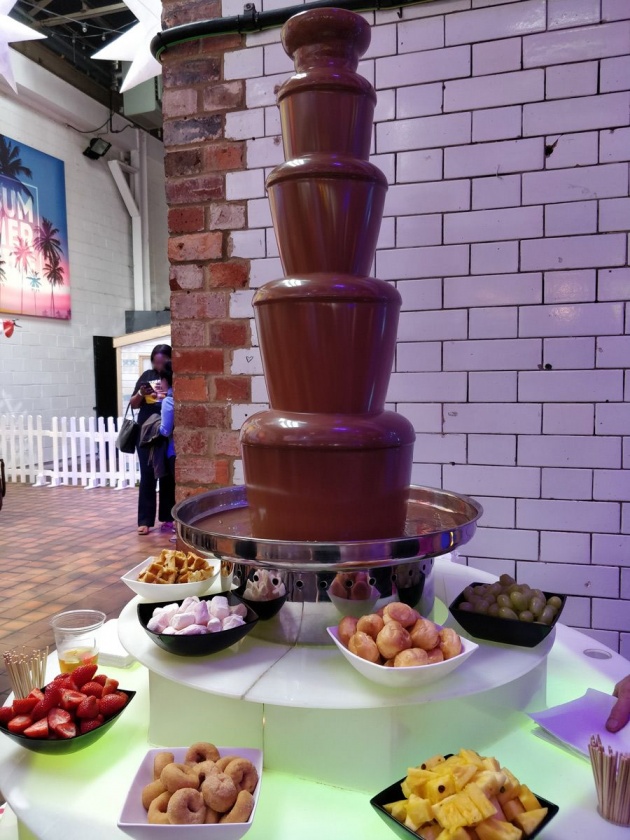 Image credits: Chocolate fountain by Naotalba via bitLanders

In general, the City Summer House specialises in BBQ-style food, which a lot of people here associate with the idea of summer, since you can hardly have a barbecue in your front room (keep in mind this is a country where you can buy disposable barbecues, because apparently the weather makes it so not worth it to invest in a durable one).
I need to mention that, while the picture below shows meat options, there were also vegetarian ones at the next table.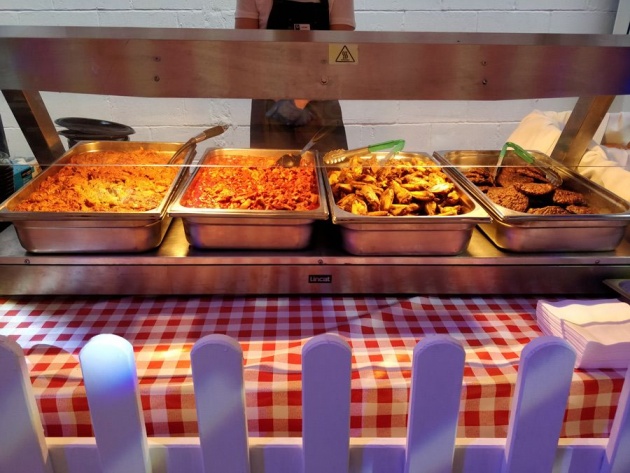 Image credits: All the food! by Naotalba via bitLanders

And this is what most of us ended up with: hot dogs and hamburgers—mine being relatively tame, all things considered.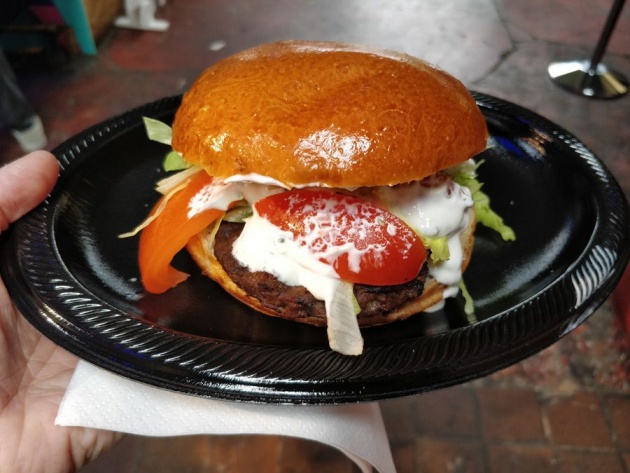 Image credits: Hamburger by Naotalba via bitLanders

Packages and booking
The City Summer House offers different party packages, whose details you can see here. However, depending on your needs, you can also get your own custom-made event; all you have to do is enquire through the forms on the website, or by phoning 0845 644 6510.
Team building event
Apart from the packages, you can also book a team building event that will let you explore, compete and cooperate in the Shoreditch Explorer event:
Armed with tablets as your tour guide you will then head out around the Shoreditch area, answering questions and earning points as you delve into historical happenings, identify famous people from the area and gain amazing new facts.

— From citysummerhouse.com
Conclusion
While you're unlikely to enjoy events at the City Summer House, unless you work in London or happen to be invited by someone attending such a party, I do hope that at some point, if you happen to be in this beautiful city, you'll get a chance to have fun and a couple of drinks there. The event I attended was relaxed and funny, and I appreciated spending that time with my colleagues.
I'm leaving you with a description that echoes what I felt about the place as a whole:
The imposing, industrial feel to the architecture of the room was complimented by the colourful outdoor space and jovial assortment of fairground stalls and summery decorations. Whether it was relaxing in the beanbag area, trying their luck on the coconut shy or getting down on the dance floor, Deltalight knew their guests would have plenty of opportunities for a great time. The staff couldn't have been more helpful, both in the run-up to the event and on the actual night itself. Their professionalism lead to the evening running smoothly will very little left for Deltalight to worry themselves about. The food was delicious, the drinks plentiful, and the sun even shone for us!

— Helen via citysummerhouse.com
Written by Naotalba for bitLanders