Good day to you bitsers! First and for most, this is not Khokarjamal69. This is someone who is a human being and not an alien (unlike Khokarjamal69). Already guessed? For those who didn't, my name is Lady khokarjamal69. I am writing this blog because i want to. Simple as that. So don't question me, 'coz i'm not questioning you on how you run your life.(HAHAHAHAHAHA) Kidding! I became Hillary there just for a second. (Hi Hillary! hahahah smile Hillary! hahaha) Anyways, so who am I really? Who is Lady Khokarjamal69? Well, stay tuned 'coz that'll be, maybe, my next blog. Maybe I'll tell you who I really am at the end of this blog or maybe you already know basing on how I write this blog? *wink*
I just finished watching a movie by the way and well, let me tell you about it. Imagine you are all alone in a room, you're watching a movie and you get the feeling that someone is behind you, that someone is looking at you. Goosebumps right? That's what I'm experiencing every time I watch a horror film. The feeling of watching this kind of genre is creepy but thrilling! This is not my first time watching this movie but it gave me the creeps so I decided to watch it again.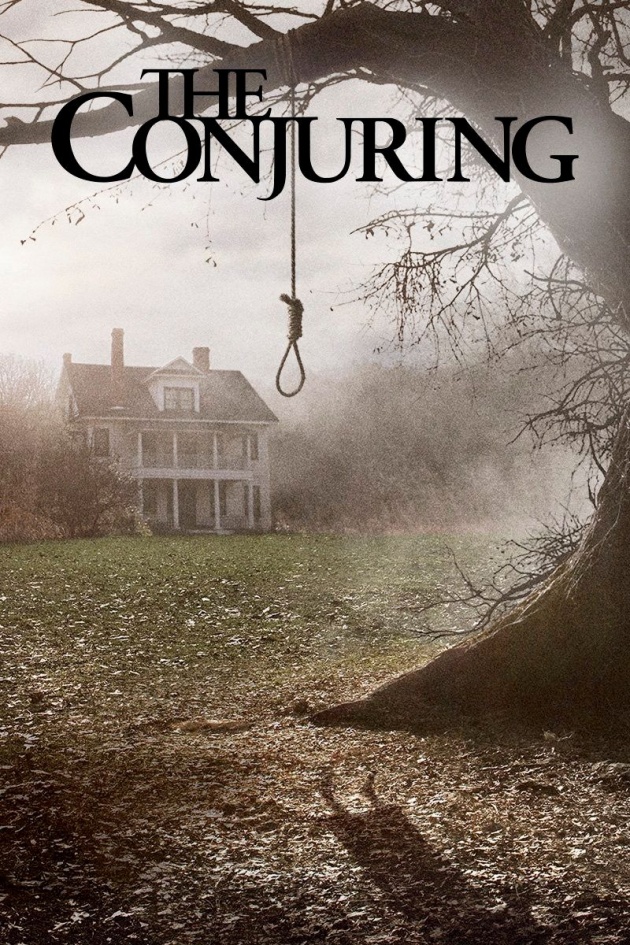 (DISCLAIMER: Photo above is not mine. This photo belongs to those who owns it. I took this image from Google.com.)
This blog is a film review of the 2013 horror film, The Conjuring directed by James Wan — a film director, screen writer and a producer who is best known for directing horror films. So, are you ready to get spooked out?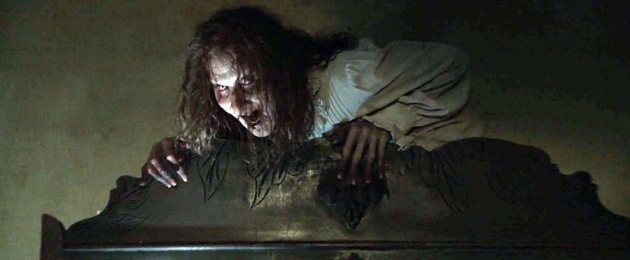 (DISCLAIMER: Photo above is not mine. This photo belongs to those who owns it. I took this image from Google.com.)
Let's start by giving you a little sneak peak on what the story is all about. The story started when the Perron family moved to a farmhouse in Harrisville, Rhode Island where they lived as a happy family before things got a little unspeakable for them. It first started when their dog, Sadie, who refused to get inside the farmhouse, was found dead in the backyard. After that, some paranormal activity was happening right in front of their eyes. Caroline Perron was folding clothes when she heard someone is clapping which is a code of their game. She went to her daughters' room to tell them to go to sleep since it was already late but found out that everyone were all fast asleep. Puzzled, she turned around to finish what she was doing but the picture frames suddenly fell off from the wall of the stairway. Startled, she heard laughter from the basement in which the door of the said room slowly opened. She went inside to look into what's happening but Caroline got trapped inside the room in which the ghost was also there clapping behind her. Since things got worse, Caroline asked for help to the paranormal investigators, Ed and Lorrainne Warren. The Warren's discovered that the farmhouse was once owned by a witch named Bathsheba Sherman who sacrificed her one week old child to the devil, cursed all those who took all her land in which the farmhouse was built and committed suicide by hanging herself to a tree. After the discovery, things worsen.
See the trailer below.
After watching the movie, I was frankly a little bit freaked out that The Conjuring was based on a true story. Imagine if it happened to your family, would you survive it? It would make you crazy! Well, it would make me crazy! Horror films and ghost stories are my thing, I would like to go to some haunted places and get the feeling that someone who is inhuman is beside you or looking at you, but the idea of the a demonic spirit would possess you or touches you is insane!
I love movies, I mean, not just the story of the movie but the cinematography as well. In the hit horror film The Conjuring, the chosen casts of the film are excellent. They truly showed you how one would react to a certain situation, of course these actors are not just some lame actors that you see in some lame movies that portray one's character badly, some of these actors got awards.
The following below is list of the main casts of the said movie, The Conjuring:
Patrick Wilson as Ed Warren
Vera Farmiga as Lorraine Warren
Lili Taylor as Carolyn Perron
Ron Livingston as Roger Perron
Shanley Caswell as Andrea Perron
Hayley McFarland as Nancy Perron
Joey King as Christine Perron
Mackenzie Foy as Cindy Perron
Kyla Deaver as April Perron
Shannon Kook as Drew Thomas
John Brotherton as Brad Hamilton
Sterling Jerins as Judy Warren
Steve Coulter as Father Gordon
Joseph Bishara as Bathsheba Sherman
Morganna May as Debbie
Amy Tipton as Camilla
Christof Veillon as Maurice
The real Lorraine Warren was also part of the film as woman in audience (cameo)
Awesome lineup right? Since you already have an idea on what the movie is all about, let's start giving some review, shall we?
As I've look more closely into the cinematography of the film, it has the usual big haunted house far from the civilization, has a big dead tree and an eerie body of water which is usually a lake. Common, but it still portrays a creepy setting and is not bad for a horror film. The structure of the story is good, some of the story line was predictable but still manage to make you jump off your seat. And as for the music and sound effects chosen by Joseph Bishara, the composer in the film, it was epic! They really chose some good music that will give you chills right to your bones!
If I were to rate the movie, though there are parts that I didn't like, I would still rate it as excellent since the film really got me. (So, let me borrow some stars Hillary, five stars if you may please? Just rate this blog as a 5 star blog please. hahaha)
If you haven't watched the full movie yet, let me give you a link for The Conjuring full movie, just click the link below and you're good to go! Be sure to ready your snacks before you click play though, 'coz you won't be able to take your eyes off the screen!
"I am not a sissy, so I will click this link and watch the full movie online."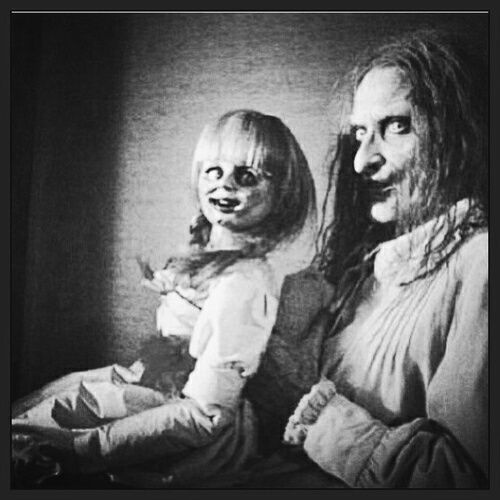 (DISCLAIMER: Photo above is not mine. This photo belongs to those who owns it. I took this image from Google.com.)
DID YOU KNOW?
"Eight generations of families lived and died in the house before the Perrons moved in. Andrea Perron suggests that some of the spirits from the families never left. Deaths include two documented suicides, a poisoning death, the rape and murder of an 11-year old girl, two drownings, and the passing of four men who froze to death. Most deaths occurred within the Arnold family from which Bathsheba Sherman was descended." -IMDb
"When the real life family that the film is based on, named the Perrons, visited the set locate in North Caroline, they felt a cool wind whip throughout the set. They also noticed that the intense, sudden draft did not move or shake any trees." -IMDb
"The film broke box office records after bringing in a total of $41 million at the box office during its opening weekend. It stands as the third highest grossing opening weekend for an R-rated horror film behind Paranormal Activity 3 (2011) and Hannibal (2001). The Conjuring made a total of $137 million at the box office." -IMDb
"The 19th biggest grossing film of 2013." -IMDb
"The Conjuring 2, also known under the working title of The Conjuring 2: The Enfield Poltergeist, is an upcoming American supernatural horror film directed by James Wan. The film was written by Carey Hayes, Chad Hayes, Wan, and David Leslie Johnson. It is the sequel to the horror film The Conjuring, which was released on July 19, 2013." --Wikipedia
By the way, I won't tell you who this lady khokarjamal69 for now coz I want you to wonder. (hahaha! If only you can see my face right now, it's like one of those memes you see online. ) But seriously speaking, I'll explain it next time why I am writing here and not on my page. But if you already guessed who am I or know who I really am then please post your comment below 'coz I would love to read them! Also, tell me what you think of the movie bitsers!
Until my next blog!
See you later alligator!
—Lady Khokarjamal69