The Croods: A Good Movie to Watch on Father's Day
The Father
No one can deny the love of a father for his family, if he isn't an abusive one. They always make sure that they can provide for their family life's necessities and if it permits, their wants also. As we grow up, they also make sure to guide us to the right path so that we become an asset to society and be successful in life. They truly have unconditional love for their children, sacrificing their life in order for us to live comfortably as possible.
Grug hugs Eep in The Croods. Photo credit: gofatherhood.com
Sometimes, out of fear for danger, they become overprotective towards us, letting us feel that we are trapped in their "awful" parenting style. But as we grow old and understand things, we realize that all they want is to keep us safe and well. Their ways might look and sound primitive and old fashioned, but it is because of the manner in how they were brought up and realize what are the right things to teach to their progeny that they apply such rules when they were taking care of us.
The Croods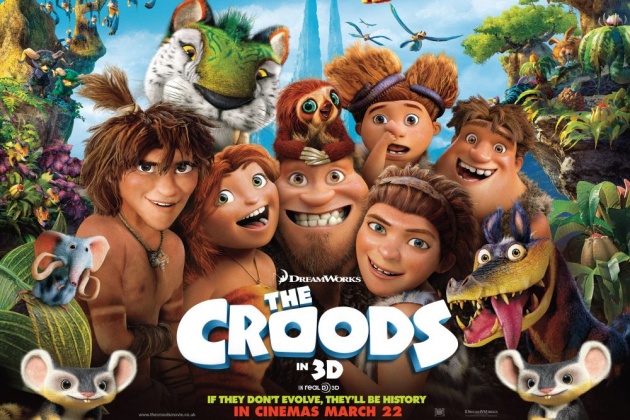 L-R: Guy, Chunky (tiger), Eep, Belt (sloth), Grug, Sandy, Ugga, Thump, Douglas (gator). Photo credit: femalefirst.co.uk
Characters
Grug
Grug is the patriarch of the Croods. He's plans all of his family's hunting trips and makes sure that they survive each day. This makes him a bit overprotective. He's also wary of the unconventional ways.
Ugga
Ugga is the matriarch of the Croods. She's smart and generally supportive of Grug. She always looks out for their youngest daughter, Sandy.
Eep
Eep is the seemingly rebellious teen of the family. She seems the eldest among the three siblings. She's curious and likes to explore things, in which this trait of hers clashes with his father, Grug.
Thunk
Thunk is the 9-year old son of Grug and Ugga. He's a plump kid who is more docile and follows the rules of his father. He's sometimes clumsy but makes up for it by being adorable.
Sandy
Sandy is youngest child of Grug and Ugga. She doesn't talk at all and often acts aggressive. She's a toddler and is entertained by small things.
Gran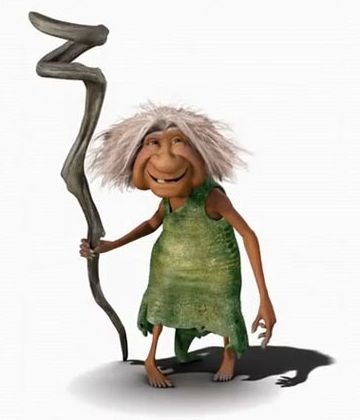 Photo credit: xXCrossArrowXx via the-croods.wikia.com
Gran is Ugga's mother. She's sarcastic towards Grug and vice-versa. She carries and crooked wooden staff which she uses in a variety of ways.
Guy
Orginally not a Crood, until Grug welcomes him in the family in the end. He's very smart and inventive and helps the Croods escape "the apocalypse." He's also Eep's love interest.
The Animals
These animals became a member of the Croods as pets: Chunky – the big headed cat which wants to maul the Croods at first and is afraid of the dark, Douglas – the crocodile-like dog who befriends Thunk, and Belt – the sloth animal of Guy who acts as a makeshift belt.
Summary
Video credit: Dreamworks TV via youtube.com
Warning: Spoilers.
The Croods are troglodytes, cavemen (and women) whose patriarch always instills in his family to always hide in a cave. They hunt for food in the morning and immediately go back to their so-called home because there are large beasts roaming around at night. They had neighbors before but they are now gone because they weren't careful. The Croods managed to survive because of Grug's rules.
"Never not be afraid."

- Grug to his family, The Croods
But Eep, Grug's oldest child, likes to explore the world. One night, when they were all sleeping, Eep sneaks out of their cave to look for a strange light. She finds out its source (fire) and meets a strange person named Guy, with his sloth friend, Belt. Guy tells her that the world is ending and they need to evacuate their homes and make an exodus towards the far mountain. Eep can't go with him that time so he gave her a conch to sound it in case she needs him.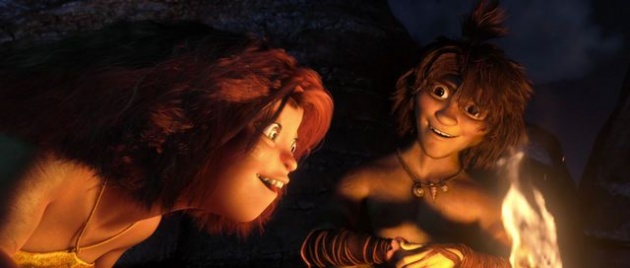 Guy introduces Eep to fire. Photo credit: hero.wikia.com
Grug comes looking for her and when they meet and go back to their cave, Eep tells them what Guy told her. Out of fear for the new idea, they destroy the conch. Immediately the ground shook, destroyed their home and were forced to flee on the expanse behind their cave, which is a lush forest all along.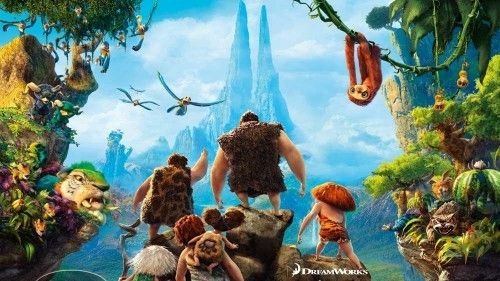 The tropical forest. Photo credit: movieboozer.com
The creatures in the forest seemed wild. When they reached a clearing, a swarm of carnivorous birds were out of eat them, so Eep got a hold of a horn and blow it until Guy hears it and helps them shoo away the birds by using fire. The Croods, except Eep, mishandles the fire and burn a chunkful of vegetation in the forest. For fear of fire and Guy's ideas of fleeing to the mountain, Grug encapsulates Guy in a log.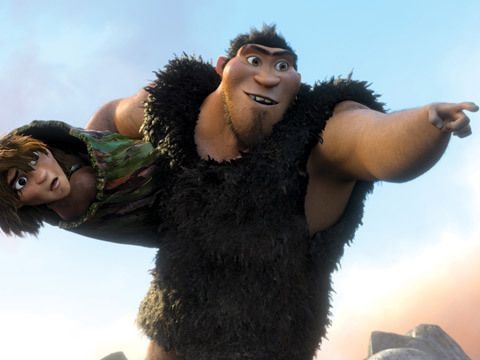 Guy in a log with Grug carrying him. Photo credit: XXCrossArrowXx via the-croods.wikia.com
When they were hungry, Grug commands Thunk to capture a bird's egg, but they got a scorpion instead. They were still hungry because of their trip, so Guy teaches Eep how to hunt a bird. They ravenously eat the cooked bird and had a talk with Guy that they would follow him in the mountain and ride "Tomorrow," from Guy's tiger tale. Grug was jealous of Guy and reluctant of his ideas.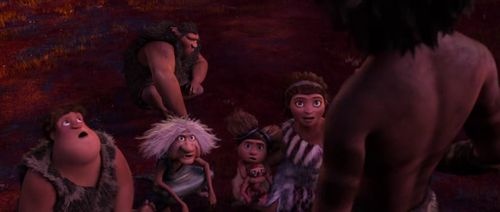 Guy telling a story. Photo credit: gluttenchi.tumblr.com
They make way to the mountain (Thunk finds Douglas around this time), overcoming terrains and obstacles with the help of Guy, which made Grug even more jealous. Grug's ideas draw him farther away from his family, until he puts up a fight with Guy and gets them accidentally trapped in a tar pit. They make amends with each other and teamed up so they can get out of the pit (luring Chunky to pull them up). Grug acknowledges Guy's way of living and they continue to travail the mountain.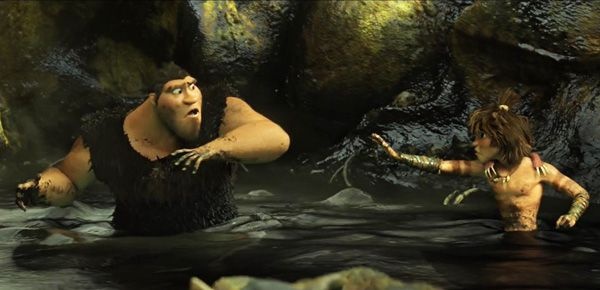 Grug and Guy trapped in tar pit. Photo credit: basementrejects.com
They reach the mountain and about to cross to the other side when an earthquake hit again, creating a rift. Grug then sacrifices himself by throwing everyone to the other side. He settles in a cave until Chunky joins him, out of fear. He then thought of a way to cross the rift by sticking the carnivorous birds using tar on top of a giant ribcage he, Chunky and the other animals are contained in. The plan was success and he, along with their new pets, reunite with his family.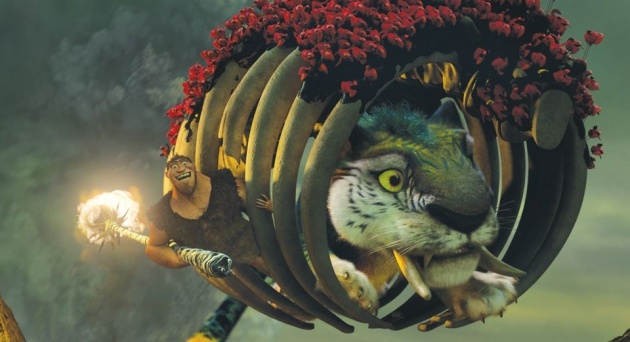 Grug's makeshift blimp. Photo credit: the-croods.wikia.com
Concept and Moral
Video credit:
Dreamworks TV
via
youtube.com
"T-that's alright, I ate last week."

- Grug to his family, The Croods
It's such a surprising coincidence that we watched this on Father's Day (no one had a clue about the story). It was indeed a touching display of how much can a father sacrifice in order for him to save his family.
I find parallelism in Grug's parenting style and in the era it was made. While the terrain, animals and even the Croods are fictional, they have established it as the era of cavemen, with matching animal hide and fur for clothes. And like Grug's way of rearing, it is also primitive and old-fashioned. Yet, sometimes, being like that can work in this modern age. But we must also accept new and unconventional ways because it helps us overcome other bumps on the road that old ways cannot solve.
Belated Happy Father's Day! Watch it and appreciate your loving father.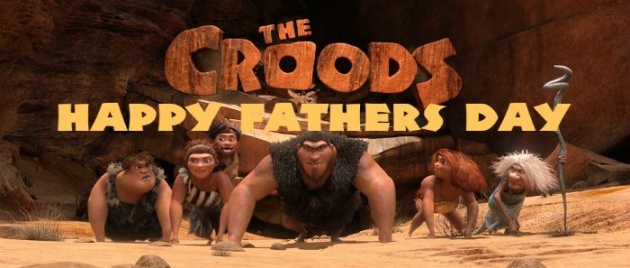 Edited. Photo credit: cantstopthemovies.com
Disclaimer: pictures, videos and write up are originally shot/written by lapiz-lazuli, unless otherwise stated. The Croods (digital content, merchandise) is property of Dreamworks Animation. Views and opinions on this blog post are truthful, but subjective, and are not influenced by sponsorship of any sort.