What do you really know about FilmAnnex? There's so much to find on FilmAnnex and so many new changes happening. As a registered user, you are experiencing the "New Film Annex" which is the #SocialMediaThatPays. With all the changes and additions, we decided to broaden our corporate website name to:

Platforms:
You might begin to wonder, what is it all about really? In addition to Film Annex, we also have Models Web TV for fashion, and Women's Annex for woman's issues and conversation Yes, it is.
In the Community:
Are they really reaching into developing countries to support economic growth, and paying the winners of a National Judo competition, with a new digital currency called Bitcoin? Yes, they are. Did I see FilmAnnex both at the New York Film Festival and on the TIME 100 red carpet? Well yes, you did. FilmAnnex is rapidly growing, expanding, and connecting with the global online community. Check out this new 2 minute promo video that gives you a glimpse into the wide world of Film Annex Networks.
FilmAnnex started out as a simple film distribution platform, you upload your content and make money. It's still that, but it now includes so much more!
Our Foundation:
Let's start with Women's Annex Foundation, a 501 (c)(3) organization, whose mission is to empower women and girls in Central Asia and Mexico. Women's Annex Foundation is changing lives through digital literacy in Afghanistan and other places around the globe. Women's Annex comes from Film Annex but is now an independent entity. Next we have Models Web TV, a fashion film distribution platform, where you can view gorgeous men and women such as Adrianna Lima giving interviews or walking the runway. This web tv has an online audience numbering 4.5 million unique viewers per month as well as 250,000 followers on Facebook.
Social Media That Pays:
Finally there's the blood that pumps through FilmAnnex, and keeps it running, and that is the BuzzScore. The Buzz score is what keeps the filmmakers, writers, models, directors, and reporters coming back for more at FilmAnnex. The Buzz score measures user interactivity, frequency of their posts, and how popular they are on the FilmAnnex network with other users. It's Klout but specially made and formulated for FilmAnnex users. This unique formula also determines how much money you make from your presence on FilmAnnex. Anyone can make money on FilmAnnex if they maintain an active presence on the site.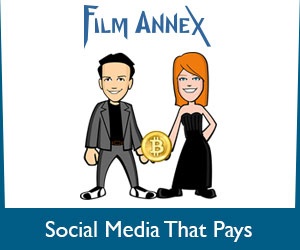 How do we summarize all this in a bite sized package?
FilmAnnex is a filmmakers platform, a digital empowerment platform, a writers platform, a fashion hub, and a singular example of "Social Media That Pays."