The Filipino Cuisine
Food in the Philippines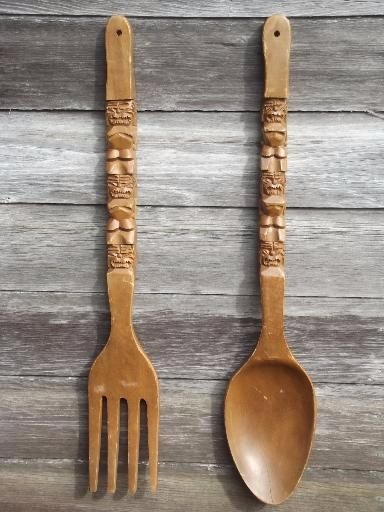 Photo credit: laurelleaffarm.com
Food is cheap in the Philippines. A Big Mac (ala carte) at McD's would only cost you about 3USD. It would be posh if you would spend 60USD for lunch per person (of average weight and appetite, without ordering booze) on a fine dining restaurant in Manila. Granted, it won't be the most expensive on the menu, but still...
Though food is cheap, quality and taste aren't compromised. Sure, there are sloppy, bland or over-seasoned cuisines here and there, but food generally tastes good in our country. Filipinos are also food lovers, evident along our streets, as many eateries (big and small) are lined up from side to side on every turn.
I hope you would visit our country--not just for the scenery and attractions, but also for our fusion of entrees because of our mixed influences from different foreign settlers plus our original cuisines...and the taste! Gotta put emphasis on the taste. Here's a video where Aussies try out Filipino food:
Video credit:
buzzfeedvideo
via
youtube.com
The Viand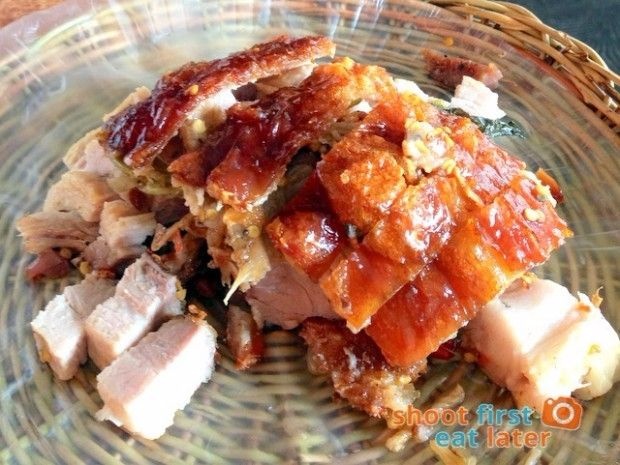 Lechon. Photo credit: shootfirsteatlater.com
In this blog entry, I would like to talk about some common viands in the Philippines. In Filipino lingo, a viand (Filipino: ulam, pronounced as oo-lam) is a meat or vegetable dish that you pair up with a cup (or two, even three) of rice. They usually have liquidy substance called "sabaw" (broth) that some Filipinos smother their rice with (I usually do, because it adds flavor to rice).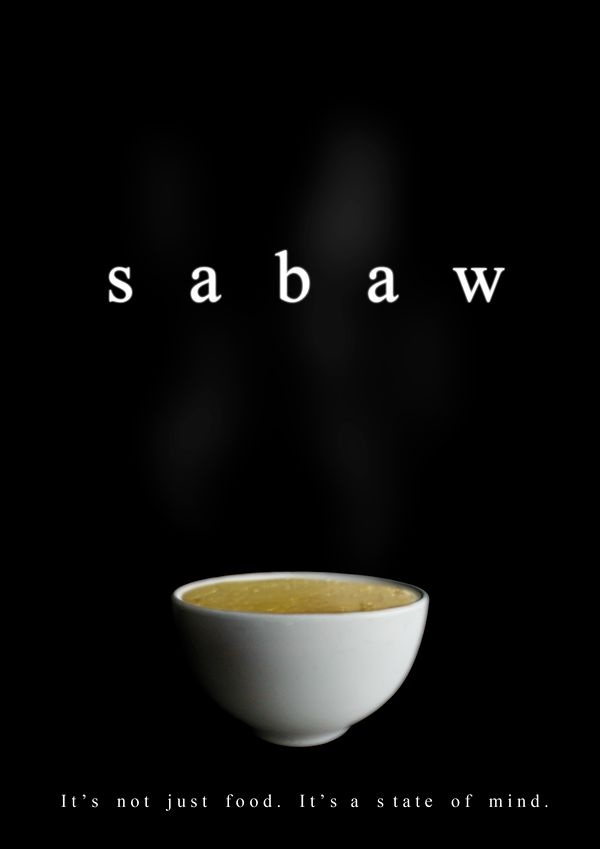 Photo credit: 13secondstolove via deviantart.com
Some viands, however, are plain and dry like fried chicken. But these kinds of "ulam" are commonly paired with condiments such as Sweet and Spicy catsup, Toyomansi (soy sauce and calamondin), or the infamous Mang Tomas Sauce. Yum.
So, let's get on with the list...
Kare-Kare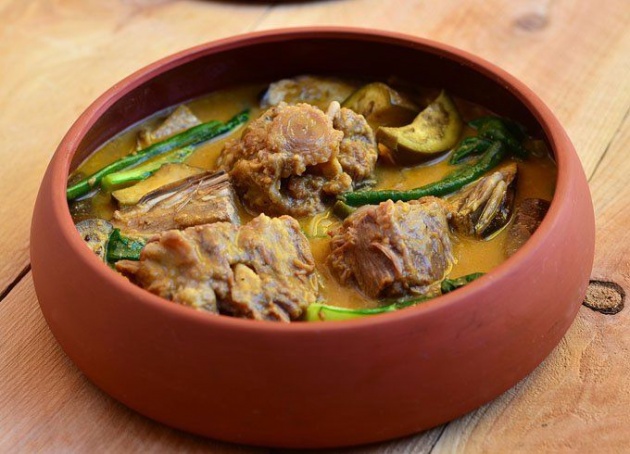 Photo credit: kawalingpinoy.com
This dish is said to have originated in Pampanga, or from Indian traders wanting to make curry but ended up using those then available ingredients in the Philippines. The word really stemmed from the word "curry" but Kare-kare's taste really differs from curry because it isn't spicy and because of its sauce (that's made of peanuts).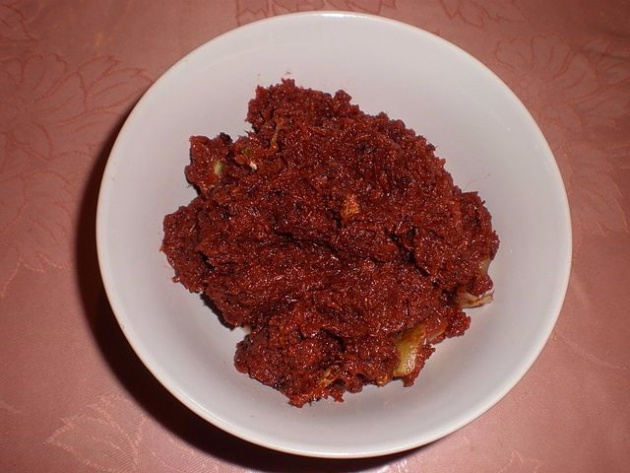 Bagoong. Photo credit: BrokenSphere via commons.wikimedia.org
You will really taste its nuttiness, but without little Bagoong (shrimp paste) to add to every spoonful, you may consider this dish almost tasteless. Kare-kare mostly has all sorts of uncanny meat ingredients most westerners discard such as oxtail or tripe. Vegetable ingredients include bok choy, eggplant, banana blossom (puso ng saging), and string beans (sitaw). It is colored yellowish brown because of annatto.
Sabaw meter: 3/5 (it's thick and usually scarce but a little goes a long way)
Sinigang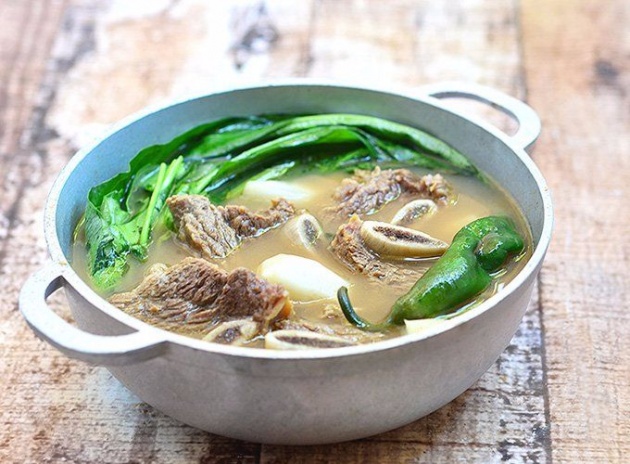 Photo credit: kawalingpinoy.com
Believe it or not, this Filipino cuisine is considered a soup, but it is a main course entree. Though originally created in the Philippines, it is similar to a dish in Malaysia. Sinigang can be made with pork, chicken, beef, fish or shrimp, added with vegetables like taro, radish, water spinach, okra, string beans, tomatoes, garlic and onion.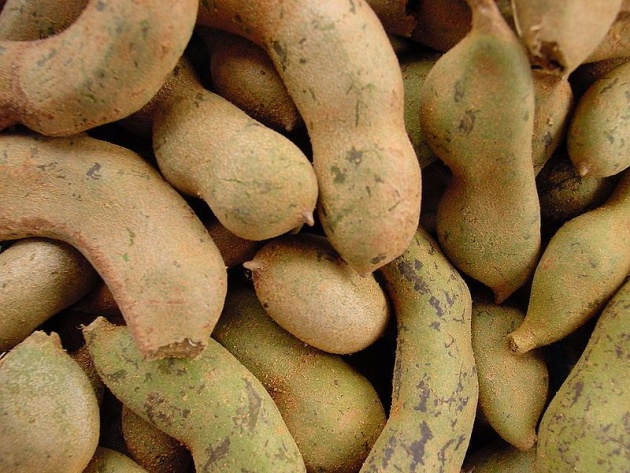 Photo credit: Trengarasu via commons.wikimedia.org
The real star of this viand, however, is the tamarind (sampalok), especially in the rich and viscous broth. You can't have authentic sinigang without this plant of the legume family, but the workaround is in using a pre-made tamarind powder mix similar to this one. They made one for our convenience because it is that common a dish. This is a sour-tasting soup because of the tamarind with a bit of saltiness from the fish sauce.
Sabaw meter: 5/5 (duh, it's soup)
Nilaga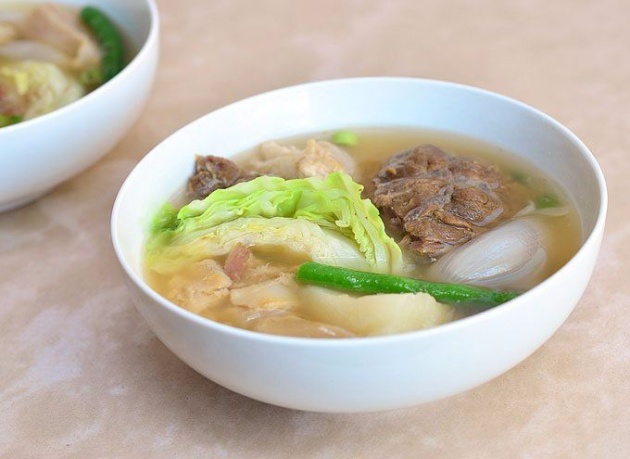 Photo credit: kawalingpinoy.com
Another soup on this entry is the Nilaga. The word literally means boiled. You don't have to sautee garlic, onion and tomatoes to make this dish, so it differs from cocido, a Spanish cuisine, yet the Spaniards also taught Filipinos this entree.
Pork, beef, or even fish (the dish is called Pesa, from the word pesce (pescetarian), from pisces (zodiac sign), which means fish) are the usual meat ingredients in Nilaga. The recipe calls for potatoes, bok choy, cabbage, and onions. Others add in corn and banana (saba variant) for an added taste.
This soup tastes a little salty but others mix in a bit of fish sauce to their own serving to add some oomph to the flavor. You may taste some sweetness from the banana, if you catch one into your plate.
Sabaw meter: 5/5 (yes! Drench your cooked rice in this)
Adobo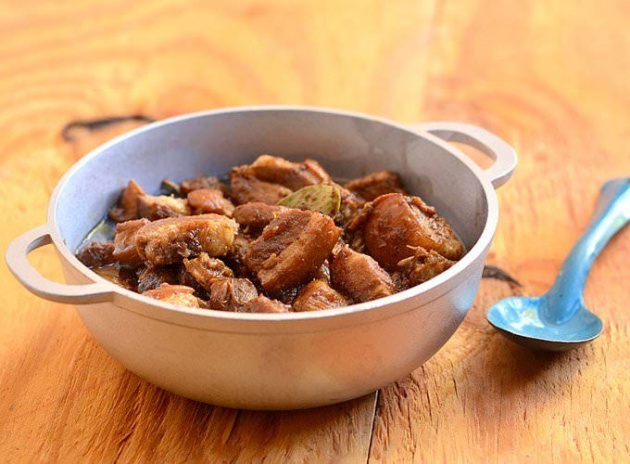 Photo credit: kawalingpinoy.com
This is probably the most popular Filipino dish in the world; there had been a movie related to the dish that is entitled American Adobo. Another dish of Spanish origin, the word Adobo stemmed from "adobar," meaning marinade or sauce. Its real, original name had been lost in time, and only this method or food preservation (marinade in vinegar, "adobar") was kept in the records.
This cuisine is one of the easiest to make, so maybe that's why many Filipinos often cook Adobo. You just pour in soy sauce and vinegar in a 2:1 ratio, add crushed garlic, several peppercorns and a couple of laurel leaves into the mixture. This mix will serve as the marinade and at the same time the broth, so after soaking your meat of choice (chicken, pork or beef) with this for a hour to overnight, you can cook it until the meat becomes soft and chewable.
The longer you soak the meat in the mixture, the tastier it will be. Most of the time, the vinegar-soy sauce evaporates even before the meat gets cooked thoroughly; add in water when this problem arise. If you don't like the too salty or sour taste, you can add in some brown sugar, even soda (Sprite/7-Up) while it cooks.
Sabaw meter: 3/5 (runny and oily, sometimes adequate)
Chop Suey
Waiter! Pa-order naman ako ng Porkchop
At tsaka ng dalawa ngang kanin
Lagyan mo na rin ng konting ketchup
Meron ba kayong chop suey? (wala po)
Meron ba kayong Adobo? (wala rin po)
Meron ba kayong Bulalo? (ubos na po)
Meron bang kahit na ano? (wala)
Wala?!

- Parokya ni Edgar, The Ordertaker lyrics
English Translation:
Waiter! Can I order some Porkchop?
And two cups of Rice
Also pour in a little Ketchup
Do you have Chopsuey? (None)
Do you have Adobo? (None also)
Do you have Bulalo? (None left)
Do you have anything? (None)
None?!

- The Ordertaker lyrics translated by lapiz-lazuli
Parokya ni Edgar - The Ordertaker
. Video credit:
parokyaniedgarvideos
via
youtube.com
Whenever I hear or read the words "chop suey," I remember System of a Down's song with the same title. It has little to do with the food though, so I think that made one of our local bands come up with a parody of their composition (plus another of System of a Down's song, Toxicity) just so it can relate to food. The Ordertaker was born since, which I managed to include in this entry some of its Filipino lyrics and its English translation.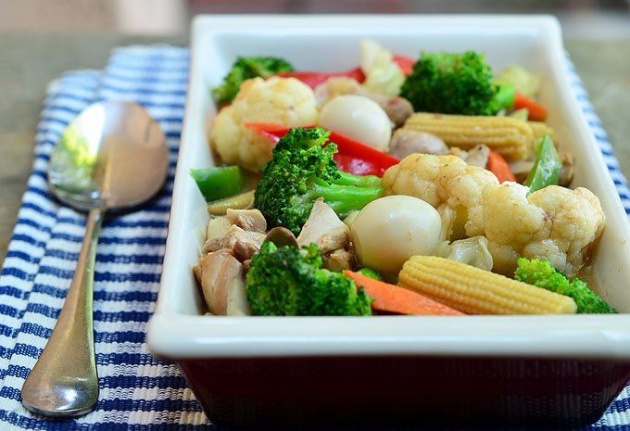 Photo credit: kawalingpinoy.com
But let's get back to the food. You can indeed tell by the name that it was made by the Chinese. Surprisingly, the recipe came into fruitition while the Chinese expats were in America! The flavor is a fusion of American-Chinese cuisine, so this is an east meets west kind of affair.
Most of its ingredients are vegetables: red bell pepper, green bell pepper, cauliflower, carrots, onions, and garlic, and the meat of choice and quail eggs aren't the main stars of the dish because they are barely added. The dish is appended with shrimp boullion cube and oyster sauce, to build up flavor. As for the taste, you just have to try it to accurately decribe it.
Sabaw meter: 2/5 (barely there)
Comment for Part 2?!
There are still a handful of Pinoy dishes that I haven't talked about that are worth mentioning. If I'd be blessed with diligence next week maybe I'll make part 2. But who knows, right? I hope you enjoyed learning from our cuisine, at the same time are eager to try out one of these!
If you're on a diet, I suggest you answer this Querlo survey chat so you can be self-aware of your needs:
For Muslim readers, pardon me if I mentioned non-Halal food. I think you can alternate pork with other meat for most--if not, all--recipes on this list.
Disclaimer: This is an original lapiz-lazuli writeup. Pictures and videos are credited to their rightful owners.