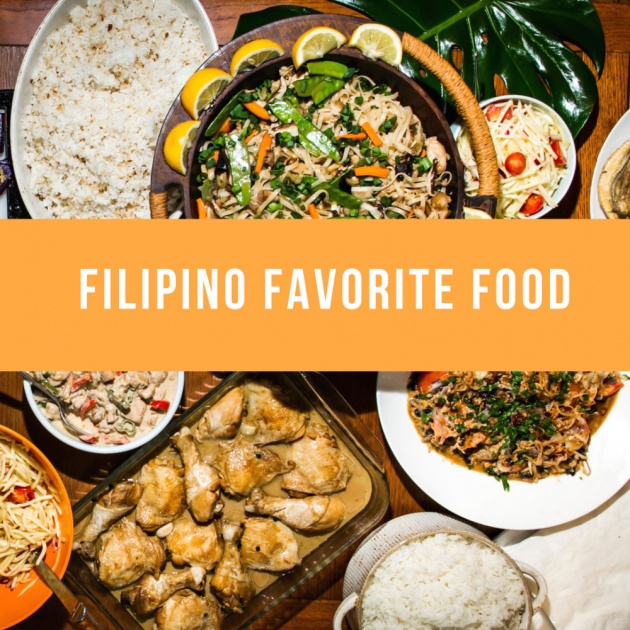 Image edited in Canva credits: Jean Beltran via bitLanders
Due to the number of other nationalities which had reigned over the Philippine country for years, there are also different kinds and varieties of foods which had been known to the Filipino taste. The specific countries which had ruled over the Philippines are Spain, US, Japan. But aside from that, there were also other nationalities who had come to pay a visit to the Philippines and had influenced us a lot specifically the Chinese people.
Today, let me show you some of the dishes which may or may not really originally Filipino food but are mostly present during Filipino celebrations and events, these can be spotted too even on a normal day to day life as a Filipino, moms prepare it and kids love them, even the adult ones.
Video credits: stillsoundlyawake via YouTube

This is actually an old blog and which I had never been able to finish. I suppose to finish the first blog post posted before but then I thought it would be better to just create a brand new post instead because looking for the previous blog would take some time. I am hoping that I would be able to finish it no matter what.
Filipinos love to eat, this month of May is the "Fiesta Month of Bohol", which means every single day, there's a fiesta somewhere and decades before, fiestas there in Bohol means anyone can walk into anyone's house and will be given something to eat. I remember my grandparents telling us before that some who are from different towns of the province would just be walking from their town down to the farthest and they'll never go hungry because every home is accommodating and they'll surely have something to eat because of the fiesta.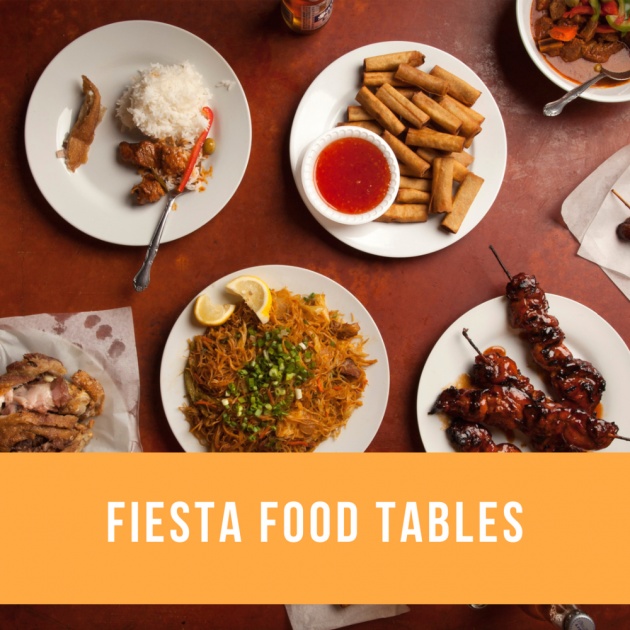 Image edited in Canva credits: Jean Beltran via bitLanders
But things had somehow changed because of different circumstances however, Fiesta is still present this day and what better way to recall fiestas than enumerating the most common Filipino food dishes and recipes prepped into the tables during these days.
1. Pancit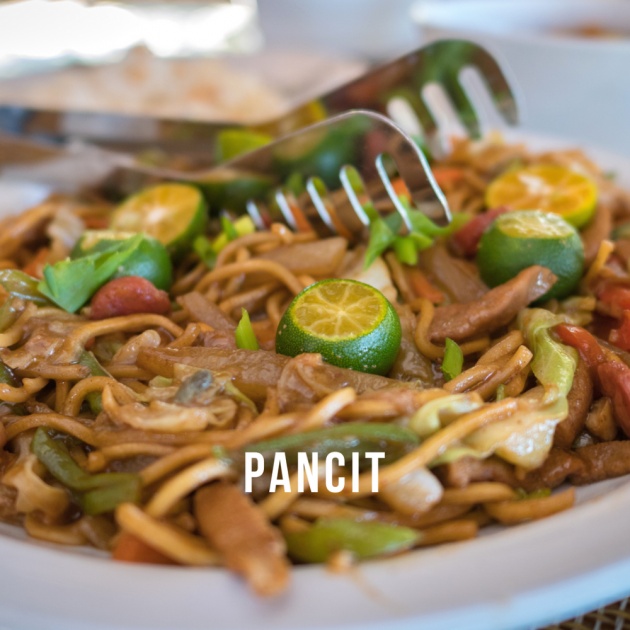 Image edited in Canva credits: Jean Beltran via bitLanders
The term "pancit" is derived from the Hokkien "pian i sit" which means "something conveniently cooked fast. Well, it seems Filipinos are into these type of cooking that of which are cooked easily and fast. Filipinos want to eat as soon as possible that is the reason behind the spiked number of fast food chains and whatever which serve fast cooked foodies.
Pancit, however, is perhaps one of the dishes which can be seen in any celebration within the Philippines. It is super common that sometimes people tend to ignore it. But Filipinos as creative as we are, we had created a lot of variations to it.
Image credits: mycitymysm
There's sotanghon guisado, bam-i, crispy noodles, pancit bihon, pancit canton, Lomi, pancit palabok, pancit habhab, pancit Miki guisado, pancit bato, pancit udon, pancit sotanghon, pancit Malabon, batchoy and a lot more which are not on this list.
There's more to that list but for sure whenever a celebration comes up, pancit is already included because we also believe that eating one will elongate the lifespan of that individual.
2. Lumpia
Image credits: onegreenplanet
Fukien Chinese immigrants brought this to the country but we Filipinos as food lovers had adapted it and made it as one of the most popular Filipino food to find in any special event. Most restaurants if not all are offering this, there are different variations for it but "Lumpiang Shanghai" is probably the most famous.
However, there are other types like vegetable stuffing or even with just "taogi" in it just like how the Shanghai contains mainly pork meat.
Image credits: obsessivecooking
Fresh lumpia is yet another type which is made of vegetables and a fresh wrapper, some would take pride with their homemade fresh wrappers, I had personally eaten one with a wrapper made of Moringa leaves. It was one of the best fresh lumpia I had ever tasted and I love that it is homemade!
Lumpia is best eaten with a dip which is usually made of either sweet and sour sauce with some spices in it or just plain vinegar would do. Of course, I am salivating now while writing this.
3. Filipino Spaghetti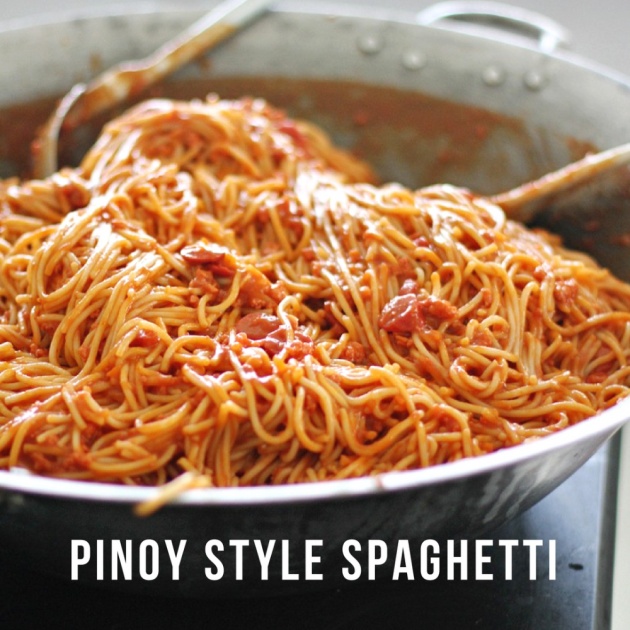 Image edited in Canva credits: Jean Beltran via bitLanders
If there's pancit, there's also spaghetti, an all-time favorite of every Filipino kid. I lived my entire childhood looking forward to birthday parties and other children events because spaghetti will definitely be served during the celebration.
Sweet and meaty with lots of cheese, that's how Filipinos, children or adult alike would like to have their spaghetti served. We all love seeing our spaghetti red with full of sauce!
With the introduction of Jollibee which has the yummiest spaghetti at least for the Filipino kids, the food chain has even become the most favorite fast food restaurants in the country. Before, when I buy this in Jollibee, I would always ask the teller to give me more sauce, this is free and they'll serve it with really a lot of sauce.
4. Adobong Manok (Chicken Adobo)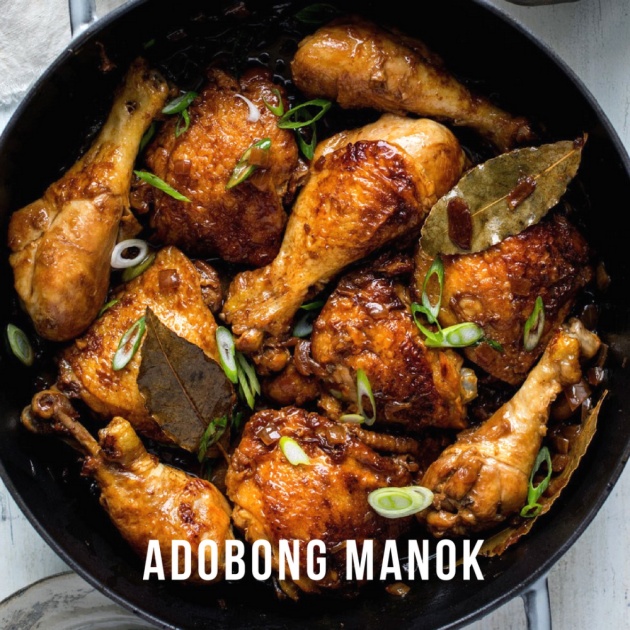 Image edited in Canva credits: Jean Beltran via bitLanders
Probably the most famous dish by the Filipinos and is each of our favorite Filipino food. Even if one might have become vegetarian or vegan now, once in their lives, they had eaten adobong manok.
It's tasty and very flavorful which keeps every Filipino family full. With simple ingredients and easy cooking, adobo is definitely available in every Filipino celebration table. Its main ingredients are very easy to find, soy sauce, vinegar, salt and pepper, sugar may also be added and some garlic and bay leaf to combine into cut chicken pieces! Although there are also different types of cooking this because of some likes it with a little liquid while some would prefer their adobo to be dry. It depends but all of them are yummy!
Image credits: corkandspoon
I personally had cooked this a lot of times and I swear it is always a hit although some ingredients may be missing like the bay leaf. This dish is also famous even to non-Filipinos! I noticed foreigners loving adobong manok whenever they are asked which Filipino food is their favorite.
5. Lechon
Image credits: angkaladkarin
It was because of the Spaniards who had ruled over the Philippines for hundreds of years. Cebu specifically has been declared as having the best "lechon" but everywhere in the country except perhaps for those Muslim areas, lechon is being cooked and served.
Lechon is actually a whole pig cooked over charcoal, it requires hours of turning and grilling, slowly but surely making that the skin and the meat inside are cooked all together. Most Filipinos love the crispy skin and although it has been advised that eating Lechon skin and Lechon itself increases high blood pressure and such diseases, Filipinos still love to have Lechon on their table tops during events and special occasions.
Video credits: GMA Public Affairs via YouTube

In fact, it is available all year long, there are several stores and restaurants which are offering this even during normal days.
There you have it! If you are a Filipino, you sure can relate to this list of Filipino food which is not really pure Filipino but has been already embraced by our culture and our taste buds!
This blog entry was written and published by Jean Beltran-Figues for bitlanders.com.