GIF source: gifs.com
Misbah-ul-Haq after the end of his last test match.
It was August, 2010, when Pakistan Cricket Team was playing its final test match against England in England. It was just a normal day for everyone except the Pakistanis and cricket fans. I remember it was the holy month of Ramadan, the whole nation was in dazzled and shocked about the news they had heard. Yes, the news was that "Three Pakistani Players were found in a spot-fixing scandal " including the test captain of Pakistan, which was enough to bring the disgrace to the entire Pakistani nation and to bow their heads down. From this we can easily measure, what was happening with the team who was there and had a full tour ahead. The talks were started about the future of Pakistan Cricket and more than that all the people, including the Pakistani's were thinking that after now who is going to lead the Pakistani Test Team? Because the one who take this responsibility have to overcome the pressure and deal with the hostility in a perfect storm. Suddenly a name comes up, the name of a person who wasn't even the part of the squad for the last few years and supposedly not familiar with the team, and the name was "Misbah-ul-Haq". Of course it was a bizarre decision, but later it proved to be a blessing in disguise.
Image credit: google.com
Misbah-ul-Haq doing press ups after scoring a century at the Lord's Cricket Ground.
Flashback of Misbah's career
Image credit: EspnCricinfo.com
Misbah-ul-Haq after dismissed by Shane Warne in 2002.
Misbah-ul-Haq made his International debut in a test match played against New Zealand in 2001. After some tours, he disappeared from the International team. Coming back to the drawing board in World T20 2007, Misbah showed his existence as the fine hitter of the ball and left a deep impact in that tournament. That was the occasion when the World of cricket actually recognized Misbah-ul-Haq. He was new for everyone except for those who've known him and had watched him playing before. Pakistan had reached the Final match of the World T20 2007 through the blistering batting of Misbah-ul-Haq. But barking up the wrong tree, Misbah-ul-Haq yet again failed to make Pakistan home by playing a scoop shot up through the keeper which resulted in a wicket as well as in the victory of India. With based on its tournament's performance, Misbah succeeds to make its place once again in the National side of all three formats. The clouds for Misbah are on the horizon as he struggles to keep its place in the team and eventually he dropped off.
Despite been discouraged by the lack of chances for the National team, the love and passion of Misbah for cricket was never ending. It was only his passion which continued him to play as he did.
Image credit: google.com
Misbah-ul-Haq playing the scoop shot after which he was dismissed as well as Pakistan also lost the final match.
Road to struggle…
The story of Misbah-ul-Haq's struggle is fascinating and disappointing as well. That time when Misbah made his International debut for the first time in 2001, He failed to score enough runs there. After which he dropped off from the team. That time was also meaningful for Misbah-ul-Haq as he was choosing his life partner for the rest of his life. In 2003, Misbah-ul-Haq started to play departmental cricket at Sui Gas Nothern Pipeline (S.N.G.P.L) where he still playing, and the he finally got married to Uzma Khan. But his marriage life wasn't like ours or the typical.
Image credit: ESPNCricinfo
Misbah-ul-Haq raising his bat after scoring a century for Pakistan A team.
"Finances were never a problem for us," says Uzma. "At the start he would give me Rs 10,000 to run the house and that used to be enough for us back then. And he got me a car so that I could travel to the university, where I was doing my Masters, so I always had freedom too. But I did keep hearing - though not from his friends and family - that he was never picked for the national team after our marriage, and it was my kismet (fortune) that was bringing him down."
In some subcontinental cultures, there is this idea that a bride brings her luck to her new home. "So I would blame myself for it," she says. "I would pray after Namaz, after Tahajjud, that God gives him everything he had wished for. All I prayed for was for him to get back in the team."
"At the start of 2007 he asked me to just give him six months or so," . "He told me he didn't want to go to any functions or weddings or birthdays. Just wanted to focus on his cricket.
"He had bought me a Sony video camera for our anniversary the previous year. He would take that camera to nets every day, record his batting, then come home and just go through that day's video during the night. That's all he did every night." – Uzma Khan (Misbah-ul-Haq's wife) tells ESPN Cricinfo
Misbah started playing test cricket at the age of 34. That's the age when a Australian player retires. According to his closest friend who is a former player of Pakistan Saeed Ajmal," One thing Misbah had in his mind was to never give up. He always comes out with a solution no matter what the problem is. "
We can easily estimate, how hardships and struggles did Misbah faced to make his comeback at the age of 34. He was previously discarded as he was too old to make an big impact in International Cricket. As Misbah also said recently, "I've always had my age as a disadvantage." At the time players actually retire at 33-34 age, Misbah had made his comeback and captaincy debut as well. This was all his commitment and focus which makes him survive and cricket is what He love most.
Road to the Pakistan's Victorius Captain: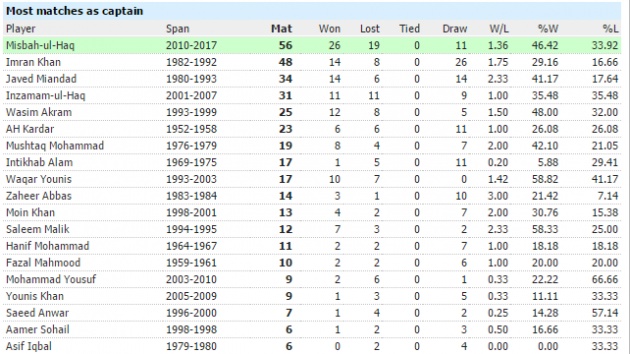 Image credit: ESPNCricinfo
Above is the list of Pakistan's victorious captains of all time.
After all of these Misbah-ul-Haq emerged as the best choice to lead the Pakistani test team after the spot fixing scandal which had declined the team moral massively. After taking the command in his own hand, all he did that he brings the whole team on one page and one direction. He didn't only captained Pakistan in test matches, but after a few months he also becomes the captain of all three formats. And under his leadership, Pakistan has collected some historical victories. Some of which are as follow:
Above are some achievements of Misbah-ul-Haq, which I only remember. There are many achievements under Misbah's belt except these. Above all of these, Pakistan became number one test team in the ICC Rankings for the first time in history. I am sure this is enough to prove, how Misbah-ul-Haq brings back the Pakistani team on the road to stability. Last but not least, Misbah-ul-Haq have 26 test wins under his belt, which makes him the most victorious captain of Pakistan ever nearly double to his closest Imran Khan and Javed Miandad which led in 14 wins.
Image credit: google.com
Misbah-ul-Haq recieving the prestigious test mace in reward for the number one test team by the ICC President David Richardson.
A role model to follow...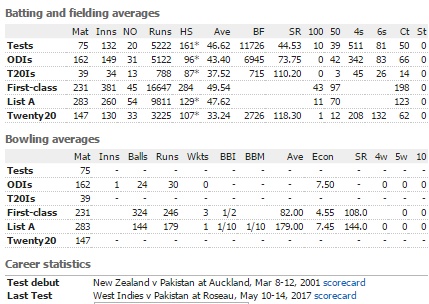 Image credit: ESPNCricinfo
Above is the career profile of Misbah-ul-Haq.
There are various things for which you can criticize Misbah, whether it's not leaving behind the legacy or being defensive in his career, playing with low strike rate. The truth above all is that Misbah-ul-Haq emerged as the best middle order batsman Pakistan ever had. He isn't only Pakistan victorious captain ever, but he still holds the record of World's fastest fifty in test cricket and second-joint fastest century in test cricket.
Video credit: youtube.com
Highlights of the World's fastest fifty and second joint fastest century in Test Matches.
'The most difficult task, you go there and do it yourself' - Misbah-ul-Haq
Image credit: google .com
Pakistani team bids farewell to Younis khan and Misbah-ul-Haq by carrying them on thier shoulders.
The whole career of Misbah-ul-haq is far away from controversies. The way he handled the criticism on him, and the way he led his team from the discoloration of spot fixing is exemplary. In fact, his career is the perfect lesson for the one to follow and his personality is a great role model for everyone.
Image Credit: google.com
Pakistani team giving guard of honor to Misbah-ul-Haq after his last batting inning.
Video credit: youtube.com
The farewell speech of Misbah-ul-Haq

Misbah-ul-Haq announced his retirement after the series against West Indies, which they've won with 2-1 recently. In his last match, he received the farewell and the guard of honor from the team players. Thank you Misbah-ul-Haq for your services to Pakistan Cricket!