Video credits: Jean Beltran via bitLanders
Bohol's rich in white sand beaches, Chocolate Hills (inedible) and even rivers! One of which is the Loboc River which streams from the town of Carmen, the center of the island down into the Bohol Sea, exiting in Loay.
Our eldest brother and his family just arrived from the United Arab Emirates yesterday and what better way to be reunited again than going out to have lunch in this river cruise?
Do join us as we traverse the green river of Loboc into the hands of some local tribe in this area of my home province, Bohol.
How to Get to Loay's Rio Verde Floating Resto?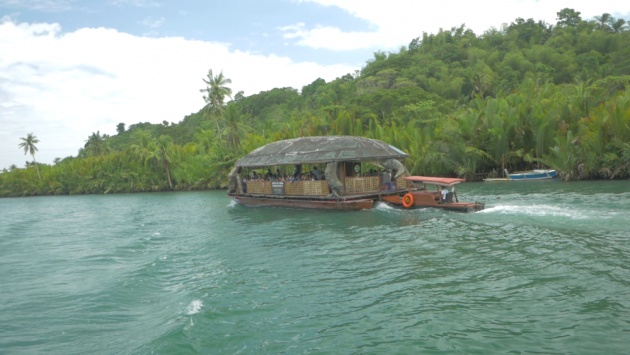 Image credits: Jean Beltran via bitLanders
Loboc Floating Restaurant is evidently more popular than that of Loay primarily because of the Tarsiers of Loboc. However, because of the number of demands, the hundreds of tourist flocking into the town of Loboc, Loay had opened its own as well, one which was monopolized by Rio Verde Floating Resto.
To get here, either one is coming from Tagbilaran City or from the eastern part of the province. If coming from Tagbilaran City, either take a public bus or a private car and follow the circumferential road until you reach the Loay Bridge. Looking out to the open, the Rio Verde floating restaurants are all visible and you can tell the driver or the assistant to drop you off there.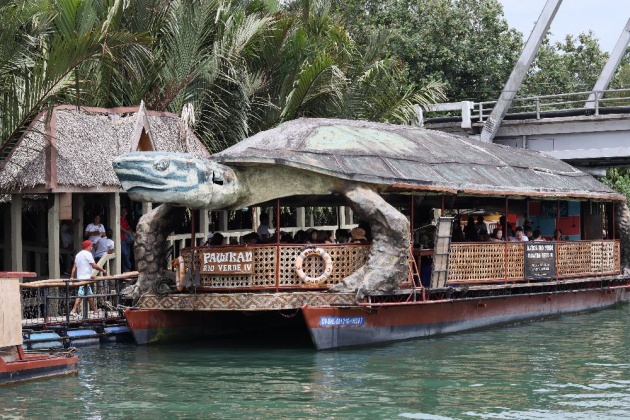 Image credits: Jean Beltran via bitLanders
A private car or van is much preferable if you are coming by as a group, the same way as how we did it. The entrance is located under the bridge, parking spaces are provided as well.
Rates and Fees Ahead
Part of going out is the sad fact that fees welcome you with arms wide open and palms spread out to take your money! I am really sad to know that the buffet costs a lot! Left alone, there's also an additional Php 50 for the environmental fee!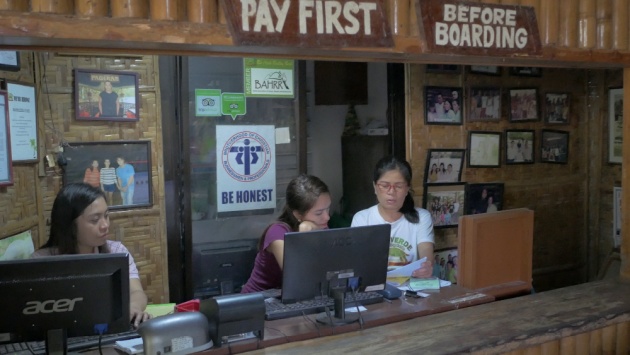 Image credits: Jean Beltran via bitLanders
There were two buffet options, the regular and the high end. The regular one costs Php 500 each and of which offers a few food options like a single soup, salad bar, eight main courses, three fruits in season and local desserts.
The high end, however, has a special boat because its roof has a Pawikan design. It has Tinolang Manok as its soup, there's Guso Salad, for the main course they got crabs, grilled fish, squids, Lechon kawali and buttered chicken while they also have more desserts like Maja Blanca, some Malagkit, Fried bananas with Caramel sauce and more.
We were ten with two young kids and so we opted for the regular one, the kids were free of charge which we appreciated.
The River Cruise
Video credits: Jean Beltran via bitLanders
It was not my first time to try a river cruise, I had experienced it before but at Loboc's. My family, on the other hand, have not tried it yet except for my older brother and his wife. So, it is a good thing to do it together with the entire family.
We waited for a few minutes for a regular boat to arrive. It didn't take that long and so we boarded it through its wooden planks. The boat is powered by a smaller pump boat which is suited for a slow cruise over the green river of Loboc.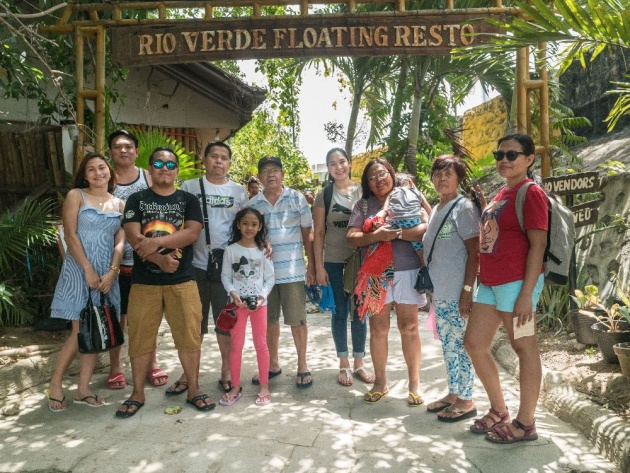 Image credits: Jean Beltran via bitLanders
It is recommended to have lunch as soon as you board the cruise and so we did. It was a Filipino style buffet. As mentioned earlier, we had a few main courses, there was fish fillet with sweet and sour sauce, they also had prepared chicken, jackfruit, and kangkong, there's pancit too, and pork barbeque. The corn soup was also served as well as their guso salad. For dessert, we got bibingka slices, puto kutsinta, sweet potato and Puto special, of course, there were also some fruits like watermelon, banana, and pineapple.
Food was so-so, its a Filipino feast like lunch, it is hard to take another batch because the first round had me full already! I, however, managed to keep some bananas with me just in case I'd need them later.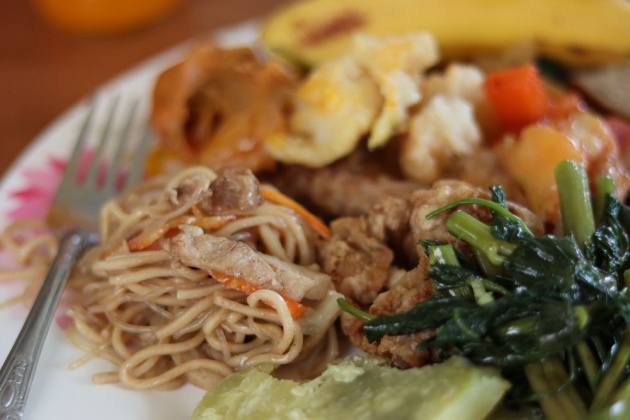 Image credits: Jean Beltran via bitLanders
As the boat started drifting, a local played his guitar and started singing some old tunes to entertain us. I wondered too if it has always been him alone because if my memory serves me right, there was an entire band back there in Loboc. Anyway, he let a Chinese gentleman sing a Chinese song too.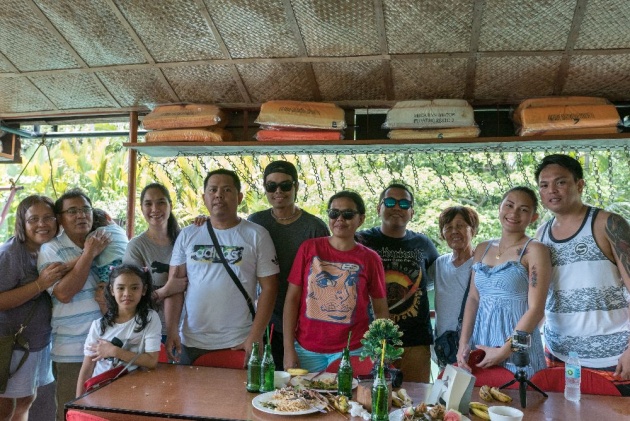 Image credits: Jean Beltran via bitLanders
While we enjoy the songs, we also feasted on the beauty of the calm, green river. There were so many mangroves, sea palms and other river bore vegetation. My mind imagined a school of tiny fishes boarding into the thick mangroves. But there were also spots of which has rock limestones in it. The air was cool too although it was a little gloomy.
After quite some time, we arrived at a stopover for the Ati Tribe
Welcome to the Ati Tribe!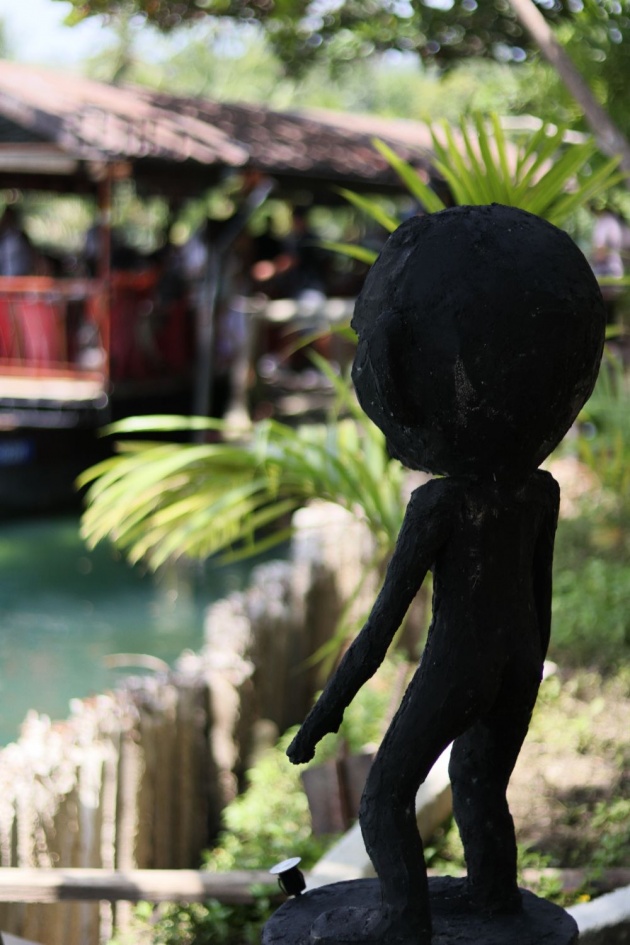 Image credits: Jean Beltran via bitLanders
A bamboo made a fence with its bottom developing algae, green colored and looked very dangerous if you get yourself into it emerged. The boat docked to its wooden port and the entertainer told us we have ten minutes to explore the Ati Tribe.
This was actually a replica of the Ati Tribe, they are really the Ati tribe who had already adopted the modern world but they had made this area as such to show the guests and even the local Boholanos that such tribe exists sometimes. It is very important to have them too as a stopover because it helps the locals' financial needs and also shares the knowledge about their cultural heritage.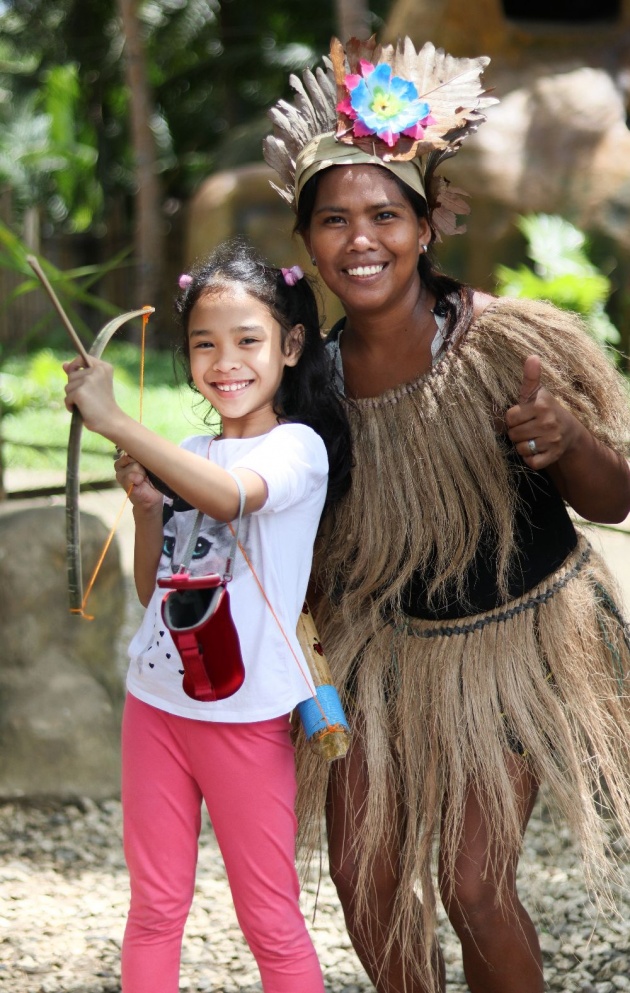 Image credits: Jean Beltran via bitLanders
The Ati people were wearing this grass skirts that of which I believe were made by hand, they got pretty headdresses on as well and they offer picture taking too together with them. They are already exposed to this so they are not very shy anymore.
A tribal, rhythmic beat started and we all started dancing to its beat. Adjacent to the bamboo drums was a huge monkey head with its mouth as a cave opening. There were skulls inside but unfortunately, I wasn't anymore able to ask the Ati people what this cave meant.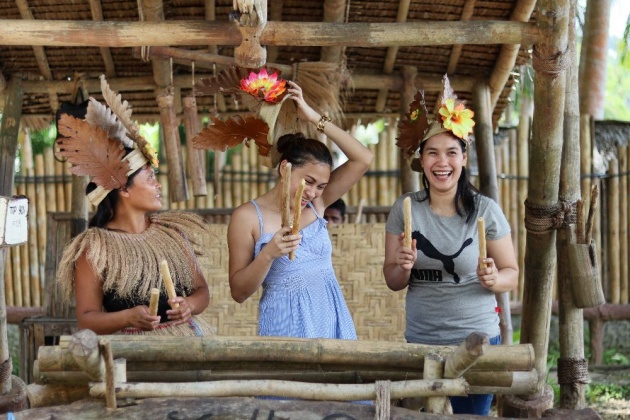 Image credits: Jean Beltran via bitLanders
As we went to the other side, the community of the tribe was also displayed, the houses made of bamboo walls and nipa roofs with movable bamboo stairs, pretty much like the houses of Batad except that the roofs were shorter and the stairs are also shorter.
At the center of the village is a statue of a turtle with a head that looks like a man, in fact, it was more of a man in a turtle shell!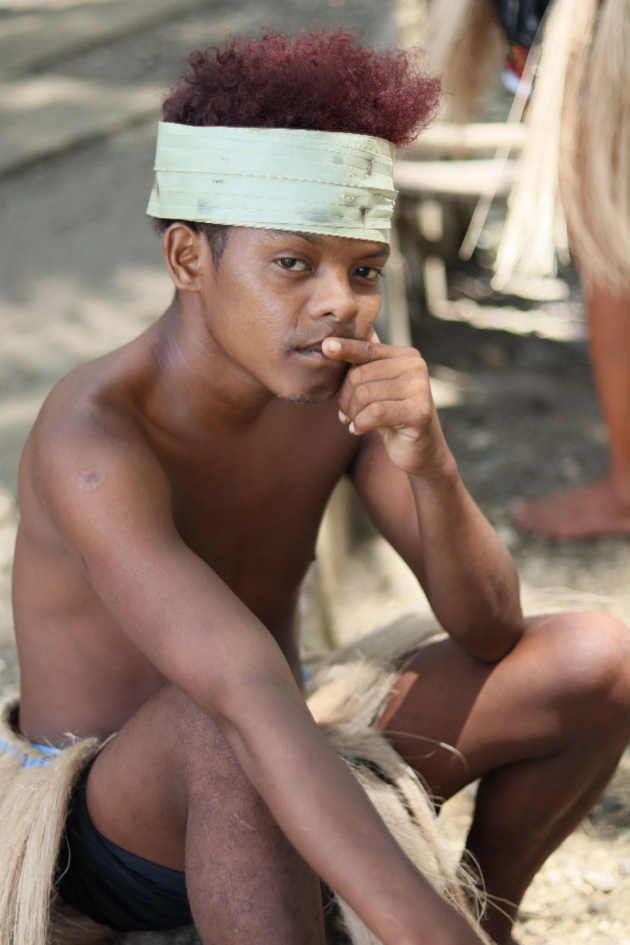 Image credits: Jean Beltran via bitLanders
The boatmen started calling us and so we hurriedly went back onto the boat. I wish to learn more about the tribe but there was no more time.
I realized it was the end of the cruise, the boat maneuvered a U-turn and its speed was faster this time. The one-man band sang Korean, Chinese and Tagalog songs as to close his session. It was good to just sit, watch the water ripples as the boat moved and eventually seeing the bridge, the rest of the boats docked as well as the vast number of guests boarding the Pawikan boat.
______________________________________________________________________________________________
This blog entry was written and published by Jean Beltran-Figues for bitlanders.com.
Join me, click here to sign up and claim your $1.
Let's talk about cryptocurries: altcoinstalks
Are you a traveler? Book your next hotel through Airbnb and claim your ₱1,600 : jeanf3125