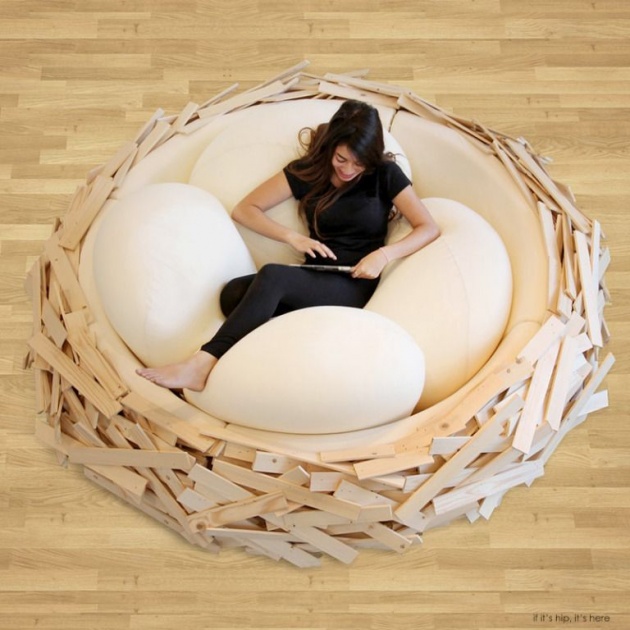 The Giant Birdsnest was conceived and created by OGE Creative Group, a studio founded in 2007 by architects Merav (Salush) Eitan and Gaston Zahr, back in 2012. At that time, the nest-bed was a prototype constructed of cardboard and it was featured on such sites as Inhabitat and Inthralld.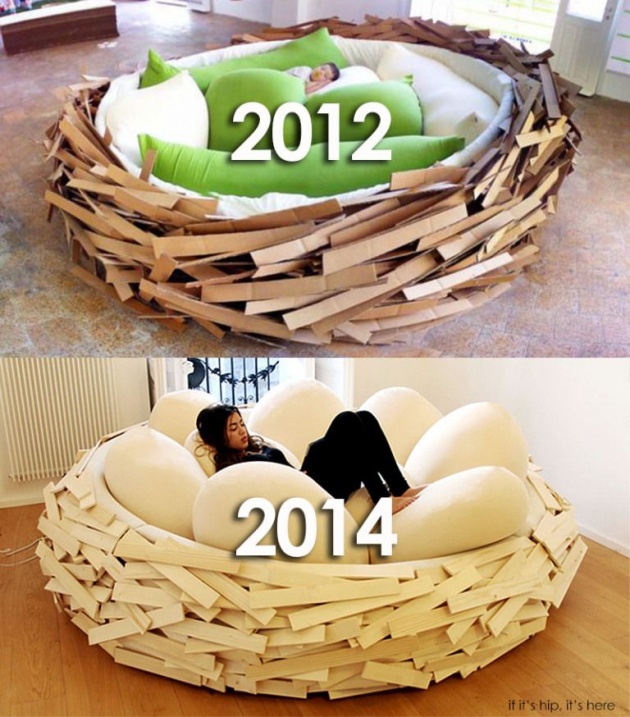 The Bird Nest Bed has grown up. Now a formidable piece of furniture, it's a fusion of furniture and playground, combining comfort with design. The nest, which is now made of wood as opposed to cardboard, comes in four different sizes and many wood finishes.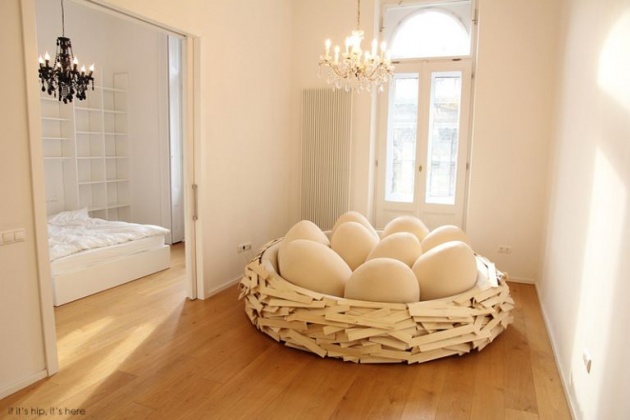 Filled with squishy egg-shaped poofs in solid colors or with special the Sorbian patterned Egg Collection, it allows ergonomic sitting positions and various configurations for informal meetings, social exchange or just a really, really long nap.
TYP B with natural laquered wood and cream Egg cushions: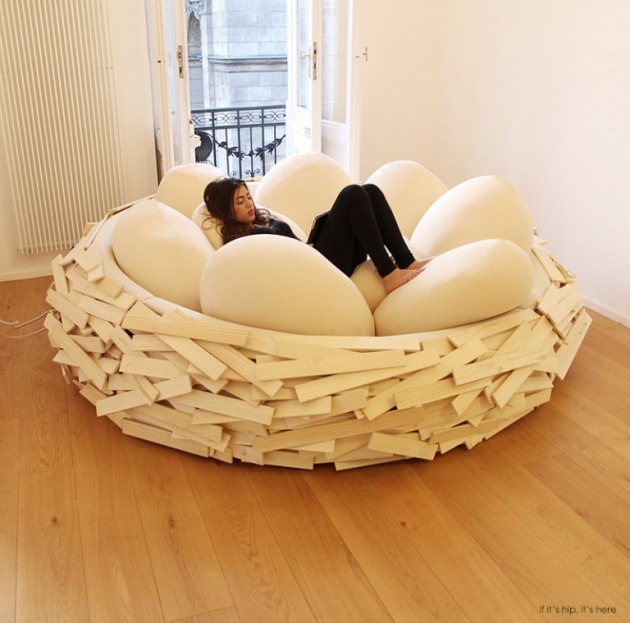 TYP B with natural laquered wood and with special Sorbian patterned Egg Collection: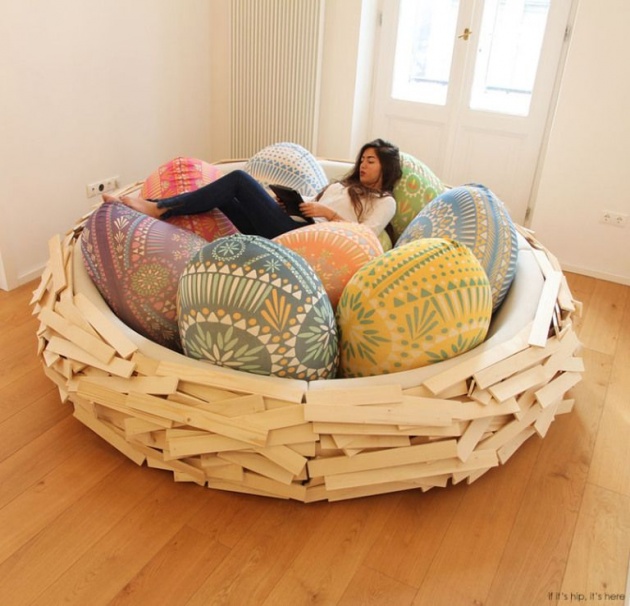 TYP B with cherry laquered wood and with solid colored Egg cushions: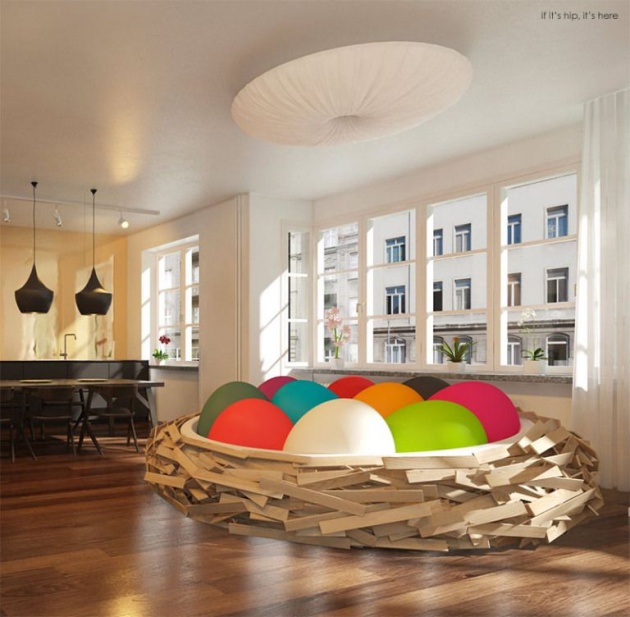 The nest now comes in various sizes, from a small and intimate nest for 2-3 people up to a 4.50 m diameter big version which can accommodate up to 16 people. The soft space is perfect, comfortable and inspiring place for resting, browsing the web, reading, relaxing, loving or talking. Its powerful, yet simple concept and intriguing character needs no explanation or user manual: Ready to be used, ready for playing or working in.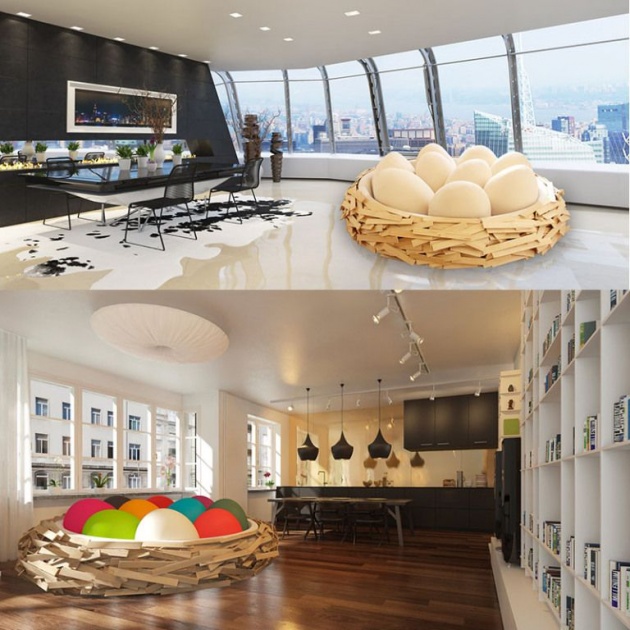 The Wooden Nest: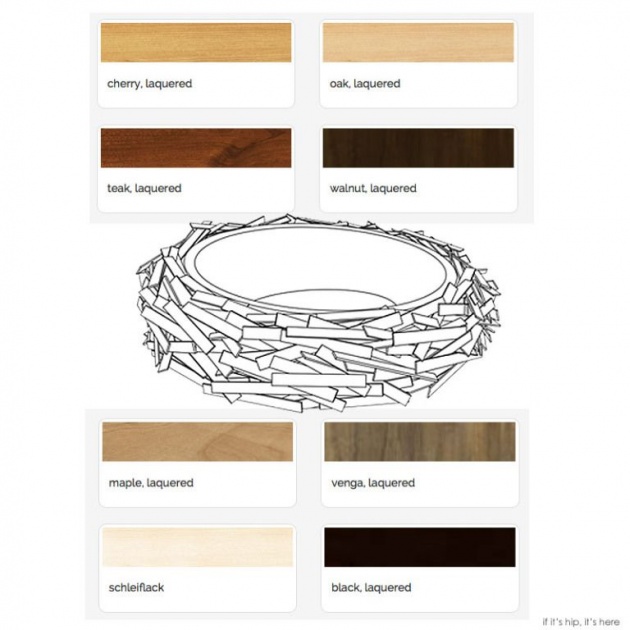 The wooden nest is created from endless pieces of wooden panels.
The inside features a slanted foam-padded wooden backwall covered with cotton-lycra fabric.
Material: pine wood
Finishing: laquered
The Egg Poofs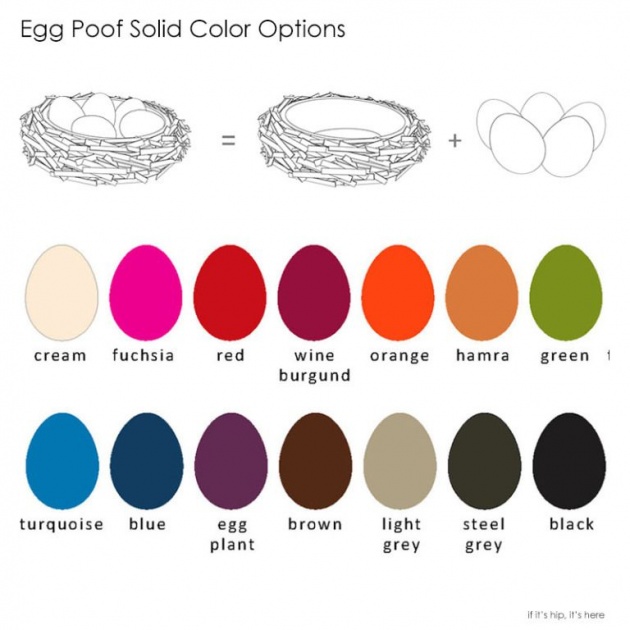 The nest is filled with egg-shaped ultra-comfortable poofs. Near frictionless beads and super-durable, cotton-lycra fabric combine to completely mold to your body providing an elastic, form-fitting feel.
The colors of the Egg Poofs can be mixed and chosen on demand. The ultra long lasting poof covers can be easily unzipped and machine-washed at 30°C | 90°F.
Replacement covers are available.
Material: cotton-lycra fabric
Filling: Near frictionless beads (light-weight)
The Four Sizes and Prices:
• Giant Birdnest Type A (the smallest nest)
diameter: 200cm2 / 5 eggs
Price: $3370.22 USD (2,700 Euro)
• Giant Birdnest Type B
diameter: 250cm2
Price: $4493.63 USD (3,600 Euro)
• Giant Birdnest Type C
diameter: 350cm2
Prince: $5991.50 USD (4,800 Euro)
• Giant Birdnest Type D
diameter: 450cm2
Price: $9862.28 USD (7,900 Euro)
Specs, Installation and Transport: